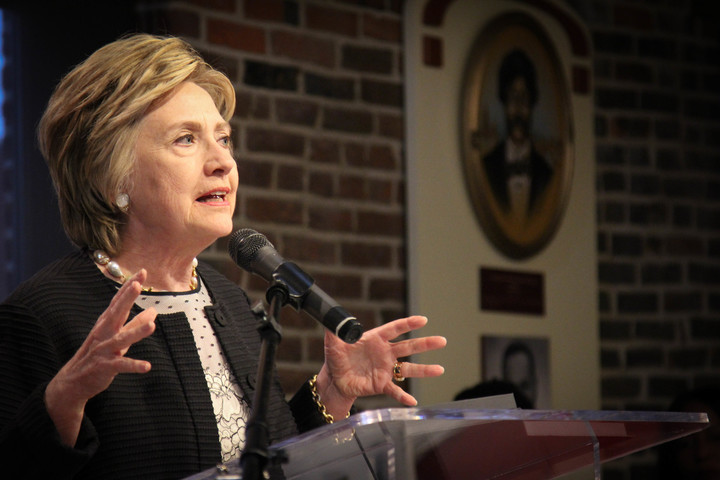 Meredith Herzing
Former Secretary of State and presidential candidate Hillary Clinton spoke at a fundraising event for a leadership training program in Baltimore, saying that the world needs to "reach out to one another, to lift each other up" in response to the most recent terror attacks in London and Manchester.
Clinton, who didn't mention President Donald Trump by name, openly criticized his policies to a packed crowd at the Frederick Douglass-Isaac Myers Maritime Park in Fells Point on Monday, June 5.
"It's a time for steady, determined leadership, like we are seeing from local authorities in London, including the mayor of London," Clinton said. "It's even more important that we work with our allies and partners. Yes, to keep us safe, but also to expand our understanding of what we can achieve together."
Clinton's speech was less focused on politics and more on the youth program that Congressman Elijah Cummings created in 1998, calling it "a labor of love," and stressing the importance of citizenship.
"It has never been more important for young Americans to see themselves as part of a global community," she said. "One that works together to confront challenges, and promote peace and understanding across all the lines that divide us."
The purpose of Elijah Cummings Youth Program in Israel (ECYP) is to build and strengthen the ties between the Jewish and African American communities. In conjunction with the Baltimore Jewish Council, the program provides leadership and community service training—as well as a three-week trip to Israel—for 12 high school students within Cummings' 7th district of Maryland.
Since its inception, ECYP has worked with more than 200 students in Baltimore, exposing them to life management skills, leadership workshops, community service, and social and political activism. The participants of the two-year fellowship have had a 100-percent high school graduation rate, with 98 percent graduating from college.
Clinton and other leaders spoke on Monday night in front of a sold-out crowd of public officials, board members, donors, and students and the event raised more than $200,000 for the program.
Victor Blackwell—Baltimore native, CNN anchor, and ECYP class of 1998 alum—attributes his success to Cummings and encourages the current fellows to make the most of the experiences.
"Go with your eyes, and your mind, and your heart wide open," he urged while emceeing Monday night's event. "It made me a better man. It made me a better journalist."
Howard Libit, executive director of the Baltimore Jewish Council, said he has seen positive results of the partnership and is proud to have a role in it.
"When I see the alumni of the program, they have become leaders in the community," he said. "They are just remarkable."
Congressman Cummings, who underwent minimally invasive heart surgery on May 24, was not in attendance but appeared in a pre-recorded video message instead.
"I'm here at Johns Hopkins Hospital. I had to get a tune-up," he joked. "This is a time where we need to come together to celebrate the lives of our children. Our children are the living messages that we send to a future we will never see."
Cummings, who personally interviews every applicant for the program, delivered a special message for the incoming fellows, who leave for Israel on July 2.
"I want you all to know that you have a future. We see you all on your way to a great level of destiny," he said. "We want your development and your destiny to come together for you to become the person you want to be."
Current fellow and Baltimore City College junior MiKayla Young listened to the message from Cummings with admiration. She was initially hesitant to apply to the program, but now says it's the best thing she's ever done.
"Being here, and listening to Congressman Cummings and Secretary Clinton speak to me is unreal," she said. "I'm so inspired by them to go out and make a change in the world, and that's what I'm going to do."
Clinton wasn't the only fiery, female politician speaking at the event—Senator Barbara Mikulski addressed the crowd in typical "Babs" fashion. She began by mentioning Congressman Cummings' absence, insisting "there's nothing wrong with Elijah's heart."
"If you know him like I do, he has one of the biggest hearts in Maryland, and one of the strongest hearts in America," she continued.
Clinton expressed appreciation for Mikulski and thanked local constituents for continuously sending the senator back to Washington D.C. Likewise, Mikulski echoed Clinton's sentiments and also took a few jabs at President Trump without mentioning him directly by name.
"The theme for this fundraiser is building bridges and building leaders," she said. "Boy, don't we need that now."
The current fellows, who are now finishing their junior year of high school, will travel to Israel in less than a month to experience a new culture with children of similar ages. Director of ECYP Kathleen St. Villier explained that the selected students are a unique group that will become "global ambassadors" upon their return.
"They are tasked to go out in the community and share their stories," she said. "They will continue to do community service and grow as leaders."
Clinton concluded the event by praising Cummings for his dedication to the youth of Baltimore and a call to action for all in attendance.
"This is the kind of commitment that really represents America best. And we need to do so much more," she said. "We need find ways to serve, and to be the best citizens we can be to support the next generation."