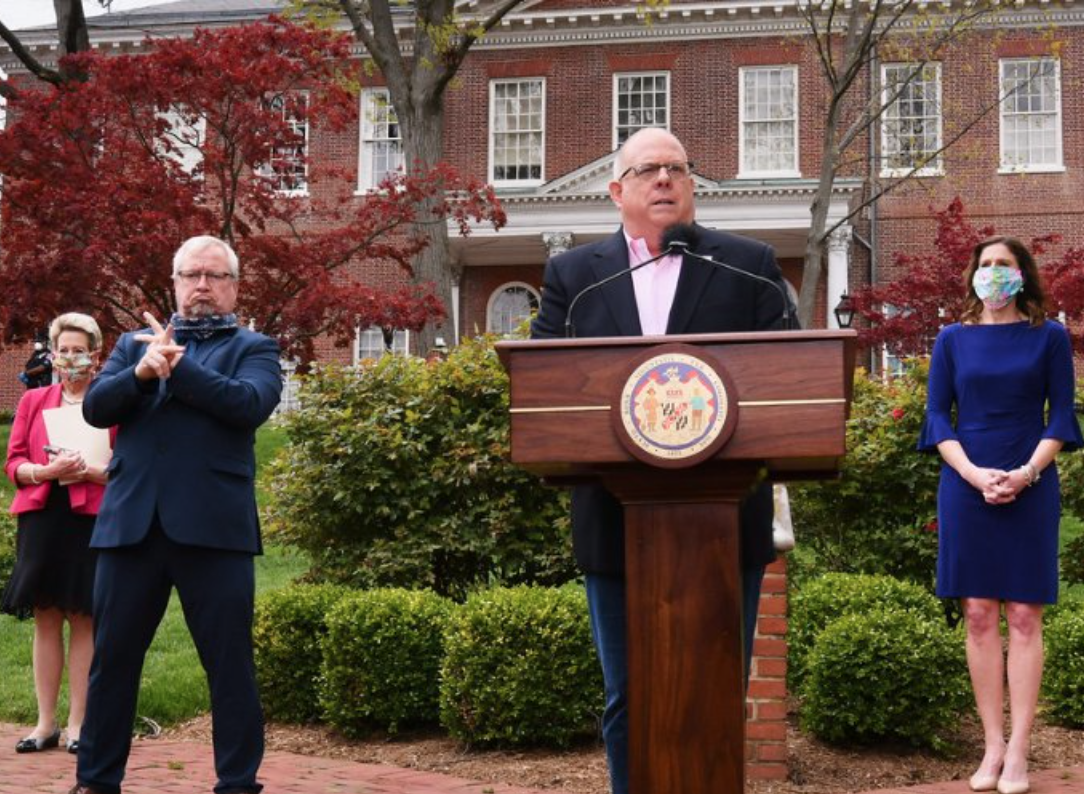 Gov. Larry Hogan via Twitter
Gov. Larry Hogan announced the easing of the state's COVID-19 restrictions on Maryland businesses and some events during a late afternoon press conference Wednesday at the Maryland State House.
He announced that effective this Friday, May 15, at 5 p.m., Maryland will be lifting the state's stay-at-home order and moving to a "Safer-at-Home" public health advisory.
Specifically, Hogan's decision—the first phase of a broader reopening plan—means all retail stores and service businesses in the state may reopen at up to 50 percent of capacity, although curbside service is still encouraged where possible. In his statement, Hogan mentioned clothing and shoe stores, barber shops, hair salons, car washes, art galleries, and book stores as examples of businesses that may reopen at 50 percent capacity. Religious institutions may also begin to hold services at up to 50 percent of capacity, with outdoor services also still encouraged. All manufacturing businesses in the state may resume operations, as well.
"Marylanders will no longer be required to stay at home, but are strongly advised to stay at home, particularly older and more vulnerable Marylanders," Hogan said in his statement. "If you can work from home, you should continue to do so. You should continue wearing masks in indoor public areas, retail stores, and on public transportation."
Hogan said he decided to ease restrictions in the state based a two-week trend of plateauing numbers, in terms of hospitalizations, acute coronavirus cases, and deaths. As of Wednesday, there have been 1,694 confirmed COVID-19 deaths in Maryland, with another 115 probable deaths. The number of hospitalizations has ticked down from its peak, but has remained above 1,500 patients in the state since the last week of April. Restrictions on gatherings of larger than 10 people remain in place.
"This allows us to cautiously and safely begin Stage One of the recovery plan," Hogan said.
According to new modeling at University of Washington-based Institute for Health Metrics and Evaluation, COVID-19 deaths in Maryland are now projected to reach 3,799 by August 4.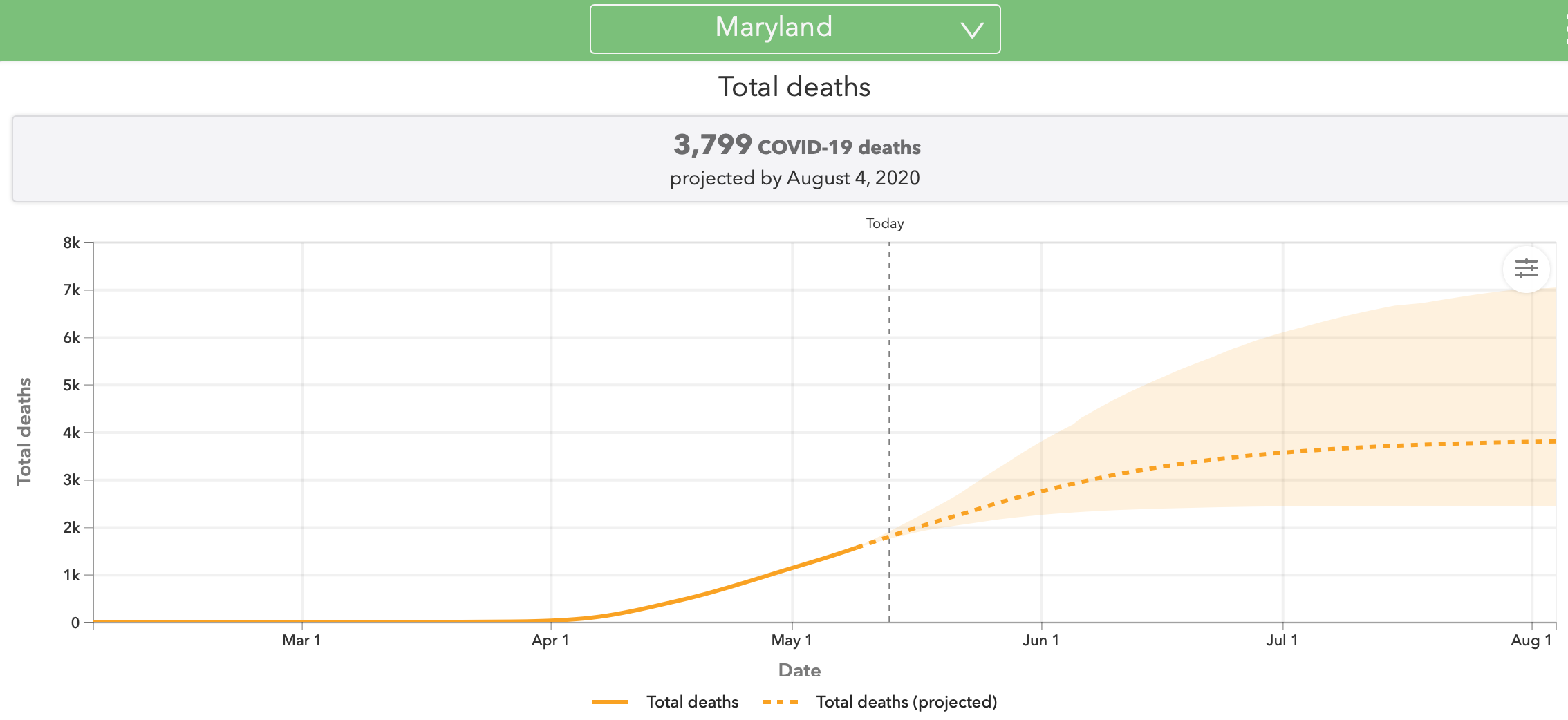 "The fight against this deadly disease is far from over," Hogan said. "But Maryland and our nation can begin to slowly recover."
The governor added that, as the state cautiously moves forward, he fully understands that not all counties are in the same situation. The reopening allows individual county leaders to make decisions about their own jurisdiction.
As for Baltimore, Mayor Bernard C. "Jack" Young and Baltimore County Executive John Olszewski, Jr. issued on a joint statement Wednesday evening on the governor's Phase 1 re-opening. Young and Olszewski said they intend to examine the new state guidelines before making any local decisions.
"We are taking a close look at the specific actions announced today, and we will determine our next steps in the next 24 hours," Young and Olszewski wrote. "We acknowledge that this will not be welcome news to all of our residents. Individuals and businesses continue to make real sacrifices, and those sacrifices are preventing the spread of a deadly virus. However, rushing to reopen in our large, densely populated jurisdictions jeopardizes the lives of our neighbors and loved ones."
Montgomery County Executive Marc Elrich already said the county is not yet ready to reopen. Prince George's County, the hardest hit county in the state, also does not plan to begin reopening Friday.
Washington, D.C. Mayor Muriel Bowser extended the city's stay-at-home order and closure of nonessential businesses through June 8.
"We all have concerns," Young said Tuesday morning. "What we want to do is be coordinated in our efforts, so that one jurisdiction won't be doing something different than the next one."