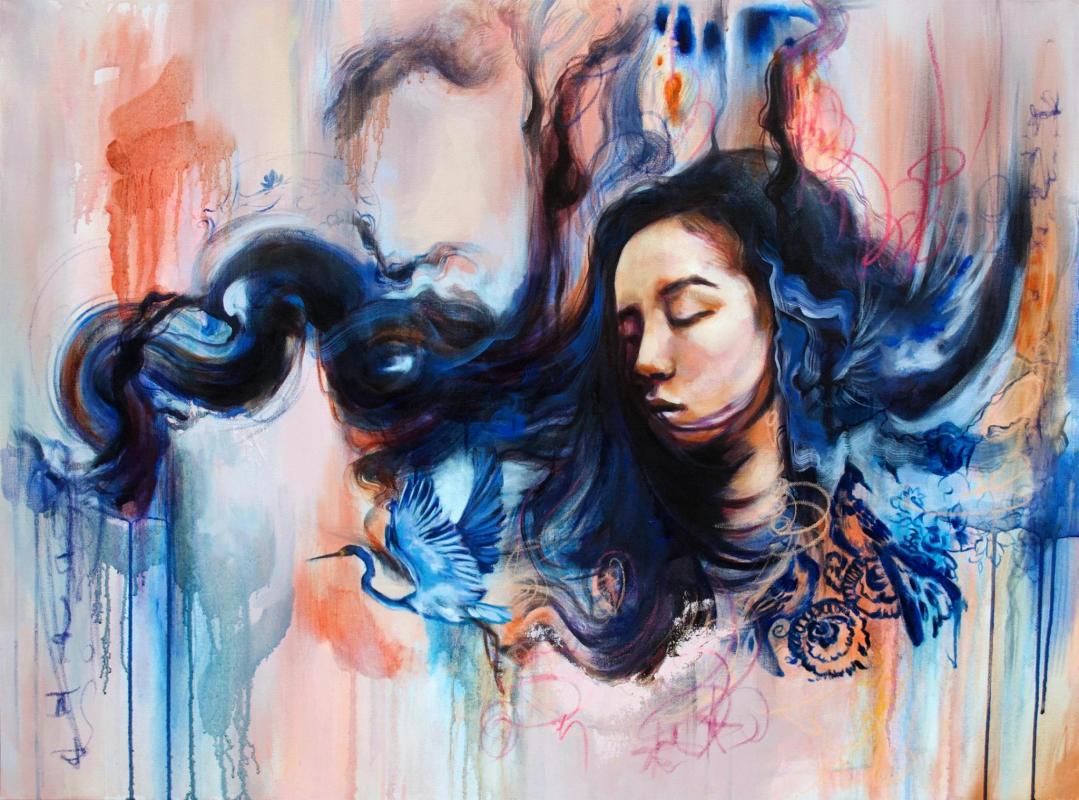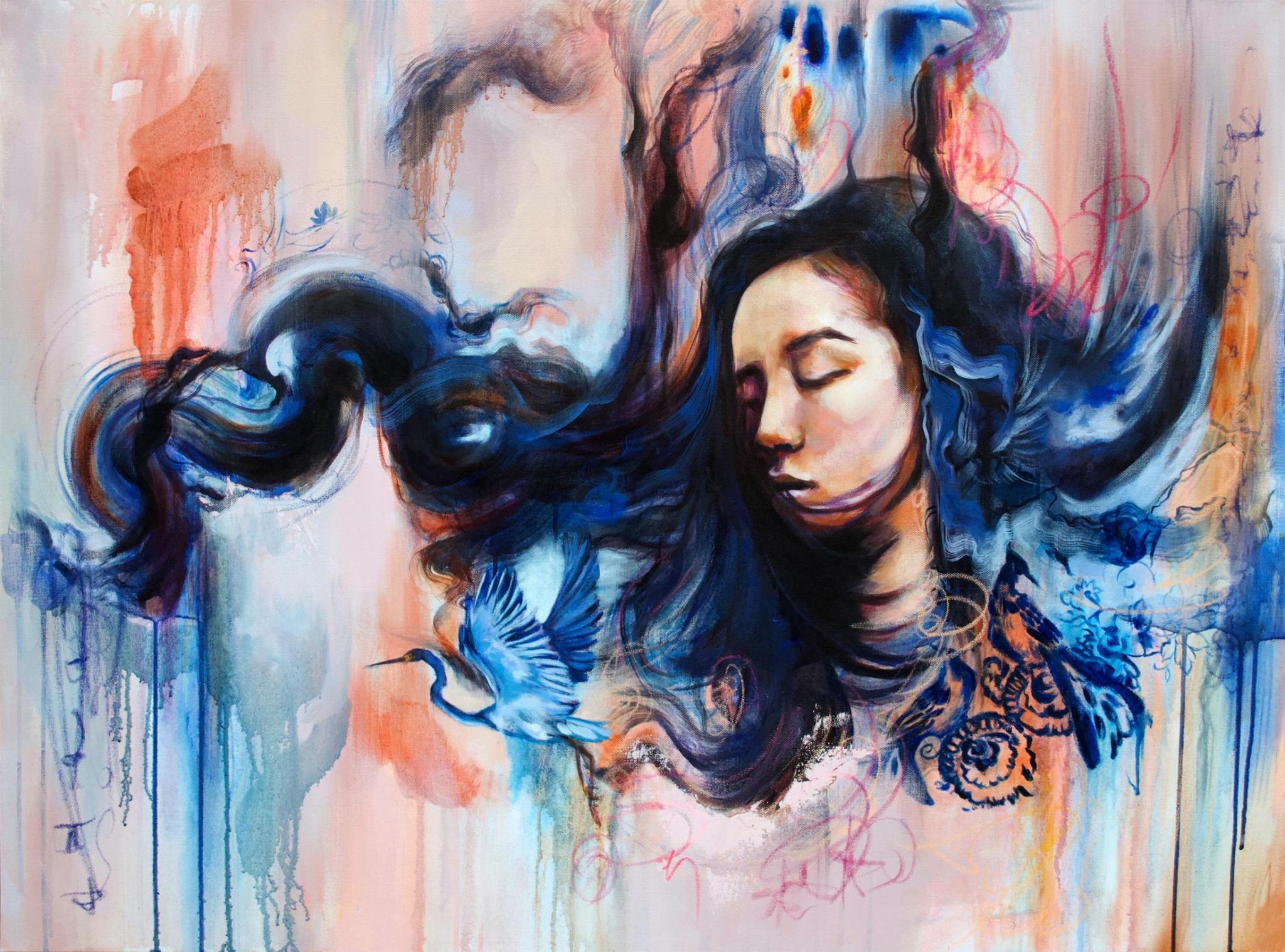 "Liberated," Cristina Rago, mixed media and oils on canvas on display in APAC's 2021 virtual gallery. —Courtesy of the Asian Pasifika Arts Collective
Since the beginning of the pandemic, there have been nearly 3,800 reported hate incidents against Asian-Americans and Pacific Islanders (AAPI) nationwide—according to recent findings by reporting center Stop AAPI Hate, which was established in March 2020. Among the attacks that occurred within the past year, 51 were reported in Maryland. 
As frustrations continue to mount in the wake of the mass shooting in Atlanta earlier this week—when a white man opened fire in three massage parlors, killing six Asian women—many are searching for ways to show support for AAPI neighbors in their own communities. 
Here in Baltimore, there are many ways to take a stand against anti-Asian attacks and uplift those in our own neighborhoods. Many AAPI leaders have been vocal about allyship initiatives such as enrolling in bystander intervention training and volunteering to accompany elder citizens to and from their homes. The local landscape also provides many opportunities to further your knowledge of Asian-American history and support the immense contributions of the AAPI community—whether that means attending discussions led by local leaders or patronizing art exhibits and restaurants. Although allyship is a lifelong commitment, here are a few ways to get involved right now: 
Listen and Learn

Baltimore to Atlanta: A Community Vigil: To provide a community healing space in the wake of the horrific attacks in Atlanta, Baltimore Asian Resistance in Solidarity, the Chinatown Collective, and the Baltimore Harm Reduction Coalition have organized a community vigil at the YNot Lot in Station North on Monday, March 22 from 5-6:30 p.m. The gathering will include a meditative offering, as well as an open mic. Attendees are asked to wear facial coverings, maintain social distance, and bring flowers and art to add to a community altar.
"Unapologetically Asian" with Cori Dioquino: Asian Pasifika Arts Collective founder and co-executive director Cori Dioquino is hosting a webinar with the Johns Hopkins University Center for Social Concern on Wednesday, March 24 from 6:30 to 8 p.m. Register online and log on to hear Dioquino address the rise in anti-Asian violence throughout the country in the past year, and the revolution that it has sparked. Plus, she will speak on Asian-American identity and the things that make our local AAPI community so strong and beautiful.
Support AAPI Arts and Culture

APAC Virtual Art Gallery: Speaking of the Asian Pasifika Arts Collective, its Lunar New Year virtual art gallery is a great opportunity to explore videos, digital art, paintings, and collage by  AAPI artists—including APAC's own Catrece Ann Tipon and Ken Tsui. All of the works in the showcase are meant to address overarching themes of "Crossing Borders" and "New Beginnings." 
"These artists have given the public a platform to understand this community and really talk more about it, about the problems that are going on and about the violence, just a bigger, deeper discussion into all of this," Tipon recently told us. "As artists we give out this art, but we do it for a bigger purpose. We don't do it just to show off. We do it to show who we are, our community behind it, and everything in between. And we always hope that people will understand that and try and learn more." Read more about the gallery here. 
Man of God at Strand Theater Company: Hamilton's own Strand Theater Company—which is dedicated to "amplifying womxn's voices on stage and off"—has partnered with APAC to present its latest production, Man of God. Running from March 26 to April 11, the funny, feminist thriller, written by Anna Moench and directed by Elizabeth Ung, tells the story of a Korean Christian girls youth group that reacts after discovering their pastor has hidden a camera in their hotel bathroom. Tickets to the streamed performances can be purchased online. 
Towson University's Asian Arts and Culture Center: For years, Towson University's Asian Arts & Culture Center has maintained its mission of using artistic experiences related to Asia as a way to engage in a dialogue within the local community. The organization will do just that when it kicks off its annual Asia North celebration next month. Beginning April 10, the virtual event—a joint effort with the Central Baltimore Partnership—will amplify the art, culture, Korean history, and heritage of Baltimore's Charles North community. Through May 15, tune in as regional AAPI artists present everything from virtual exhibits and art workshops to performances and cooking demonstrations. If you'd like to support the center in the meantime, purchase a "Wishes in the Wind" Korean kite kit for a suggested $20 donation.
Asian Art at Local Museums: To learn more about the history of Asian cultures, browse The Walters Art Museum's online collections to explore Chinese art spanning almost five millennia, ancient Near East artifacts, historic Korean prints, and a fascinating array of Japanese military objects. The BMA is also home to a collection of more than 1,000 objects from China, Japan, India, Tibet, Southeast Asia, and the Near East. Though its two galleries are currently closed due to renovations, you can educate yourself about some of the ceramics, furniture, paintings, and other objects—some of which date back to the second century—by checking out the museum's website. 
Order from AAPI-Owned Restaurants

Yet another tangible way to do your part is to patronize local AAPI-owned restaurants. (The surge in attacks hit close to home earlier this week, when Canton's NiHao Baltimore was the victim of a break-in and robbery early Monday morning.) While it's important to frequent these places on any day, here are a few of many to familiarize yourself with if you're looking for a way to show support right now:
Browse the menus at fan-favorite food joints Waffie, Dooby's, Ekiben, Jong Kak, Zen West, The Local Fry, and The Crown, as well as newbies Toki Tako, The Charming Elephant, and Mona's Super Noodle. Traditional Chinese cuisine can be enjoyed at places like NiHao, Jumbo Seafood, Sonny Lee's Hunan Taste, Red Pepper Asian Bistro, and Joey Chiu's. If you're a sushi fan, try out spots such as 18-8, Nanami Cafe, Shoyou Sushi, Sushi Ya, Yama Sushi, Sushi Sono, or Sushi King. There are also many restaurants to indulge in Thai cuisine (Thai Street, Bodhi Corner, and Spice & Dice are among favorites) as well as Korean dishes (Honey Pig and Koba Korean Barbecue) and Filipino fare (Heritage Kitchen.) For more suggestions, see this list. 
Make a Donation
If you're in a position to give, monetary donations—large or small—go a long way in raising awareness and pushing policies to fight back against hate incidents. Among the many local organizations to support is the National Asian Pacific American Women's Forum, whose Washington, D.C., chapter works with members across the DMV to build collective power with AAPI women and girls. 
The folks at the Asian American Center of Frederick, which provides services ranging from maternal and child health programs to ESL classes and volunteer programs for seniors in the AAPI community, take both monetary donations and applications for volunteers who can help the center with deliveries, financial and small business assistance, translation services, and food drops. Sign up to help, here.
Closer to home, APAC is planning an AAPI art contest with the hope that it will empower artists, especially AAPI youth, "who are still trying to find their place in between worlds." Expected to launch in May, in conjunction with APA Heritage Month, the contest aims to offer cash prizes and career opportunities to winners. In order to achieve this, organizers are welcoming interested sponsors to get in touch about donations to fund marketing, outreach, judges, and the programming itself. Find more information, here.