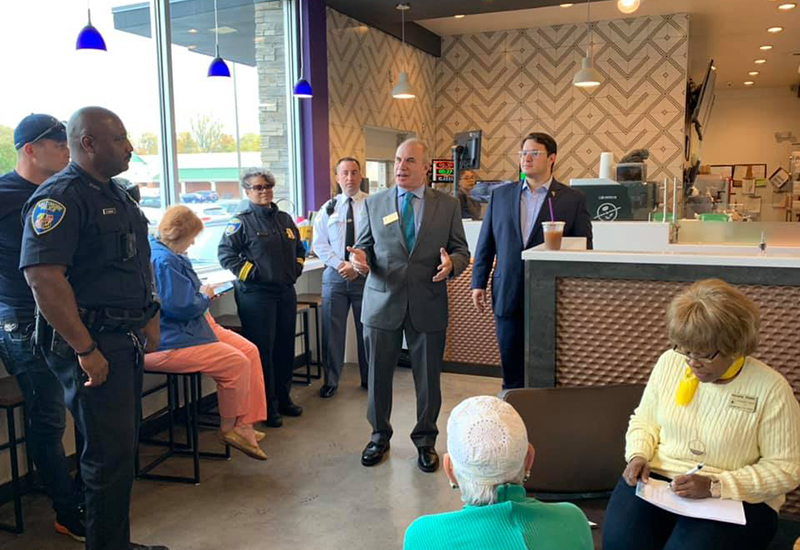 Courtesy of Izzy Patoka, Facebook
Market Maven, one of two major kosher markets in the Pikesville area, has a multi-layered security plan that includes a scenario for an active shooter. With the rise in high-profile anti-semitic attacks over the last few years, precautionary measures have unfortunately become imperative for local business owners and political leaders.
The Anti-Defamation League, a century old national Jewish civil rights organization, estimates that 2018 had the third-highest total of anti-semitic incidents the group has recorded since it starting keeping records in the 1970s.
In October 2018, 11 people were tragically killed in a shooting at the Tree of Life synagogue in Pittsburgh, which was deemed the deadliest anti-semitic attack in U.S. history. Six months later, a shooter at a synagogue outside San Diego killed one person and injured three more. And just last week, three people died when a gunman opened fire at a kosher market outside Jersey City, New Jersey.
In response to this latest attack, additional security and police camera towers were added at Market Maven and Seven Mile Market, Pikesville's other major kosher food purveyor. Market Maven's general manager Zachary Richards believes there is a cyclical nature to these attacks.
"Unfortunately, attacks against Jewish institutions are nothing new," Richards says. "Security has always been a primary concern for Jewish communities here and around the world."
In the wake of the Jersey City shooting, government officials emphasize the need to be on high alert at Pikesville markets, synagogues, and community centers. The Baltimore Jewish Council is in constant contact with its network to ensure the community is aware of national and global incidents.
Councilman Izzy Patoka of Baltimore County's 2nd District works with state Del. Jon Cardin and The Associated, a Baltimore Jewish philanthropy organization, to keep watch and brainstorm ideas to ensure the safety of the community.
"We look at what's happening in Baltimore and how we can make our community stronger," Patoka says. "and more aware of what's going on in terms of anti-semitism."
Along with his longtime friend, City Councilman Isaac "Yitzy" Schleifer of Baltimore's 5th District, Patoka coordinated response measures in the wake of the Jersey City shooting last week, including reaching out to Baltimore County police chief Melissa Hyatt personally, who contacted captains in the area.
"Council members are really where the ground hits the rubber on the road," Patoka says. "When these things happen, it's heartbreaking. Councilman Schleifer and I have a regional partnership where we choose action over inaction."
The cameras and added force are not permanent, Patoka says—rather, the Baltimore County Police department will determine location and duration based on intelligence sharing with other law enforcement agencies.
As for Richards and Market Maven, he felt it necessary to reassure shoppers, answering questions on the phone to qualm any fears. Richards commended the police force for being very proactive and responsive in implementing safety measures.
"My heart is filled with sadness," says Patoka, who notes that his parents were Holocaust survivors. "But I also think that we need to be vigilant as a community. I take these things personally. We all want the Jewish community to be able to worship, as other members of other religions would."