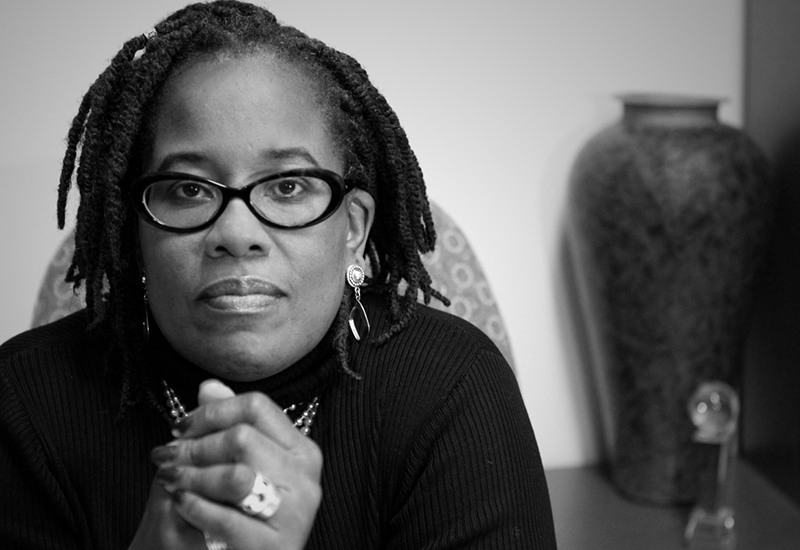 Karsonya "Kaye" Whitehead has been a historian for more than 20 years. In addition to being a professor at Loyola University of Maryland, she hosts a daily radio show on WEAA, "Today with Dr. Kaye," where she examines the intersections between race, class, and gender on a local and national scale. It made sense for her to appear as a guest on WJZ late last week to answer questions from anchor Mary Bubala about the fallout from Mayor Catherine Pugh's resignation.
But when Bubala, who had been with the TV station for 16 years, asked a question tinged with racism and sexism that drew widespread criticism, the narrative unfortunately shifted. Bubala has since been dismissed from WJZ, and Whitehead has found herself in a unique position as the co-star of a viral video.
This presents an interesting conundrum: Given the nature of Bubala's comments, there is an opportunity for someone like Whitehead, who has positioned herself as a leading voice on issues related to race and gender, to raise attention to the things she is passionate about. But how do you do so without being seen as trying to capitalize on an unfortunate situation? It's something Whitehead makes very clear she doesn't want to do.
"People didn't know it was me [on WJZ] until somebody who knew me saw [the video] and asked the question, 'Is that you?'" Whitehead says. "I was not linked to it because I was like, 'I'm not going to help feed this. That's not how I want to be known. I do not want to be known as the person who took down this anchor.'"
Whitehead's career and body of work prepared her for a live TV situation that offers little time to react. "I've been studying this work intensely and writing about it," she says. "I am never caught off-guard, because it is the space that I exist in. If someone else had been sitting in that chair, it would've been a moment where they were caught off-guard."
Whitehead has chosen not to focus on whether Bubala's firing is justified or not, and instead hopes that this can be a teachable moment. "You can remove a person from their position, but if we don't deal with how we got here, then we're not really benefiting from what happened," she says. "At this moment, people are being held accountable for what they're saying. I think we're in a moment now, like the anchor, where a number of people that are being called out for their racial biases are having to deal with consequences."
She adds that, given her studies of incidents around the country—she cited last year's racial discrimination at Starbucks as a specific example—very little surprises her. What's important, she says, is to ensure that the attention being given to the incident is not fleeting, that it opens up conversation about the subject matter. This way, something good can come out of a bad situation.
"A moment's arrived, and I can use it to talk to people that I haven't physically talked to," Whitehead says. "I am not surprised by any of the things that happened. What concerns me is that when we get to the end of this, do we reflect on what we've learned? Do we really do the hard work to be better? Do we really engage with what it means in this country right now to deal with race, class, and gender in a serious and reflective way? . . . One of the wonderful things about Baltimore City is that this work is happening all over the city if you just look for it."