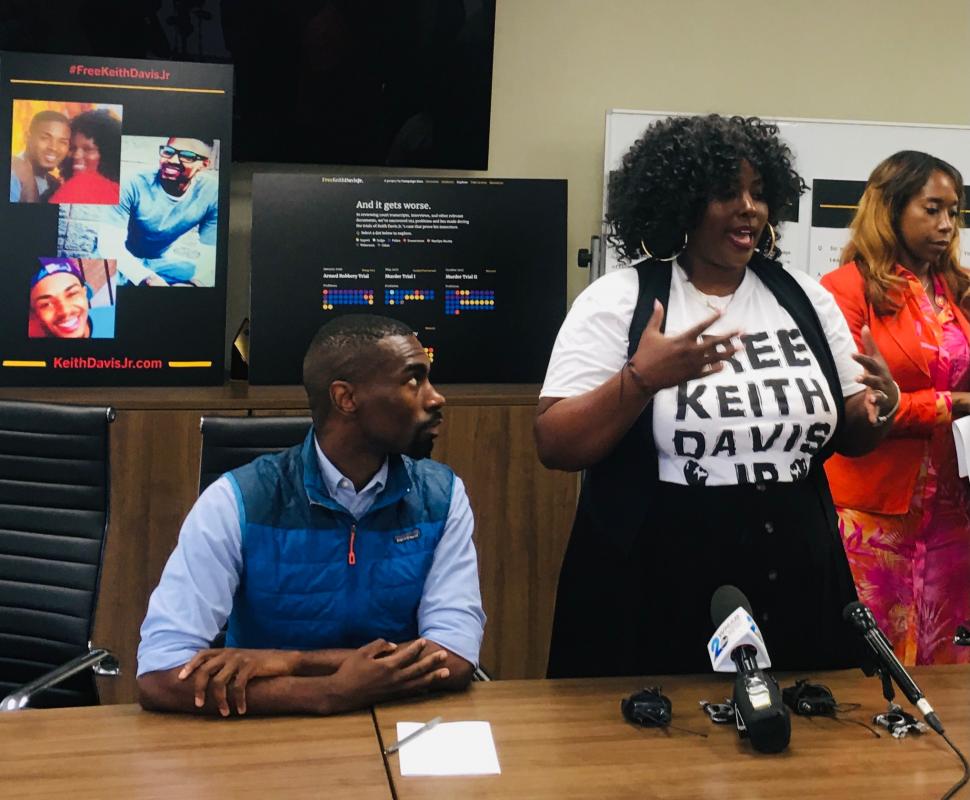 Keith Davis Jr.'s wife Kelly Davis (center) with activist DeRay Mckesson and Davis' civil attorney, Latoya Francis-Williams, at the launch of the keithdavisjr.com website in July 2021. —Ron Cassie
Keith Davis Jr., who prosecutors have tried four times for the 2015 killing of a Pimlico security guard, turned down a new plea deal from the City State's Attorney's Office at a hearing Tuesday and now faces a fifth trial on the same murder charge.
Prosecutors offered Davis—who has remained incarcerated for the past six and a half years—a sentence of 50 years with all but 15 years suspended in exchange for submitting an Alford plea in the killing of Pimlico security guard Kevin Jones. In an Alford plea, the defendant does not have to admit guilt before the court, as required in a guilty plea, but acknowledges the state has enough evidence that they could be convicted. Davis has maintained his innocence in the controversial case since the charges were filed.
Prior to his last trial, prosecutors offered Davis a sentence of 50 years with all but 30 years suspended in exchange for a guilty plea. In a second case, involving a jail cell fistfight in which the State's Attorney's Office later charged Davis with attempted murder, prosecutors offered to suspend all but eight years of a concurrent 25-year sentence—and drop the attempted murder charge in exchange for submitting a second Alford plea. No weapon, according to charging documents, was ever recovered in that incident, and Davis rejected that plea, as well.
In June 2015, Davis was shot multiple times and nearly killed by Baltimore police, in an apparent case of mistaken identity, following an armed robbery of an unlicensed cab driver. A jury acquitted Davis of the armed robbery after the driver testified that Davis did not look like the man who pointed a gun at him. Shortly after that trial in 2016, police and prosecutors charged Davis in the unrelated killing of Jones five hours prior to the armed robbery of the driver. (BPD officers fired more than 30 rounds at him and left him unconscious. While an alleged murder weapon was found on the premises, Davis and his attorneys have put forth the theory that police planted the gun to justify their shooting.)
Davis's case has garnered intense support from criminal and social justice activists in the city throughout the past half-dozen years, and his cause has been receiving increased national attention, as well. We The Protestors, a New York-based nonprofit led by Baltimore native DeRay Mckesson, launched a website in July highlighting some 200 issues with the case and links to court transcripts from the armed robbery trial and four murder trials to date.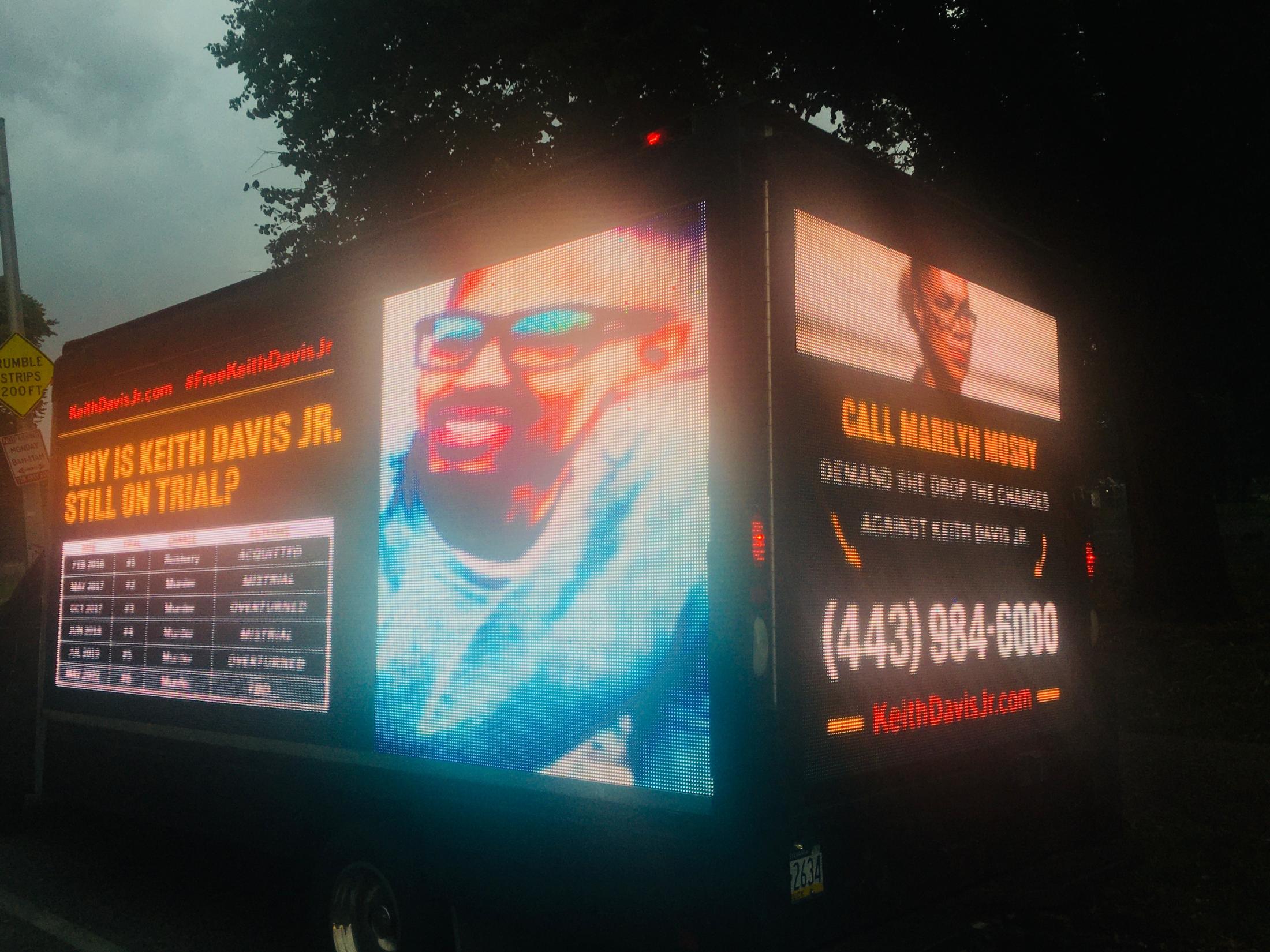 There have been two mistrials and two overturned convictions in the murder trials. Only one other individual has been tried six times overall around the same incident, according to the research of University of South Carolina law professor Colin Miller. In an interview for our investigative feature on the Davis case, Miller, who co-hosts the podcast Undisclosed—which investigates wrongful convictions and chronicled the case in 2019—described Davis as "the most aggressively prosecuted man in American history."
Davis' wife, Kelly Davis, said Tuesday that prosecutors kept coming back with new plea deals in the 10 days leading up to hearing, repeatedly offering to further reduce sentences and accept Alford pleas instead of guilty pleas from her husband.
"They came down from 50 years all but 30 served, to 50 years all but 20 served, to 50 years all but 15 served—and proposed Alford pleas—but Keith said this isn't right and he told the judge at the hearing that he respectfully declined," Kelly said. "At the same time, Keith realizes he's missing seeing the kids grow up [the couple has four children,] and having a date to come home would make doing the time easier."
Meanwhile, the political stakes for City State's Attorney Marilyn Mosby—who was caught on video giving the finger to a Davis supporter in May, which she at first denied—appear to be increasing. Prominent local defense attorney and former prosecutor Ivan Bates, who is challenging Mosby in next year's City State's Attorney race, has stated that he will not continue the prosecutions of Davis if elected. Mosby is also under federal investigation for allegedly signing false tax documents. The City State's Attorney's Office did not respond to an email seeking comment about the plea deal or case.
The date for Davis' fifth trial for the murder of Kevin Jones is set for May. The current trial date for the attempted murder charge related to the jail cell fight is also set for May.