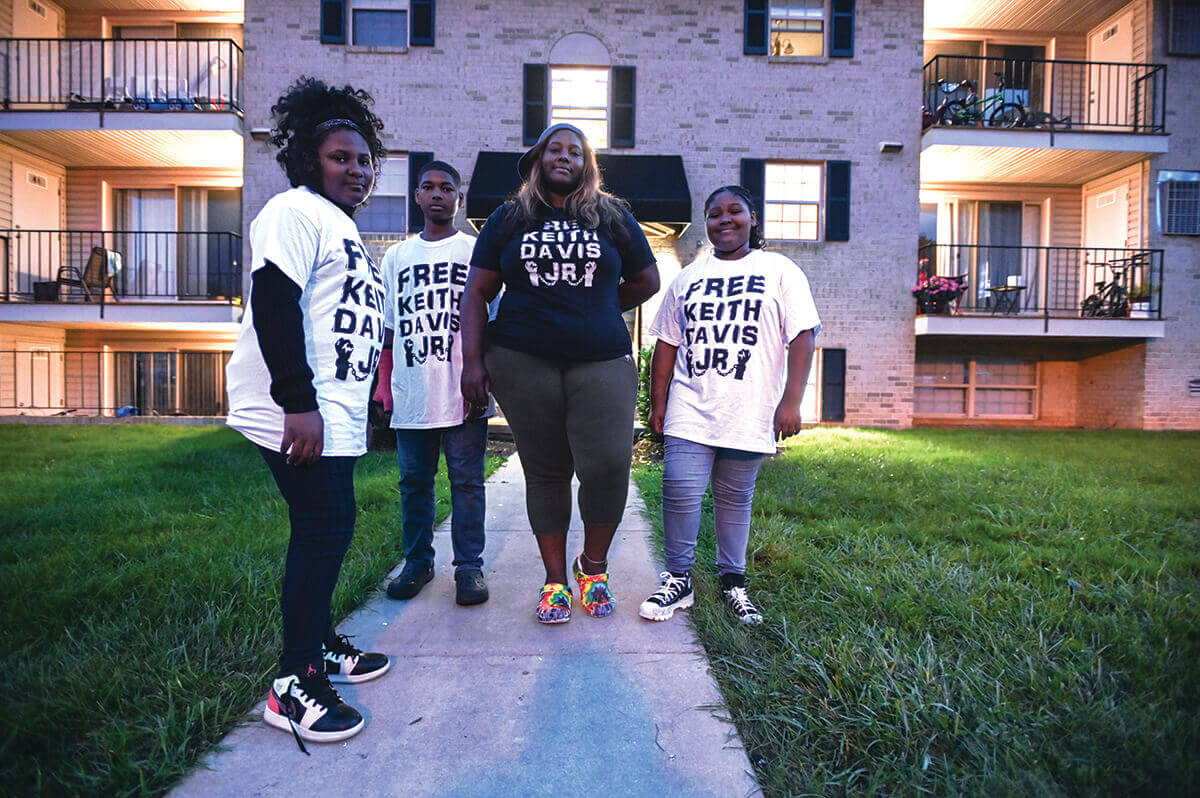 Keith's wife, Kelly Davis, and three of their four children outside their former home. —Photography by J.M. Giordano
After facing four trials on the same murder charge—and five trials overall surrounding the events of the same morning—Keith Davis Jr. walked out of prison today after more than seven years of incarceration.
Newly elected Baltimore City State's Attorney Ivan Bates, who was sworn in last week, followed up on a campaign pledge Friday by dismissing all charges against Davis in the controversial, long-running prosecution. Former two-term Baltimore City State's Attorney Marilyn Mosby, who Bates unseated in the Democratic primary in July, had intended to try Davis a fifth time on the same murder charge if re-elected.
Bates defeated Mosby in the Democratic primary in July, receiving 41 percent of the vote. Thiru Vignarajah, another challenger, received 30 percent, while Mosby, who is currently under federal indictment for mortgage fraud and perjury related to COVID-hardship claims, finished third with 29 percent. Since his primary victory, Bates had been unable to address the Davis case because of a court gag-order. Efforts between Bates' office and Davis' public defense team to resolve the charges began this week.
"I felt like our chances were better after Ivan's election, but I was just waiting to see what was going to happen," an elated Kelly Davis said after learning of her husband's pending release, adding she was still getting used to the idea that the couple's seven-year struggle was coming to end. "Keith and I need to decompress and breathe and process this. We're leaving from here and going on a trip. Just him and I for a week to get ourselves together before we jump back into the role as parents and all the responsibilities of everyday life."
In a statement released Friday, Bates said he had removed himself from the review of the case given his previous statements on the campaign trail.
"[Deputy State's Attorney Thomas Donnelly] has reviewed all the pertinent information, analyzed the law, and concluded that we should not continue this prosecution," Bates said. "Today's dismissal is about the prosecutorial missteps of my predecessor in her pursuit of a conviction at all costs. As State's Attorney, I have a duty to ensure justice for all, not just the victim, but also the accused."
Deborah Katz Levi, director of special litigation for the Maryland Office of the Public Defender, who has represented Davis, said that her office was "extremely grateful that Mr. Davis is finally free and reunited with his family."
"After four trials for a crime he did not commit, all guilty verdicts were overturned for police, prosecutor, and even court error," Levi said in a statement. "We are grateful that the State's Attorney's Office understood that this case was replete with so many past mistakes and evidentiary issues, which all amounted to a denial of Mr. Davis' right to due process and a loss of confidence in the criminal justice system.
"We are thankful to everyone who stood behind and championed Mr. Davis along the way, and we look forward to continuing our mission to fight for those who suffer from a lack of fairness, justice, and due process in this system of criminal justice."
On the morning of June 7, 2015—just weeks after the death of Freddie Gray—Baltimore police cornered Davis in an auto repair garage, unloading more than 30 rounds at the then 23-year-old, wounding and nearly killing him. Afterward, police charged that Davis had robbed an unlicensed taxi driver at gun point minutes before—a charge he was acquitted of when the driver testified Davis did not look like the man who had robbed him.
Days after his acquittal, however, the City State's Attorney's Office, then led by Mosby, indicted Davis in the seemingly unrelated murder of a Pimlico security guard. Hours before Davis had been fired upon by police, Kevin Jones had been shot 11 times while walking across the racetrack's parking lot to work. Baltimore police said that they found a gun near Davis' unconscious body in the garage after shooting him, and that ballistics later linked the weapon to Jones' murder.
At his first trial, Baltimore prosecutors did convict Davis, a non-violent ex-offender, with being near the gun—which was prohibited by the terms of his parole—but failed to convict him of using the empty weapon or pointing it or firing it at police. (None of the four officers who fired at Davis faced any charges.) Subsequently, prosecutors tried Davis on four separate occasions with the murder of Jones but failed to sustain a conviction. Among the numerous problems with the case: prosecutors never presented evidence that Davis and Jones knew each other. They did not have DNA directly linking the men and they did not have a motive.
For his part, Davis maintained his innocence throughout and refused multiple plea deals. He also suggested the gun—whose last known whereabouts were in a gun shop popular among police officers—had been planted.
According to research by University of South Carolina law professor Colin Miller, who co-hosts the podcast Undisclosed, only one other person in U.S. history has been tried six times in total around the same incident. (Baltimore magazine took a deep dive into the case against Davis and his many trials in November 2021.)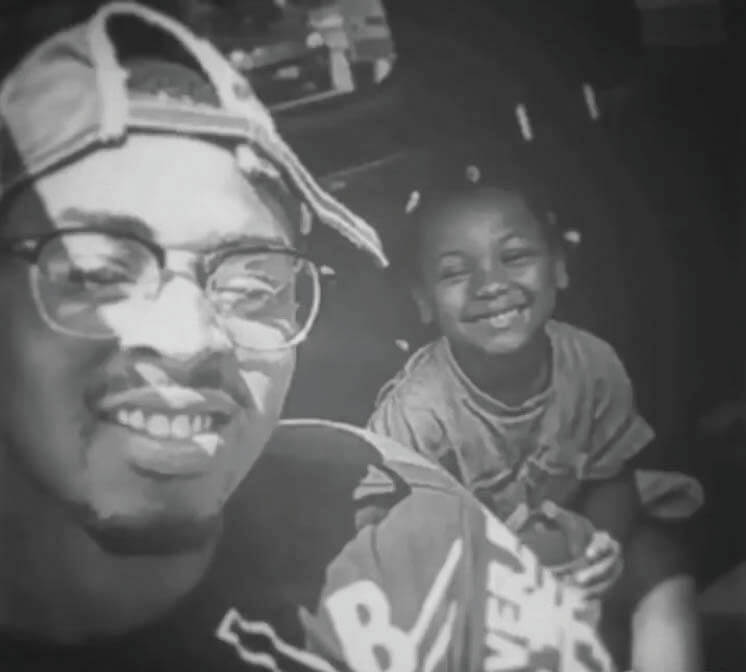 Following her then-boyfriend's arrest—the couple married while Davis was incarcerated—Kelly Davis became a powerful and strategic advocate on his behalf. Ultimately, she led a group of committed activists who became known in the city as "Team Keith." They tirelessly campaigned for the charges to be dropped against Davis, and ultimately worked to unseat Mosby. Kelly commissioned mobile billboards and informational packets about her husband's case, in addition to hosting rallies, organizing protests at Mosby events, and using social media to keep up the seven-year fight on behalf of her husband.
Kelly Davis also received support from Baltimore-born and -raised activist DeRay Mckesson and the organization he co-founded, Campaign Zero, which aims to reduce police violence. In the summer of 2021, Mckesson and Campaign Zero posted an interactive website with court transcripts that highlight, according to Mckesson's tally, more than 200 contradictions, problems, and issues over Davis' multiple trials.
"The arc of the activists supporting Keith and Kelly is much longer than my involvement, and this win is a testament to them," Mckesson says. "I'm happy to have played a role, and I'm happy knowing that this victory may inspire other people along the way. I can't help but think about all the cases and injustices that would benefit from a community of activists like this case did. But this is a win, and we need celebrate that."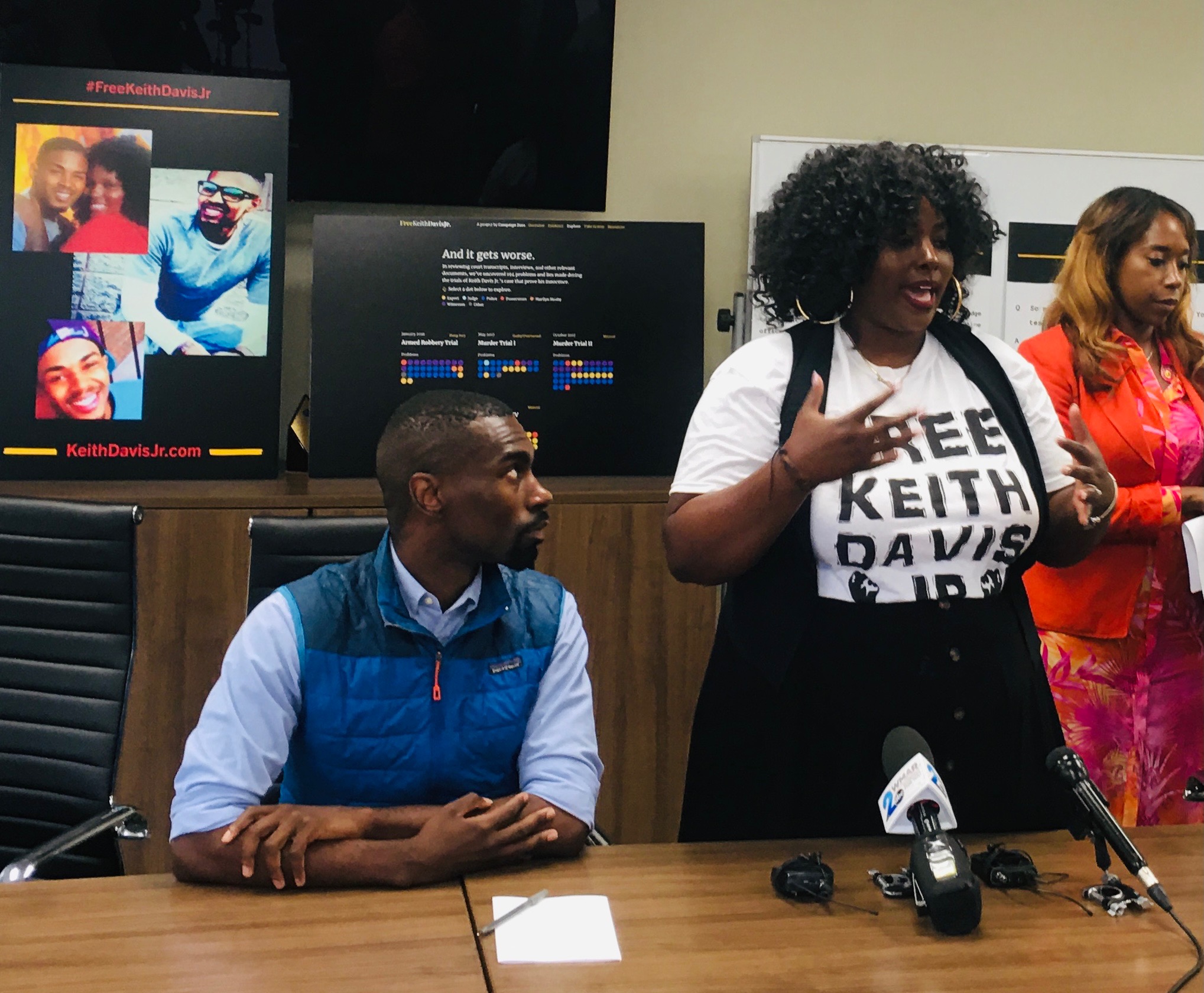 After a conviction in his fourth murder trial was overturned in February 2020 and Davis was due to be released, the City State's Attorney's Office charged Davis with attempted murder related to a prison fistfight that had occurred a full year earlier. In the prison video captured just outside the cell where the short fight took place, both Davis and the other incarcerated man walked out under their own power.
This summer, a Baltimore judge ruled that Mosby and her staff demonstrated "personal animosity" and a "presumption of vindictiveness" toward Davis in bringing the attempted murder charge in relation to the prison fight. (No weapon was ever found in the cell.)
This was not the first time the Davis case caused problems for former City State's Attorney Mosby. She was caught on cellphone video giving a Davis supporter the finger in May 2021, but not before she publicly denied the incident, which she later attempted to defend. She was also held in contempt of court and fined $1,500 in August 2022 when she violated a court gag order and commented on the Davis case.
Over the course of Davis' incarceration and many trials, Baltimore elected officials generally refused to publicly address the high-profile case. Some observers would suggest their silence arose out of a fear of political retaliation from Mosby and/or her husband, City Council President Nick Mosby—as well as their supporters.
Kelly Davis herself became the target of harassment. Out of concern for her children's well-being, she moved her family out of state last spring.
A former paraprofessional in the Baltimore County school system, she now works for Campaign Zero.
As for Keith Davis, Kelly says he had been making plans, ramped up after Bates' election, to start a residential cleaning business when he rejoins her and the kids.
"He's coming home to abundance and he'll have what he needs to get his business going," she says. "We know what he must do to get bonded and insured. Keith's not a 'Wait, 'til I get my feet underneath me type of person.' He's written it out. He says, 'This is what I want to do. I planned it out. I've named it. I've done everything. Let's get started.'"