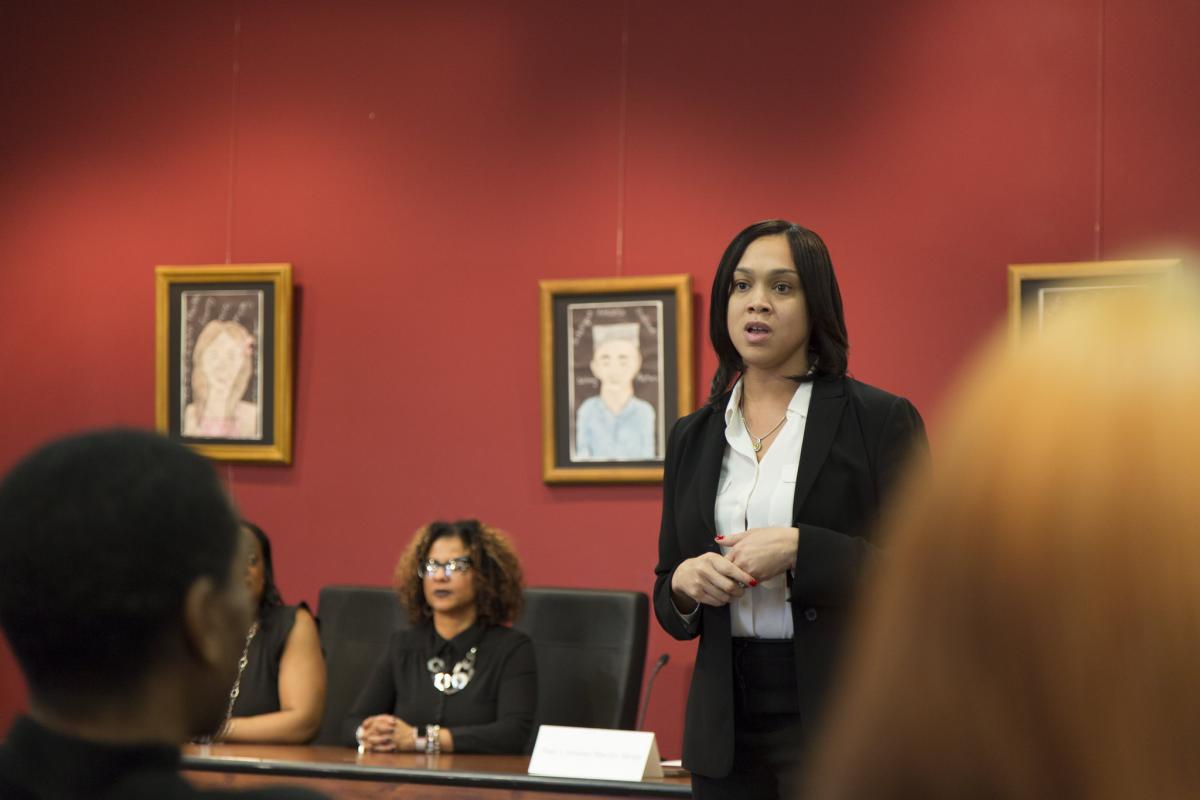 —Patrick Mackie/Office of Zeke Cohen via Flickr
A federal grand jury indicted Baltimore State's Attorney Marilyn Mosby on charges of perjury and falsifying mortgage applications related to the purchases of two Florida homes, as well as lying about financial hardship claims due to COVID-19, the U.S. Department of Justice announced Thursday afternoon.
Potential federal charges have hung over Mosby, 41, since last March, when federal prosecutors subpoenaed her campaign records and the business records of her husband, City Council President Nick Mosby, as well as other tax and bank documents from the couple. The arrival of federal agents at City Hall last spring came just two years after the FBI raid of City Hall that led to the arrest and conviction of former Mayor Catherine Pugh on fraud and tax evasion charges.
Nick Mosby was not charged with wrongdoing in the indictments. Marilyn Mosby, a two-term incumbent, is currently running for reelection.
According to the four-count indictment, in May 2020 and December 2020, State's Attorney Mosby submitted "Coronavirus-Related Distribution Requests" for separate withdrawals of $40,000 and $50,000 from the city's deferred compensation plans. In both instances, the indictment alleges Mosby falsely certified that she qualified for a tax-free distribution as defined under the CARES Act by experiencing "adverse financial consequences from the coronavirus as a result of being quarantined, furloughed, or laid off; having reduced work hours; being unable to work due to lack of childcare; or the closing or reduction of hours of a business she owned or operated."
The indictment alleges that Mosby did not experience any such financial hardships due to COVID-19, and notes Mosby received her full salary of more than $247,000 from Jan. 1, 2020 through Dec. 29, 2020—which was, in fact, a nearly $10,000 increase from 2019. In recognition of the economic impact of the COVID-19 pandemic faced by many Americans, individuals undergoing financial hardship are allowed to withdraw retirement account funds and avoid the immediate 10 percent tax penalty under the federal coronavirus relief package passed in 2020.
The indictment also alleges that in July 2020 and September 2020, as well as in January 2021 and February 2021, Mosby made false statements in mortgage documents related to the purchase of a $490,500 home in Kissimmee, Florida and a second $428,400 condominium in Long Boat Key, Florida.
As part of both applications, according to the indictment, Mosby failed to disclose as required that she had several years' worth of unpaid federal taxes. Specifically, she also failed to disclose that in March 2020, the Internal Revenue Service had placed a $45,000 lien against the Reservoir Hill home she owned with her husband for the amount of unpaid taxes the couple owed the IRS. Specifically, she and her husband owed the IRS taxes of more than $45,000 in 2014, which they did not pay, and more than $17,000 in 2015, which they did not pay, resulting in the IRS placing a $45,000 lien against the couples' Reservoir Hill home. At various times, Nick Mosby claimed the tax debt had been paid off and denied any lien had been placed.
Finally, according to the indictment, Mosby signed what's known as a "second home rider" on the Kissimmee house, which stated that she would use the property as her second home—and not a rental property—for at least a year. The indictment alleges that by falsely executing the "second home rider," Mosby could obtain a lower interest rate on the mortgage that she would not have received without it. The indictment alleges she had lined up a private company to manage the property as a short-term rental prior to closing on the home—a story initially broken by the Baltimore Brew last year.
Mosby bought the 4,000-square-foot Kissimmee property in September 2020 for $545,000 and was utilizing it as a rental revenue source. She flipped the property this past fall, selling it for a $150,000 profit to a somewhat mysterious female buyer from Baltimore County, who told The Baltimore Sun at the time that she did not know Mosby. Baltimore magazine subsequently learned the new owner's husband has been employed by city, but was unable to reach to the couple for comment.
Previously, Marilyn Mosby faced scrutiny about her nearly two-dozen trips across the country and internationally while in office. She also faced scrutiny around several companies she formed in 2019, including Mahogany Travel, Mahogany Elite Consulting, and Mahogany Elite Enterprises, which she had not initially disclosed on state ethics forms.
In an interview Thursday with former CNN contributor and now YouTube broadcaster Roland Martin, Mosby's attorney, Scott Bolden, defended Mosby's COVID-19 hardship claims, saying that Mosby's businesses "were in the travel space and those businesses were affected [by COVID-19]." Bolden also claimed Mosby did not know of the outstanding tax debt—even though IRS refunds to the couple had been withheld for several subsequent years—and that she was unaware of the tax lien, which had been widely reported by the time of the purchase of the second Florida home.
#BREAKING Marilyn Mosby's attorney tells Roland Martin they are fighting these charges—that her private businesses were impacted by Covid-19. He says she didn't know she owed fed government prior tax money. @wjz pic.twitter.com/7PJnxVkUbm

— Mike Hellgren (@HellgrenWJZ) January 13, 2022
However, in July of 2020, Mosby spokesperson Zy Richardson said her companies had "no clients and she has not received a single cent in revenue" adding "there are no plans to operate the company while she is state's attorney."
Mosby has been at the center of other recent controversies as well, including being less than truthful while withholding the names of police officers on her office's "do not call list" as mandated by court order. She was also caught on video giving the finger last year to a supporter of Keith Davis Jr., which she initially denied. Mosby plans to try Davis for a controversial fifth time for the same murder later this spring.
Meanwhile, she established a legal defense fund this past summer with her husband and appears resolute to remain in office and fight the federal charges.
"State's Attorney Mosby and the office remain completely focused and wholly committed to serving the citizens of our city [and] will not be distracted or sidetracked from our mission to make Baltimore a safer community," Zy Richardson said in a statement.