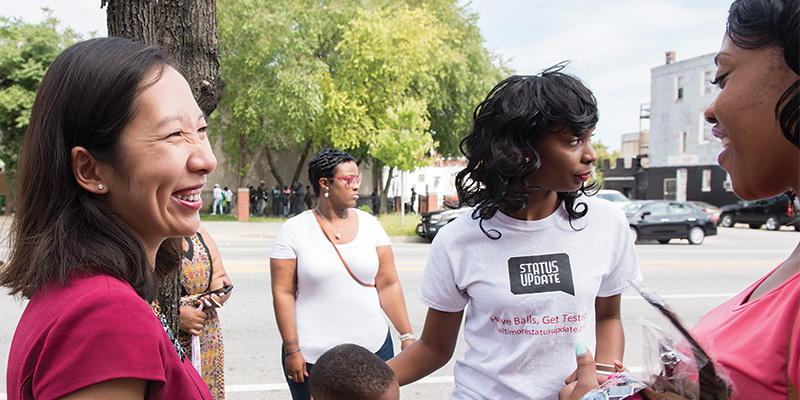 Photography by Mike Morgan
Former Baltimore City Health Commissioner Dr. Leana Wen was forced out as president of Planned Parenthood Tuesday by the organization's board of directors over leadership and management differences.
Just last November, Wen became the second doctor to lead the organization in its now 103-year history.
In a statement posted to Twitter, Wen said yesterday she was, "leaving because the new Board Chairs and I have philosophical differences over the direction and future of Planned Parenthood." She added that she, "will always stand with Planned Parenthood, as I continue my life's work and mission of caring for and fighting for women, families, and communities."
Specifically, Wen said those philosophical differences came down to her vision of expanding Planned Parenthood's maternal health care and cancer detection efforts, as well as tackling some of the critical social determinants of health—as she did in Baltimore—including housing instability and food insecurity.
In light of new legislative limits in several states and ongoing efforts to curtail access to legal abortion in other states, plus a conservative shift in the make up of U.S. Supreme Court, Wen said she understands the board's decision to seek a more aggressive political leader.
"The new Board leadership has determined that the priority of Planned Parenthood moving forward is to double down on abortion rights advocacy," Wen wrote. "With the landscape changing dramatically in the last several months and the right to safe, legal abortion care under attack like never before, I understand the shift in the Board's prioritization."
After the announcement of her departure, Rep. Elijah Cummings, whose district includes part of Baltimore, issued a statement of support.
"Dr. Wen's entire career has been focused on fighting for quality healthcare for women, families and children," Cummings wrote. "I have witnessed her extraordinary leadership in public health, both nationally and in Baltimore as the Baltimore City Health Commissioner."
Planned Parenthood said board member Alexis McGill, who previously served as the organization's acting chair, will assume acting CEO duties while the women's health and reproductive rights group searches for Wen's successor.
In her Twitter statement, Wen wrote that she joined the organization "to run a national health care organization and to advocate for the broad range of public health policies that affect our patients' health."
A former emergency room physician, Wen took over the City Health Department in 2015 when she was appointed by then-Mayor Stephanie Rawlings-Blake. Under Wen, the Baltimore City Health Department became a leader in public health innovation. She pushed, for example, for the free prescription access for citizens to naloxone—which reverses an opioid overdose and was named Local Health Department of the Year by the National Association of County and City Health Officials.
A Chinese immigrant, Wen was also been at the forefront of advocacy for women's health and reproductive rights during her tenure in Baltimore, fighting against Trump Administration cuts to teen pregnancy prevention and local health care clinics. She also helped lead a legal action against the Trump Administration that alleged it intentionally and unlawfully undermines the Affordable Care Act, thereby putting thousands of Baltimoreans at risk of losing access to health care.
In a 2018 Washington Post profile Wen asserted that she is not, by nature, a politician.
"My identity, first and foremost, is always as a doctor," she said.
"Standard medical care should not be political," she added. "The fact that it is political means that we as Planned Parenthood need to stand up and fight for it."