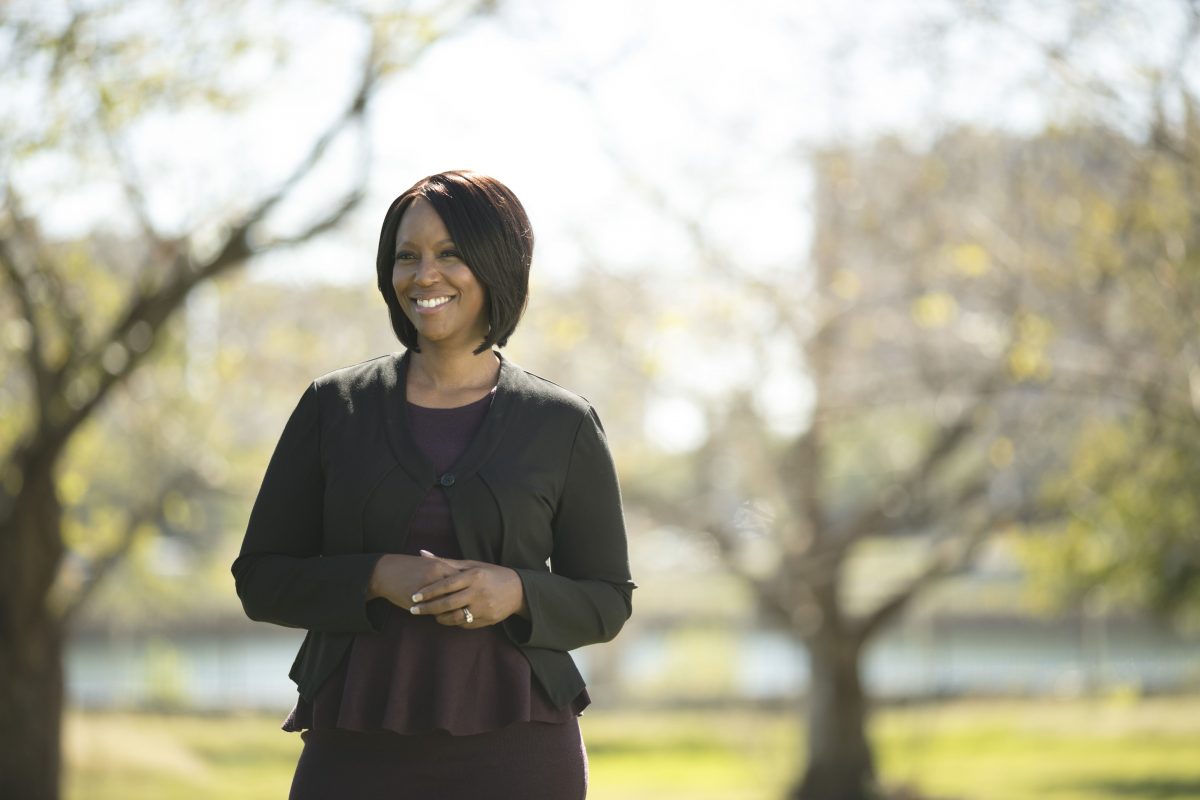 Courtesy mayaforcongress.com/Maya Rockeymoore Cummings
In the months leading up to his tragic passing, Congressman Elijah E. Cummings had conversations with his wife, Maya Rockeymoore Cummings, about the future and what would come of his seat should his health continue to fail. Rockeymoore Cummings, who has served as the chairwoman of the Maryland Democratic National Committee, believes her political experience makes her the ideal candidate to succeed her husband.
At the West Baltimore home she shared with her husband, Rockeymoore Cummings formally announced Tuesday that she intends to continue his legacy and join what is expected to be a crowded field for the open 7th Congressional seat. The district has long been a Democratic stronghold, and it's one many presume could be a job for as long as the person elected wants it.
"I think she has to be one of the top candidates," says Matthew Crenson, a retired Johns Hopkins political science professor and author of several books about Baltimore. "Because she's Congressman Cummings' wife—there's a very strong sentimental attachment to him that may pass over to her. The repudiation of the past probably isn't going to work as well in this case as it might in some others."
The special primary election will be held Feb. 4, with the general election set for April 28, the same day as Maryland's primary election. Essentially, whoever wins the initial special election in a few months will once again need to win again in the April primary followed by November's general election. This means that there will be an incumbent who will have the advantage of being familiar to voters.
Here is a breakdown of who else might compete for the seat and announce their intentions by the filing deadline of November 20:
Heavy Hitters
Kweisi Mfume
A familiar face in Baltimore politics, Mfume held the 7th District Congressional seat from 1987-1996 before Congressman Cummings. Considered the favorite in the race, he is a former leader of the national NAACP, heading the organization from 1996-2004. He ran an unsuccessful campaign for Senate in 2005, losing out to Ben Cardin. Currently, Mfume serves as chairman of the board of regents at Morgan State and as vice chair on the board of Research America, which works to achieve funding for medical and health research.
"He's probably [Rockeymoore Cummings's] stiffest competition having held the seat before," Crenson says. "It's going to be tough for outsiders to capitalize. Here, the same old same old looks pretty good."
Jill P. Carter
A Maryland State Senator, Carter represents Maryland's 41st legislative district. She has not officially filed, but many have speculated that she will enter the race. The former director of the Baltimore office of civil rights, Carter is the daughter of the late civil rights leader Walter P. Carter, and could make a natural successor to continue to fight for the progressive issues Cummings was passionate about.
Carter said Monday that she will make a special announcement next week that will likely launch her campaign for the seat. Crenson notes that there are currently zero women in Maryland's congressional delegation, and that Carter and Rockeymoore Cummings could command women voters who are energized to change that.
Talmadge Branch
Branch is another familiar face in Maryland politics, currently serving as a delegate in the 45th legislative district and the majority whip of the House. He was first elected to the House of Delegates in 1994 and has served since 1995. Branch is expected to officially file for the seat soon.
For Branch and the other candidates, navigating how best to respect Congressman Cummings and his legacy will be a tricky minefield, especially given Rockeymoore Cummings's claims about her husband's wishes.
"There's a way to make it clear what profound respect they have for him and his record, while also asserting that they might be able to carry on his tradition more effectively than [Rockeymoore Cummings] could," Crenson says.
Stephanie Rawlings-Blake
Rawlings-Blake's name has been thrown around in speculation, but her entering the race isn't much more than that at this point. Still, for the former Baltimore mayor, who resigned in the aftermath of Freddie Gray's death and the subsequent uprising in the city, running for office again could stir up a reexamination of her tenure as mayor. (Update: Rawlings-Blake will not run for the seat.)
Further Consideration
Dr. Mark Gosnell
Gosnell has never held political office before, but if voters are looking for a fresh face, he could be an option. A Baltimore native, Gosnell is currently a pulmonologist at MedStar Harbor Hospital. Gosnell has indicated he is serious about running, as he was already planning on primarying Elijah Cummings before the congressman's passing. His platform will be based around health issues such as drug addiction and health care.
Marilyn Mosby
For the Baltimore City State's Attorney, no formal interest has been expressed yet. However, Mosby is an ambitious politician, and it may make sense for her to seek the seat once held by the man who she says helped launch her political career. In the summer of 2018, Cummings narrated an ad for Mosby during her reelection campaign in the Democratic primary. The ties the two share could make her a logical candidate to step into the seat.