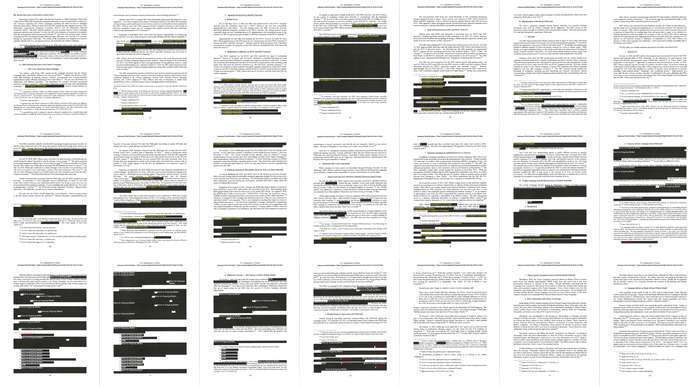 After a 22-month investigation into President Donald Trump's possible collusion with Russia, special counsel Robert Mueller's 448-page report garnered riveting attention across the country Thursday after a redacted version was made public.
The key findings span a range of conclusions, and frustratingly to some, no conclusion in one key matter—the allegations of obstruction of justice.
The report found there were numerous contacts between Trump campaign advisers and Russians affiliated with the foreign government during the run-up to the 2018 election and afterward. But the special counsel did not establish that there was sufficient evidence to indict the president, or any Trump campaign official, with conspiring with Russian intelligence operatives to influence the election.
However, the Mueller investigation did find repeated examples in which the president directed officials around him to halt or derail the inquiry, including attempting to get Deputy Attorney General Rod Rosenstein to oust Mueller. Trump's efforts failed because those officials did not comply with the president's wishes and demands, according to the report.
"The President's efforts to influence the investigation were mostly unsuccessful, but that is largely because the persons who surrounded the President declined to carry out orders or accede to his requests," the special counsel determined.
Rosenstein, who was nominated by Trump to his position, served as U.S. attorney for the district of Maryland from 2005 to April 2017. Following Attorney General Jeff Sessions' recusal from the investigation, Rosenstein appointed Mueller, a former director of the FBI, to head the inquiry.
Ron Weich, dean of the University of Baltimore School of Law, said that even without further indictments of president's campaign team, the release of the report was important and necessary for the American people "to see the full conduct the president and his team."
"The narrative of the report reveals the campaign willingly accepted and encouraged assistance from a foreign adversary, including [former Trump campaign manager] Paul Manafort, who shared campaign polling information to help Russia influence the election," Weich said.
Among others, Manafort, former deputy campaign chairman Rick Gates, and Trump foreign policy advisor George Papadopoulos have all already pled or been found guilty of crimes charged by Mueller's team, though those convictions were not directly related to their campaign work.
Mueller's team also declined to prosecute the president's son, Donald Jr., the president's son-in-law Jared Kushner, and other campaign members for their participation in the infamous June 2016 meeting at Trump Tower with a Kremlin-connected lawyer, who had promised political "dirt" on Hillary Clinton. In part, investigators said, because they couldn't prove that they "willfully" violated the law.
In terms of Mueller's decision not to indict the president on obstruction of justice charges, Weich, who served as an assistant attorney general in the Department of Justice during the Obama administration, noted that according to DOJ guidelines, a sitting president couldn't be indicted. The decision to remove a president is essentially left up to Congress, which has the power to impeach.
That said, House Majority Leader Steny Hoyer, who represents Maryland's 5th District, told CNN that he does not expect impeachment proceedings to move forward.
"Based on what we have seen to date, going forward on impeachment is not worthwhile at this point," Hoyer told CNN. "Very frankly, there is an election in 18 months and the American people will make a judgment."
"I think Bob Mueller is a cautious man, a cautious prosecutor," said Weich, who knows Mueller, the director of the FBI during his time at the DOJ, as well Rosenstein, whom he met after taking over as dean of the law school at the University of Baltimore in 2012. "Both Bob Mueller and Rod Rosenstein have sterling reputations." Rosenstein will be the commence speaker at University of Baltimore School of Law's graduation ceremony in May.
Overall, reactions to the report's conclusions fell largely along well established partisan divides.
U.S. Rep. C.A. "Dutch" Ruppersberger, who represents Maryland's 2nd District, pointed to "at least 10 instances" in the report in which President Trump attempted to interfere with the Mueller investigation. He encouraged all Americans to read the report, in particular, the sections on obstruction of justice "so they can determine for themselves if the behavior described in this report is becoming of a United States President."
In a statement, Maryland U.S. Rep. Elijah Cummings, the chairman of the Committee on Oversight and Reform, said Congress must subpoena the full Mueller report and all underlying documents. "This report catalogues in excruciating detail a proliferation of lies by the President to the American people, as well as his incessant and repeated efforts to encourage others to lie," Cummings wrote.
Cummings also criticized current Attorney General William Barr's favorable summary of the report earlier this month and again during a Thursday morning press conference. "Contrary to AG Barr's attempts at misdirection, it is crystal clear from the report that DOJ's policy against indicting a sitting President played a key role in Special Counsel Mueller's analysis—in fact, it is the very first point in the obstruction section of his report."
In the report's conclusion in the obstruction section, the Mueller team said, "while this report does not conclude that the President committed a crime, it also does not exonerate him."
U.S. Rep. Andy Harris, from Maryland's 1st District, called the investigation "two years of wasted time, energy, and $25 million" in a tweet Thursday. "It's time we move on from partisan politics to issues Americans truly care about, like securing our border, addressing the opioid crisis, and continuing to grow our economy."
In terms of how the Mueller report plays out politically, Richard Vatz, Towson University professor of rhetoric and communication, called the investigation document "a perfect Rorschach test."
"Republicans will take a look and say, 'See what did I tell you?' and smile," Vatz said. "Democrats will take a look and say, "See what did I tell you?' and smile.
"The president has never had a majority of the country's support, but [the report's release] will harden his base," Vatz continued. "And the 30 percent that despise him will despise him even more. The question will become: If the economy keeps growing and there are no major foreign entanglements, will he get movement from those in the middle when the election comes around?"