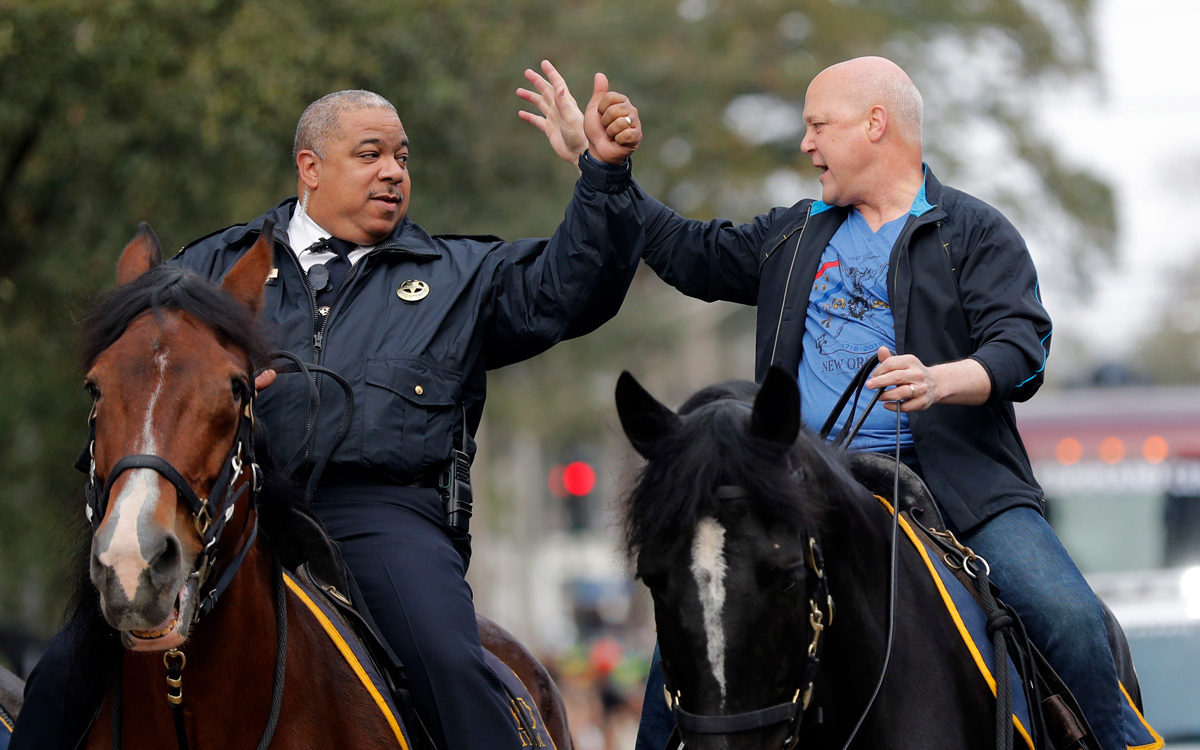 AP Photo/Gerald Herbert
Just one day after Baltimore Police Commissioner nominee Joel Fitzgerald stepped away from the position, Mayor Catherine Pugh has already found his replacement. New Orleans Police Superintendent Michael Harrison will be the new commissioner-designate for the BPD. After serving 27 years on the New Orleans Police force, and leading them since 2014, Harrison says that he's honored to be selected and is looking forward to engaging with the residents.
"My first priority will be to drive meaningful cultural change within the department such that not only is there a renewed sense of purpose and mission among those sworn to protect and serve, but that citizens' trust is restored to a new level that enables true collaboration and confidence," Harrison said in a statement. "Only then can we make sustained progress in reducing violence in close partnership with those who have the most at stake."
Mayor Pugh says that her decision was made based on his experiences and assistance with crime reduction in New Orleans—a city that is similar to Baltimore demographically and in terms of homicide rates. Since joining the New Orleans Police Department in 1991 as a patrol officer, Harrison has worked as a major case narcotics detective, lieutenant of the Public Integrity Bureau, and a commander for special investigations. In these roles, he has implemented a consent decree similar to the one in Baltimore enforcing new-aged constitutional policing while increasing recruitment numbers.
"He will bring not only significant and relevant experience to addressing the challenges of Baltimore, but the insight and sensitivity needed to reestablish essential trust and confidence of citizens in their police officers," said Mayor Pugh in a statement.
The transition from New Orleans to Baltimore should be fairly seamless for Harrison on January 8 when he begins his new role and here's why:
Like New Orleans, Baltimore is operating under a federal consent decree.
While New Orleans is further along—the Louisiana city's consent decree was implemented in 2013—both cities struggle similarly with exorbitant homicide rates. During the federal investigation by the U.S. Justice Department, like Baltimore, New Orleans also experienced longstanding patterns of racial profiling and excessive force within the city's police force.
Both cities are top five in the country for highest murder rates.
Baltimore sits at number two while New Orleans holds the fourth spot. Under Harrison's leadership, the city saw a 7-percent reduction in the number of murders and a 28-percent reduction in the number in non-fatal shootings in 2018. The reduction in violent crime was due in large part to Harrison's deployment of policing strategies like the Tactical Intelligence Gathering and Enforcement Response (TIGER) that focuses on those who are repeat offenders rather than targeting specific areas.
BPD recruitment numbers have decreased just like in New Orleans.
Baltimore saw a significant increase in officer departures in 2015 following the unrest and death of Freddie Gray in police custody. That year, the BPD experienced a net loss of 158 officers and, according to a report earlier this year, the department has 500 fewer sworn officers in 2018 than it did in 2012. Similarly, prior to 2014 in New Orleans, the city experienced this downward trend in retaining police officers.
Harrison combated this by increasing the number of academy classes, completely overhauling the recruitment process, and increasing the number of resources dedicated to recruit more officers, which lead to a 60 percent increase in 2017 from the prior year.
Baltimore residents just want to feel safe.
Harrison's experience with a federal consent decree is ideal for Baltimore's next police commissioner. In a survey conducted by the New Orleans Crime Coalition, 83 percent of residents said they feel safe in their own neighborhoods—a vast improvement due to the implementation of the strategies in the consent decree. Here in Baltimore, we all want that.