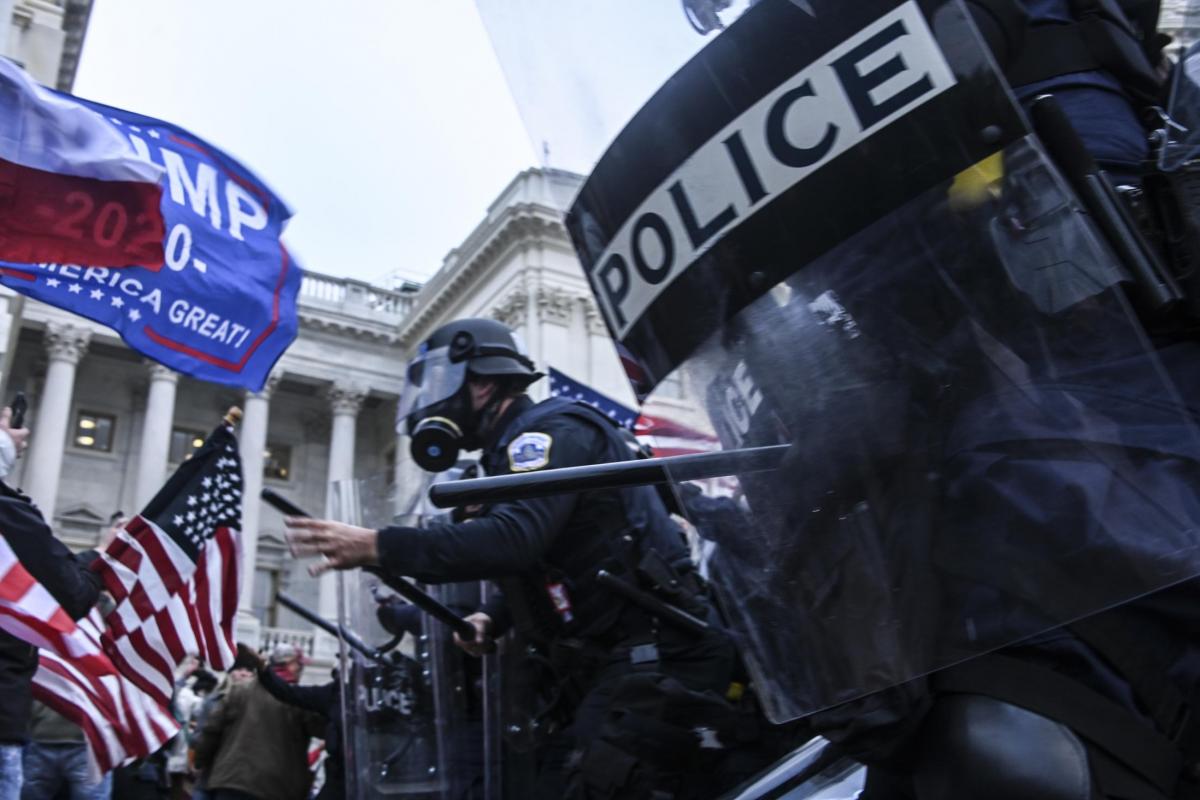 Photography by Joe M. Giordano
Washington, D.C.—A pro-Donald Trump mob, intent on blocking the transition of power to President-elect Joe Biden, took over the U.S. Capitol Wednesday afternoon, plummeting the historic seat of American democracy into chaos, violence, and tragedy. 
The shocking scene, incited by the president's incendiary language—he vowed "never to concede" and implored supporters to "stop the steal" at a rally just hours earlier—was unimaginable to most Americans before yesterday. 
Elected members of the U.S. Senate and House of Representatives—gathered to certify Biden's presidential election victory—were forced to shelter in place and don gas masks as a grossly unprepared U.S. Capitol Police department failed to hold back the pro-Trump rioters. One woman, who has been identified as 35-year-old Air Force veteran Ashli Babbitt, was shot and killed inside the U.S. Capitol by police. Three other individuals, whose names have not yet been released, suffered what police described as "medical emergencies" and died during the siege, D.C. police Chief Robert Contee III said. The circumstances and details of those deaths have not yet been released. 
Rioters, who scaled walls and described their intent as an "insurrection," fired chemical irritants, rocks, and bottles at police. Some turned the flagpoles carrying their pro-Trump banners into weapons, smashing windows and doors as they yelled anti-Black Lives Matter slogans and stormed the U.S. Capitol. 
Inside, they ransacked offices, waved Confederate banners, invaded the Senate and House chambers, and scrawled "Murder the Media" while live-streaming their sedition. On one side of the U.S. Capitol, rioters broke into administrative trailers and erected a noose. Skirmishes near several entrances, and on the building's terraces and stairs, lasted four hours. Eventually, the Montgomery County police department, Maryland State Police, and the Maryland and Virginia National Guards were called to assist.
Why the U.S. Capitol building was left largely undefended remains an urgent question.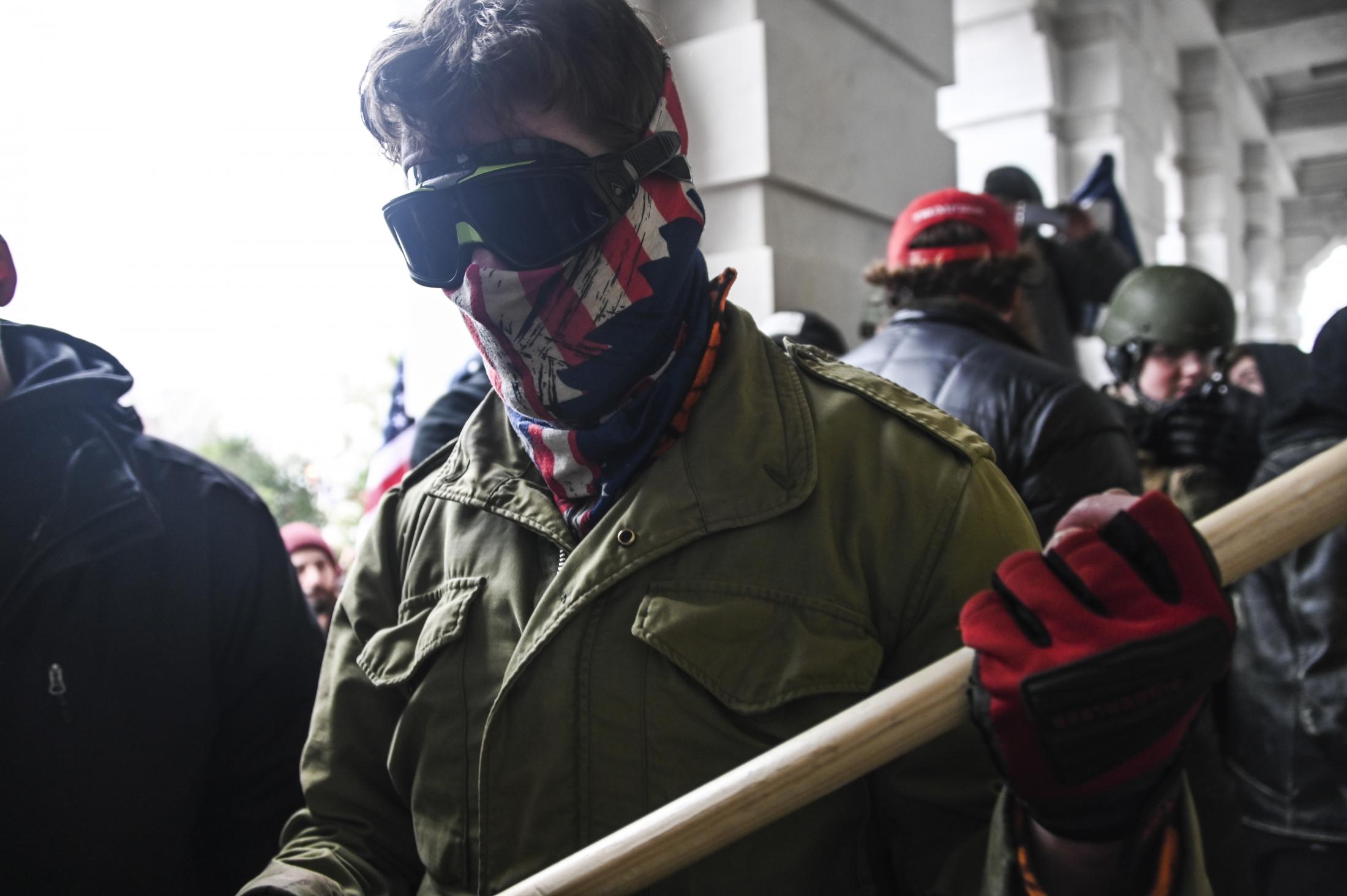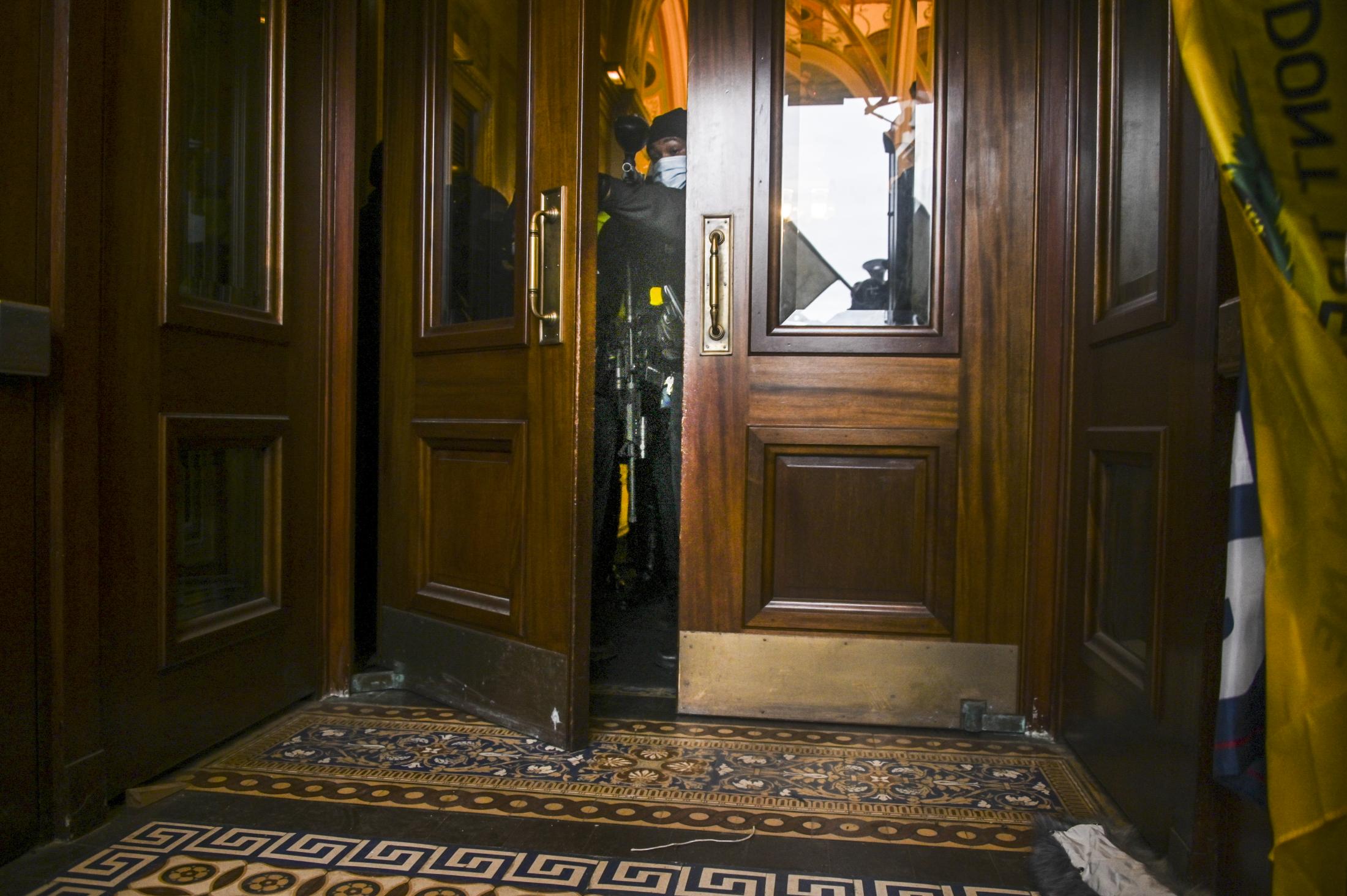 The morning "March for Trump" was well publicized. Additionally, a post-rally march to the U.S. Capitol by pro-Trump protestors, who have been violent in the past—in particular the group known as the Proud Boys—was amplified on various social media channels.
Also disturbing: images of some members of Capitol Police opening barricades for the mob and posing for selfies with rioters inside the U.S. Capitol. Later, as more people attempted to break into the building, police pushed back with physical force, including the use of batons, but more often with canisters of chemical irritants, flash-bang devices, and shots of pepper sprays. 
Rioters, who clearly expected the majority of police officers to be on their "side," reacted with surprise and anger at being sprayed with chemicals. Many shouted "traitor" and "treason" at police, imploring officers to "stand down." Also heard on the Capitol terrace during the siege: "Next time we're coming back armed."
Washington, D.C. Mayor Muriel Bowser, who put the blame for the riot squarely on Trump, instituted a 6 p.m. curfew Wednesday in an attempt to limit violence and property destruction.
"We saw an unprecedented attack on our American democracy incited by the United States president," Bowser said at a late Wednesday night press conference. "He must be held accountable. His constant and divisive rhetoric led to the abhorrent actions we saw today." 
Contee said one police officer had been assaulted and hospitalized, and another received significant facial injuries after being hit by a projectile. He said police had made 26 arrests at the U.S. Capitol and at least 52 arrests overall Wednesday. The arrests include four for carrying handguns without licenses, one for possession of a prohibited weapon, and others for curfew violations and unlawful entry, according to reporting from The Washington Post.
The D.C. police chief also confirmed two pipe bombs were recovered at the Democratic National Committee and Republican National Committee offices. A cooler containing molotov cocktails was also found on the U.S. Capitol grounds.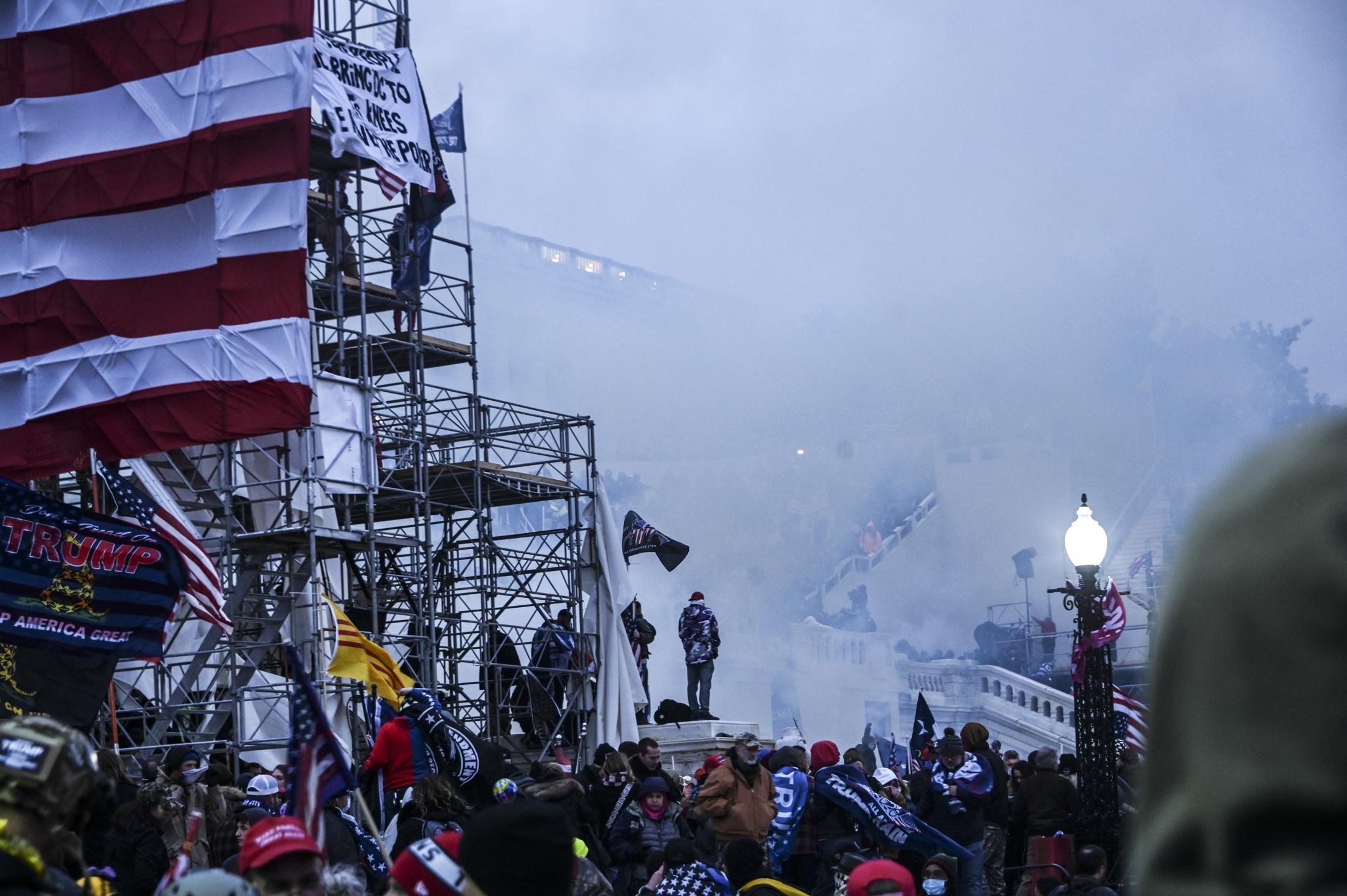 After the election certification resumed at 8 p.m. Wednesday, Maryland Senator Chris Van Hollen decried the attack on the Capitol during a speech on the Senate floor. Van Hollen said that Trump's repeated baseless claims election fraud over the past two months, abetted by elected GOP supporters in Congress, have inflicted harm "upon our democracy and Americans' trust in our democratic institutions." Congress officially certified Joe Biden's electoral college win shortly after 3:30 a.m. 
"Today should be a wake-up call to each and every one of us of what happens when we fail to come together," Van Hollen said. "Not as Democrats and Republicans, but each of us as Americans, to stand up to a President who, time and again, has shown contempt for our democracy—contempt for our Constitution." 
Maryland Congressman C.A. "Dutch" Ruppersberger went further in a late statement, calling for Vice President Mike Pence and Trump's cabinet secretaries to invoke the 25th Amendment, which would deem the president unable to discharge his duties and remove him from office immediately.
Ruppersberger called Wednesday "a sad day for our country." 
"Every American has the right to peacefully protest," Ruppersberger said. "But what happened today was a violent insurrection that resulted in death, injury and insurmountable damage to our nation's reputation on the world stage." 
He also described Trump's oft-repeated false allegations of election rigging and fraud as dangerous. "He is a threat to our national security and a menace to democracy," Ruppersberger said.
Governor Larry Hogan described the attack on the U.S. Capitol as "heinous" and said Americans should not stand for it.
Baltimore Mayor Brandon Scott spoke to D.C. Mayor Bowser to offer the city's support on Wednesday afternoon. "What we're seeing on Capitol Hill today is an attack on our democracy," Scott said in a statement. "Donald Trump's policies, actions and inactions have terrorized Black and Brown people across this country over the last four years. He has consistently stoked his base to act in hate. This behavior is not surprising to me, nor should it be for anyone. But let us not be desensitized. This is what white supremacy looks like."
During his speech at the 11 a.m. "March for Trump" rally on the Ellipse just south of the White House, Trump implored supporters: "If you don't fight like hell, you're not going to have a country anymore." Trump told his supporters they needed to be "bold" and "strong" and that they were going to take a "walk down Pennsylvania Avenue…to the Capitol and…take back our country."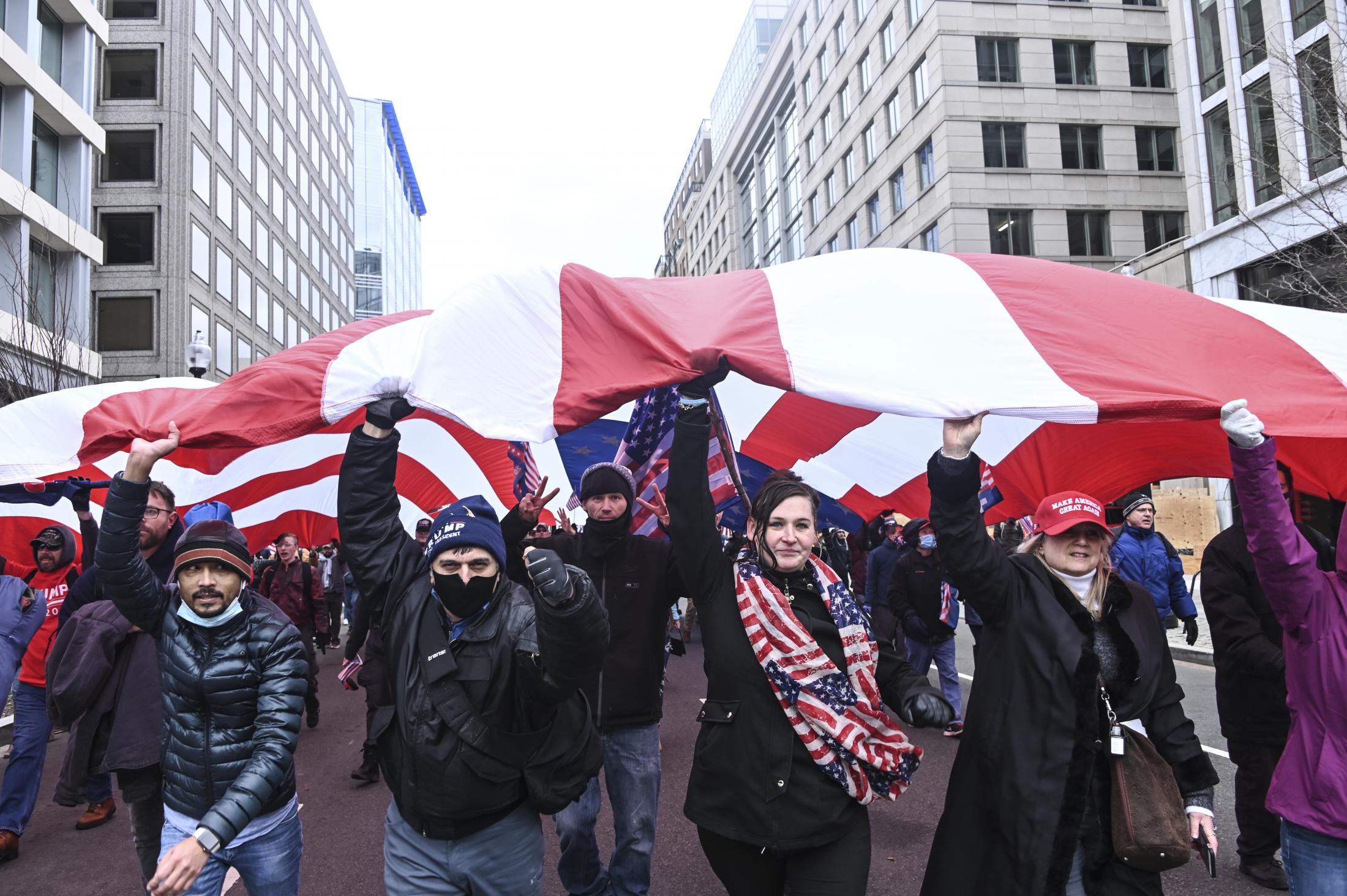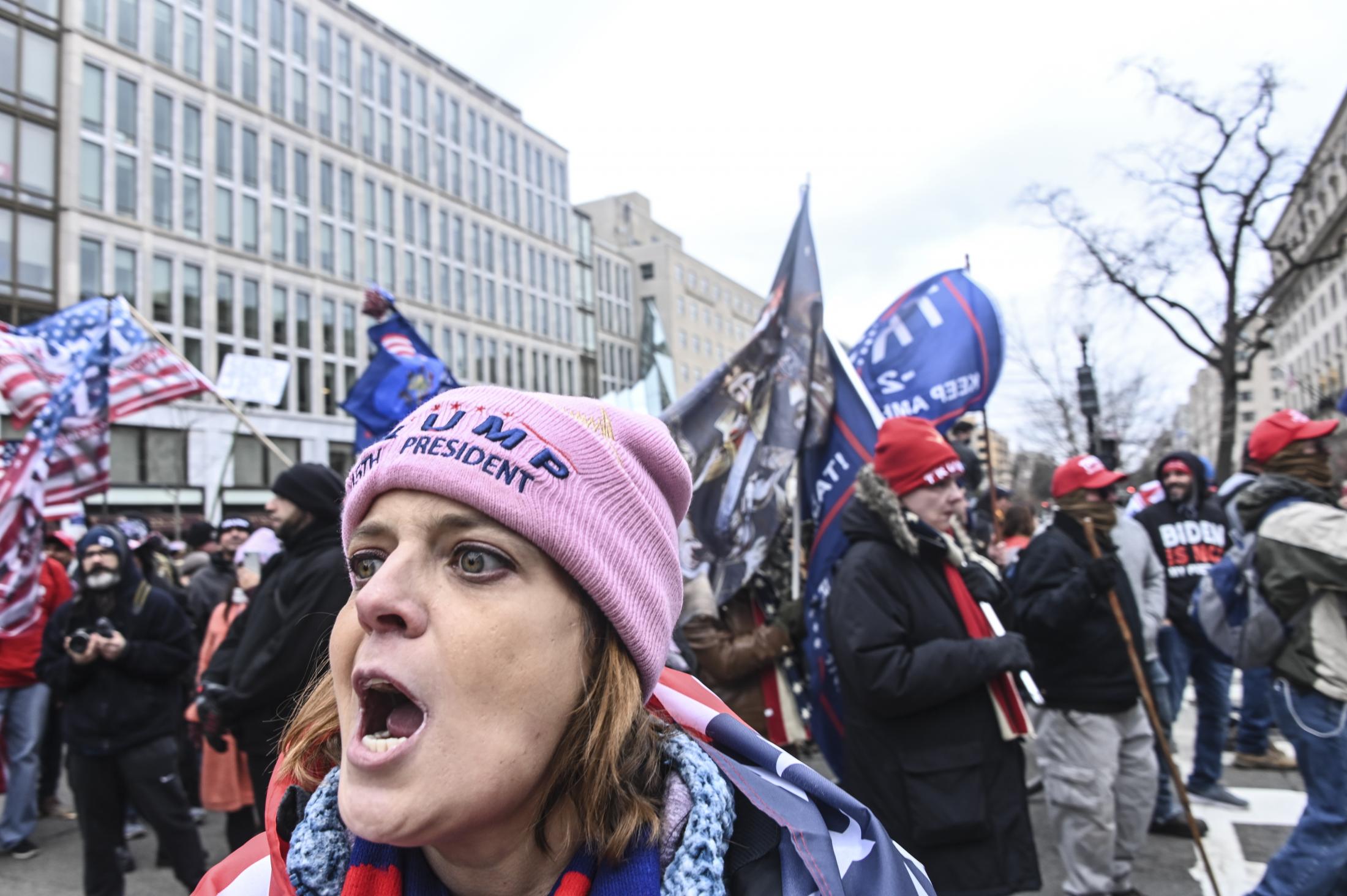 With the U.S. Senate and House of Representatives meeting jointly to tally the certificates of electoral votes from the 50 states and the District of Columbia, thousands of Trump supporters from across the country made their way to the nation's capital Wednesday to protest Trump's rejection at the ballot box.
Several pro-Trump rallies took place in Washington Tuesday and Wednesday. When Trump announced in a tweet Tuesday that he would make an appearance Wednesday at the late morning "March For Trump" rally organized by the conservative women's group, Women For America First, it had the effect of firing up his base of supporters.
In interviews with more than two dozen Trump supporters at the late morning rally on the Ellipse outside the White House—and during and after the siege of the U.S. Capitol—it was clear the president's weeks of lies about a rigged election, social media's amplification of those false claims, and the right-wing media's disinformation campaign had convinced them that election was being "stolen." 
Richard Barnett, the now somewhat infamous supporter from Northwest Arkansas who broke into Speaker of the House Nancy Pelosi's office and stole an envelope for proof, described the installation of Joe Biden as president as "treason."
"[Donald Trump] is a patriot," Barnett said, holding up the letter from Pelosi's office on the terrace outside the U.S. Capitol Wednesday afternoon. "If they steal this election, it's treason, and you don't let that happen. We'll tear this place apart. We'll take this f**cking house."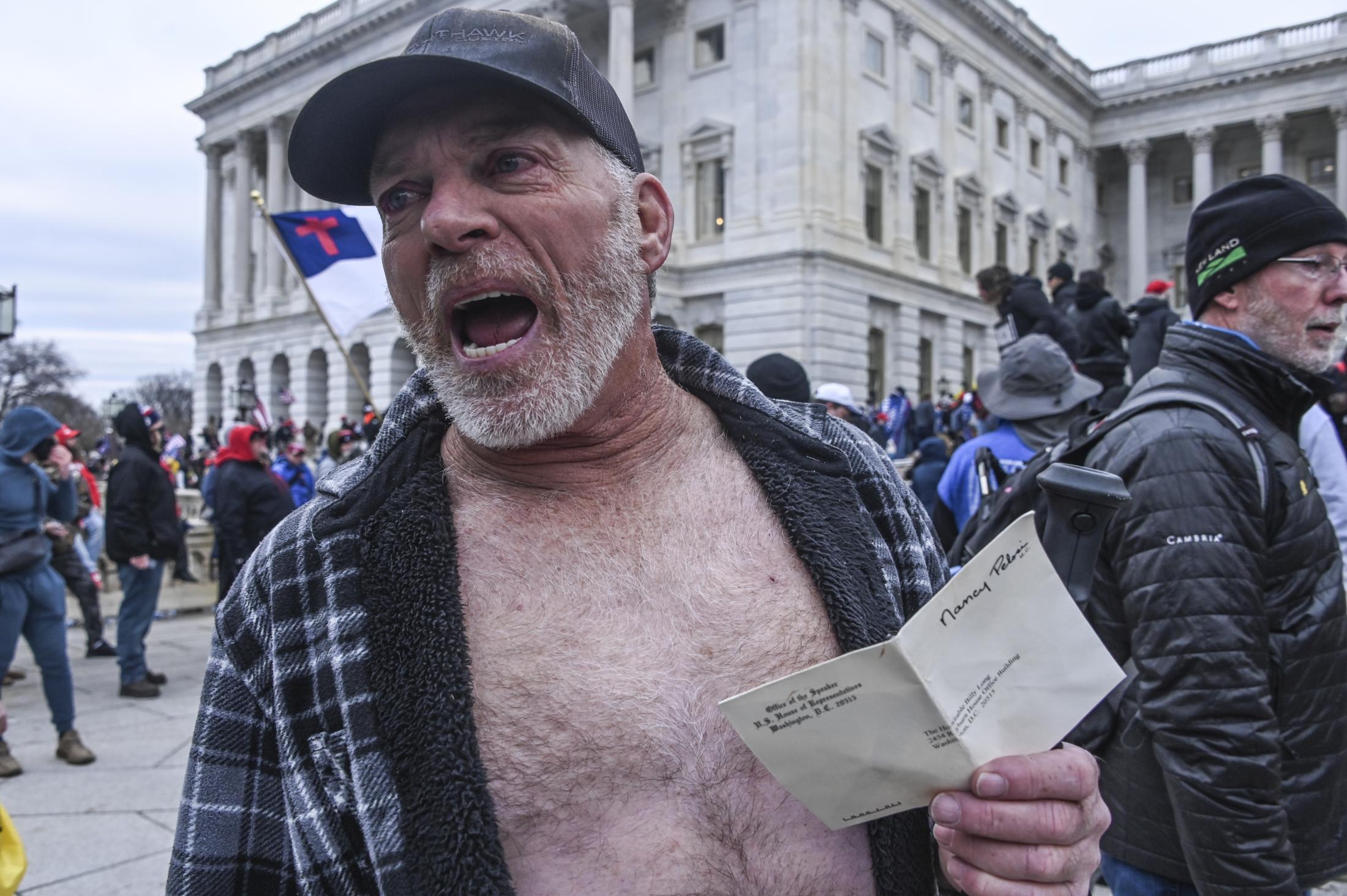 Near Barnett, two other men proudly displayed the videos they shot on their cellphones while inside the U.S. Capitol. A 45-year-old Florida man showed a reporter a video he took of people strangely "praying" inside the Senate chambers and said he was getting thumbs up signs and handshakes from police inside the Capitol.
As the rally crowd marched from the Ellipse to the U.S. Capitol, several thousand Trump supporters walked around in front of the White House and directly past Black Lives Matter Plaza, which had been the sight of numerous confrontations Tuesday night. On Wednesday afternoon, with just a few Black Lives Matter activists on hand—word had gone out not to go to D.C.—there was some shouting back and forth, but no real physical confrontations.
Several anti-Trump activists, including Benjamin Jancewicz, a 37-year-old Baltimore graphic designer, did go to Washington on Wednesday to document the event. 
"It was desperation," said Jancewicz of Trump supporter's violent actions at the U.S. Capitol. "Profound desperation. This is their last chance and they were going to go as extreme as they possible could, smashing their way into the Capitol. They realized they can't win a [presidential] election anymore with only the white vote."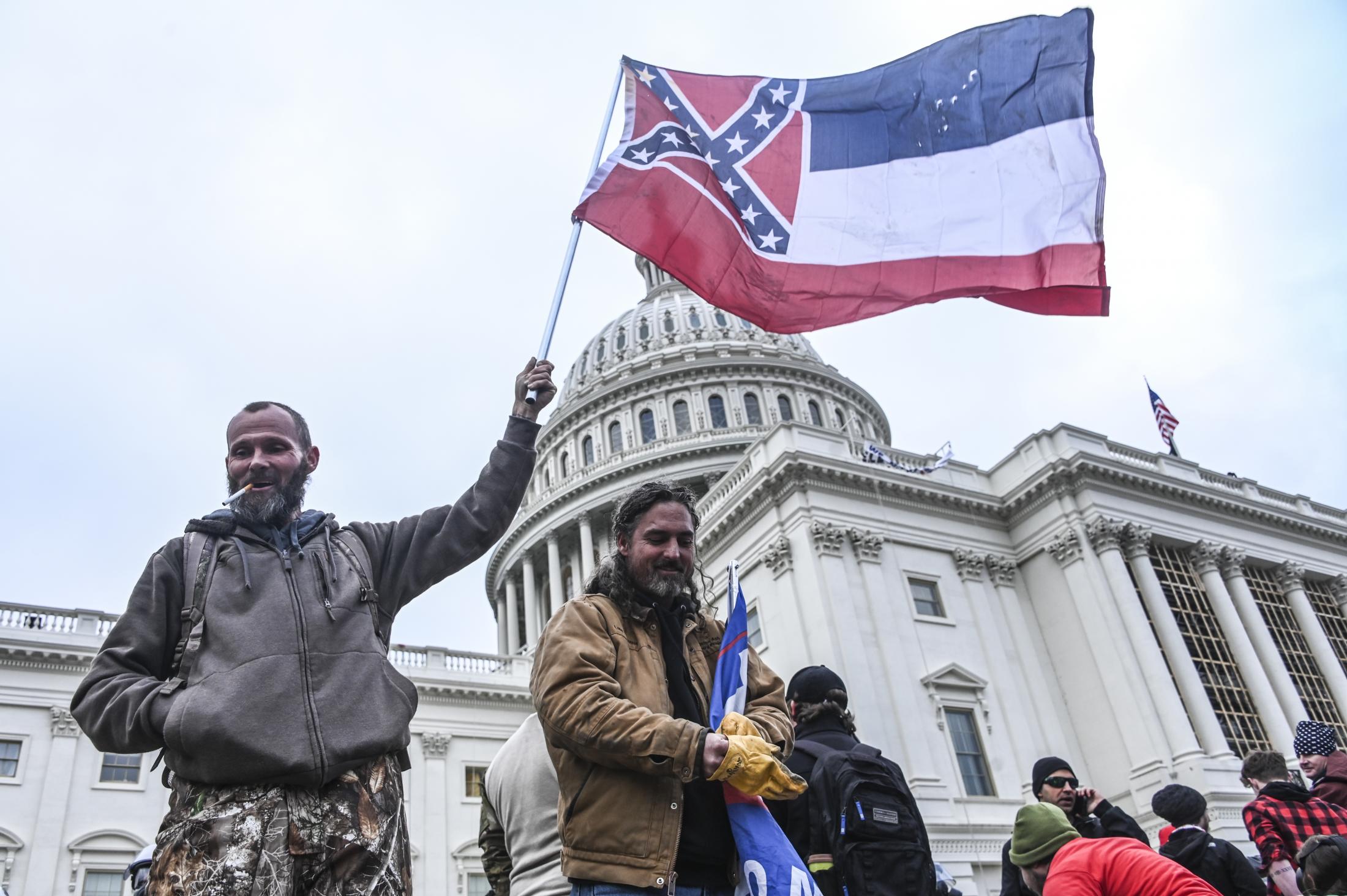 Jancewicz, along with many other non-Trump supporters watching the events unfold on television, noted the relatively gentle treatment of white rioters at the U.S. Capitol in comparison to protestors around the country this summer following the death of George Floyd. Jancewicz also recalled the stunning Capitol police shooting death of a Black woman several years ago in her car as she simply made a U-turn near a White House checkpoint. "[The rioters] didn't believe anything was going to happen to them," Jancewicz added. "That's how it felt on the ground." 
Jeremy Collins, a 25-year-old Baltimore City photographer, took an early afternoon train to Washington to document the pro-Trump rally and march as well, describing the scene of a white mob descending on the U.S. Capitol as "bizarre" and "surreal." Like Jancewicz, he pointed to President-elect Joe Biden's upcoming Jan. 20 inauguration as another potential flashpoint. He also cautioned that the storming of the U.S. Capitol could serve as an inspiration to future political violence on the right.
"We should expect people [on the right] to be further radicalized by this," Collins said. "The conditions are ripe. People are taught not to trust the government and media. Today sets a precedent and it should set off an alarm."