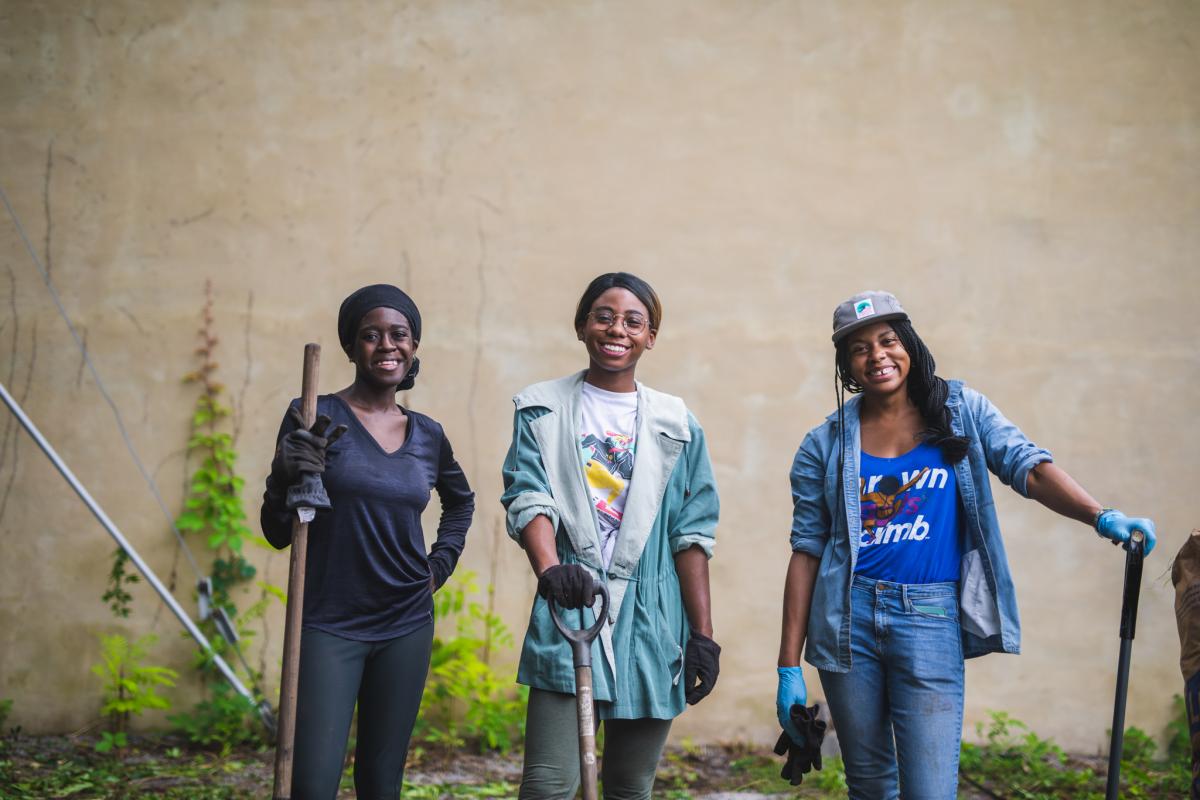 Left to right: Sih Okazeh, Bri'Anna Horne, and Brittany Leavitt of Pigtown Climbs. —Courtesy of Pigtown Climbs
On one of the first warm days of the year, Bri'Anna Horne, 26, and a few friends decided to drive up to an outdoor rock climbing center in Pennsylvania.
One hand after another, she reached for the perfect pieces of rock in the boulder that would hoist her further up the wall. Suddenly, she was met with a particularly difficult route. She had tried it a few times, but couldn't quite figure out the best direction to go in. 
Whatever feelings of doubt Horne had were quelled by the messages of encouragement coming from the people beside and below her, urging her to trust herself and promising to catch her if she fell.
"Everyone was just like, 'You got it, don't worry about it, don't stress about it,'" Horne says. "It's pretty common for me to have that feeling, at least when I'm in a climbing space."
That sense of support was what inspired the Pigtown resident to launch Pigtown Climbs, an organization that uses climbing to promote health, racial justice, and environmental initiatives within Southwest Baltimore. 
Horne launched the group in August 2020, following the demonstrations that broke out across the country in the wake of George Floyd's death and a series of other police brutality incidents. Pigtown is over 54 percent Black, with more than 33 percent of its residents living in poverty with limited access to green space—according to a 2017 report from the Baltimore City Health Department. 
As part of her new initiative, Horne wants to transform a 4,400 square-foot former parking lot on Pigtown's Main Street into an outdoor recreational center where residents can reclaim the natural environment in their community.  
"Because we're creating this entire space, we can tailor it to the needs of the community," she says. "There's a reconnection that needs to happen in order for people to feel comfortable in the outdoors, because it's been so removed from the neighborhood."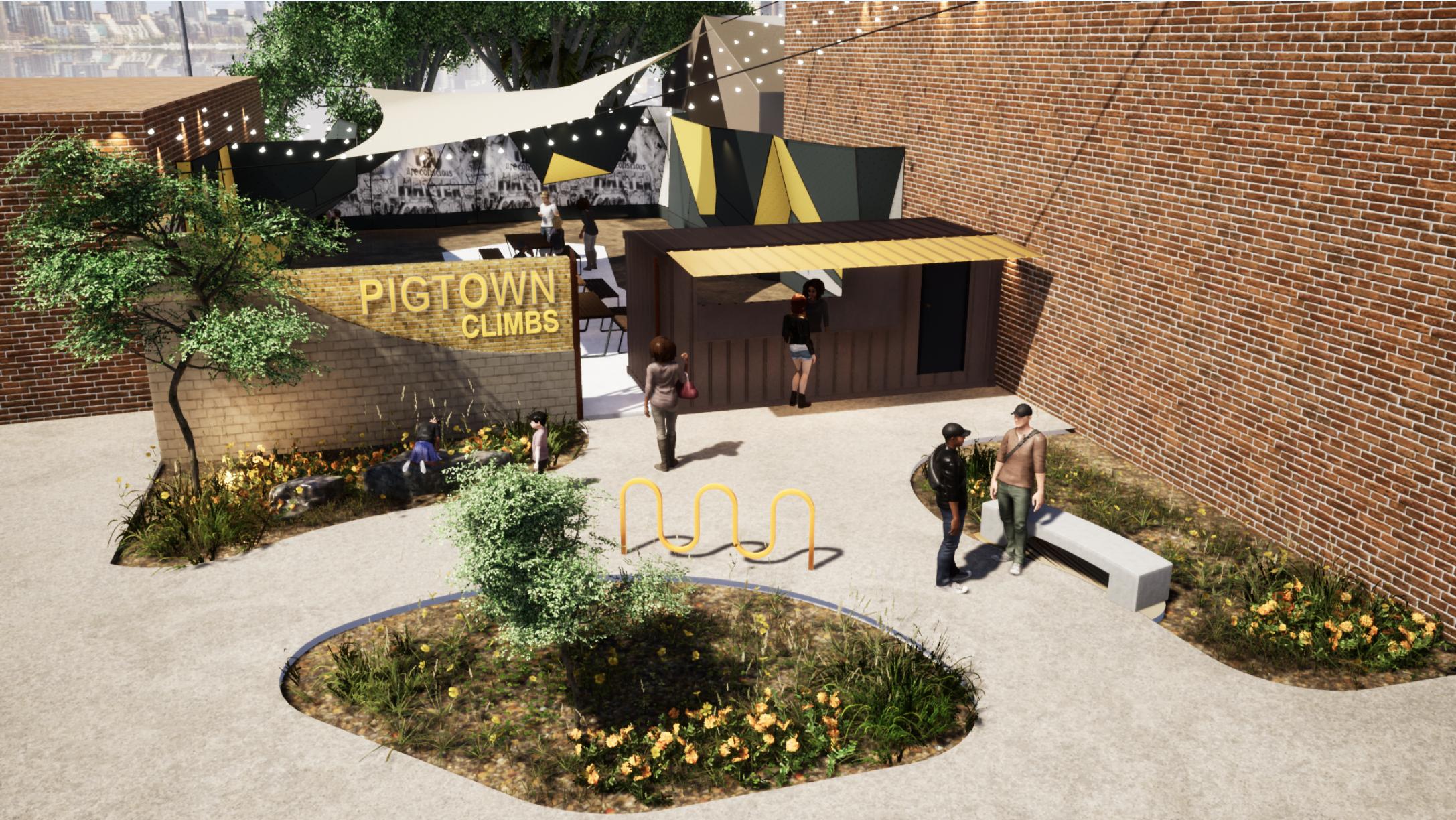 The plan is for the center to feature an outdoor rock climbing wall, as well as space to host neighborhood gatherings like yoga classes or mental health awareness forums. The team plans to break ground this summer and complete the project by the summer of 2022, but that timeline depends on funding.  
To that end, Horne is working with local partners—including preservation nonprofit Mid Atlantic Climbers and Pigtown neighbor Charm City Books—to facilitate virtual fundraisers like "Climby Desk," a play on NPR's famous "Tiny Desk" concerts. Taking place this Friday, April 9, the event will feature performances by area artists (look out for Ari and the Buffalo Kings and dancer Aliyah Caldwell), updates on the project, and a raffle of donated items from local makers. Mid Atlantic Climbers has already pledged to match up to $2,500 of the evening's donations, which will fund landscaping and structural design for the outdoor space.
These programs are made possible by the organization's more than 200 volunteers—the majority of whom are women of color, according to Horne. When school teacher Jelytza Padro, 29, moved to Baltimore City, she was shocked by the lack of accessibility to outdoor green spaces. 
 "The outdoors was kind of like my backyard," says Padro, a North Carolina native who handles marketing for Pigtown Climbs. "When I moved up here, I realized that access was taken away. And then I also realized, as a school teacher, my students had never experienced these spaces. [It was easy to] merge that alignment to what Pigtown Climbs wanted to do."
Along with improving community access to outdoor environments, one of the group's big-picture goals is to dismantle stereotypes regarding what a climber looks like. That's part of the reason why it was imperative to Horne that the organization be made up of majority Black women.
 "Normally when you see climbers you always see the typical cis white male," says Brittany Leavitt, a 32-year-old climber who works with organizations like Pigtown Climbs and Brown Girls Climb. Leavitt, who has scaled Mount Kilimanjaro, explains that, although Black people have always been a part of the climbing community, their stories have not often been told. 
Moving forward, Leavitt believes that there has to be increased representation in order for more Black people to embrace the outdoors. She hopes that, locally, Pigtown Climbs can be at the forefront of that change. 
"We were never given that exposure or understanding that we have a space here," Leavitt says. "Climbers come in all different shapes and sizes. It's important to me to be able to bring climbing to the community, versus having to take the community out of their space and showcase that 'this is something that you can be a part of.'"