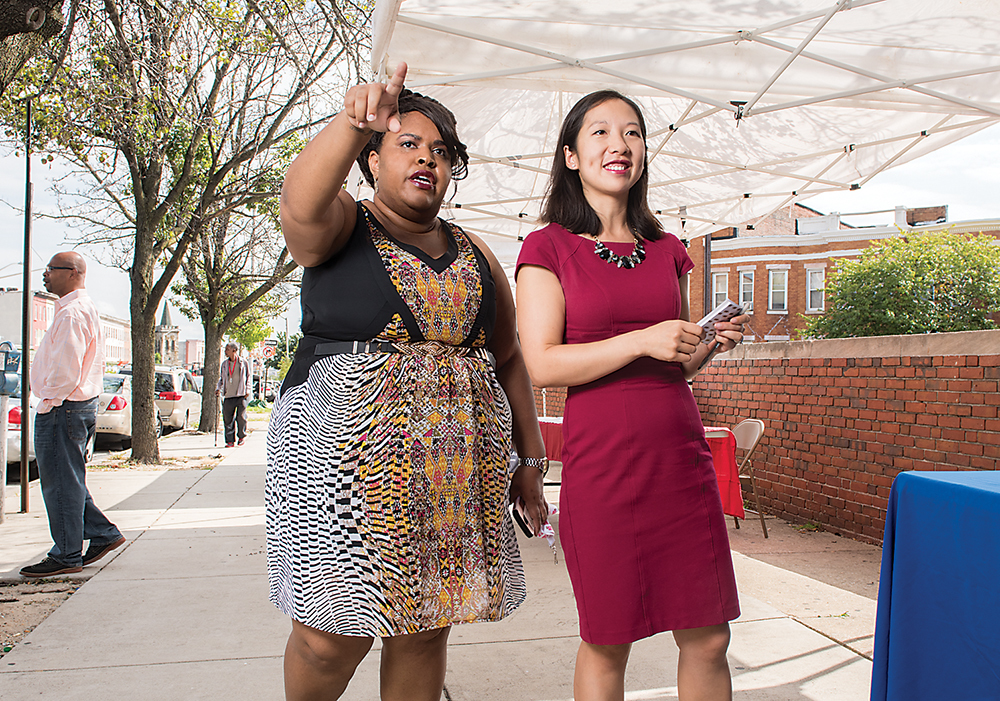 Photography by Mike Morgan
Planned Parenthood Federation of America announced Wednesday that Baltimore City Health Department Commissioner Dr. Leana Wen will serve as its sixth president and become the second doctor to lead the organization in its 102-year history.
A former emergency room physician, Wen has led the City Health Department since January 2015 when she was appointed by then-Mayor Stephanie Rawlings-Blake. Under Wen, the Baltimore City Health Department has become recognized as a leader in public health innovations—pushing for free prescription access for citizens to naloxone, which reverses an opioid overdose, for example—and was recently named Local Health Department of the Year by the National Association of County and City Health Officials.
Wen, a Chinese immigrant, has also been at forefront of advocacy for women's health and reproductive rights, including leading the city's fight against Trump Administration cuts to teen pregnancy prevention and local health care clinics. Last month, she also helped lead a legal action against the Trump Administration that alleges an effort by the administration unlawfully undermines the Affordable Care Act and puts thousands of Baltimoreans at risk of losing access to health care.
"Providing healthcare and fighting to protect that access to care—that's what I have been doing my entire life. I am so proud to do this at the Baltimore City Health Department, and soon, at Planned Parenthood: to lead the fight for healthcare access, for gender equality, and for our core values in support of women, children, families, and vulnerable communities," Wen said in a statement. "The cost of taking on this fight is leaving a job I love and colleagues I admire and draw inspiration from every day. But at this critical juncture in our nation's history, it is my obligation to take on this challenge and fight with everything I have."
Wen's last day as health commission will be October 12. She officially joins Planned Parenthood Nov 12.
As we wrote in our 2016 profile, Wen, 35, was born in Shanghai, China. Her parents were political dissidents and she was 8 years old when they were granted asylum, settling first in Utah and then Compton, California. At 18, she graduated summa cum laude from UCLA and earned her medical degree from Washington University School of Medicine before becoming a Rhodes Scholar.
In Compton, she witnessed firsthand how low wages and poverty impact the health of communities and individuals.
"I saw neighbors go for years without access to care for their diabetes and then end up dying from it," Wen told Baltimore. "I saw children die from asthma, from other preventable illnesses, because they didn't have access to health care for any number of reasons, whether it was cost or fear or stigma."
Growing up, Wen, her mother, and younger sister often relied on Planned Parenthood for healthcare. While earning her medical degree in St. Louis, she volunteered at a local Planned Parenthood health center.
She was also elected president of the American Medical Student Association during medical school, taking a year off to fulfill her responsibilities, including leading 65,000 physicians-in-training to campaign for reproductive rights and universal healthcare. She graduated summa cum laude from California State University, Los Angeles at the age of 18, and earned her medical degree from Washington University School of Medicine before becoming a Rhodes Scholar.
"I depended on Planned Parenthood for medical care at various times in my own life, and as a public health leader, I have seen firsthand the lifesaving work it does for our most vulnerable communities," Wen said in a post to her Facebook page.
Wen's appointment comes at a time of considerable concern over women's health, contraceptive and reproductive rights. With the likely addition of conservative U.S. Circuit Judge Brett Kavanaugh before the upcoming mid-term elections, the Supreme Court is expected to move further right as women's healthcare cases and issues continue to advance through the legal justice system.
In a press release, Maryland Congressman Elijah Cummings alluded to the current political climate as well as specific pressure directed at Planned Parenthood and various state capitols around the country. He also said Wen will be missed in the city.
"Dr. Wen will follow the dynamic leadership of Cecile Richards, who fought tirelessly against heinous and misinformed attacks on women's reproductive rights and defended Planned Parenthood as a trusted healthcare provider," Cummings said. "I am certain that Dr. Wen will continue the fight to protect women's healthcare. She is a brilliant physician and a passionate public health leader. Although she will be sorely missed by Baltimore, I look forward to continuing our shared mission to ensure that all of our citizens have access to quality, affordable healthcare."
Among other Baltimore initiatives under Wen's direction, B'More for Healthy Babies has continued to help lower infant mortality rates, which have fallen nearly 40 percent over the past four years. Wen launched the city's Vision for Baltimore campaign, which provides free glasses to every child in need of corrective eyewear.
She also helped secure funding for Safe Streets, a program staffed by ex-offenders to tackle gun violence, and led public campaigns on childhood obesity and vaccinations.
During her tenure, Wen has been an outspoken and leading advocate for the need for more state and federal funding for addiction treatment, and she often is called to testify in Annapolis and Washington. Pointing to her state and national influence on key health issues, she has more than 25,000 followers on Twitter.
"This has been a dream job [serving as Baltimore's health commissioner]—not only to work alongside the most dedicated public servants I've ever known, but to join with them in a common mission to combat disparities and improve health and well-being in Baltimore," Wen said.
In 2016, American Public Health Association awarded Wen its highest award for local public health work. Last year, Governing magazine named her one its Public Officials of the Year.
"Today is a historic day for Planned Parenthood and the millions of people it serves," said Naomi Aberly, chair of the Planned Parenthood Federation of America Board of Directors. "A dynamic public health leader and practicing physician, Dr. Wen is the first doctor to lead Planned Parenthood in nearly 50 years. Not only will she help Planned Parenthood continue to provide high-quality care to women, men, and young people across the country, she will be a powerful voice in our fight to ensure women have the ability to make their own healthcare decisions—no matter what."