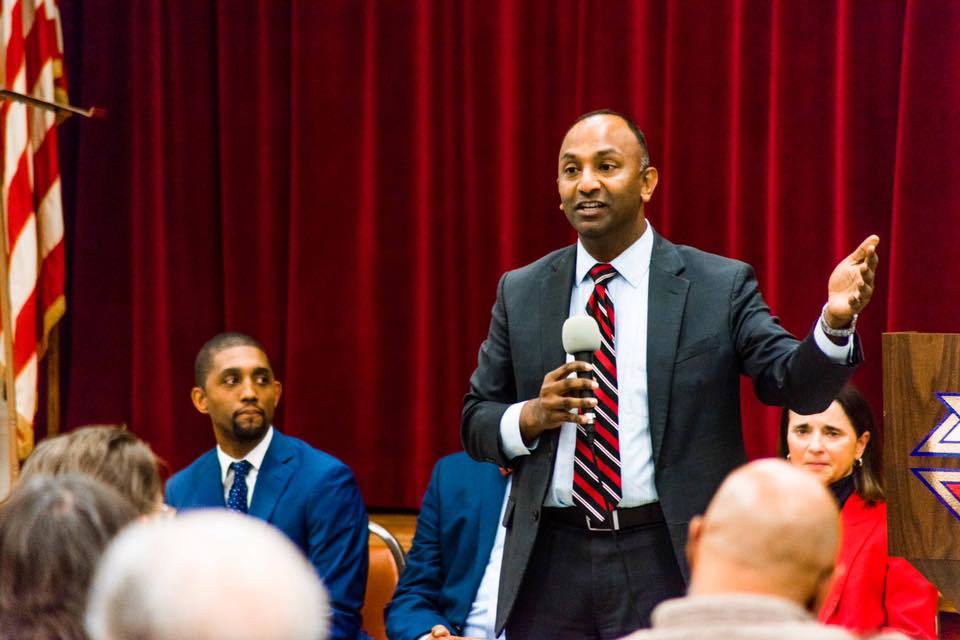 In the wake of the coronavirus pandemic, Gov. Larry Hogan announced the postponement of the state's primaries, including all the races for city office, from April 28 to June 2 in an effort to ensure voter safety and democratic integrity.
The special election for the late U.S. Rep. Elijah Cummings' seat will still be held April 28, but in a first for the state of Maryland, it will be conducted solely through mail-in ballots.
"It would endanger public health to allow thousands of people to assemble," Hogan said at a Tuesday press conference explaining the decision to postpone the primary date.
Before the events that led to this change, Kweisi Mfume landed a decisive victory in the special Democratic primary election for Cummings' seat back in February. But he realized he still had to educate voters as to what came next.
"The more we talked to people, the more people thought that it was all over," Mfume says. "I had to explain that there's a two-part process."
The second part of that process comes in the form of a special general election. It's here that things get a bit complicated. In addition to running as the Democratic nominee against Republican nominee Kimberly Klacik for the right to serve out the remainder of Cummings' term, Mfume also filed to run in what was a same-day Democratic primary for the full two-year 7th Congressional District term.
Mfume—who, if victorious in April's mail-in special election would be running as an incumbent in the June 2 primary—says that separating the two elections into two different dates helps eliminate some of the impending uncertainty that was bound to arise as April neared.
"There were still a lot of unanswered questions that the Board of Elections would have to answer," he says. "It was confusion getting ready to manifest itself."
Along with the postponement comes the challenge of carrying out a traditional campaign during a time when public organizing is prohibited.
"Politically and historically, it's like Halley's Comet," Mfume says. "In previous instances of national emergencies, you had an idea of a physical enemy or threat. In this case, we can't see the virus."
In a political process where face-to-face connection is a crucial part of how campaigns operate, candidates and their teams have been forced to get creative in their messaging and outreach strategies.
"We are always strategizing for what we don't know we have to deal with," Mfume says. "You have to assume there will be certain times when campaign strategy will have to change. We've always moved along that way, so this adjustment is not something that has caused us to scratch our heads."
Senator Jill P. Carter of Maryland's 41st legislative district is one of Mfume's challengers in the June 2 primary. Carter has just wrapped up a whirlwind state legislative session, and now faces the possibility of running against an incumbent. She says she supports the changing of the primary date, but acknowledges that it presents a unique set of challenges for her candidacy.
"If it were normal circumstances, I would say that it's good for me because the entire time I was in the legislative session, I was unable to campaign at all," Carter says. "[Prior to coronavirus], I thought the smartest thing to do would be to come back to Baltimore and host large gatherings and get people to volunteer and go and reach out to their groups."
Meanwhile, Thiru Vignarajah, a former Maryland Deputy Attorney General who launched his campaign for mayor last April, says he supports the governor's postponement decision, and believes that the new normal that coronavirus has forced us all into isn't anything his team can't handle. He and his staff have shifted to working from home, and are devising ways they can continue to build their network.
Both Vignarajah and Mfume say they are working on amping up their digital presences and exploring placing a bigger emphasis on more traditional means of campaigning, such as phone banks and email reach outs.
"This is a time when public health has to come before politics," Vignarajah says. "Each campaign is going to have to adapt. My team has been running a marathon, and at mile 20, they've been told it's a 32-mile race. Uncertainty is something every campaign is supposed to prepare for."
Though all candidates are now faced with trying to win respective elections in an unprecedented time, one positive outcome of the current situation is that it gives local voters more time to decide who they want to lead the city forward.
"In a moment of crisis, we have a chance to come together as a community like never before," Vignarajah says. "We have a chance to rebuild Baltimore in ways that previously were unimaginable. We should view this as not just a challenge, but an opportunity."