—Photography by Kaitlin Newman, Courtesy of Waterfront Partnership
As local politicos and project partners took turns at the mic during a ceremonial ribbon-cutting at the Inner Harbor Friday morning, locals weren't waiting for them to christen the brand new park at Rash Field on the waterfront.
In view of the podium, children climbed up and down a new mound of bright green turf surrounded by a sea of recently finished walking paths, rain gardens, and lines of planters filled with native plants and trees. To their right, a growing crowd of skateboarders took turns gliding around the new concrete skate plaza abutting the Maryland Science Center. Next door, children gleefully ascended the ropes and traversed the new Adventure Park playground.
This was precisely what this $17 million project was meant for, said Laurie Schwartz, president of the Waterfront Partnership of Baltimore.
"We hope to see families from all over the city gathering together in a shared space, enjoying this gorgeous park and having moments of joy and happiness," she said, "a break from our everyday lives."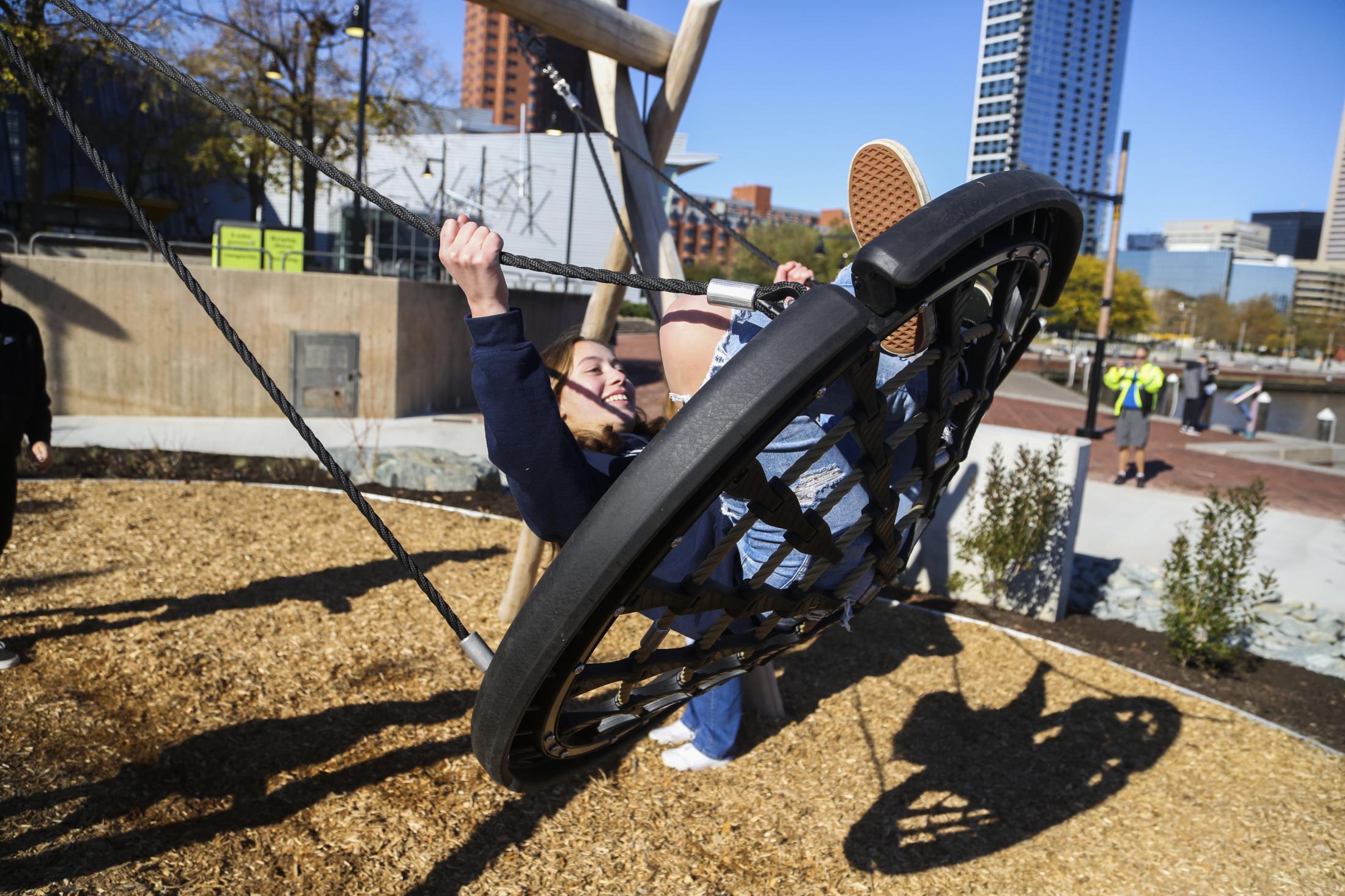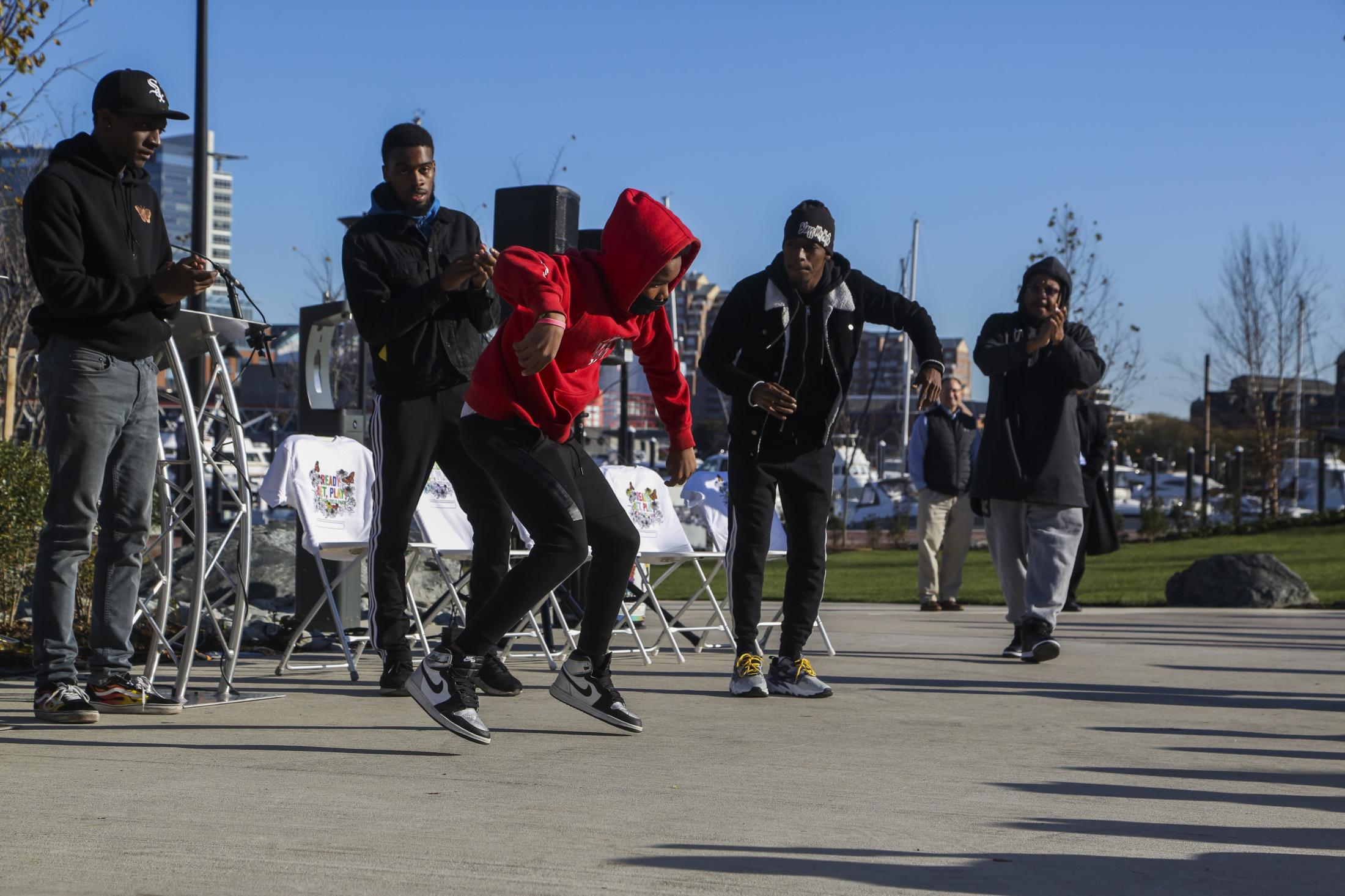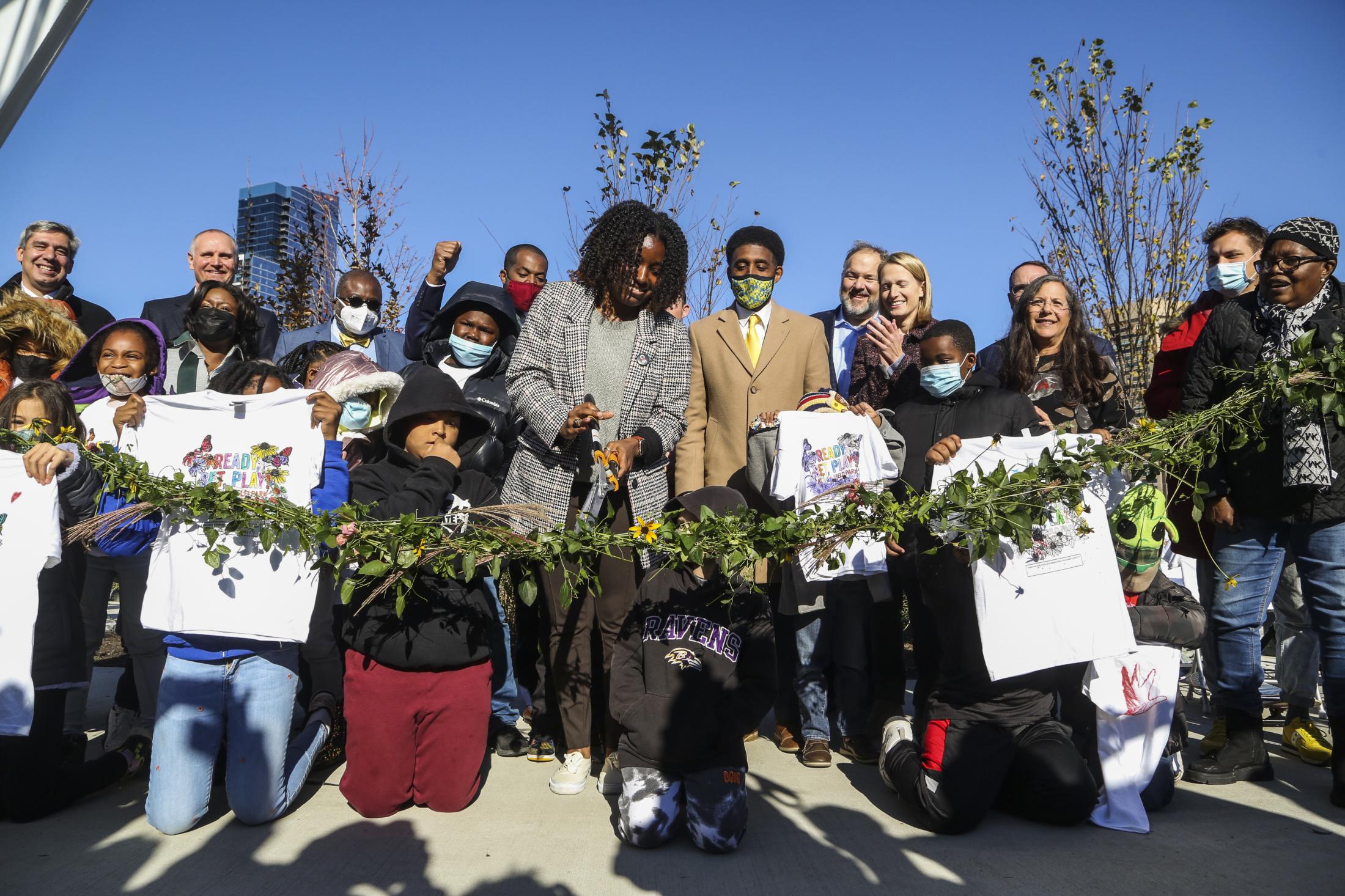 With a design influenced for years by public input and reviews from a city design panel, the first phase of Rash Field's redevelopment has amenitized this section of waterfront with a new pavilion and cafe—complete with a green roof with vistas of the harbor—as well as a nature park, rain garden, shaded lawn, and the aforementioned skatepark and kinetic playground.
Future plans for the yet-unfunded phase two, covering another five acres, call for upgrading the existing swath of beach volleyball courts, adding exercise equipment and new lawns for youth sports and games, relocating the Pride memorial, and replacing the built-in bleachers along Key Highway with sloped paths.
Since the mid-1990s, the city has cycled through discussions of how to remake Joseph A. Rash Memorial Park into something attractive and useful. Since its 1976 debut, the six-acre public space has hosted countless state fairs and cultural festivals and housed a once-beloved carousel and gathering space under the Harry D. Kaufman Pavilion (both have since been removed). But more recently, it had fallen into general disuse, save for hosting the occasional public rally, skateboarders, or resting tourists and harbor-goers. Older proposals called for adding hundreds of parking spaces underground and implementing attractions like a Ferris wheel or a zip line, though none of those ideas materialized.
The Waterfront Partnership and its partners dreamt up something else. In 2016, city leaders and the nonprofit agreed upon a softscaped vision leaning into recreation and nature, working with Mahan Rykiel Associates as the landscape architect and Whiting-Turner Construction Co. as the general contractor and construction manager. Other partners included architecture firm Gensler, which designed the pavilion, Seattle-based skatepark builder Grindline, the Baltimore City Department of Recreation and Parks, and the Baltimore Development Corp.
Construction kicked off in May 2020 and wrapped up last week, some 18 months later. The city and state provided the bulk of the project's funding, $10.5 million and $4.3 million respectively, which was later complemented by $1 million from Baltimore Gas and Electric (securing naming rights for the pavilion and nature park) and a mix of donations from Baltimore companies like T. Rowe Price, Brown Advisory, and M&T Bank, as well as local residents.
"This was no small project," said Senate President Bill Ferguson, whose 46th District includes the Inner Harbor, at the ribbon-cutting. "At every corner, there were new hurdles or new wrinkles or new changes or additions. But along the way, consistently, a clear vision that was executed every single day is what brings us all here today."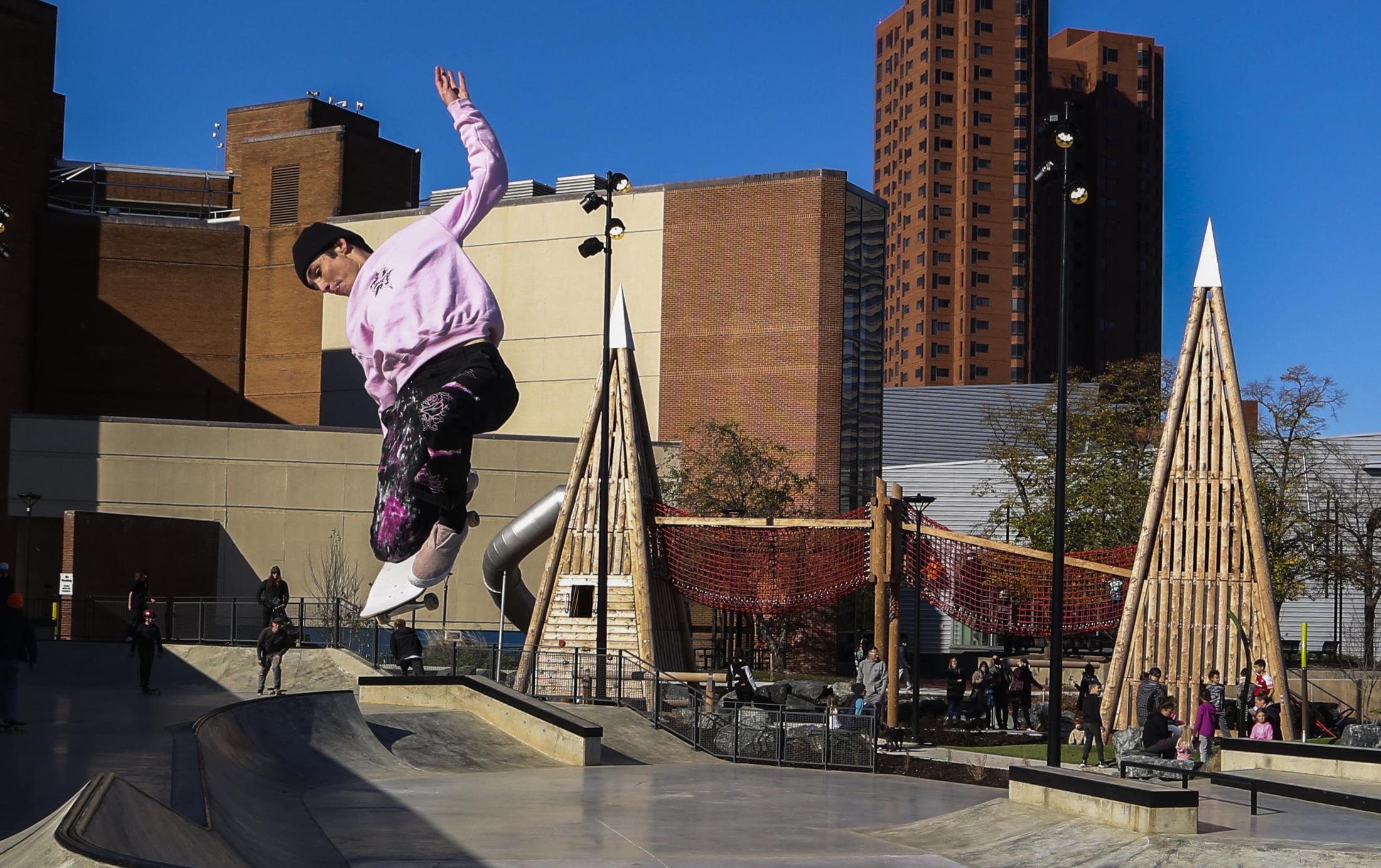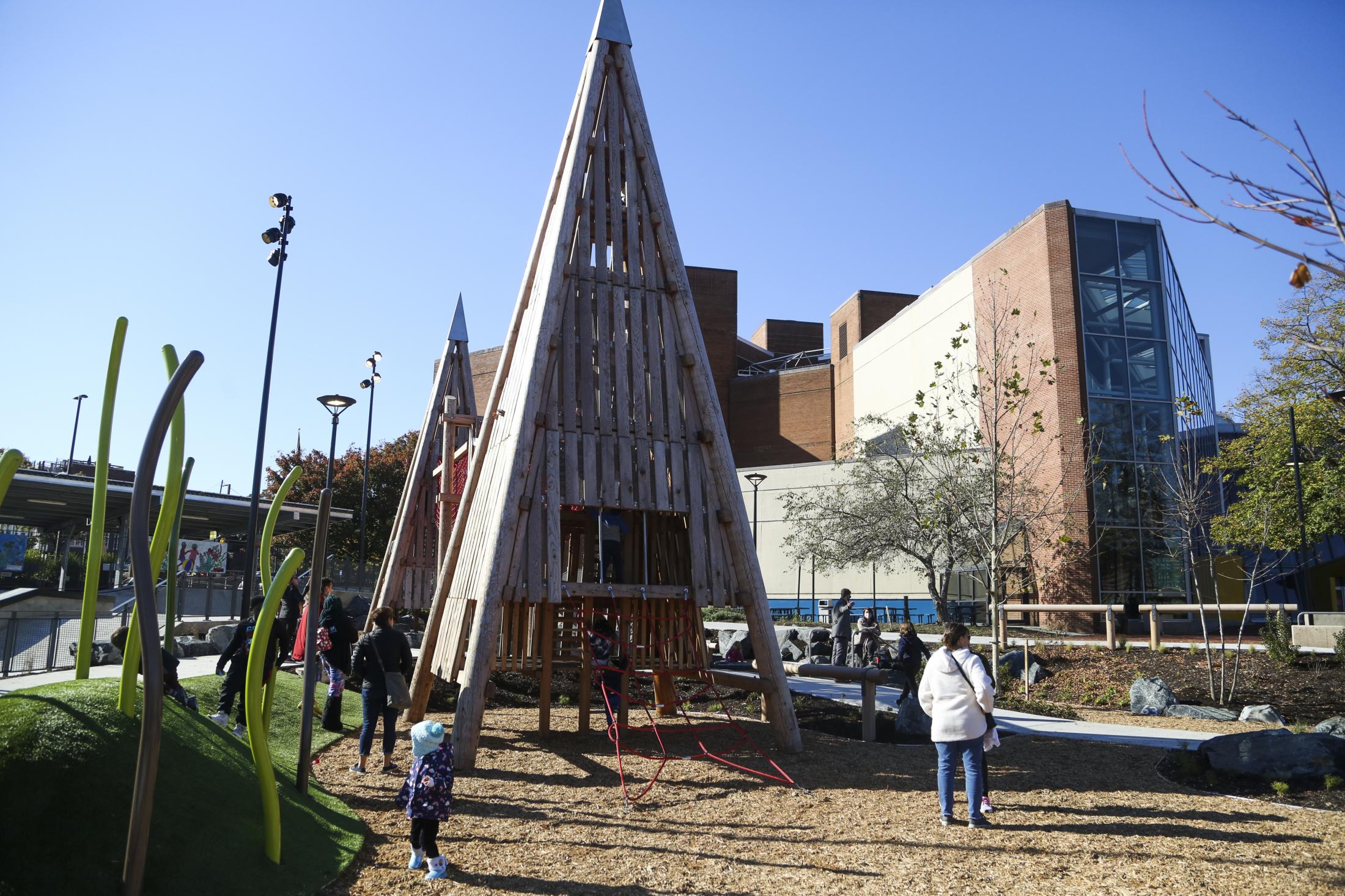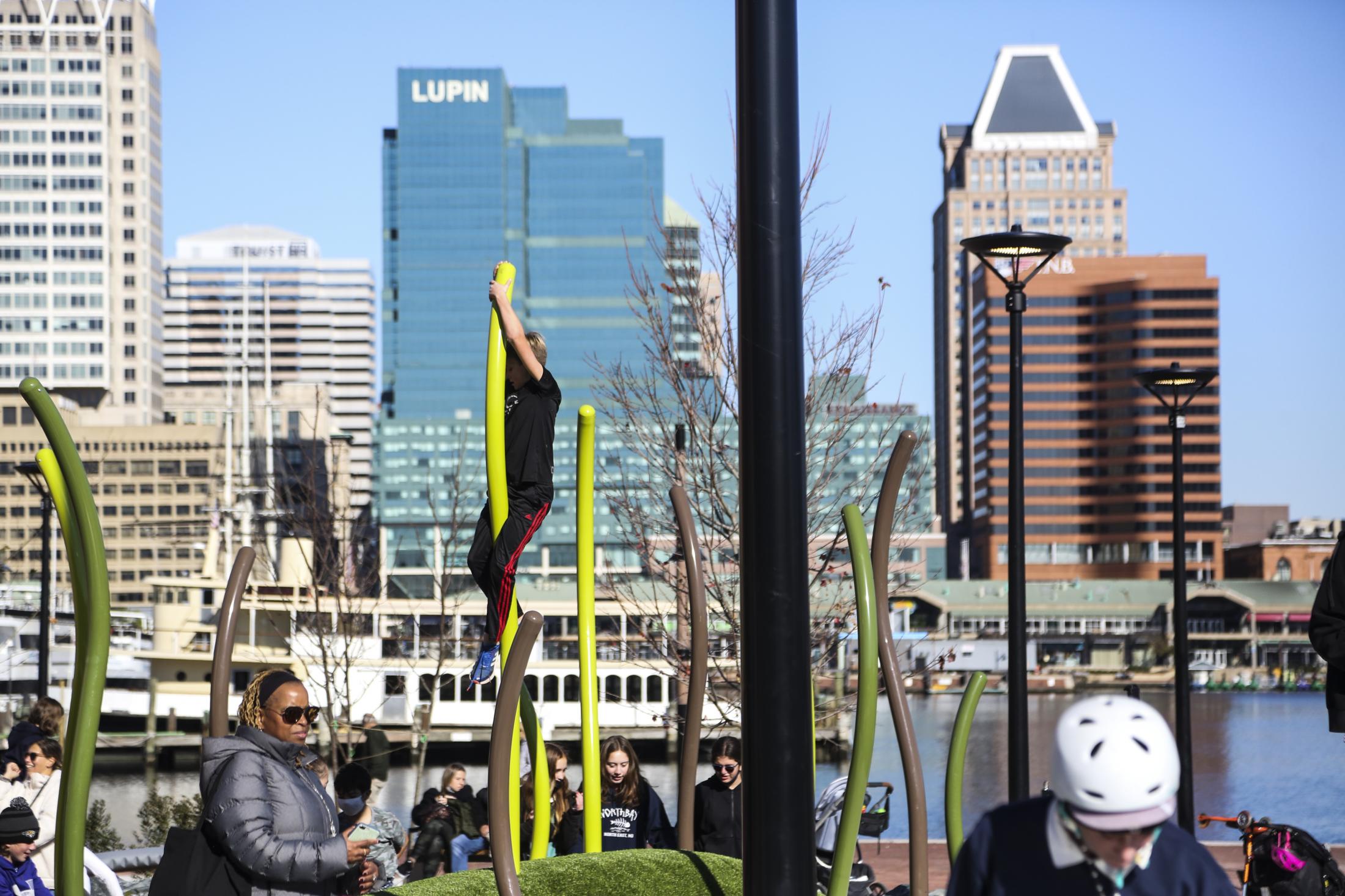 Joining Ferguson Friday morning was a lineup of city officials, including Mayor Brandon Scott, Council President Nick Mosby, Councilman Eric Costello, and Recreation and Parks Director Reginald Moore.
Scott, too, praised the Waterfront Partnership for "bringing this project on time and on budget," and for exceeding originally set goals for hiring minority- and women-owned contractors to carry out the work. In particular, he focused on the benefits of adding more usable green and play spaces at a waterfront location accessible to families from across the city. He said he hopes Rash Field can become "one of the premier parks in the city," alongside Druid Hill, Herring Run, and Patterson parks.
"This is the first portion of the reimagining and the rebuilding in the 21st century of what Baltimore's Inner Harbor is going to look like," he said.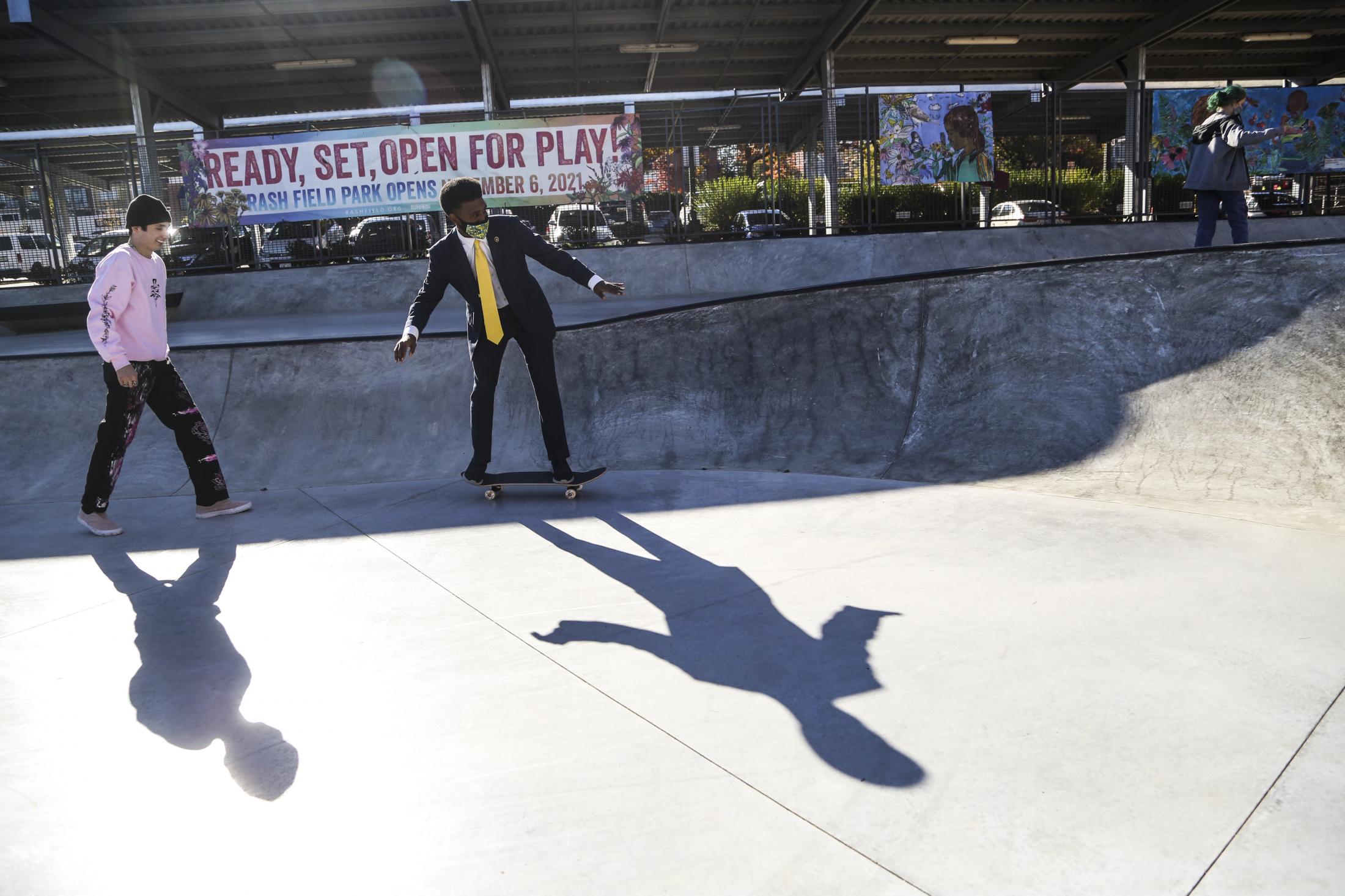 The coming months will bring more small changes, including a new cafe operator to the pavilion—to be announced in the spring—as well as educational signage for the nature paths and decorative trash bins painted by local students.
But Schwartz is already looking further ahead. A week before the ribbon-cutting, we sat with Schwartz on a bench at the nearly finished park to discuss the process of the entire project. She said she hopes the debut of phase one can help spark more fundraising for the second phase. And beyond Rash Field, "we've gotta add more greenery over on the West Shore, we've gotta activate the north side of the harbor [home to Harborplace.]" (City dwellers and stakeholders are patiently awaiting details of a potential redevelopment of Harborplace, the once-iconic commercial pavilions in the harbor that have since lost their luster.)
Schwartz called back to her time working in the city housing department under Mayor William Donald Schaefer, as well as the Charles Street Management Corp.—a predecessor to the Downtown Partnership of Baltimore. During those years, she took it to heart that with any project, "you can't just create something and then say, 'look at this' and gloat for a year. You've gotta keep building on that foundation."
Of Rash Field, she said, "Let's keep going. We've got a lot of work to do yet to make it a place where people want to come again and again and again."