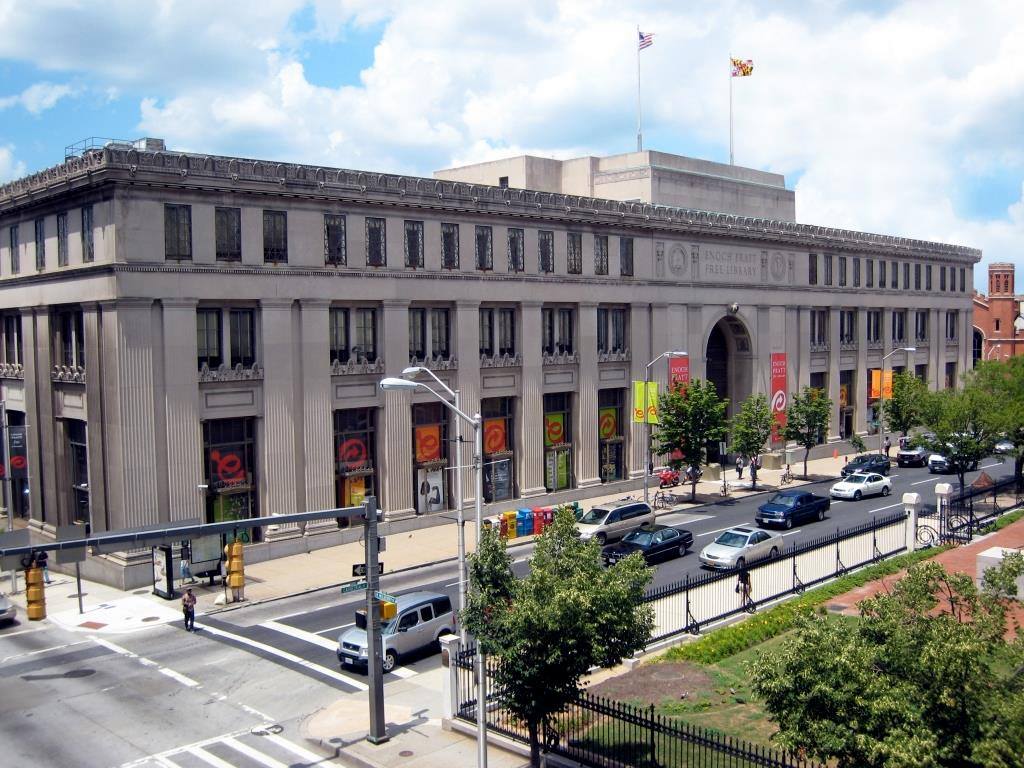 EDITOR'S NOTE 3/16: Maryland Governor Larry Hogan has ordered the closing of all bars, movie theaters, restaurants and gyms across the state until further notice, effective 5 p.m. Monday. Drive-thru, takeout, and food deliveries will be available. Additionally, in keeping with the latest Center for Disease Control guidelines, he has also prohibited gatherings of more than 50 people.
"We have never seen anything like this before," Hogan said in a press conference announcing the changes. "By these actions, we're going to stop the spread and we're going to save lives."
The butterfly effect surrounding the rising cases of coronavirus across the state of Maryland and the United States has been far-reaching. Among the first public institutions that made the decisions to close earlier this week were local colleges and universities. At the University of Baltimore, students are being prepped to take online classes from their instructors, as they will not return to campus after spring break as a precaution—a measure that will likely be in place for all universities in the Maryland state system.
"It's become a new reality," says Darlene Smith, the executive vice president and provost of the University of Baltimore. "We're planning for an extended period of this, and we're reaching out to students to make sure that they're prepared. Our teams come into work every day, even before we get to the office, wondering what's next and what's changing."
Indeed, the developments and updates surrounding COVID-19 are coming minute by minute, prompting many of the city's public institutions to act in an effort to inhibit patrons' exposure. In some cases, spaces around the city are closed altogether. Here is a running list of gathering spaces whose operations have been impacted by the virus:
MUSEUMS
Earlier this week, member organizations of the Greater Baltimore Historical Alliance met to discuss best practices in the wake of the coronavirus. Many museums in the city are remaining open, instituting double cleaning measures to ensure a safe environment for guests. However, large events and public exhibitions at the Baltimore Museum of Art, the Walters Art Museum, and the JHU Museums have been cancelled until April 12.
On its website, the Baltimore Museum of Industry posted a statement detailing its close-monitoring of the situation, reiterating its commitment to hygiene.
Port Discovery Children's Museum is temporarily closed to the public. A reopen date has not been announced.
The Walters Art Museum has announced its closure from March 14 through March 31.
The Baltimore Museum of Art will be closed until April 12.
The National Aquarium announced in a statement that will be closed from March 14 through at least March 27. All employees will be paid during this closure.
"The aquarium believes it is their ethical responsibility to adhere to the scientific community's recommendation to limit large social gatherings at this time," the statement reads.
SPORTS
March marks what is supposed to be the beginning of the Orioles season, as spring training nears its end and Opening Day approaches. But Major League Baseball has cancelled the remainder of spring training games, as well as the first two weeks of its regular season. At this point, it is unclear when the season will begin. The news also means the cancellation of the Orioles' planned exhibition game against the New York Mets at the Naval Academy in Annapolis.
"The Orioles organization is fully supportive of Major League Baseball's decision to suspend Spring Training games and to delay the start of the 2020 regular season by at least two weeks," the team said in a statement. "The health and safety of our players, fans, staff, and partners will always be our top priority."
The Babe Ruth Birthplace and Museum will remain open. According to executive director Shawn Herne, the museum is also instituting double cleaning measures and being vigilant about maintenance. The museum has an outdoor event planned around Orioles Opening Day, which will be postponed until the season officially begins.
RECREATION AND PARKS
Baltimore County Executive Johnny Olszewski announced Thursday that while Baltimore County parks will remain open, events managed by the county's Recreation and Parks Department will be cancelled.
Baltimore Recreation and Parks has suspended all recreational programs, rentals, permitted events, and recreational facility services from March 16 through March 27. Additionally, with the exception of the Frederick, Dorothy I. Height, Cahill at Edgewood Elementary, Walter P. Carter at Guilford Elementary, and Ft. Worthington centers, food will be served from 2-7 p.m.
SCHOOLS
At a press conference Thursday afternoon, Maryland Superintendent Karen B. Salmon announced that all public schools will be closed for two weeks starting Monday, March 16th until March 27.
PUBLIC GATHERINGS
On Friday, The Guinness Open Gate Brewery announced that it will be closed until further notice. The Baltimore St. Patrick's Day Parade has also been postponed, as has the Under Armour Kelly St. Patrick's Day Shamrock 5K. Maryland Governor Larry Hogan announced at the same Thursday press conference that all gatherings of 250 people or more are banned until further notice.
Additionally, the Sole of the City originally set for April 11 has been postponed until July 25.
The Theater at MGM National Harbor has cancelled its scheduled shows through March, and a Michael Ray and Carly Pearce Show at Hollywood Casino at Charles Town Races has been postponed until October 17. Tickets will be valid for this rescheduled date.
Fells Point spots Max's Taphouse, Kooper's Tavern, Slainte Irish Pub and Restaurant, Woody's Cantina, Poppy & Stella, The Admiral's Cup, The Horse You Came In On Saloon, and DogWatch Tavern have all voluntarily closed until further notice. The Admiral's Cup's sister property, Bookmaker's Cocktail Club in Federal Hill will also be closed.
A number of Little Italy restaurants are also voluntarily closing, but are offering curbside and delivery options.
Hersh's in Federal Hill has closed temporarily, and Golden West Cafe in Hampden is switching to delivery and pick-up only until further notice.
Governor Hogan has ordered the closing of all casinos, racetracks and off-track betting facilities for a to-be-determined timeframe.
Metro Gallery has postponed its weekend shows as well as a scheduled show next Friday.
The Parkway Theatre is closing from March 13 through March 26.
VOLO Baltimore, which hosts recreational sporting and bar leagues, has postponed all scheduled events through March 30.
The Archdiocese of Baltimore announced all public Masses are cancelled until further notice.
The Episcopal Diocese of Maryland has cancelled public worship services beginning March 15 until at least March 27.
The Maryland Zoo is closed until further notice.
PUBLIC LIBRARIES AND BOOKSTORES
In a message posted to Facebook, Enoch Pratt Free Library CEO Heidi Daniel announced the cancellation of all public programs until March 31. City libraries will remain open in the meantime. Daniel added that cleaning materials and hand sanitizer have been provided to Pratt staff to have on hand.
"We feel this is in the best interest of keeping both our staff and customers safe," Daniel said.
Elsewhere, local bookstore Greedy Reeds announced on Instagram that it is temporarily closing its stores. The shops are offering same-day delivery orders of $25 or more for those within 10 miles of its Fells Point store. Staff from both shops will be on call during business hours to answer questions and accept orders by phone or email.
Hampden's Atomic Books is taking a similar approach, closing to the public until the end of March and shutting down all events until mid-April. Employees will still be at the store for those with any questions or requests and to fulfill online orders. The shop is also offering deliveries for those living within two miles.
The Ivy Bookshop and Bird in Hand will remain open, and are taking a fluid approach to upcoming events, urging those interested to check their calendar.
PERFORMANCE SPACES
The Hippodrome Theatre at the France-Merrick Performing Arts Center has responded to questions surrounding coronavirus with a statement as of March 12: "We intend to stay the course with our programming schedule. Extra precautions like sanitation stations, extensive cleaning and disinfecting protocols are in place. We will remain vigilant and are prepared to make decisions based on current needs, as well as in response to changing conditions."
The Baltimore Symphony Orchestra (BSO) announced that it is calling off all public events until March 21. Its ticket office will contact patrons who planned to attend these events for further instructions: "Given the seriousness of this evolving situation and concern for the health and well-being of our audiences, musicians and staff, the organization has cancelled these public events as the best course of action for our local and global community, as the institution does its part to minimize the spread of this virus," the statement reads.
The Reginald F. Lewis Museum, Baltimore Improv Group, The Strand, Arena Players, Vagabond Players, Chesapeake Shakespeare Company, Rams Head Live!, Fells Point Corner Theatre, and Creative Alliance have issued similar statements.
Additionally, Creative Alliance has put a new full refund/exchange policy in place during the month of March, delayed the Baltimore Old Time Music Festival—likely until the summer—and fully cancelled the March 21 performance by the Marja Mortensson Trio. Everyman Theatre has waived ticket exchange fees and upgrade charges for the remainder of its New Voices Festival. Charm City Players has halted pre-show activities, but performances will continue as scheduled.
In a Facebook post, Ottobar announced that all events until April have been postponed.
"This was not an easy decision but felt to be the correct one," the post reads. "The threat that COVID-19 poses is much greater than anticipated, we cannot in good conscience put the public, bands, and our staff in harm's way."
This post will be updated with further developments.