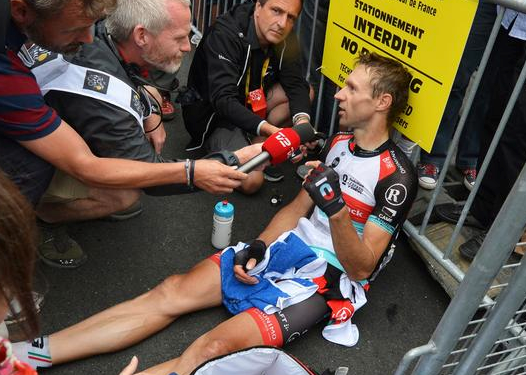 Jens Voigt's Facebook page
Jens Voigt once borrowed a kid's bike after a bad crash during the Tour de France to get back into the race. Which explains why he is one of the world's greatest cyclists— and likely the most beloved. The German cyclist is also incredibly good-natured, and he's in town this weekend for the 8th Annual Save-A-Limb ride organized out of Oregon Ridge Park in Cockeysville.
If you ever dreamt of pedaling alongside, or God forbid, climbing hills, with a Tour de France stage winner, here's your chance. Registration is available online and on site Saturday morning.
Actually, the Save-A-Limb ride offers several different distances, including 6, 15, 30, and 64-mile rides, so you don't have to kill yourself to meet Voigt and his Radio Shack-Leopard Pro-Cycling Team teammate Ben King—or support the work of the Rubin Institute of Advanced Orthopedics, which specializes in joint preservation and replacement, as well as internationally recognized limb lengthening and reconstruction.
For non-cyclists, there's also a one-mile family fun walk and activities for kids. An afternoon picnic follows the morning's events. Last year, more than 1,000 people participated, raising more than $230,000 to help patients unable to afford physical therapy, housing during lengthy treatments, transportation, or adaptive equipment such as wheelchairs.
Voigt, of course, will be doing the 64-mile metric century ride—which includes several thousand feet of climbing in notoriously hilly northern Baltimore County. But the event isn't a race and the down-to-earth veteran pro says he'll ride a friendly pace. He'll also be appearing at Race Pace Bicycles in Columbia with King Friday evening for a free event, although space is limited.
Bike Shorts sat down with the 42 year old, who has competed in the Tour de France 16 times, including this past summer, which he says was his last.
Q: You're going to take it easy on us Saturday during the 64-mile ride?
JV: "Hopefully, we will go slow [laughs]. It's not about the fastest time, but about getting pictures and chatting some along the way."
Q: How did you start cycling? I read you were a rambunctious kid.
JV: "I was an energetic boy [more laughs] and my teachers said, 'He needs some sport.' I tried track and field . . . I was terrible at soccer—I'd plan to use my foot to kick the ball one way and it would go in the wrong direction. One day, a local cycling club came to our school and did a presentation and offered a free, new bike to anyone who came out and tried their training program. Well, to a 10 year old, a shiny new bike—I mean, that was it. Two or three weeks later, I won my first race."
Q: This was East Germany?
JV: "In East Germany. Then in eighth-grade, I was accepted into a dormitory-style sports school in Berlin."
Q: You're known for relentless breakaways and tremendous competitive drive. Is your success more about the will-to-win or natural endurance gifts?
JV: "Part of it is nature. I have a big engine. A big motor. But drive is the biggest part, discipline and self-belief. I'm sure there are some races I won—not because I was the strongest athlete—but because I wanted it more than the others."
Q: We have a whole new crop of American cyclists hitting the world stage, including Tejay van Garderen, Taylor Phinney, and Andrew Talansky—the next generation post-Armstrong, Landis, Leipheimer, Hamilton, etc. What are your impressions?
JV: "It's great isn't it? Talansky [10th overall in the 2013 Tour de France] has a lot of upside. I don't think he's reached his limit. Tejay, I think, didn't prepare properly for this past tour, but he'll be back. It's tough to win the Tour of California [in May] and then be 100 percent for the Tour de France."
Q: So, in Germany, the everyday bicycling culture, bicycling as ordinary transportation, is still much different than in the U.S. Why do you think that is?
JV: "It is. In Germany, you see women riding their bike to the grocery store and coming home with bags hanging from their handlebars. Some of it is the way our cities are built. Here, things are farther apart and people are driving much faster. But also, a lot of politicians [in Germany] are ecologically concerned and they've been building the infrastructure. Where you used to have two car lanes, for example, now you see one in the city, and the other is a divided bike lane. Why not? Bikes take less space to park, they don't pollute, and keep you fit."
Q: We'll broach this lightly. You won a stage of the Tour of California this past spring and had a nice run once again at the Tour de France, but you also just turned 42. Is there anything you do differently as an older athlete?
JV: "More rest [laughs]. And you have to pay attention to all the little things, like stretching and nutrition, any food intolerances."
Q: You've said 2014 will be your last year as a pro cyclist. Will you ever venture into running marathons or doing triathlons?
JV: "Somebody needs to stop me, hurt me badly, if I do something like that after all the pain I've put myself through riding a bike this long . . . Then again, it's not like you can go from riding in the Tour de France to bowling."