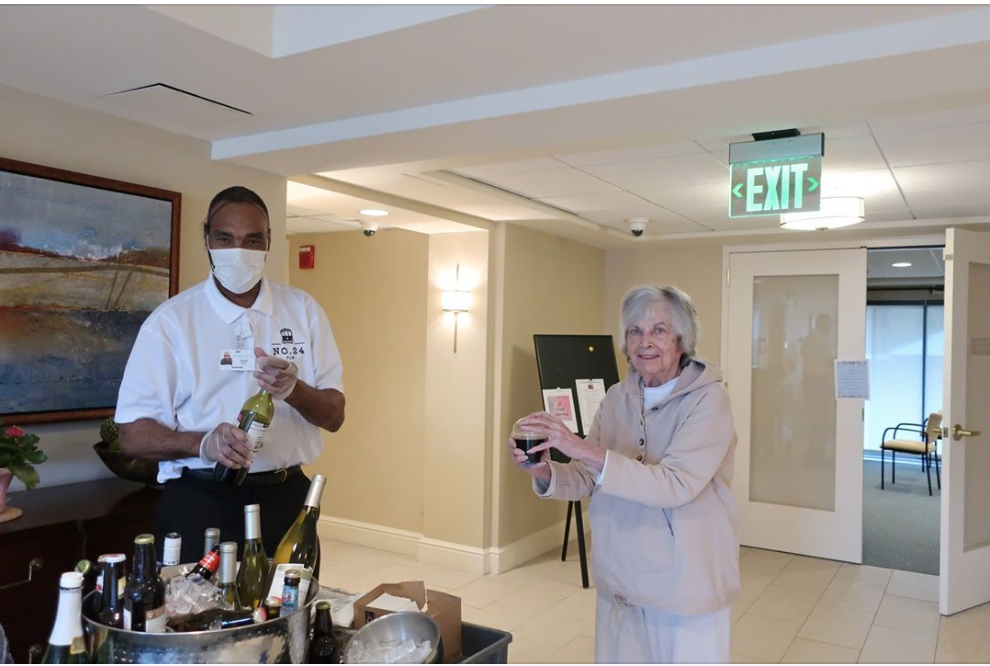 Loretta Schaeffer took her nightly meals in Roland Park Place's dining room for granted. Since moving into the continuing care retirement community (CCRC) nearly two years ago, the 84-year-old had gotten into the routine of eating breakfast and lunch in her apartment, and then joining fellow residents for dinner.
Moving out of the four-story home she and her late husband shared in Washington, D.C. and into the Roland Park community had been difficult for Schaeffer, and chatting with other seniors at the dinner table every night helped her feel less lonely in this unfamiliar city.
So when Roland Park Place announced in mid-March that, in order to protect its residents and staff from the rapidly spreading coronavirus, it was closing its doors to visitors as well as cancelling all group gatherings, Schaeffer was devastated.
"When they closed the dining areas, that fell on me like a ton of bricks," she says. "I never realized how important those dinners were to me until now."
Within the past few weeks, COVID-19, which has proven especially dangerous to the elderly and immunocompromised, has ravaged senior-living communities, with confirmed cases reported in more than 90 nursing homes and long-term care centers across the state. In early April, Gov. Larry Hogan announced the formation of "strike teams" that will bring triage, emergency care, and equipment to overburdened nursing homes to help them fight back against the outbreak that has infected nearly 7,000 people in Maryland.
But while state and health officials scramble to save the elderly residents who have contracted the novel virus and protect those who haven't, the seniors quarantined inside local care communities, as well as their families and staff members, are struggling to make sense of this new, isolated reality.
"Life has completely changed, and, no matter your age, we are all worried and frustrated," Schaeffer says. "I think clamping down on visitors and activities early has protected [Roland Park Place] so far, but the terrible effect is that it's lonely and sad and scary."
After the Maryland Department of Health issued a recommendation for long-term and continuing care communities to start implementing infection control measures, the majority of the state's senior-care centers did just that. One by one, communities began restricting visitation, calling off group activities, adding sanitizing stations, and, in some instances, monitoring the temperatures of residents and staff.
Roland Park Place President Sam Guedoaur says the pressure to find and implement new safety measures—such as RPP's new policy of limiting elevator rides to two people—is constant. "Every single day we come up with a new way to minimize the spread of the virus," Guedoaur says. "We have to be diligent and continue to have strict measures to keep the residents and staff safe."
And with families unable to visit their loved ones, the burden has fallen on the community's staff members to care for nursing-home residents through this outbreak.
"The residents, the families, and the staff are really counting on each other to stay safe and healthy," says Amber Knabe, the director of sales and marketing at Symphony Manor Assisted Living. "With how contagious everything is, it may be inevitable that the virus comes through [here], but if it does, we want to know that our team did everything possible to keep our families safe."
Although most residents and their families understand why these social-distancing directives are necessary, not knowing when they'll see their loved ones again has been a hard pill to swallow. Darlene Schafer, whose mother, Patricia, lives at Brightview Perry Hall, says that even though she's confident that the independent-living facility is making appropriate safety precautions, it's impossible not to worry.
"The reality is that I don't know when I'm going to see my mother again," says the Anne Arundel County resident. "We don't know when this will end or when it'll be safe to spend time with her again, so this is our new normal."
To keep residents and their families connected during this lockdown period, local CCRC's have had to get creative. Some communities have asked staff members to become de-facto technicians for residents who need help setting up Facetime and Zoom, while others, such as Springwell Senior Living Community in Mt. Washington, coordinated with less-able residents and their families to hold regular video calls on the center's iPads.
When the staff at Symphony Manor realized how long it could be before residents can interact with their families again, the Roland Park community converted two of its lobby windows into "window visit stations." At a designated time, residents can sit on their side of the glass—adorned with posters that read "We're All in This Together!"—and wave to their loved ones seated on chairs in the grass.
"Some families have even made signs and stood on the front lawn so that their relatives can see them," Knabe says. "We want [the residents] to know that people are thinking of them."
And while the CCRC's have had to put their scheduled programming on hold, many places have pivoted their activities in hopes of keeping residents active and engaged. Instead of game nights in the recreation room, residents play in their doorways against people down the hall. In place of a jam-packed fitness class, residents attend classes limited to five people. Some centers have even started initiatives inspired by the pandemic, such as a hand-washing poster competition, which Schaeffer entered with a rhyming poem about proper scrubbing technique.
When Darren McDonnell learned that Roland Park Place could no longer bring in entertainment for the residents due to the shutdown, the marketing associate decided to fill in. On St. Patrick's Day, McDonnell, a longtime entertainer, brought a sound system into the facility's courtyard and started singing, and it didn't take long before residents went out onto their balconies to watch the performance. Now, by popular demand, McDonnell performs everything from Frank Sinatra classics to Broadway tunes twice a week, encouraging residents to send in song requests.
"It's something that I can do to help the residents stay connected and give them something to look forward to," McDonnell says." I hope it lifts their spirits a little bit."
As the weeks of quarantine turn into months, there's still so much uncertainty surrounding what the next phase of the coronavirus outbreak will look like for nursing home residents and staff members. Sue Gelston, whose mother, Brenda, suffers from Alzheimer's disease and lives in Springwell's memory care unit, says that she anticipates the restrictions on senior-living communities will last longer than the state's stay-at-home directives.
"Whenever the day comes when stores start to reopen and things start to go back to normal, the unit that my mom is in is still not going to be the same," Gelston says. "The people there are so compromised that I think they will have to keep a lot of these procedures in place, even if the state says they can open the doors again."
Until Schaeffer can hug her daughters or grandchildren again, she's trying to stay motivated and busy. She talks with her family daily, practices her homework for her weekly balance class (35 sit-stands, with no hands), and exercises by climbing her building's stairs while wearing a mask. But she says it's hard to be positive when so many things, including the little things she took for granted, will be different when this is all over.
"I'm not worried about me or my savings—I'm worried about the world," she says. "My children, my grandchildren, their future. I'm worried about that."