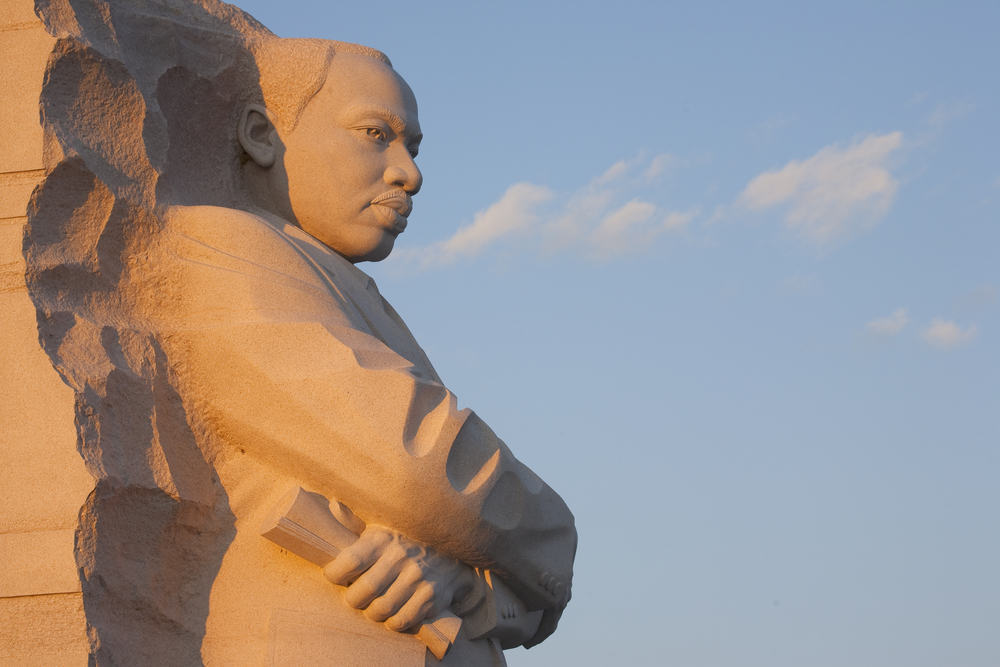 Civil rights leader Martin Luther King, Jr. left behind a towering legacy of hope and change. Whether you spend Monday, January 21, taking in a performance, introducing your kids to his work, or engaging with Baltimore's cultural leaders, you can make a difference in honor of his birthday. Here are the best ways to celebrate Dr. King.
Annual MLK Memorial Breakfast
For 38 years now, the aptly named Dr. Martin Luther King, Jr. Memorial Breakfast Committee has continued its namesake's work with a local breakfast meant to activate and inspire its guests. This year's theme is "Realizing the Dream: The Time is Now," and keynote speaker Michelle Asha Cooper, president of the Institute for Higher Education Policy, will deliver an address advocating access to higher education for all students during the two-hour breakfast. La Fontaine Bleue, 7514 Ritchie Hwy., Glen Burnie. 8-10 a.m. $35.
Baltimore MLK Parade
Throw on a coat and scarf to enjoy Baltimore's 19th annual spectacle in honor of the late civil rights leader. Kicking off at noon, the procession follows Martin Luther King, Jr. Boulevard and features more than 70 participants with feel-good entertainment for all ages, including floats, marching bands, and dance squads. Even Mayor Catherine Pugh—despite last year's controversy—will be joining the celebration of Dr. King's birthday. Martin Luther King, Jr. Blvd. between Eutaw St. and Baltimore St. 12 p.m. Free.
Dare to Dream Day
The American Visionary Art Museum never misses an opportunity to put its own spin on beloved holidays, and next Monday's extravaganza is no exception. Admission is completely free all day, including the museum's many exhibitions and a special screening of a film about MLK in the second floor theater. Guests of all ages can create buttons that represent their own dreams starting at 10 a.m. followed by free birthday cake and drinks at noon. Stick around a bit longer to catch slam poetry and dance performances by Baltimore Leadership School for Young Women and Keur Khaleyi African Dance Company. American Visionary Art Museum, 800 Key Hwy. 10 a.m.-6 p.m. Free.
I Have a Dream Weekend
Introduce your little ones to milestones in civil rights history at Port Discovery this Monday, when the museum opens its doors for a day of educational fun. Learn about Dr. King's monumental legacy while creating birthday cards for him and joining in interactive stories about his legacy. Elsewhere, make a quilt square with the African-American Quilters of Baltimore and discover the history of Negro League baseball. Better yet, children from Northwood Elementary School will be dressed up as African-American historical figures, waiting to share their life stories. Port Discovery, 35 Market Pl. 10 a.m.-5 p.m. Free-$5.
MLK Day Celebration and Day of Service
Join the Reginald F. Lewis Museum for their annual day of service in honor of MLK. This day-long celebration offers a little something for everyone, including crafts for kids, a performance by Singing Sensations Youth Choir, a discussion with Dr. King's barber, and a reading of the play The Mountaintop by Baltimore Center Stage. Between events and exhibits, take advantage of free onsite health screenings by Kaiser Permanente. Reginald F. Lewis Museum, 830 E. Pratt St. 11 a.m.-4 p.m. $5.
Voices of Carmen
Station North stalwart Motor House will honor MLK with a special afternoon performance of Voices of Carmen, a modern take on the classic French opera Carmen. Performed by a cast of 40 singers, actors, dancers, and musicians comprised entirely of teens from Baltimore, the musical updates its source material by moving the action to the inner city and breaching issues that affect young people today. Make sure to stay for a discussion about escalating conflicts among the city's youth and Dr. King's legacy of nonviolence. Motor House, 120 W. North Ave. 2:30-4:30 p.m. Free.
Baltimore's Strange Fruit
Eric Jackson and Maddie Hardy's documentary Baltimore's Strange Fruit chronicles the city's history of food inequality through race, class, and land politics. As part of a special MLK program, Creative Alliance will be showing the film for free, including a dinner before the screening. Immediately following the film, take in a panel discussion with Black Yield Institute's Eric Jackson and finish the evening with a service project to benefit Cherry Hill Urban Garden. Creative Alliance, 3134 Eastern Ave. 5:30-8:30 p.m. Free.