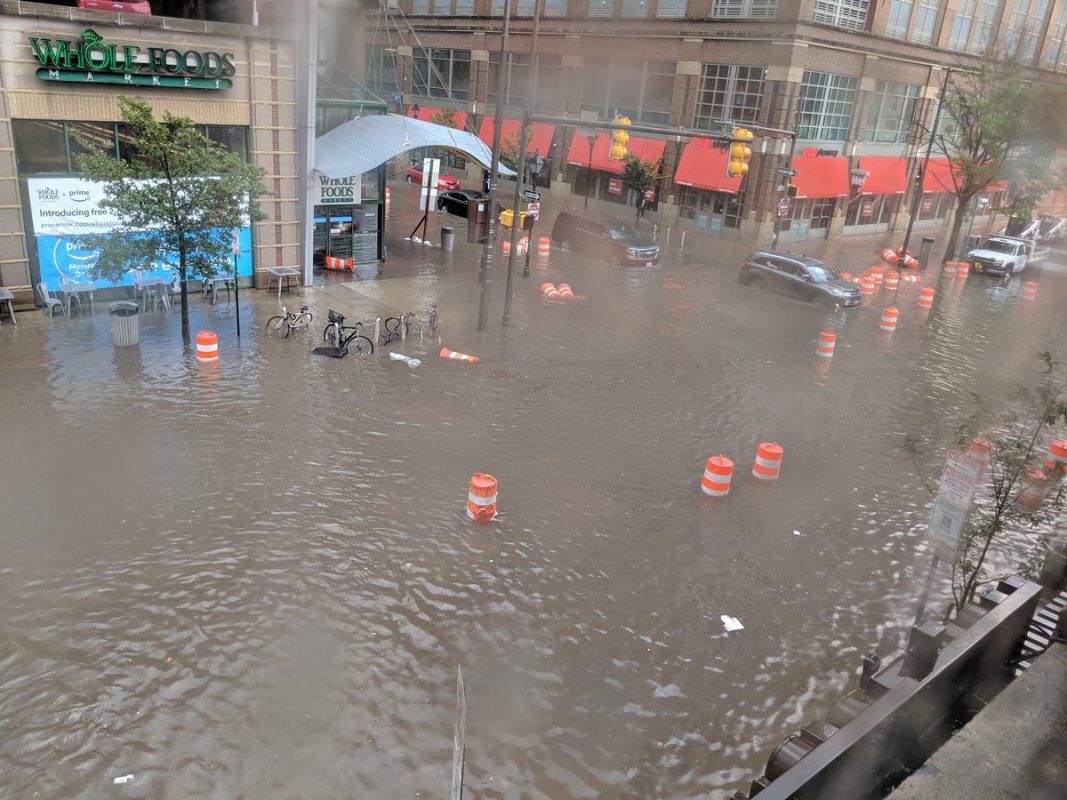 Alex Krupey/Twitter
Late Tuesday afternoon, around the time most Baltimoreans were in their cars headed home, to dinner, or settling in for the night, cell phone notifications alerted that a flash flood warning was in effect. The city was promptly inundated with lightning, thunder, and hail. And though it seemingly came out of nowhere, the heavy flooding that brought as much as five inches of rain—with citizens evading high waters by standing on top of their cars—is a symptom of a problem that might only get worse.
Heavier rainfalls are up 55 percent in the region since 1958. According to a 2018 study of urban flooding by the University of Maryland and Texas A&M, two-day events are up drastically, as well. This increase in precipitation—along with construction in Harbor East and Little Italy, where the majority of damage was seemingly done—has the potential to be a recipe for disaster.
"Baltimore is not alone," Gerald Galloway, a University of Maryland professor of engineering who co-led the urban flooding study, recently told Baltimore. "The kind of flooding it's been experiencing we've seen a lot of on the East Coast and Gulf Coast in the last five years. People are beginning to realize it's a long road we are going down."
Thankfully, many local business owners say it seems as though the brunt of the storm was felt out in the streets and not inside buildings in the area. Both Rosalyn Vera of Cocina Luchadoras in Upper Fells Point and Gia Fracassetti of Cafe Gia in Little Italy say that their businesses suffered little to no damage. Fracassetti observed construction workers physically climbing down from their perches and signs tumbling to the ground.
"It made it look like we were back in Venice," Fracassetti says, referencing the canals in her family's native Italy. "I was concerned for some of the workers that were kind of trapped up there."
Vera says that in a worst case scenario, this type of flooding could completely shut down her business. But by the later hours of the night, it was hard to tell that the magnitude of this type of flooding had even descended upon the area. It's a reminder that, while things are back to normal now, the city has work to do to prepare for when it happens again.
"You would've never known there was a bad storm last night," Fracassetti says "Today is just another day."