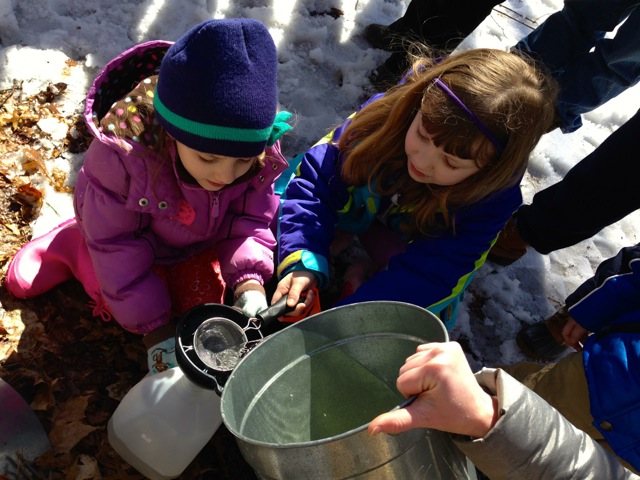 Ladew Topiary Gardens courtesy of flipsidepa.com
A half-century ago, Ladew Topiary Gardens founder Harvey Ladew placed several sugar maples on his property's hills purely for aesthetic purposes. But blowing seeds from those trees eventually produced other maples in the woods away from the gardens—and now, decades later, they are old enough to be tapped. That's called a happy accident.
This upcoming weekend, Ladew hosts family-friendly maple tree tours on Saturday and Sunday, where participants can observe tapped trees, collect a little sap, and then learn how to boil it down to golden brown syrup. And oh yeah, there'll be some silver dollar pancakes and samples afterward.
Old Harvey's acres in Monkton aren't the only place offering maple-sugaring opportunities, however. The Oregon Ridge Nature Center in Cockeysville hosts maple sugar hikes and syrup tasting this weekend as well with pure maple syrup available for purchase in the center's gift shop.
Even closer to Baltimore City, just outside the city limits, Robert E. Lee Park rangers will also lead maple sugaring tours, cooking, and tasting opportunities this Saturday and Sunday.
The 116-acre Irvine Nature Center in Owings Mills hosts similar a "Maple Magic" tour this Saturday afternoon.
Next month, a little further out in Frederick County, Cunningham Falls State Park will host its 45th annual Maple Syrup Festival over two weekends—March 14 and 15, and March 21 and 22.
Even farther afield, but still in state, it's interesting to note Garrett County in Western Maryland was once a center of the U.S. maple syrup industry before rising temperatures pushed the industry farther north. Still, there is at least one family, the Stever Brothers, that has been making syrup out there for more than 100 years.