The Chatter: February 2016
Overheard in Sparrows Point, Night of 100 Elvises, and Bluegrass in Baltimore book signing.
Graceland
December 5, 2015
Hollins Street
The walls in the upstairs Jungle Room are draped in velvet leopard print, matching the snug dresses on a few of the bouffant-sporting women hitting the dance floor as Rob Kilgore belts out a cover of "Lawdy Miss Clawdy," one of the King of Rock and Roll's early hits:
"Well lawdy, lawdy, lawdy
Miss Clawdy Girl,
you sure look good to me . . ."

There are all kinds of bands inside the packed Lithuanian Hall, covering nearly the entirety of Elvis Presley's blues/country/rockabilly catalog on three floors. There are also enough Elvis impersonators—this is the 22nd annual Night of 100 Elvises, after all—to match every incarnation (Young Elvis, Comeback Elvis, U.S. Army Private Elvis, Bloated Elvis, etc.) of the singer several times over. Although, sometimes it's difficult to tell the fans dressed up in homage to their idol apart from the professional tribute artists.
All through the night—which benefits Johns Hopkins Children's Center—there are hula girls performing on the main theater stage, a nod to the icon's Blue Hawaii period. Downstairs, near the Viva Las Vegas Lounge, the King's Kitchen Menu features Elvis-inspired favorites, including, naturally, fried peanut-butter-and-banana sandwiches.
"I have older sisters; I was weaned on Elvis," says Kilgore. "In fact, in 1972, I visited a girlfriend in Memphis and went to Graceland with her. Elvis was asleep—it was 2:30 in the afternoon—so we couldn't go in the house. His uncle Vester gave us a tour of the grounds in Elvis's Ford Bronco instead."
---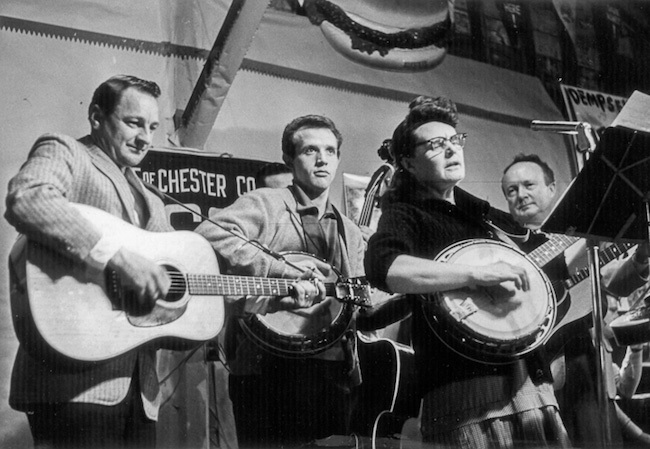 Ola Belle

December 2, 2015
Falls Road
Caleb Stine, dressed in work boots and a plaid shirt, puts down his guitar for a moment, picks up a fiddle, and begins tapping his toes. "I learned how to play this tune from a recording by a Kentucky fiddler named Art Stamper," Stine tells the three-dozen bluegrass fans squeezed into The Ivy Bookshop for his informal performance and a reading by Tim Newby from his new book, Bluegrass in Baltimore: The Hard Drivin' Sound and Its Legacy.
Newby recounts the story of legendary singer and banjo player Ola Belle Reed, the Ashe County, NC, transplant who helped introduce Southern mountain music, first to rural Maryland and then to Baltimore. Ola, brother Alex Campbell, and husband "Bud" Reed built a stage at their New River Ranch in Rising Sun that would eventually host Loretta Lynn, Bill Monroe, Hank Williams, the Carter Family, and Johnny Cash.
In fact, as Newby says, the term "bluegrass"—to distinguish the new, faster, more intricate musical genre from traditional country or simpler "hillbilly" music—is first found in print in 1957 on the liner notes to American Banjo: Three-Finger and Scruggs Style, recorded by Mike Seeger in Baltimore. "The music changed some when it moved to the city," says Newby. "It's great today to see the Charm City Folk & Bluegrass Festival, which keeps growing, and a new generation of musicians picking up on that legacy."
"I knew Baltimore was the birthplace of painted screens and Formstone, I didn't know it was the home of bluegrass," laughs store co-owner Ed Berlin as he hands commemorative mugs to Newby and Stine. "I do know something, however, about the family-owned company, Homer Laughlin, over 100 years old, that makes these pottery cups: Their clay comes from the Ohio River area—same place that music comes from."
---
Points of Light
December 1, 2015
Riverside Drive
Driving past jersey barriers and heavy rail tracks, dozens of families—many including a member who spent his or her working life down here—eventually reach a warehouse terminal at the southeast end of Sparrows Point. The property is largely desolate now, and certainly it is compared to Bethlehem Steel's glory days on "the Point." But one tradition of the shuttered plant continues—the lighting of the "Star of Bethlehem."
Handcrafted in 1978 by local steelworkers, the 1.5-ton star spans some 28 feet. It shone from atop the mill's massive, 320-foot-high "L" blast furnace until the huge steel plant was demolished in January 2015, but was saved by the site's new owners, Tradepoint Atlantic. Its placement high on a warehouse this evening is temporary until a permanent home is found, Tradepoint Atlantic CEO Michael Moore explains to the crowd, who are reminiscing over coffee and donuts before the countdown.
"I thought I'd come down and see a few friends," says Virgil Hare, watching the lighting of the star, which is visible from the Key Bridge, with his friend and sister. "I started working for Bethlehem Steel after graduating from Dundalk High School in 1965—45 years—probably 55, if you count all the overtime," he laughs.
Moore talks about the star, created when hope still remained for an already declining steel industry, symbolizing his company's hopes for attracting new businesses to the 3,100-acre grounds.
Hare would like to see that, too, of course. He also acknowledges lingering frustration over the steel industry's demise, in part, at least, from foreign competition. "I remember when that star was made," Hare says. "From angled iron—'Canada'—stamped right on it."