Just The Lax
The lingo, hangouts, rivalries and more
If it's March, then it must be time for what should be Maryland's state sport (could they really pack 40,000 fans into Camden Yards to watch…jousting?)—and that sport, of course, is lacrosse. It's one of the fastest—and the fastest-growing—sports in America, but that comes as no surprise to the thousands of Baltimore-area families who live and breathe lacrosse every season, all season. For those families, their only goal in life is to see Junior or Sis make varsity in high school, win the state championship, then get the grades to win a scholarship to some lacrosse-loving Division I college like the University of Virginia, Duke University, The Johns Hopkins University, or the University of Notre Dame. After that, there are adult leagues for the unrecovered grownups, and then, for the über-stars, Major League Lacrosse or an LXM Pro team. What next? They can dream of coming full circle and ending up in the National Lacrosse Hall of Fame (on The Johns Hopkins University Homewood Campus).
So who are Baltimore's rising stars on the high-school level for 2014? We interviewed coaches of all the top-ranked school teams and came up with a handful of young lax masters to watch. And with the help of aficionados like Baltimorean, national lacrosse star, and STX athlete Kyle Harrison, we also dug up lots of fun facts about the lacrosse crowd (i.e., a "yard sale" is not where they buy used lax gear).
And for you lucky laxites who made our list? No pressure, kids.
---
Why Lacrosse?
Right now, somewhere in Baltimore, a boy is throwing a lacrosse ball to himself off a brick wall—over and over—hoping to become the next Rob Pannell.
Who? Exactly. The leading scorer in NCAA Division I history is hardly a household name. But in lacrosse circles, the former Cornell University star is a legend. Unlike other major sports in this country, lacrosse does not promise a career of fame and fortune. Even earning a college scholarship for lacrosse is difficult: Major college teams can have rosters as large as 45, with only 12 scholarships to dish out among all players every year.
So why do kids in this region continue to choose a sport with such a seemingly low ceiling?
Shack Stanwick, a senior at The Boys' Latin School of Maryland, is the youngest of eight kids, all of whom played collegiate lacrosse. And a backyard lacrosse game is to the Stanwicks what football was to the Kennedys. "Lacrosse gives me so many things in return," says Stanwick, 18, who plans to play at The Johns Hopkins University next year. "I've made so many friends through the sport who
I'm still close with today. It's allowed me to share a special connection with my siblings, and it has also helped me and my dad strengthen our relationship."
"Some parents are understanding that while there's not a whole lot of athletic scholarship dollars at the end of the rainbow, lacrosse can help in terms of admission," says Steve Stenersen, president and CEO of US Lacrosse. "If a child's academic standing isn't quite good enough, lacrosse could be a determining factor."
"It's just fun," says Bob Shriver, coach of Boys' Latin. "It's a great game to practice; it's not the drudgery of football. It has more scoring than soccer, more people than basketball. It just gets in your soul."
Devotees of the game say the lessons learned on the lacrosse field stay with you for a lifetime. To look into that, we tracked down a Baltimore veteran of the sport, Richard Mollett, who was something of a local lacrosse star in his day, playing first at Boys' Latin, then at Towson State University, where, as a senior, his team won the 1974 college-division national championship. He played or coached club lacrosse for 20 years after that, but is best known as the founder and owner, along with wife Dort, of Antrim 1844, Taneytown's award-winning historic country inn (and five-star restaurant).
"In business, I'd say lacrosse gave me the ability to know not to ever give up, and to never stop trying to get to the next level," says Mollett. "And it ingrained in me that once you reach that next level, you can't be satisfied with that. After you face challenges on the field for so many years, you know you can face challenges in business."
---
HISTORY LESSON
Native Roots
Flash back to the New World, dateline 1636: That's when a Jesuit missionary first documented the Native American, all-male game of lacrosse. It got its modern name from a French word referring to "a curved stick," but was known to most Native Americans as "little brother of war." The first white men to adopt the game were English-speaking Montrealers, who wrote a set of rules, which led to the formation of lacrosse clubs.
---
Face Off!
Did somebody say rivalries? Here are the teams to watch in the new season:
GIRLS:
Maryvale vs. Notre Dame Prep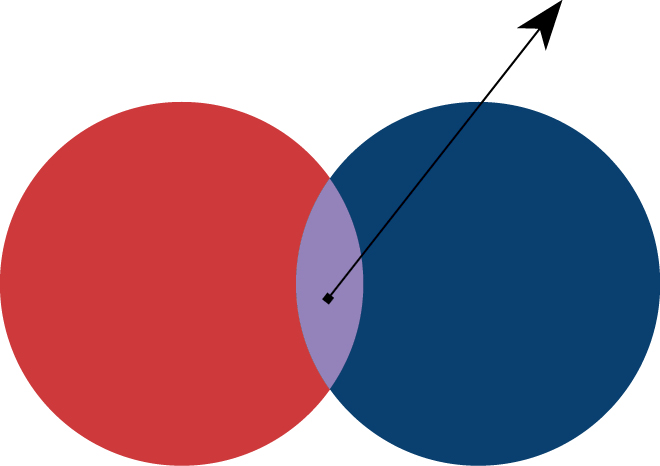 When they meet up, forget the nice-Catholic-girl thing.
Bryn Mawr vs. Roland Park Country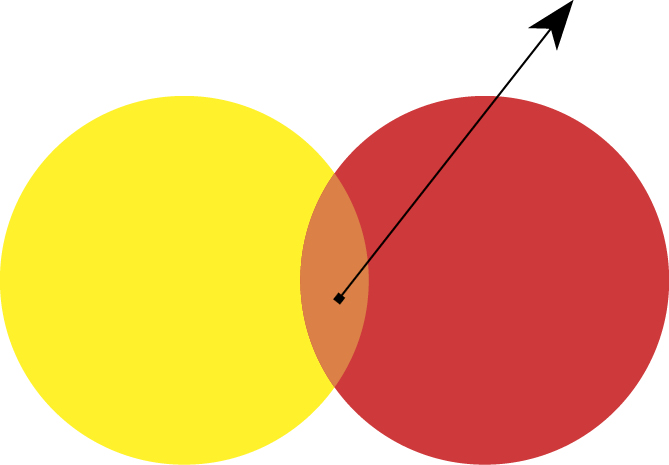 They're within spitting distance of each other (so to speak).
Anybody vs. McDonogh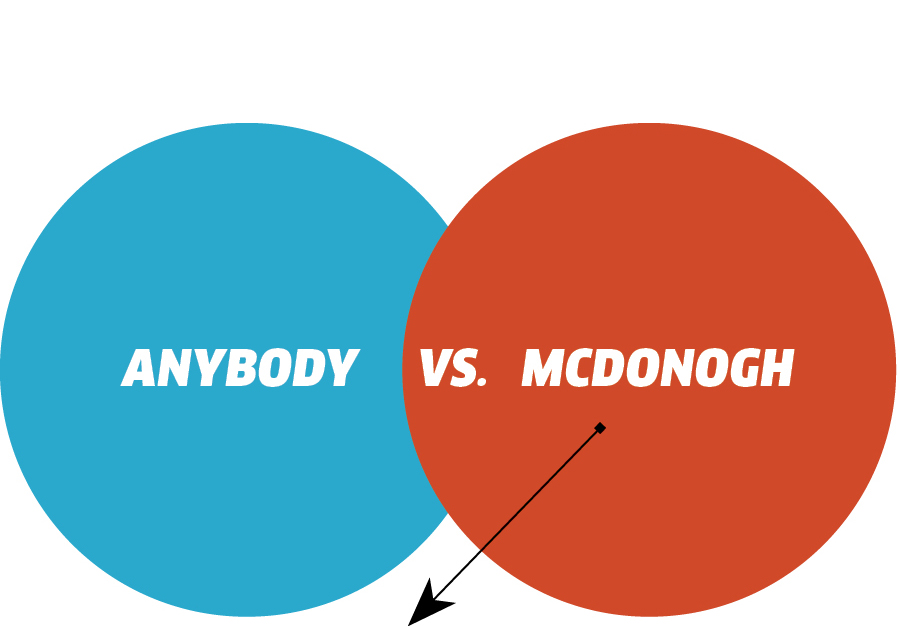 They're the team to beat!
Gilman vs. Boys' Latin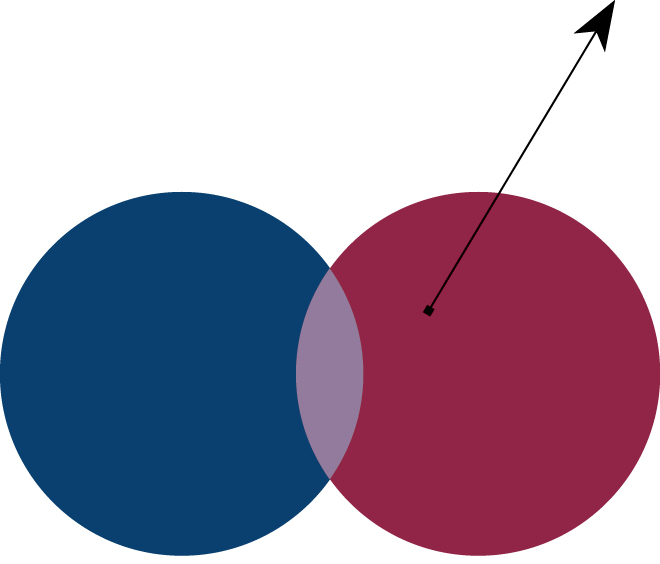 Both of these teams have deep benches.
Calvert Hall vs. Loyola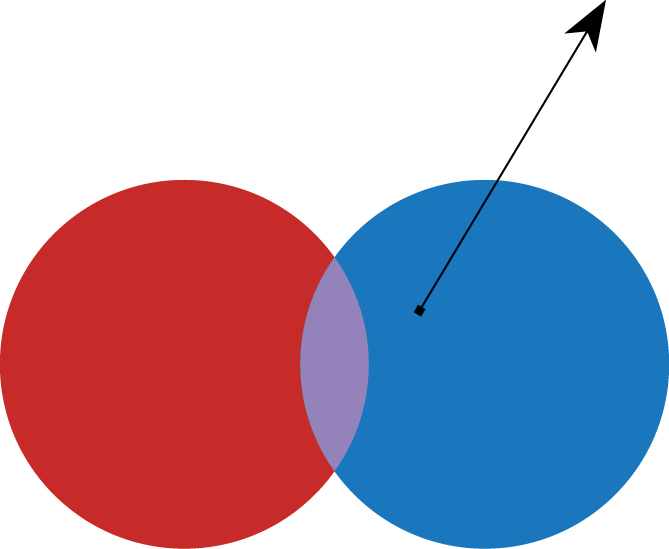 Calvert Hall Coach Bryan Kelly: "A healthy rivalry dating way back, but good friends on both teams."
St. Paul's vs. Boys' Latin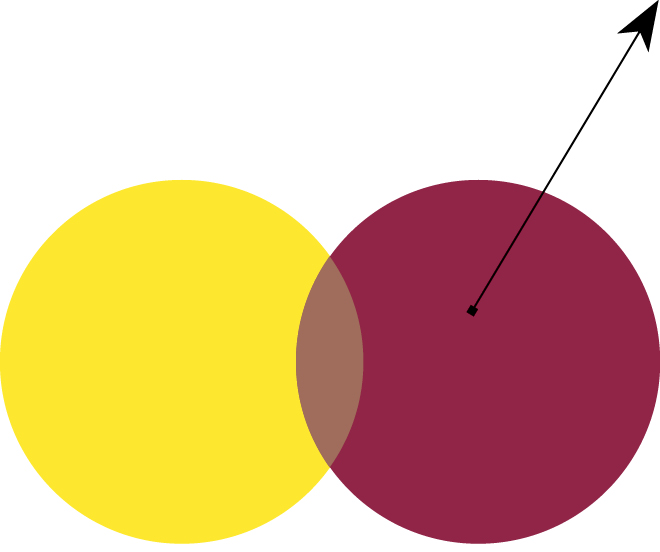 "They're similar in size and compete at the same level in every sport, so it's a natural rivalry", says the BL coach.
McDonogh vs. Gilman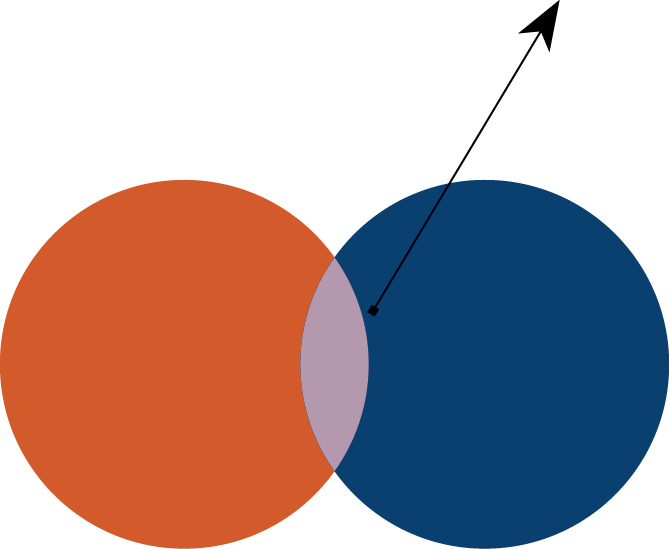 There are plenty of Division I candidates on both sides
---
LOCAL LEGEND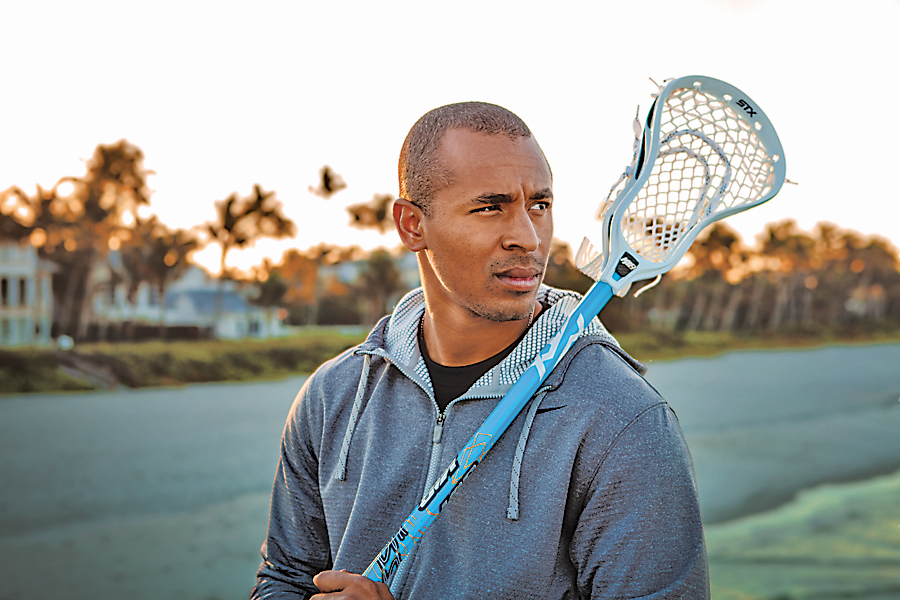 For local lax intel, we consulted with Kyle Harrison, one of the most recognizable names in the sport. The Baltimore native graduated from Friends School and The Johns Hopkins University, earning just about every lacrosse accolade possible, then played in Major League Lacrosse before co-founding the LXM Pro League. Harrison, 30, also just launched his third-generation STX equipment line called K18.
---
OFFICIAL LAXICON
LEARNING THE LINGO ON AND OFF THE FIELD
This sport, like any, has its own slang, and the faithful will find ways to work lacrosse metaphors into ordinary conversation. So, go ahead: Try to make a sentence using all of these.
Illustrations by Peter Mac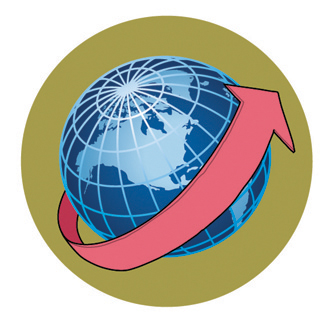 Around the world: Taking the stick around your far shoulder and behind your back on a pass or shot.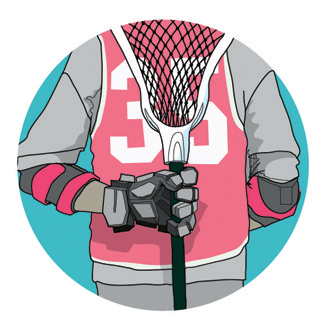 BTB: Passing or shooting the ball behind your back.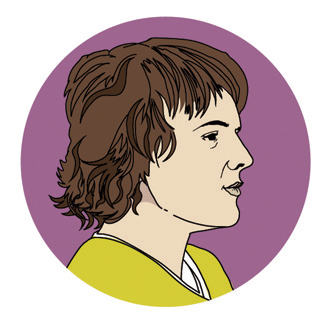 Flow: A term for boy lacrosse players who have hair coming out of their helmet—it is their flow.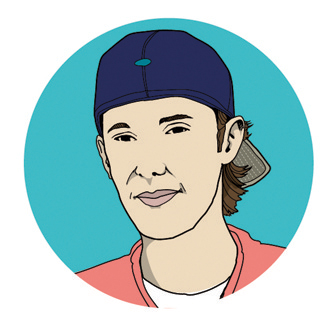 Lax bro: Think lacrosse thug, with no other discernible interests or skills.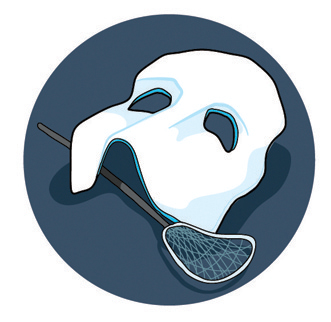 Phantom check: When a player drops the ball without being touched by a defender.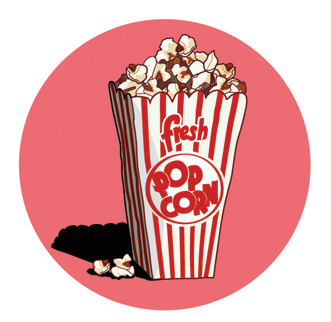 Popcorn: When a goalie makes an easy save on a high shot.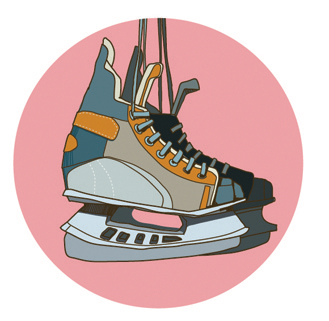 Put on skates: When a defender gets outwitted and looks like he or she is slipping on ice skates.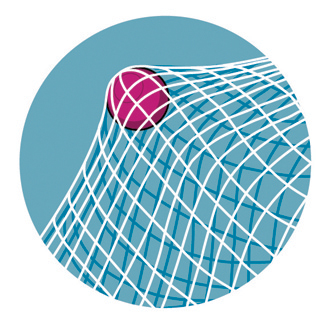 Top shelf: When someone scores anywhere in the top portion of the goal.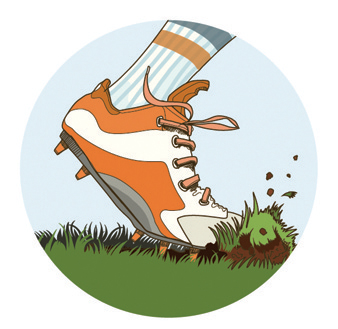 Turf monster: Usually yelled out when a player trips or stumbles without being touched.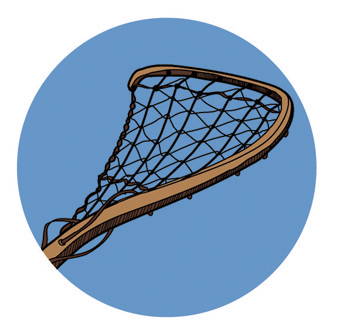 Twig: It would be easier to just call a thing by its real name, right? Wrong—it's slang for the stick.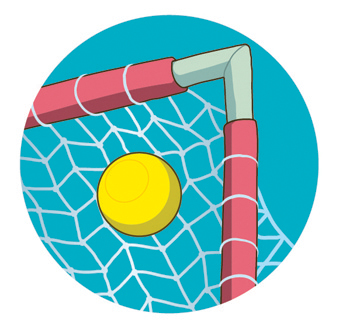 Upper 90: When you shoot the ball and it hits the top corners of the goal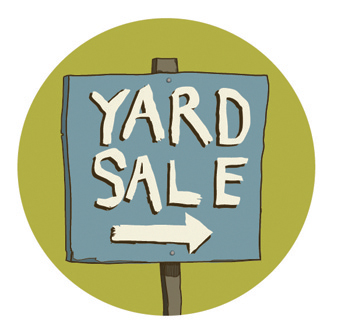 Yard sale: When a player's stick gets checked out of his or her hands.
---
INJURY REPORT
The most common mishaps in lacrosse*
1. Separated Shoulders
Common from a sideways fall directly on the tip of the shoulder, injuring the acromioclavicular joint.
2. Broken Wrists
The natural reflex to break a fall is to stretch out your arm so you don't fall on your head. If the force is too great, the wrist breaks.
About 40% of lacrosse injuries are non-contact.
3. Concussions
Contact sports always include blunt-force injuries to the headthat can cause concussions.
4. Broken Thumbs
Whacks on the hand from a stick can break the thumb and is one of the most common injuries for goalies.
A broken thumb can take up to 3-4 months to heal.
5. Sprained Ankles
Rapid cuts while changing directions and dodging movements commonly cause ankle sprains.
* Courtesy of Baltimore orthopedist Dr. Spiro Antonaides.
---
HANGOUTS
Where do the stick kids of Charm City gather to talk shop?
Photography by Amanda White-Iseli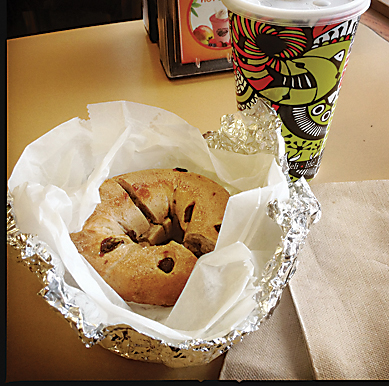 Towson Hot Bagels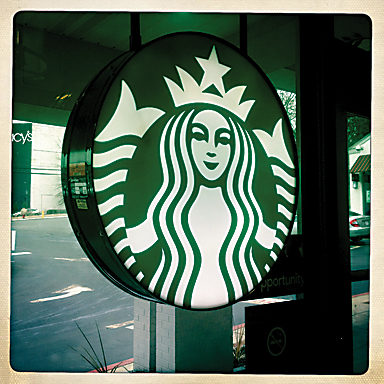 Starbucks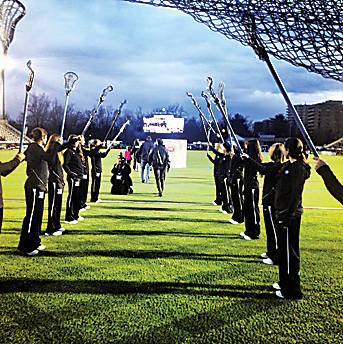 Hopkins Game Days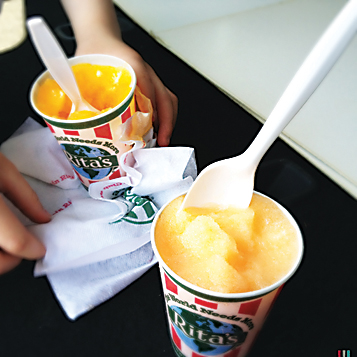 Rita's Ice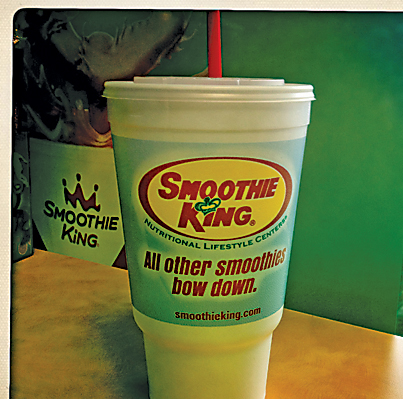 Smoothie King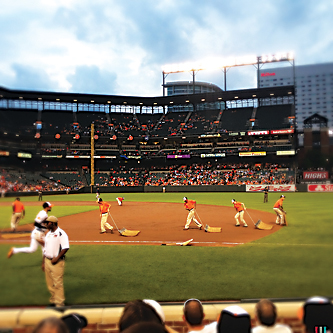 Orioles (or Ravens) Games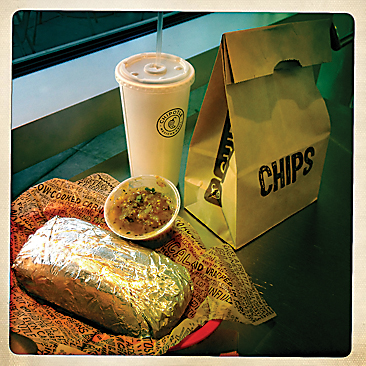 Chipotle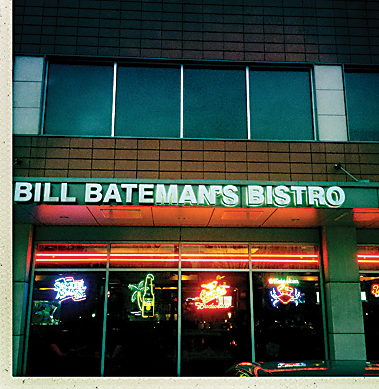 Bill Bateman's Bistro
---
DRAFT
Which Ravens or Orioles would excel in lacrosse?
We asked area high-school coaches to speculate on which pro ballers would tear up the turf——some interesting answers, and one name came up more than any other!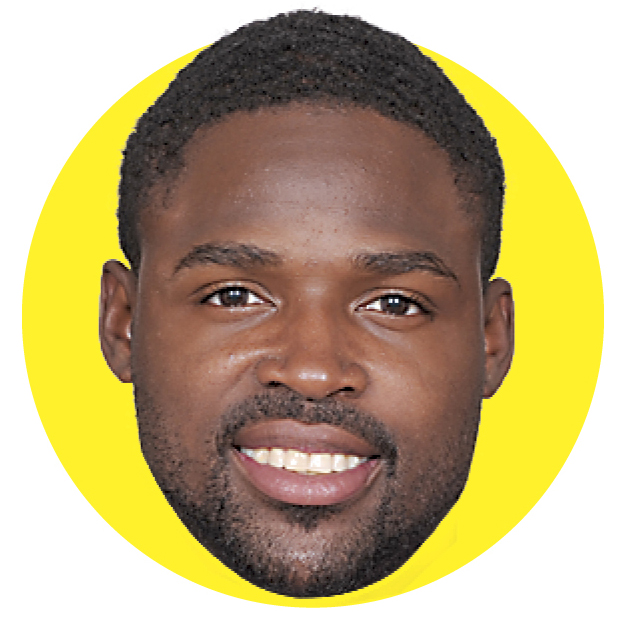 TORREY SMITH
Baltimore Ravens Wide Receiver
"Torrey Smith, with his speed and elusiveness and his ability to control his body, would make a pretty good lacrosse player," says Brent Ritz, coach of the C. Milton Wright girls' team.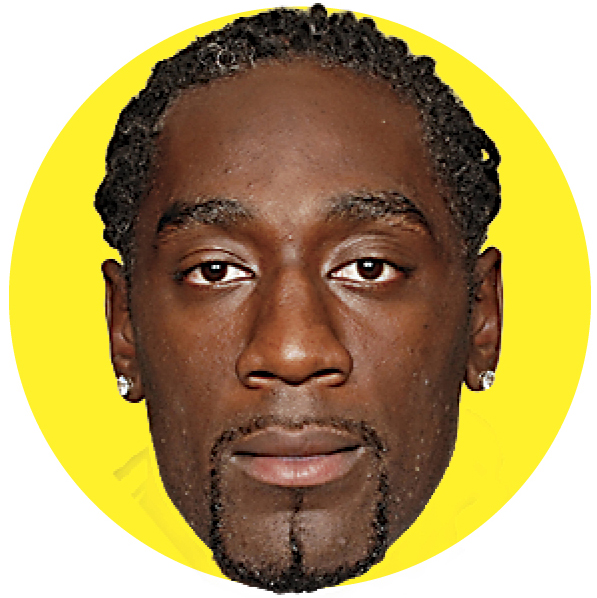 LARDARIUS WEBB
Baltimore Ravens Cornerback
"Lardarius Webb would be just incredible because of his speed and his ability to break down opponents," says Calvert Hall coach Bryan Kelly. "The more powerful, explosive speed you have, the better."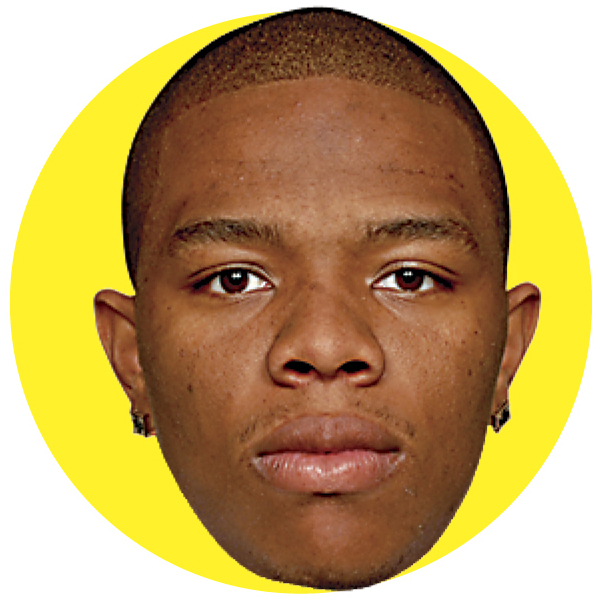 RAY RICE
Baltimore Ravens Running Back
"Ray Rice is pretty shifty," says Jessica Vitrano Randisi, coach of Maryvale Prep. "Speed is number one, because you can't teach speed," says Becky Groves, coach of the Century High girls' team.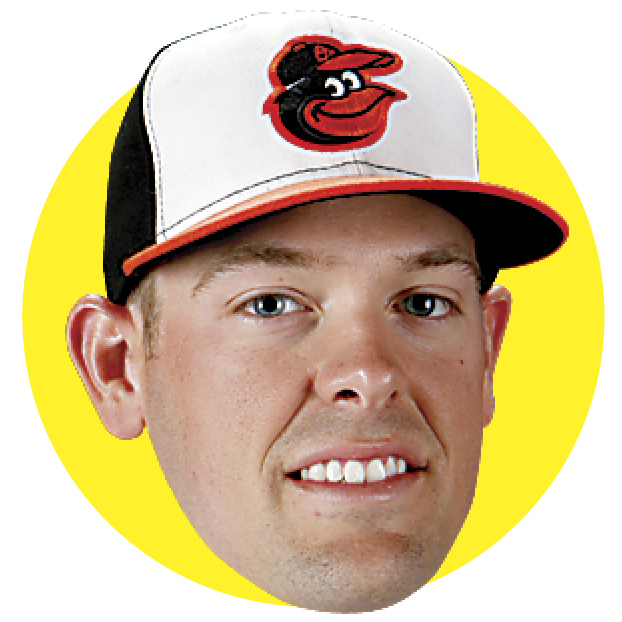 MATT WIETERS
Baltimore Orioles Catcher
"Matt Wieters has unbelievable hands and a cannon for an arm," Ritz says. "He seems to react and read things quickly, so I think he would be a
great feeder on the team."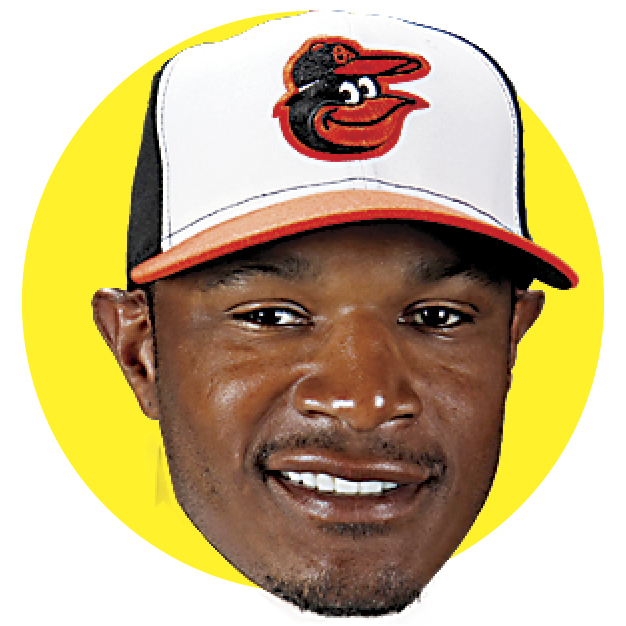 ADAM JONES
Baltimore Orioles Outfielder
Traded to the Orioles from the Seattle Mariners for the 2008 season, outfielder Jones was one of the coaches' picks as a potential lax star.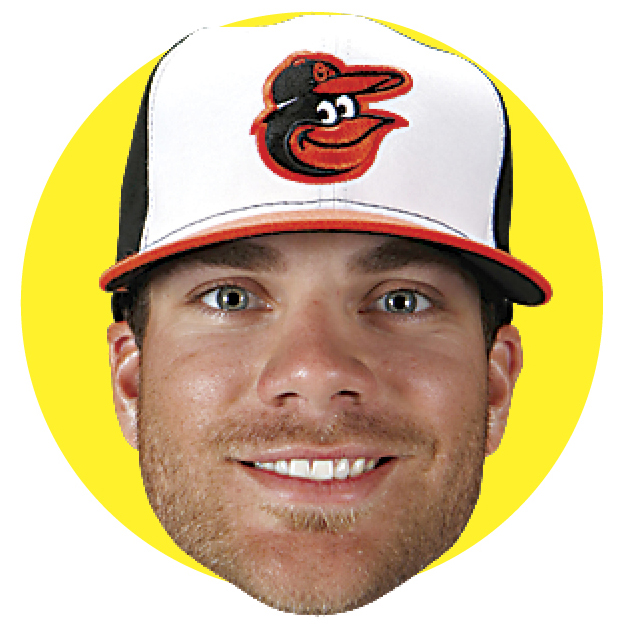 CHRIS DAVIS
Baltimore Orioles First Baseman
His 130 career home runs (he surpassed Brady Anderson for the O's record of most home runs in a single season) would translate well to the lacrosse field, say coaches.
---
TEAMS TO WATCH
2014 IT'S THEIRS TO LOSE
Here are some of the teams that did especially well in the past season in various leagues*
GIRLS
McDonogh School
Marriotts Ridge High School
Good Counsel School
Mt. Hebron High School
St. Paul's School
C. Milton Wright High School
Broadneck High School
Century High School
The Bryn Mawr School
Maryvale Preparatory School
North Harford High School
BOYS
The Boys' Latin School of Maryland
Westminster High School
Gilman School
Loyola Blakefield
Hereford High School
McDonogh School
St. Paul's School
Calvert Hall High School
Severn School
* According to Baltimore-based US Lacrosse.