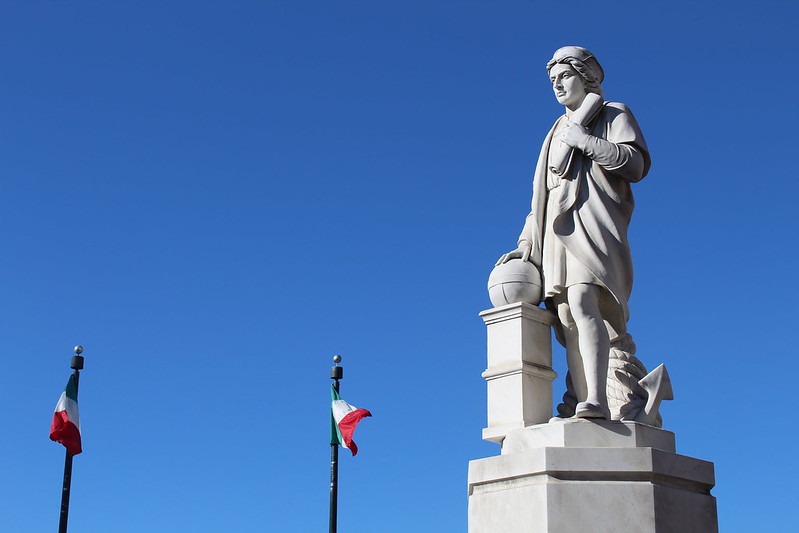 —Photography by Nickel Lietzau via Flickr Creative Commons
Nearly five months after Baltimore's Christopher Columbus statue was dumped into Baltimore's harbor, a local group is working to recreate it—using funds from the Trump administration.
In one of its last acts before the 2020 elections, the Trump administration awarded $30,000 to repair or recreate the seven-foot-tall statue that was ripped from its pedestal on July 4.
The National Endowment for the Humanities (NEH) awarded the funds as part of a countrywide effort to restore or rebuild statues of "iconic historical figures" that have been damaged or vandalized. The goal of the program, called the "A More Perfect Union" initiative, is to spark public interest in American history leading up to the country's 250th anniversary in 2026. According to the NEH, it's a source of funds that chairman Jon Parrish Peede can use at his discretion to provide "fast-track funding in response to urgent institutional needs."
Under previous administrations, the federal agency has allocated money to repair statues and other monuments that were damaged in floods, hurricanes, or by some other natural disaster. President Trump has been using the program in a different way, however.
Last summer, he signed an Executive Order that condemned the destruction of historical monuments during recent protests around the country and directed that federal funds be made available to repair or replace them. In his order, Trump called the destruction of statues an "assault on our national collective memory."
Baltimore is one of four cities where groups were chosen to receive grants of $30,000 each from the NEH to assist in the restoration or recreation of statues or monuments. According to the federal agency, the $30,000 targeted for Baltimore is intended to "aid in the restoration of a Christopher Columbus statue that previously stood in Baltimore's Little Italy neighborhood, and that was toppled and severely damaged during protests in July 2020." The recipient of the money is Columbus Celebrations Inc., a private group that is leading the local effort.
Bill Martin, an accountant who is one of the leaders of Columbus Celebrations, said the money will go a long way toward recreating the statue—which was made in Italy and presented as a gift to the City of Baltimore in a 1984 ceremony attended by then-President Ronald Reagan. The location for the statue was a newly created plaza along President Street just south of Scarlett Place, between the Inner Harbor and Little Italy.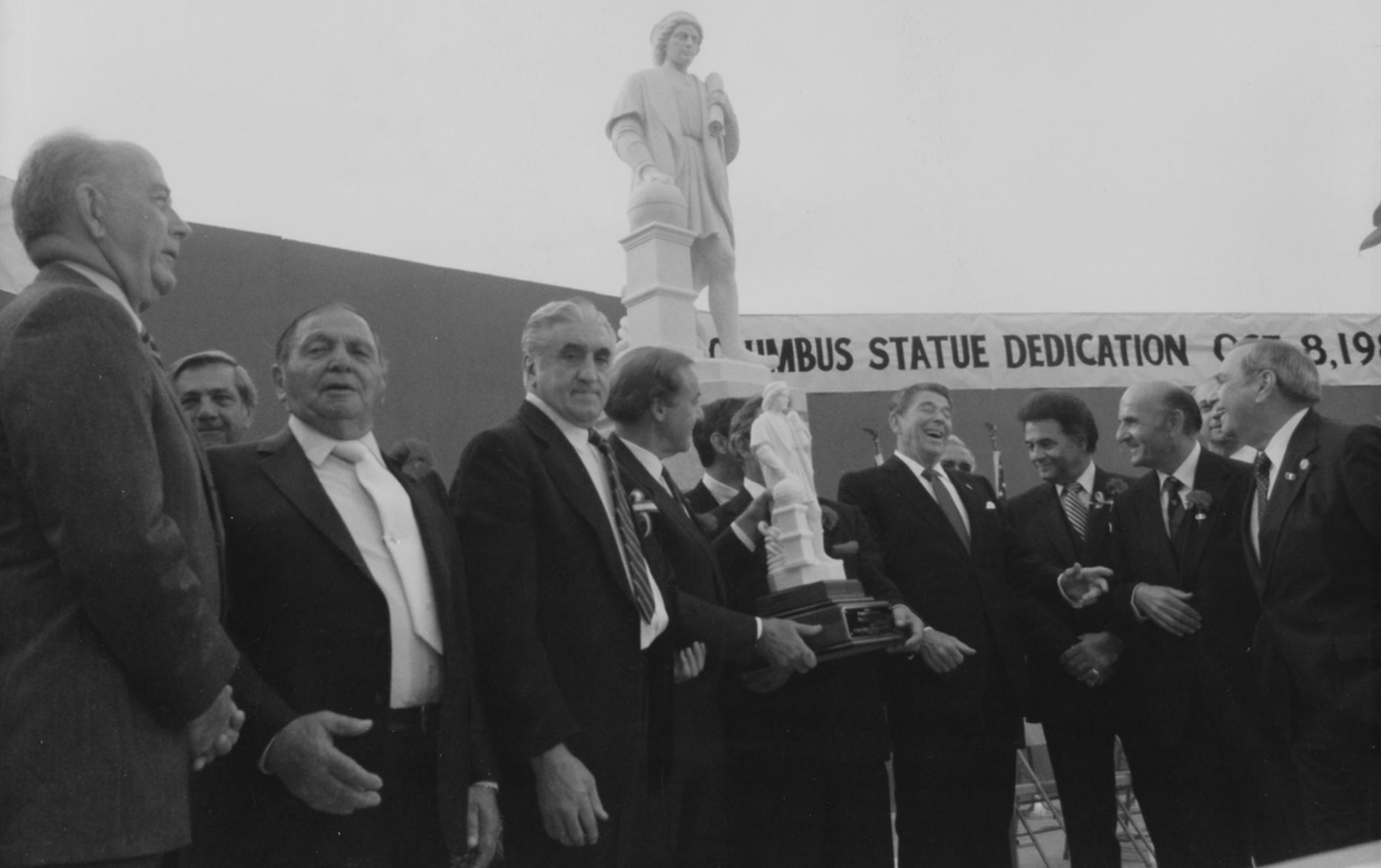 Martin said the estimated cost of creating a replica is $70,000 to $75,000, and that Columbus Celebrations is still raising money. He added that the group hasn't determined where the replica will be placed, but said it won't be where it was. He said suggestions have included sites in Frederick County, Harford County, and Baltimore County, as well as various locations in and around Little Italy.
"The goal is for it to stay in Maryland, hopefully in Baltimore, so that the Italian community, and obviously the groups that spent time and energy on this project and brought it here, can still enjoy it," he said.
Martin said options include placing the statue on public land or private property—outdoors or indoors—and that security is a prime consideration. Given what happened to the statue in July, he said, the group wants it to be "somewhere where we know there's a guarantee that it will be protected." 
Columbus Celebrations was formed in the early 2000s and organized the Columbus Day parade in Baltimore for many years. Its president is attorney and former State Sen. John Pica, a longtime leader in Baltimore's Italian-American community. 
The group hired unarmed security guards to watch over the Columbus statue before July 4, when there were warnings that it might be damaged. It subsequently hired a diving company and crane operator to retrieve the broken pieces of the statue from the harbor on July 6. It now has full possession of those pieces, after Baltimore's Board of Estimates agreed to transfer ownership in September.
The 17-ton statue was carved out of white marble in Italy and donated to the city of Baltimore in 1984 by a group called the Italian American Organizations United (IAOU), which shares some officers with Columbus Celebrations.
Martin, who is an officer of both the IAOU and Columbus Celebrations, said the groups originally hoped to repair the original statue, so it could again be put on display. But when they got the pieces out of the water, he said, they realized it was so damaged it couldn't be put together.  "I pictured somebody with a chisel and hammer trying to fix it," he said, "but given the situation, it can't be done that way."
Fortunately for Columbus Celebrations, the original sculptor had created scale replicas of the statue to hand out as mementos at the dedication, including one that was given to Reagan and is now in the Ronald Reagan Presidential Library in California. Using 3D scanning technology, Martin said, it's possible to scan the small version and digitally rescale it to create a full-size copy.
The damaged statue was carved out of marble, and the sculptor has since passed away. To keep costs manageable and avoid shipping problems during the pandemic, Martin said, the new one will be made of a marble resin that pours into a mold and hardens to look and weather like stone. He explained that data obtained from the 3D scan of the souvenir replica can be used to create the mold.
According to NEH public affairs specialist Paula Wasley, Columbus Celebrations is working on the project with Will Hemsley Fine Art, located on Maryland's Eastern Shore. Hemsley is the artist who created a sculpture in White Marsh last year to honor the late Baltimore County Executive Kevin Kamenetz. Martin, the treasurer of Columbus Celebrations, said work has begun on the Columbus statue and information about making contributions is available by contacting him. 
Trump signed his Executive Order on Building and Rebuilding Monuments to American Heroes on July 3, one day before Baltimore's Columbus statue was toppled. Besides providing funds for the restoration and preservation of existing historical monuments, the order called for the creation of a "National Garden of American Heroes" by 2026.
Other recent recipients of $30,000 grants are the state of Wisconsin, to repair two vandalized statues at the State Capitol in Madison; Rochester (New York) Community TV, to support creation of a bronze monument to abolitionist Frederick Douglass that will commemorate the years he lived in Rochester; and Bronx Community College in New York City, to digitize photographs of 98 busts in the college's Hall of Fame for Great Americans—which is currently off-limits because of the COVID-19 pandemic.
"We cannot expect our youth to know about our history if we don't provide them with educational materials—whether it's films, books or statues—to tell them about our history," Peede said in announcing the funds.
As part of the nationwide demonstrations triggered by the deaths of Breonna Taylor and George Floyd, protesters in many cities sought the removal from public property of statues and other symbols associated with the Confederacy, as Baltimoreans did in 2017.
In recent years, statues and monuments honoring Christopher Columbus have also become a target of protesters who argue that the 15th-century explorer shouldn't be celebrated because his actions harmed Native Americans. In Baltimore, the City Council passed a bill this year to change the name of Columbus Day to Indigenous People's Day, and that bill has since become law. 
Martin said he's fully aware of the controversy surrounding Columbus and his legacy. But he said Columbus is still an important figure to many people, especially in the Italian community, and his group believes it should honor him by recreating the statue and finding a suitable home for it.
Many people in Baltimore's Italian-American community want it back up,  he said. "Yes, everybody jumps on the fact that he didn't discover America…but he did discover the path here and led the way for other people."
For many Italians who immigrated to America in the last century, Columbus was a figure that they could look up to, Martin said. "It was just that he was an Italian guy who crossed this big ocean and started a different world," he said. "A lot of people are passionate about Columbus mainly for that reason. There are people who look at him as a hero."
Columbus Celebrations isn't "looking to do anything against any other group," he said. "We're just trying to think about history, the Italian community, and how they feel about the statue."
Martin said his group is aiming to select a site and have the new statue in place by the end of January. He talked about the possibility of displaying the new statue with the broken pieces of the old one, to make a point about destruction and trying to wipe away history. 
He adds that there were some angry members of his group who wanted to retaliate against the protesters who tore down the Columbus statue, but he doesn't agree.
"To me, that's not the way to find a solution," he said. " I just hope things get back to normal and we can all just communicate. It's about respecting people. Everybody needs respect."