Mark Dennis
In an unprecedented verbal assault on the citizens of an American city by a modern U.S. president, Donald Trump called Baltimore "a disgusting, rat and rodent-infested mess," and the "Worst in the USA," adding "no human being would want to live there."
Lashing out in a tweetstorm, first on Saturday—then doubling down Sunday—Trump added the nation's 29th largest city, Rep. Elijah Cummings, and Maryland's 7th Congressional District to his growing list of black and brown targets. By Sunday afternoon, Trump was referring to Rep. Cummings, one of the most respected members of Congress and the son of sharecroppers who grew up defending himself against racist bullies who tried to stop the integration of the Riverside Park swimming pool, as "racist Elijah Cummings."
Baltimoreans, in turn, fired back all over social media, standing up for their beloved city against the president's vitriol and racist-tinged attacks by posting photos of Charm City—from Artscape, Fort McHenry, and the Inner Harbor to stoop parties, crab feasts, Patterson Park, and the Gwynn Falls. They also highlighted figures like Divine and Gervonta Davis, who, by coincidence, successfully retained his world super featherweight title Saturday night before a packed house at the Royal Farms Arena.
By Saturday evening #WeAreBaltimore was trending across Twitter.
Perhaps no one responded more poignantly than Victor Blackwell, weekend host of CNN Saturday and a Baltimore native, who quickly, and correctly, put the president in his place.
"You know who did [live in Baltimore], Mr. President? I did," Blackwell said, struggling at times to hold his emotions in check. "From the day I was brought home from the hospital to the day I left for college, and a lot of people I care about still do. There are challenges no doubt, but people are proud of their community. I don't want to sound self-righteous, but people get up and go to work there. They care for their families there. They love their children who pledge allegiance to the flag just like people who live in districts of congressmen who support you, sir. They are Americans, too."
In particular, Blackwell highlighted Trump's use of the word "infested" in reference to majority-black Baltimore—a term of art the president often deploys when talking about people of color—whether in regard to Mexican and Central American migrants and asylum seekers, the Ebola-crisis in Africa, or certain female members of Congress.
"'Infested—that's usually reserved for references to rodents and insects, but we've seen the president invoke infestation to criticize lawmakers before," Blackwell said to viewers. "You see a pattern here? Just two weeks ago President Trump attacked four minority congresswomen. 'Why don't they go back to the totally broken and crime infested places from which they came.' Reminder, three of them were born here; all of them are American. Infested, he says."
Blackwell noted that Trump had also previously described longtime civil rights activist—and congressman—John Lewis' Atlanta district as "crime infested."
John Waters, never one to shrink from a fight—or cover up the city's challenges—responded to Trump by saying: "Give me the rats and roaches of Baltimore any day over the lies and racism of your Washington, Mr. Trump. Come on over to that neighborhood and see if you have the nerve to say it in person!"
David Simon, not one to pull punches, either, reacted in similar style: "There's a block party today on my southside street. This is a city of good Americans who deserve more than a grifting, hollow and self-absorbed failure of a man as their president. @realDonaldTrump is a permanent stain on our land."
Trump's twitter fire at Baltimore residents apparently was prompted by a "Fox & Friends" segment Saturday morning that was critical of Baltimore. That segment came on the heels of Cummings' tough questioning of Homeland Security Secretary Kevin McAleenan during a hearing on conditions and child separations at U.S. border facilities.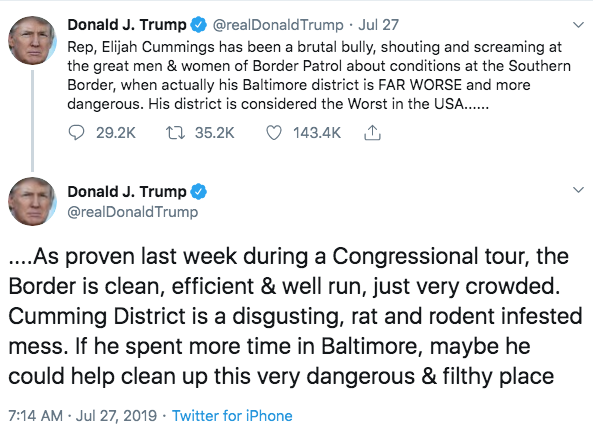 Saturday afternoon, Baltimore leaders and elected officials gathered at City Hall to formally condemn Trump and his remarks.
"It's completely unacceptable for the political leader of our country to denigrate a vibrant American City like Baltimore, and to viciously attack U.S. Representative Elijah Cummings, a patriot and a hero," Mayor Bernard C. "Jack" Young said in a prepared statement. "Mr. Trump's rhetoric is hurtful and dangerous to the people he's sworn to represent. As the Mayor of Baltimore, I won't stand for anyone, not even the alleged Leader of the Free World, attacking our great City or our representative to Congress. Mr. Trump, you are a disappointment to the people of Baltimore, our country, and to the world."
Brian Stelter, host of CNN's Reliable Sources and a Maryland native and Towson University alum, pointed to the factual errors in the president's tweets on his Sunday show. He described them as "petty" and "a distraction" from other important issues as well as "racist and ridiculous stereotyping of a part of the country [which] is damaging to the country as a whole and that must be covered that way."
Lest anyone mistake Trump's rhetoric for actual political dialogue, this is what Red Maryland, the state's conservative blog, had to say:
"First off, typical of his tweets, President Trump shot his mouth off before his brain was loaded. The problems with his tweet are extensive, but it boils down to two big problems.
The 7th Congressional District includes only half of Baltimore City. Large chunks of the district are in Baltimore County and Howard County. Some of Maryland's most affluent areas i.e. Columbia, Clarksville, and parts of horse country are part of the district; and,
There is a racial component of the implication is too obvious to miss."
Trump, on Sunday, continued his attacks on Baltimore and Cummings, who chairs the powerful House Oversight Committee, tweeting ". . . Congressman Elijah Cummings has done a very poor job for his district and the City of Baltimore. Just take a look, the facts speak far louder than words!"
For good measure, Trump subsequently went after the Baltimore-born Speaker of the House, Nancy Pelosi, and her district, also describing it as"failing badly." Later, Trump said he was, "Waiting for Nancy and Elijah to say, 'Thank you, Mr. President!' for the declining unemployment numbers among African-Americans nationally, a trend, of course, that had been established, along with overall unemployment decline, under the Obama Administration.
Cummings addressed Trump on Twitter directly, describing his work ethic and mission as an elected official, which one can only assume will be completely lost on the president.
"Mr. President, I go home to my district daily," Cummings wrote. "Each morning, I wake up, and I go and fight for my neighbors. It is my constitutional duty to conduct oversight of the Executive Branch. But, it is my moral duty to fight for my constituents."