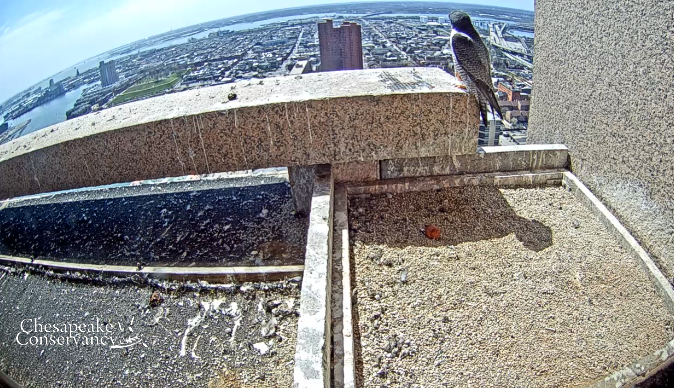 With the Chesapeake Conservancy, we want to extend a hearty "Welcome to Baltimore, Hon!" to the newest member of the city's skyscraper falcon family—even though he or she is still in its shell and we won't actually see the baby peregrine for another month or so.
"Barb," the peregrine falcon who with "Boh" makes her home atop the 33rd floor ledge of the Transamerica building, delivered her first egg of the season—which you can see via the conservancy's new 24/7, live streaming falcon cam—to their nest shortly after 8 a.m. Sunday morning.
There's likely more good news on the way soon for the happy Inner Harbor couple, too. In an email, the Chesapeake Conservancy's Jody Couser said she believes there are one or two more eggs to come since Barb has not begun incubation yet.
"Usually they [the eggs] are laid pretty close to each other, I'm guessing one or two days apart for each," Couser says.
Meanwhile, down on Kent Island, visible on the Chesapeake Conservancy's other wildlife cam, "Audrey" the osprey laid her first egg of the season as well on Sunday morning.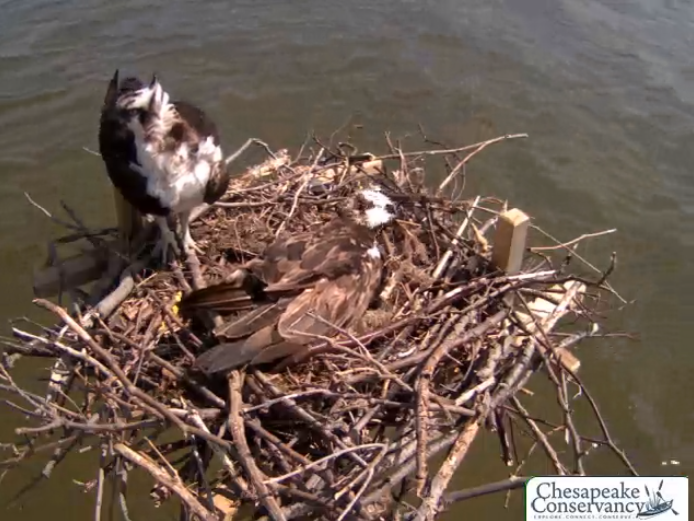 Must've been the warm weather that finally arrived this weekend, we're guessing, that pushed Barb and Audrey to get things rolling.
The incubation periods for the falcon and osprey eggs are 29-35 days and 36-42 days, respectively. "As you can see on the camera, Audrey begins incubation immediately after the first egg has been laid, but Barb waits until other eggs have been laid to begin incubation, guarding the egg in the meantime," Couser says. "This allows for all of the falcon eggs to hatch around the same time."
Once the eggs hatch, osprey chicks remain in the nest for about 50-55 days until they begin to learn to fly. For falcon chicks, called eyases, the nestling period is shorter, about 35-45 days.
For more than 35 years, pairs of peregrine falcons have been living and hatching eggs high atop the 33rd-floor ledge of the Light Street skyscraper, with the falcon webcam launching a little more than a month ago.
According to a chronology provided by the conservancy, a 1-year old falcon named Scarlett, released by ornithologists from the Edgewood Arsenal area on the Chesapeake Bay in 1977, turned up a year later on what was then the USF&G Building near the Inner Harbor. Now known as the Transamerica building, Scarlett successfully hatched four eyases in 1984—three females and a male. When she died later that year from a throat infection, her mate, Beauregard, was said to be heard mourning loudly from the ledge.
Unfortunately, the mortality rate for young birds in their first year is high, ranging from 50 to 80 percent. We're keeping an eye on the young guys and hoping for the best.