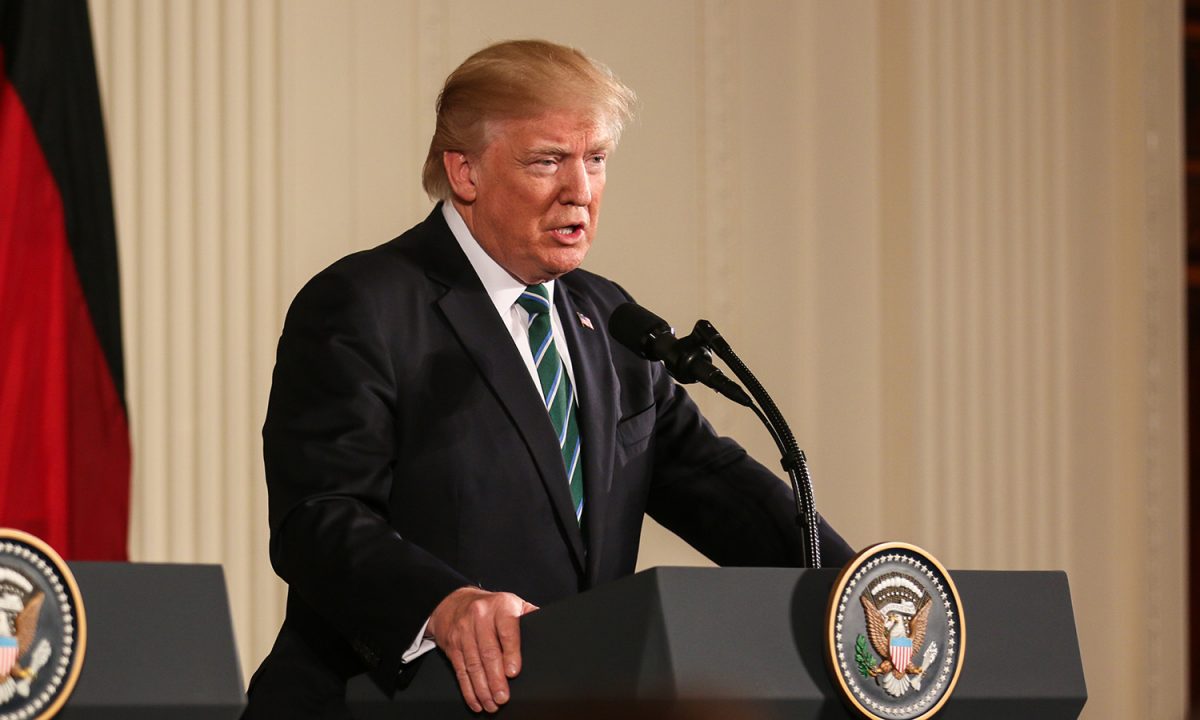 Shutterstock
On the heels of a Washington Post report on House Republicans' plans for a policy conference at the Baltimore Marriott Waterfront in September—an event the president traditionally attends and addresses—and an invitation from Rep. Elijah Cummings, there is rising speculation surrounding whether President Trump will visit Baltimore in the coming months.
By this point, the president's attacks against Baltimore City and Rep. Elijah Cummings have been well documented. The latest development came this weekend, when Cummings declared at the opening of the McCullough Street Nature Play Space in West Baltimore that the president was welcome to visit. "Do not just criticize us," he said. "But come to Baltimore and I promise you, you will be welcomed." Whether Trump will heed Cummings' invitation remains to be seen.
"One of the reasons why people are critical of the president for doing what he's doing is when the President of the United States speaks negatively of a city, it has a huge effect," says Greg Kline, co-founder of Red Maryland, a conservative media network. "It sends a message far and wide. I think he's very likely to go [to Baltimore], if nothing else to avoid someone like Congressman Cummings saying he's afraid to go there."
Despite Washington, D.C. being a short commute away, the president has never made an appearance in Baltimore since being elected. (Last December, plans for him to visit Rev. Donté Hickman of Southern Baptist Church in East Baltimore were scrapped at the last minute.) He did, however, visit during his campaign, holding a rally that was attended by both protesters and supporters at the Baltimore Convention Center.
After the events of the past week, there were those who felt compelled to share their love for the city by posting photos of their favorite spots on social media. And as Towson University history professor Richard Vatz puts it, there is a stark divide between Republicans who defended the president, and Democrats who find his tweets offensive. This chasm is a marker for how a potential visit might play out.
Goucher associate professor of political science Mileah Kromer notes that the optics of such a visit could hinge on just how the administration anticipates the reception in Baltimore. "If the administration believe they're going to be met with overwhelming protests, there's certainly a chance he would cancel," she says.
There is a hope, perhaps, that if the president does visit Baltimore, whether it be in September or earlier to meet with Cummings, he might be exposed to all the positive things that the city has to offer.
Richmond Davis, who ran against Cummings in the 2018 midterm election as the Republican nominee for Congress, says he hopes that a potential speech by Trump in Baltimore could look past the vitriol and instead highlight the plight of urban areas. It could be an opportunity, he believes, to address—perhaps more tactfully–the problems that the city faces.
"I would hope he would realize that there's more than just the trash-strewn areas that were featured on Fox News," he says. "That is the responsibility and obligation of the president—to expose himself to as many points of view and observe as much of this country as he can."