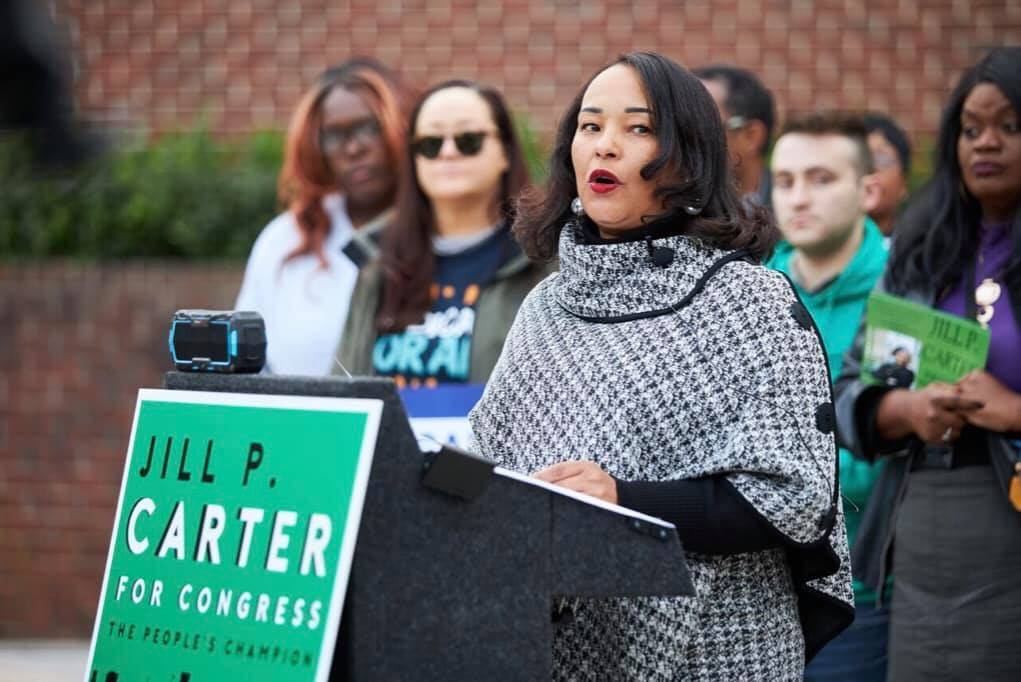 Four months after Congressman Elijah E. Cummings passed away, a special primary is being held to fill his vacant seat on Tuesday, February 4. The 7th district seat has long been a Democratic stronghold, and its next holder will continue to build upon Cummings' legacy. There have been a number of candidates, 24 Democrats and eight Republicans, who have declared their intention to run for the seat in the special election, for which voters can view polling places here.
"The fact that there's 32 candidates is extraordinary," says Matthew Crenson, a retired Johns Hopkins University political science professor and author of several books about Baltimore. "It suggests a degree of political entropy or disintegration."
Crenson also speculates that the large candidate pool might be due to the fact that the district expands beyond the city. The winner of each primary will become the party nominee for a special election to finish the remainder of Cummings' term on April 28, the same day as Maryland's primary elections.
However, since a regular primary will be held that same day, a candidate could lose the special primary today but still become the party nominee for a November election to determine a full two-year term congressperson.
As it stands, the presumptive favorites in tomorrow's special primary are democrats including Congressman Cummings' widow Maya Rockeymoore Cummings, former NAACP leader Kweisi Mfume, and Maryland state senator Jill Carter.
But Crenson says that there is not much that wouldn't surprise him. The large field could even open the door for someone like University of Baltimore law professor F. Michael Higginbotham, a political unknown who has had a heavy television presence. Delegates Talmadge Branch and Terri Hill of Districts 45 and 12, respectively in the Maryland House of Delegates, are also in the running.
Though it is likely to be a tough climb, among the eight Republican challengers is Liz Matory, who ran an unsuccessful campaign for Congress against Dutch Ruppersberger in 2018, and Kimberly Klacik—who runs a nonprofit to assist disadvantaged women and has increased her media profile with appearances on Fox News and other conservative media networks.
"The winner will win with a relatively low percentage of the vote—maybe even with a minority or mere plurality," Crenson says. "What would surprise me most is if somebody managed to win with a majority of the vote."
Here, we break down the three Democratic frontrunners and the developments in their campaigns since they first entered the race.
Kweisi Mfume
Experience: Mfume, who held the 7th District Congressional seat from 1987-1996 before Congressman Cummings, was a national NAACP leader from 1996-2004. After an unsuccessful campaign for Senate in 2006, losing out to Ben Cardin, he moved on to his current roles as chairman of the board of regents at Morgan State University and as vice chair on the board of Research America.
Platforms: Mfume has said that his tenure would be marked by improving education and eradicating drugs. During his earlier congressional tenure, he was selected to chair the Congressional Black Caucus, fought for prorated rents in public housing on the basis of real income rather than net income, and fought against discrimination in its many forms.
In mid-January, a Baltimore Sun story highlighted previous sexual harassment and nepotism allegations during his leadership of the NAACP. Mfume has denied being forced out of his position.
Predictions: Despite the allegations, he remains a leading candidate for the seat. Mfume has also drawn strong female support—Cummings' sisters have even endorsed their late brother's longtime friend who spoke at their brother's funeral.
"I sort of expected that one or another candidate would emerge by this time as the universal favorite but that's not happened—I thought it would be Mfume," Crenson says. "The fact that he's held this seat before and has name recognition helps him. I wouldn't count him out at all."
Maya Rockeymoore Cummings
Experience: Rockeymoore Cummings is not running off the strength of her husband's name alone. She has government experience, previously serving in the late 1990s as the chief of staff to former New York Rep. Charles B. Rangel. Prior to that, she also served in the House Ways and Means Social Security Subcommittee as a professional staffer.
In 2018, when Councilman Cummings was suffering from health problems, Rockeymoore Cummings dropped out of the race for Maryland governor. Later that year, she was elected as the chair of the Maryland Democratic Committee, though she was criticized for the party's overspending during her tenure.
Platforms: In her campaign announcement in November, Rockeymoore Cummings pledged to tackle gun violence and education disparities, as well as expand social security.
Predictions: Despite her name recognition, Rockeymoore Cummings has failed to pull ahead in the race in the way many expected when she announced her candidacy.
"She is not perceived by many Baltimoreans as a local person," Crensons says. "There's also the perception that there's a coolness between her and the Cummings family."
Jill P. Carter

Experience: Senator Carter represents Maryland's 41st legislative district. She is the daughter of the late civil rights leader Walter P. Carter and formerly acted as director of the Baltimore Office of Civil Rights. Given her resume, she is viewed by many of her progressive supporters as a potential successor to Cummings on civil rights issues.
There are currently no women serving in Maryland's congressional delegation, and if elected, Carter—or Rockeymoore Cummings—would be the first woman to hold this representative seat.
Platforms: In announcing her candidacy, Carter said that, if elected, she hopes to fight for issues she has long been passionate about, including corrupt policing, education, mass incarceration, and eradicating lead from homes and water.
Predictions: This past weekend, Carter picked up an endorsement from the Baltimore Sun editorial board, who commended her advocacy in the criminal justice system and longtime service of the city. As Crenson sees it, Carter's candidacy marks an inflection point that could be an illustration of where Democratic politics in the state of Maryland stand nationally.
"She's a Bernie Sanders voice," Crensons says. "There are probably many Baltimoreans who think we need something like that now—especially given the stagnation of most people's incomes and the presidency of Donald Trump. For many people, Jill Carter represents something new."