Local Makers at Open Works Help Build At-Home Classrooms
Makerspace provides free desks—which can be easily self-assembled—to low-income students.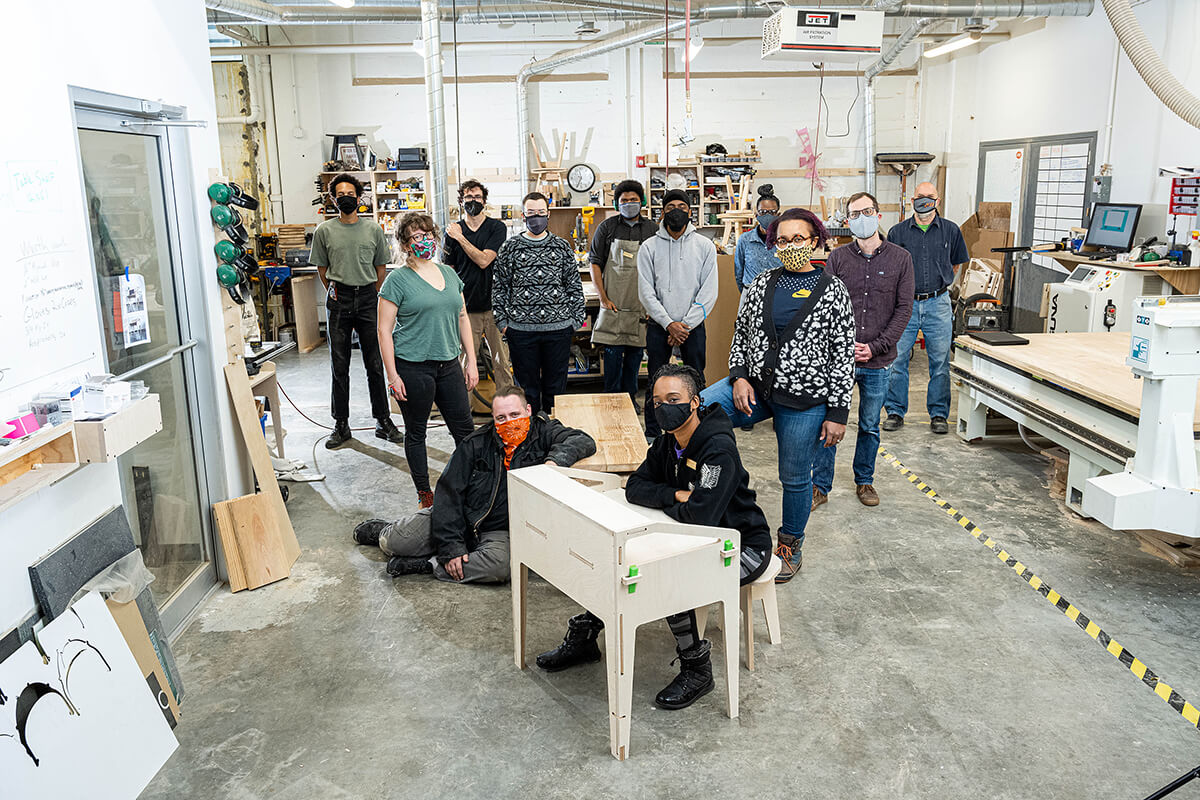 Open Works hasn't strayed from getting their hands dirty during the COVID-19 pandemic. Last spring, the Greenmount makerspace sprang into action when a shortage of personal protective equipment inspired them to launch a 3D print-off of face shields for frontline workers. Now, one year later, they've set their sights on another need: providing desks for students learning from home.
"There has been so much emphasis on making sure kids have laptops and internet access," says founder Will Holman, "but desks weren't even something I thought about."
That changed in January, when Open Works sent out a survey to assess the needs of local public schools and community organizations. A key finding was that they were recording high numbers of broken or damaged devices from students who had accidentally dropped their school-issued laptops and tablets while learning from their beds.
Holman and his team were inspired by groups like "Desks by Dads," created by Prince George's County parents Jess and Al Berrellez, who were dedicated to a similar mission: providing free desks to low-income students during the pandemic. But Open Works also noticed two flaws in these other initiatives: Handmade desks took too long to produce, and shipping them ready-made proved difficult for distribution.
For that, Open Works' contract services manager, Zach Adams, designed a flat-pack wooden desk that students can easily self-assemble, with only five pieces, four wedges—created by the workshop's automated cutting machines—and two zip ties to create a supportive workspace.
"We tried to make it as simple as possible," says Holman. "It doesn't require any power tools, screws, glue, or anything else."
The Open Works team was surprised by the overwhelming response. During their initial call to local principals, they received more than 4,300 requests in 48 hours.
"I had no idea that it was such a problem," says April Lewis, director of community and culture. "Just the sheer number and quick response was probably the most shocking thing for me."
With financial assistance from donations and a crowdfunding campaign, they have raised enough money to make some 750 desks, though they're still a long way from meeting the demand. Even after COVID, they hope to continue the project for students in need on an annual basis.
"A lot of households have multiple students—there might be two kids at the kitchen table together," says Lewis. "Giving these at-home learners an opportunity to create the workspace they need for success is really important."