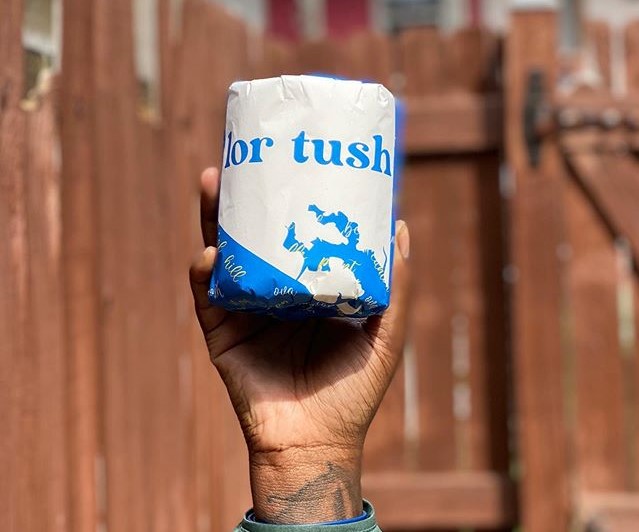 Lor Tush
When Nnadagi and Louise Isa were six and seven years old, respectively, they combined deodorant, lotion, toothpaste, and olive oil to create a one-of-a-kind solution that removed permanent marker stains from their clothes. The sisters remember running through their West Baltimore home to show their mother their first-ever invention, but to little fanfare.
"She wasn't as excited about it as we were," Louise says with a laugh. "But it goes to show that we always had a natural reflex for coming up with an idea and seeing how far we could run with it." 
Fast forward a few decades: The Isa sisters teamed up again to launch lor tush—a sustainable toilet paper company that features hypoallergenic, bamboo rolls. Within a few short months, the local company has become known for its playful packaging, commitment to donating supplies to neighbors in need, and all-around Baltimore spirit. 
"I wanted to create a sustainable company that spoke to people who look like me," Nnadagi says. "A lot of times, Black people are used in marketing, but they are not marketed to. I thought about the easiest product to translate, and, for me, that was toilet paper."
After developing the concept for an eco-friendly alternative to tree-based toilet paper, Nnadagi and Louise spent the early months of 2020 sourcing materials and testing out overseas manufacturers. They planned to officially launch lor tush—named after how people with a Baltimore accent say "little"—in September, but, like the rest of the world, the onset of the coronavirus pandemic changed the company's plans.
As the city and its businesses shut down in March, the Isa sisters watched in horror as local reports of toilet paper shortages filled their newsfeeds. With hundreds of lor tush rolls in storage, Nnadagi and Louise snapped into action, despite being months away from the company's roll-out. 
"I didn't feel right selling [the toilet paper]; I wanted to give it away," Nnadagi says. "I quickly made a website with a form for donation requests, shared it on social media, and next thing you know, my sister and I are driving around the city giving out six packs of TP." 
The requests for free toilet paper poured in, and within a few weeks, the lor tush team had given away about 1,000 rolls via no-contact delivery. The sisters paid some of their friends who were unemployed due to the pandemic to help with daily drop-offs to Baltimore residents in need. 
For Nnadagi, the experience of giving away her lor tush products felt like a full-circle moment. 
"We grew up poor, we were evicted several times, and I was homeless more times than I can count. At some point, it got embedded into our DNA to only keep what we need," she says. "Seeing how happy people were to get a six-pack of TP—it blew my mind, but it felt like it was exactly what we were supposed to be doing."
The effort to donate as many rolls as possible took on a new meaning for the Isa sisters following the death of their mother, Deborah, in mid-March. Despite shouldering a tremendous personal loss, Nnadagi says they kept working, always thinking about how proud their mother would've been.
"Our mom was the kind of person who just gave, no matter what or how little she had," she says. "So we made sure we gave our all, and we did as much as we could for people who needed what we had." 
As spring gave way to summer and then fall, the team upgraded the size and strength of their toilet paper, added a few more colorful designs, and gave away an additional 1,500 rolls. The donation request form is now a permanent part of the company's website, and the lor tush team continues to grow its connection to the Baltimore community one stoop drop at a time. 
"The joy behind [the deliveries] is the best part," Louise says. "One guy jumped up and down when he saw the box outside. Not even five minutes later, we got an email from him saying, 'I've never been so excited to get toilet paper in my life.'" 
Looking ahead, the lor tush team wants to increase the company's presence in neighboring cities—through an expanded delivery range and potential deals with local stores and hotels—before taking their panda-printed rolls national. ("We're treating the business like a local rapper. We build up Baltimore and expand after that," Nnadagi says with a laugh.) 
But Nnadagi and Louise agree that no matter how far they run with lor tush, the toilet paper company's roots will always be tied to Baltimore. The Isa sisters hope that they can be an example of Charm City's entrepreneurial spirit, and help to change the perspective of the city's potential for greatness.
"At the end of the day," Nnadagi says, "we want to show people that kids from West Baltimore can really create some dope stuff.".