The Pandemic Takes a Psychological Toll on Baltimore Healthcare Workers
COVID-19 has compounded challenges in an industry that was already stretched too thin.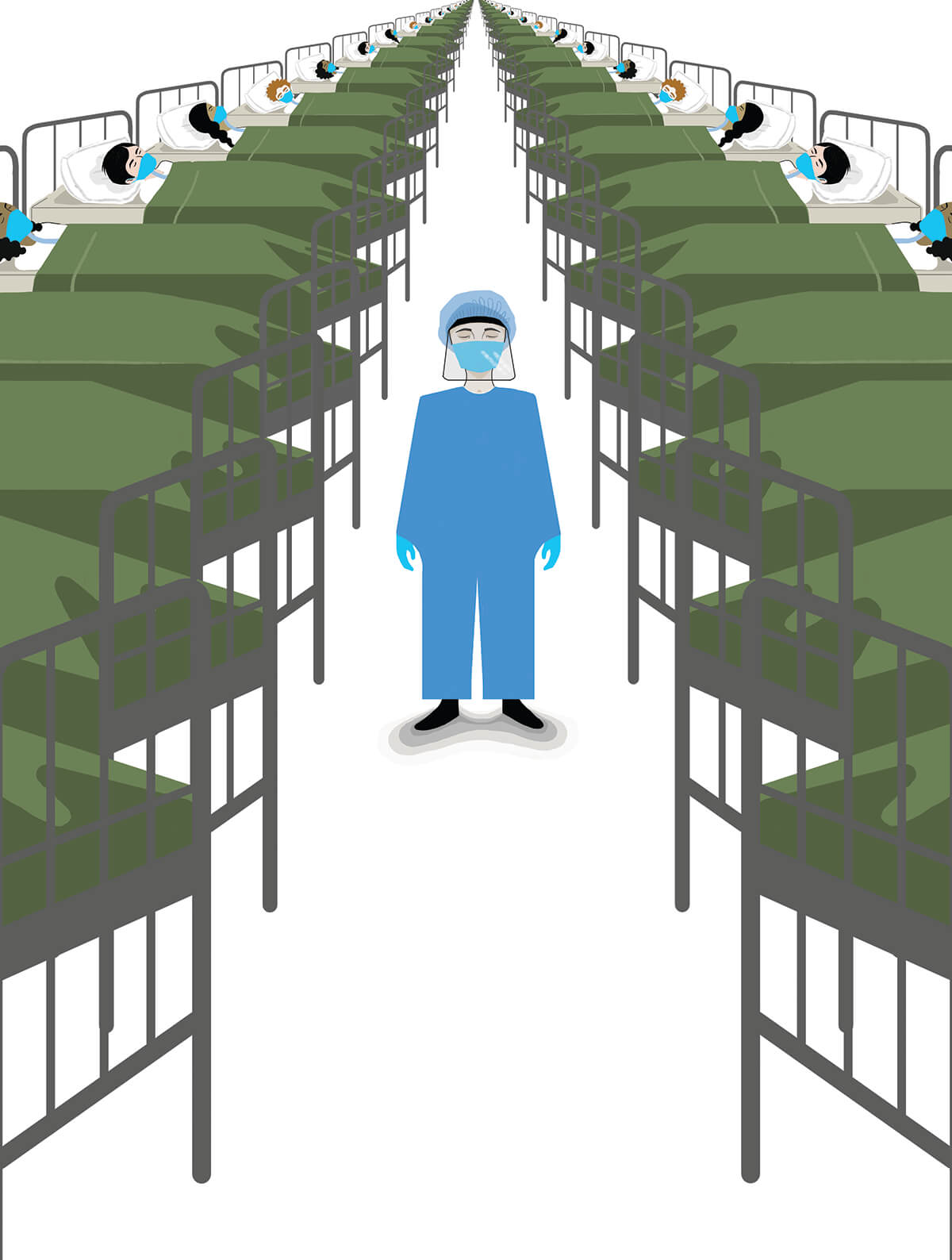 [Editor's Note: This story was published in our May 2021 issue as part of our annual "Excellence in Nursing" package. See the full list of winners online on May 17, or pick up a copy of our May issue at your local newsstand.]
The face still haunts her. It was a busy day in the intensive care unit at Ascension Saint Agnes Medical Center, a community hospital in southwest Baltimore, and Muna Jeter stepped in to help her understaffed team of nurses transport a coronavirus sufferer. The patient looked scared and alone.
"I couldn't get the patient's face out of my head for days," recalls Jeter, who generally oversees a team of 400 nurses as director of critical care and respiratory therapy at Saint Agnes. "I can't imagine how they do this day in and day out."
And then there are the faces of her co-workers: More than a year into the pandemic, Jeter can see the toll the experience has taken on her colleagues when they report for their shifts.
"I almost feel they're like veterans," Jeter says of the nurses on her team. "Some mornings when I look at their faces, it's like they could be going to war."
By early March of this year, COVID-19 patient volumes at Saint Agnes were at 87 percent of capacity—near their lowest since the disease first appeared, although by later in that month it was back to 96 percent, according to a New York Times study.
"Now is when they're finally processing and responding to the trauma of not seeing patients get better—seeing patients dying—for so long," Jeter says. "Just last week, a nurse said to me, 'I spent all of Sunday crying because I knew that when I came in on Monday, I would have to take care of patients again. And I don't know how much longer I can do it.' And this is the most positive nurse in the world. She came in that Monday to another shift. And she immediately started to cry in the middle of the unit."
Over time, the challenges faced by nurses on the frontline of COVID-19 care shifted. Worries over insufficient personal protective equipment and fears of contracting the virus or spreading it to family still lingered, but as PPE became more readily available—and safety protocols more sophisticated—those fears were eclipsed by the long-term fatigue of working short-staffed shifts with surging numbers of critically ill patients.
Add to that the heavy emotional toll of witnessing suffering and death on a scale that is unprecedented for even the most experienced nurse, and it's a nearly unbearable burden.
"And it was just so much—I think suffering is the word, it's not so much the deaths, it's the prolonged ventilator, it's seeing the 39-year-old person that can't come off the ventilator with little children at home," Jeter says. "The trauma is multidimensional."
WORRIES OVER INSUFFICIENT PERSONAL PROTECTIVE EQUIPMENT AND FEARS OF CONTRACTING THE VIRUS OR SPREADING IT TO FAMILY STILL LINGER.
An April 2020 survey of health care workers in the U.S. found that nearly half of them reported serious psychiatric symptoms during the COVID-19 pandemic, including thoughts of suicide, with 14 percent screening positive for post-traumatic stress disorder.
The International Council of Nurses, a Switzerland-based federation of more than 130 nursing associations from across the globe, found that nurses working on the COVID-19 frontlines were experiencing unprecedented levels of stress and were at "high risk for full-blown stress response syndromes, anxiety, depression, post-traumatic stress disorder, chronic illness, and burnout."
The pandemic has compounded challenges in an industry that was already stretched too thin. Not only are hospitals overwhelmed with sick patients, but there is a shortage of nurses available to take care of them, leading to longer shifts and higher patient-to-nurse ratios.
By 2022, the nation will need an additional 1.1 million new nurses, according to the U.S. Bureau of Labor Statistics. However, the gap between available jobs and people graduating from nursing school continues to expand.
"Many of these issues have been challenges for nurses for a long time," says Alison Trinkoff, a registered nurse and professor in the University of Maryland School of Nursing's (UMSON) family and community health department who studies nurse wellness. "Nurses were already tired and having issues with schedules. Anytime you have a 24/7 type of job, those kinds of issues can come up."
The pandemic, however, has exacerbated those problems. For one, there's just more work and fewer people to do it. An increase of nurses hitting retirement age or taking early retirement has added to staffing issues, while the need for nurses who have been exposed to COVID-19 to isolate or quarantine makes staffing less predictable.
"Nurses who are working through the pandemic have a lot of additional responsibilities," Trinkoff says. "And as you can imagine, such a physically exhausting and emotionally exhausting combination is challenging."
Trinkoff began her research into nurse work-life and wellness in the 1990s with the first nationwide survey of substance use among nurses. Today, she leads a team at UMSON as they survey 4,000 registered nurses across 10 states to determine physical and psychological job demands, work schedules, healthy lifestyle behaviors, and the availability of wellness offerings through the workplace.
The survey aims to measure the pandemic's impact in several areas—passion for nursing, ability to relax, and more—by asking if they have increased, decreased, or stayed the same during COVID-19.
Perhaps the most difficult part of the pandemic is its prolonged nature and uncertain end date, Trinkoff adds.
"Having a lot of exposure to so many people dying in such a short time is wearing on anyone's endurance," she says. "That sort of 'grit our teeth and dig down' becomes difficult if the situation continues for an extended period of time. The longer it goes on, it's really wearing on people."
The specific long-term effects nurses will experience from working on the frontlines of the pandemic remain to be seen, but the fallout from previous outbreaks can serve as a guide.
A recent review of psychological impacts of pandemics and endemics—including SARS, MERS, COVID-19, Ebola, and influenza A—found that depressive symptoms were reported in more than a quarter of health care workers, with insomnia in more than 34 percent and severe anxiety in 45 percent. Of those who reported post-traumatic stress symptoms, 10-40 percent reported the symptoms persisting one to three years after the outbreak ended.
PERHAPS THE MOST DIFFICULT PART OF THE PANDEMIC IS ITS PROLONGED NATURE AND UNCERTAIN END DATE.
"The majority of us who come through this pandemic are going to bounce back from this very negative experience. But there is a significant minority who will continue to have long-term struggles with anxiety, stress, PTSD," says Dr. Aliya Jones, deputy secretary of behavioral health at the Maryland Department of Health.
"Some of them will use substances to cope, including those in the health care industry. Some will incur long-term problems with substance abuse or symptoms of suicidal thoughts. Some are going to act on those thoughts. We think that the long-term outcome for any of these behavioral health conditions warrants being as proactive as we can to help those who are helping us."
That's why, in January, the Maryland Department of Health launched Operation Courage, a support services program designed to address the growing and long-term mental health care needs of frontline workers and first responders amid the COVID-19 pandemic, offering assessment and therapy as needed.
"Health care workers are wonderful at taking care of other people, but they're not always so great at taking care of themselves," Jones says. "There's a stigma around mental health—period—and certainly more so as a health care worker."
"We need leadership to create environments that sup- port people reaching out for assistance, not stigmatizing someone's proactive and brave decision to reach out for the help they need," Jones says. "Awareness is not the problem. Stigma continues to be the problem. The stigma against mental health issues runs very deep, and it's going to take a long time of proactive support in order for us to really embrace the reality that mental health issues are common, no one is immune, and that treatment works. We will continue to fight that fight."
At Saint Agnes, leadership offers a variety of wellness and self-care resources designed to help nurses heal from the trauma of the past year, from meditation and yoga to virtual brunch with the hospital's chaplain and inviting a psychologist to come in and sit in the break room.
"As a leader, I'm concerned about what the workforce will look like after this," Jeter says. "I don't know how nursing is going to recover. It's not just the trauma of the pandemic, it was the sustained level at which we were expecting them to perform."
As a faith-based hospital, the Saint Agnes staff takes comfort in pastoral services with each other and with patients and their families.
"It's good being in a faith-based hospital, because we do a lot of prayer and moments of silence before every meeting, even on the unit floor at huddles," Jeter says.
In the end, she says it's nurses' support for their colleagues that keeps them going and motivates them to continue to get up and come to work each morning or to pick up extra shifts when the team is short-staffed. "They come in for each other."
Like so many hospitals across the nation during the COVID-19 outbreak, colorful letters stuck in the grass outside Saint Agnes spell out "Heroes Work Here."
"It's wonderful to think of nurses as heroes, and, in many ways, I love seeing the recognition not just as people, but of the essential role they play in the health care system," says Alison Trinkoff. "But you have to recognize even heroes are human. And we certainly want to make sure that their human needs are taken care of, because if there's one thing we've learned, it's how precious nurses are in this pandemic. So whatever we can do to help them be their best selves and practice as effectively as they can, it benefits all of us."