Lifting the Veil
A landmark depression-awareness program hopes to curb the rise in youth suicide rates.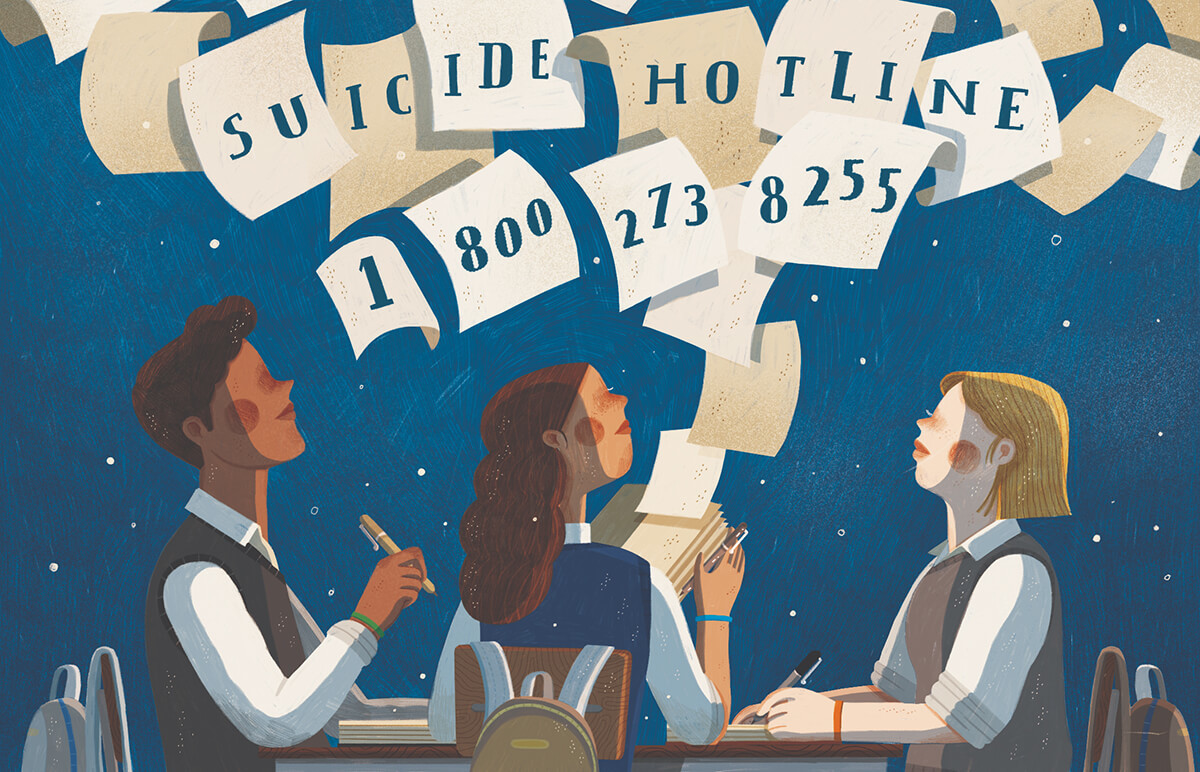 On a chilly January day at Archbishop Spalding High School in Severn, students are dressed in their standard-issue winter uniforms: chino skirts, white shirts, and black vests for the girls; black sweaters, red ties, and chino pants for the boys. Many days, the students also wear a coveted accessory: rubber wristbands—in blue, orange, red, green—bearing the emergency number for Anne Arundel Crisis Response.
"I have a bunch at my house that sit with my jewelry," says Spalding senior Alexandra Blunk. "Everyone always wears the bracelets—they're a hit."
While crisis wristbands might seem an odd hot accessory, the hotline bracelets are as much a necessity as a fashion statement.
Youth suicide was once rare, but among people ages 10 to 24, it's on the rise—with an increase of 56 percent from 2007 to 2017 in the United States, according to a recent report by the Centers for Disease Control and Prevention.
"One thing that happened is the opioid crisis," says Dr. Karen Swartz, director of clinical and educational programs at the Johns Hopkins Mood Disorders Center. Opioid use, explains Swartz, "unmasks or worsens mood symptoms in those with mood disorders"—and that can lead to suicide. "The other thing that happened is all of the social media stuff," continues Swartz. "There's growing evidence that cyberbullying is linked to suicide risk, so it's very concerning."
Nowhere is that concern more pressing than in Anne Arundel County, where several years ago, a string of suicides, known as a "cluster" in social-science parlance, gave the chilling nickname "Suicide High" to an area school just down the road from Spalding.
Nationally, suicide is the second most common cause of death for 10 to 24-year-olds, and between 2007 and 2017, the suicide rate nearly tripled for children aged 10 to 14, according to the CDC report.
These staggering statistics are mirrored in Arundel County, where according to a study by the Anne Arundel County Department of Health, there were 76 suicide attempts and 42 deaths among youth ages 10-24 in the Severna Park area between 2012 and 2016.
Marcie Gibbons is a counselor at Spalding, where, six years ago, the school adopted a suicide awareness and prevention program designed by Swartz and others at the Johns Hopkins Mood Disorders Center as a reaction to what was happening not only nationwide, but in the community.
"Our administration is all about the holistic needs of the child, especially in our health and fitness class," says Gibbons, a former hospice social worker. "This is just as important as teaching a kid CPR. They need to know the symptoms of mental illness. Mental health awareness has to be at the forefront—it's just too scary."
Twenty years ago, after a spate of teen suicides in the Baltimore area, Swartz, along with a small team, developed ADAP, the Adolescent Depression Awareness Program, a forward-thinking high-school curriculum to address an issue that could no longer be ignored.
"In 1998, there were three suicides in the Baltimore area within a few months, which was obviously devastating for the Baltimore community and shook people into thinking that this was a real problem," says Swartz, sitting in her Wolfe Street office in the heart of Hopkins' medical campus. "Leaders in the community came to us and said, 'What are you going to do about it?'"
When Swartz visited one of the impacted schools, she recalls, "I was so struck by their willingness to learn, but by how little they knew—and these were well-educated people who didn't understand depression and were really confused about how suicide could ever happen. It really underscored for me that we had to improve education."
Over several years, Swartz, ADAP's founder and director, and her cohorts, including several other psychiatrists and psychiatric nurses, applied their expert clinical and research skills, visited area schools, and worked with high-school faculty and students to develop and refine the material.
In the high schools that offer ADAP (which includes training for teachers and is completely free of charge), the program—most often a component of health and wellness classes—is taught to students over the course of several days and encompasses an overview of mood disorders, informational videos, and group activities, and identifies resources within the students' own school. It's like a mini med-school class, scaled down for high-schoolers.
Youth suicide is on the rise among people ages 10-24.
"You can find this information, with slightly different content, in my lecture for third-year med students," says Swartz, who herself traveled across the country to train some 3,000 high-school teachers and counselors on how to teach ADAP.
And while the grassroots program started in four area schools in its infancy, to date, ADAP has now reached more than 116,000 students across 20 states. Swartz is hoping to soon see those numbers grow.
Thanks to a new website, adapeducation.org, high school faculty members will be able to receive their training online, allowing the program to have an even wider reach.
At the outset of the program, clinical art therapist Sharon Strouse, along with her husband, Douglas, helped fund the program to honor their daughter Kristin Rita Strouse, who took her own life at the age of 17 in 2001. Strouse recalls that it was difficult to introduce the program into any schools, in part because of stigma.
"There was a lot of pushback when we wanted to go into the public schools," recalls Strouse. "They said, 'If you talk about suicide, it will happen.' We even tried to offer it to MICA, they had three suicides that year, and they said, 'No,'" she recalls.
This year, ADAP is set to be included as a component in all Baltimore county public schools, as well as many other area schools.
"I'm often asked what's different about this program," says Swartz. "Well, do you know any other high-school health program that's developed by a doctor?" And the program is getting results: A study of ADAP's effectiveness noted that, of those who participated in the program, 46 percent of teachers were later approached with concerns from students about themselves or others, an impressive figure when you consider that adolescents and young adults are notoriously private people, especially around adults.
"The way you can best prevent suicide is to recognize depression in young people and get them help, yet what people want you to do is explain how this happened," says Swartz. "When I get questions about how this could happen to someone who was a good student, or this was someone with a wonderful family…that's like saying someone who is a wonderful student or has a wonderful family can't have asthma. Every one of those conversations has an underlying theme of, 'Please tell me that my child will be protected.' My message is that no one is immune from depression. And suicide is the most tragic outcome of mental illness that is either not treated—or not being successfully treated."
Health class, where social media and cyberbullying issues are also discussed, is a far cry from the throwaway health-education classes of yesteryear, when a teacher, or often a coach, who drew the short straw showed the menstruation movie or reviewed the nutrition pyramid—and left it at that.
"I wrote a paper about birth order in my health class in Pittsburgh," recalls Swartz, laughing. "It was a lot of nonsense."
But at Spalding, on this gray January day, the Health and Fit Class is the most serious subject of the day. After pleasantries are exchanged and some 20 or so students settle into their seats, Gibbons gets down to business.
"Today, we're going to talk about depression," she says. "What you know, what to look for, and treatments. By tomorrow, you'll know what to do if you're concerned about yourself or a friend."
In a roomful of students who would be forgiven for fidgeting—or even for disaffected boredom, given their tender teenage years—everyone sits stock-still. "What comes to mind when you hear the word, 'depression?'" Gibbons asks the class of 14- and 15-year-olds. Students respond with various words from "sad" to "suffering" to "hopeless."
"We need to separate, 'I'm having a crummy day, and then I have lunch with a friend and my day is better—that's little 'd' depression—from 'Big D' depression, which is a medical illness with particular symptoms," says Gibbons.
Gibbons goes on to discuss the symptoms of someone who visits the doctor's office with a cough, eventually showing the students a chest X-ray of a patient with pneumonia. "Just like high blood pressure or diabetes, depression is an illness," she says, making the connection for them. "It's a treatable illness."
A few minutes later, the students watch a 1999 video, "Day for Night: Recognizing Teenage Depression," which stresses that depression is a medical disorder and shares testimonials from teens. "What's the big message?" she asks, as the bell rings and students grab their backpacks. "If you're concerned about yourself or one of your friends, reach out to one of us or your parents. Don't go it alone."
In between classes, Gibbons lets out a sigh. "It's such a humbling topic," she says. "I'd like to wrap them all up in bubble wrap."
A few weeks later, in neighboring Baltimore County at the Park School of Baltimore, a group of some 24 ninth graders are covering the same curriculum with director of middle-and upper-school counseling and wellness Krista Dhruv. Dhruv was hired by Park in 2001 after the school realized that it needed to provide more support for an increasingly vulnerable young community.
At the start of class, Dhruv emphasizes the importance of taking the subject of depression seriously. "I want you to ask questions, take risks, and be curious about this topic," she says, "but what I also want you to be is incredibly thoughtful. Anecdotally, we know that in this room someone is potentially affected by this condition in their own life. I ask you to be thoughtful, because you may not know who among us is struggling."
Dhruv asks the students if they have questions. "What part of the brain does it affect?" asks one student before Dhruv throws out a question of her own. "Is depression treatable?" she asks them. A handful of the students raise their hands, though somewhat tentatively. "All of you should have your hands up," says Dhruv, "because depression is treatable." "Can depression be cured?" she continues.
"MY message is that no one is immune from depression." —Dr. Karen Swartz, ADAP founder.
"I don't think so," responds a student. "But it can be reduced so it's barely there, but it can't be cured."
Dhruv gives a reassuring smile and then tells them that they're going to watch the "Day for Night" video. But before she pushes the play button, she underscores that, "the people in the video are not actors. And the information is up-to-date, though the styles are a little dated," she says, anticipating some laughter from an audience that could get distracted by that sort of thing. "There's a mom with big hair—let it go."
The lights are lowered, and the video begins. The image of a young woman flashes on the screen. "Sometimes it feels like you're in a box," she says. "You can't get out." "It feels like you're surrounded by darkness," says a young man in the next frame. "It's like an anvil constantly pressing on your head and putting a lot of pressure on you, and it's very difficult to lift up," says another young adult.
By the time the mom with big hair comes on camera, no one lets out so much as a snicker. As class ends, the lights go up, and Dhruv tells the students that they'll finish the video the next time they meet as a class.
Later, several students who stream in for another class share what they learned when they took the class the prior month.
"I definitely learned a lot of ways to help people who are struggling," says Cate Cochran, a freshman at Park. "Before this program, I had no idea of how to help someone. My friend went through some things last summer, and I've been reaching out to her a lot more and asking her to hang out…I've also learned how to identify when there's an issue, like when someone stops turning in their homework or quits a sports team."
Just north of Park School at Hereford High School, Ellen Fitzkee, department chair of counseling, only wishes the program had been in place back in 2016 when two students took their own lives within three months of each other.
"As the counseling chair, I felt a tremendous responsibility to bring awareness and education to what was happening," says Fitzkee. "We needed to take some accountability as a school and look for some support in figuring out how to help the community."
After doing some research, she discovered ADAP, and, by the following fall, the school adopted it as a regular part of their health class curriculum, co-taught by a health teacher and a counselor. "I was delighted to find that we had this tremendous resource in our own backyard," she says. "Had we had a program like this in place back then, there's a possibility those deaths could have been prevented."
And that's exactly what keeps Swartz going. The gifted scientist wears many hats at Hopkins—from teaching medical students in a renowned psychiatry program to running an inpatient unit and her own clinical practice. Even so, the information that gets delivered in many high-school health and wellness classes across the country is her passion project. "ADAP is 20 percent of my job," she says, "but it's where my heart is."