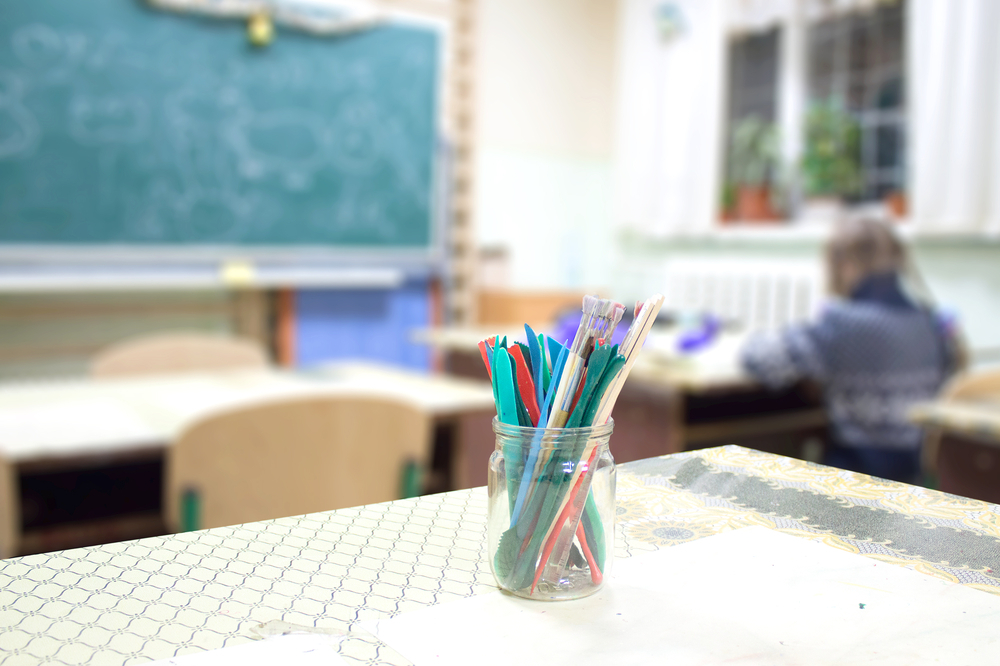 Shutterstock
Last year, Baltimore City Public Schools teacher Tuere Ganges took to GoFundMe to purchase copies of the novel Their Eyes Were Watching God as gifts to her high school students. The money donated through the website also allowed her to buy packs of multi-colored highlighters, composition notebooks, and extra paper. Ganges hand-wrapped each package and wrote a personal note for all of her students.
"Not everyone cherishes a real hard copy of a book in their hands," Ganges said. She explained that not all schools in the district have libraries, and often students aren't allowed to bring books home in case they lose them. The opportunity to have a book to call your own is "something powerful for them, and it was something I wanted to be able to provide."
Ganges is one of many teachers throughout the city who are fundraising, and oftentimes spending their own money, to make sure that their classrooms are equipped with necessary supplies. Even private and charter school teachers often fork up their own cash to provide the necessary materials to their students, although to a lesser extent. In fact, a 2015 study by the National Center for Education Statistics found that, on average, 94 percent of teachers spent money out of their own pockets on classroom supplies.
No matter what district the school is in, when students come into class missing basic supplies, the responsibility falls on the instructor.
"We do have some students that come to class with everything they need, and then we have a lot of students who don't," Ganges said. "And if not, we try to have something available to them."
Other instructors like Catrina Sally Thomas, who works in special education in Baltimore City, have employed similar tactics to provide materials to her students.
"Even if you have a little bit of supplies, you always have to dig into your own pocket to get what you need," she said. In the past, Thomas has used the site DonorsChoose to get supplies and classroom decor. The site allows teachers to request money to buy materials for their classroom and links them with donors willing to contribute.
"It's basically begging for money and supplies," says Thomas. "But it works because people like to give."
In addition to online crowdfunding, about a quarter of teachers nationwide are taking on second jobs to provide supplies, and also supplement their own income.
"It's almost like you have to," said Ganges, who has taught summer school and proctored SAT tests to make extra money. Thomas is no exception to this this trend, either. In addition to teaching, she has also worked at an Ann Taylor department store for the last decade.
Baltimore Teachers Union president Marietta English also took on several side jobs in order to make ends meet: "I worked in the mall, I worked as a security guard, and I tutored," she said.
English explains that BCPS allocates funds for each of its schools through a system called Fair Student Funding, which was introduced in 2008. The system aims to increase resources by allowing principals to indicate exactly what their schools need. Although it grants more personalization to each school, when it comes to supplies, smaller schools are often at a disadvantage because buying in bulk is cheaper.
Funding for schools is also dependent on enrollment and academic performance. Last year, the city closed six schools that were considered either low performing or under utilized.
"It's a business," Ganges said. "The amount of funding you get depends on how many students you have in your building. The school I was at previously didn't have a lot of students and, at the end of the day, they decided to close us down."
Ganges says that the announcement of the school closure significantly changed the atmosphere, and had an impact on her students' everyday learning.
"It's sad because the kids become numbers, but they're not," she said. "They feel broken-hearted when they're moved out of a school."
In the last fiscal year, the Baltimore City School System projected a budget gap of more than $100 million. According to explanations in the 2018-2019 operating budget "funding levels remain below what the state has identified as needed for ensuring an adequate education for Baltimore's young people."
However, legislation passed by the State of Maryland and the City of Baltimore—along with budget cuts to district offices and schools—has the city school system projecting financial stability in 2019. City school executives wrote: "Instead of identifying places to cut, school and district leaders were able to focus on how best to allocate available resources to promote success for all students."
Despite the fluctuating budget, Baltimore City teachers remain passionate about providing a brighter future for their students.
"It's something you do because you absolutely love it," English said. "You don't do it for the money, because the money is just not there."