At the Baltimore County Public Library, Residents Can Check Out More Than Just Books
The Library of Things, a collection of non-book objects loaned through the library, offers everything from Catan board games and Chromebooks to fishing rods and fossil kits.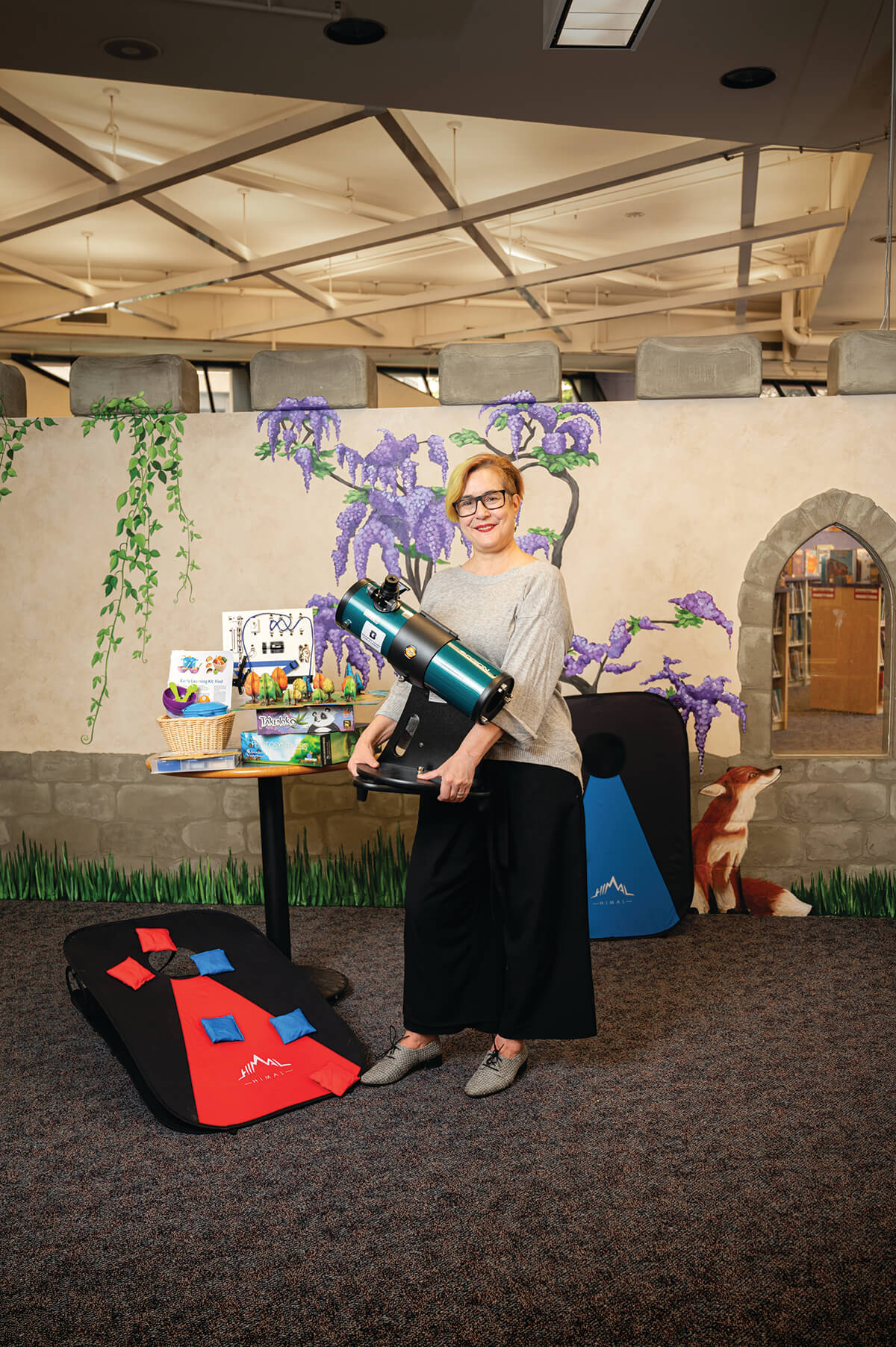 There are more than 1.8 million books that can be checked out from the 19-branch system of the Baltimore County Public Library. But many people don't know that you can also borrow a loom or a fishing pole.
Jamie Watson has been the collection development manager with the BCPL for the past 12 years, but she has loved books for as long as she can remember.
"My dad was a baseball coach and his players taught me to how to read when I was three and I've pretty much read ever since," says Watson, 57, who grew up in Ohio. "I had my own home library—this is going to make me sound so nerdy—with a little stamper and I'd put a date due and everything."
That young bookworm ended up making a career out of it. And while buying books is the biggest part of her job, the Library of Things, a collection of non-book objects loaned through the library—from Catan board games to rock and fossil kits—has been a whole lot of fun for Watson and her 12-person team.
"We've actually been buying things that aren't traditional library items for a very long time," she says, noting that one of the original items—dating back to at least the 1980s—was an engraver to help identify bicycles if they were lost or stolen.
California's Sacramento Public Library brought the European concept to the United States more than 15 years ago, but in Baltimore County, the Library of Things started in earnest in 2017, when some individual branches got micro-grants from the library's foundation to try some experimental collections. The Woodlawn Branch made science kits for early learners. The Catonsville Branch got telescopes to loan out. The Reisterstown Branch made "critter kits" with magnifying glasses and field guides to encourage families to get outside.
"When you start talking about the world of things, there's no end."
"We quickly learned that people loved them," says Watson. But in order to make them scalable to more people, they needed to rethink their circulation logistics. "For example, if you wanted the Woodlawn science kit, you needed to drive over to Woodlawn to get it," she says. "When you want to circulate a book, you slap a sticker on it and a call number and it's ready to go, but there's much more to think about when things aren't in a perfect book-shaped package."
That's when they found an elegant solution. As long as you have a library card, you can access the full collection through the library's website. You can put anything on hold, and once it's available, it's sent to your library branch via an inter-library mail system. "A little online shopping," says Watson.
So, what else can someone find at the Library of Things? There are outdoor games like lawn darts, croquet, and corn-hole, as well as Chromebooks, tons of board games, and memory kits for the older community. One of the most popular items is the "outdoor movie night" with its inflatable screen and projector.
There are also fishing rods and tackle through a partnership with the North Point Branch and the Maryland Department of Natural Resources. Items mostly come out of the system's budget, although some have been paid for with grants or through the foundation. They do not accept donated items. And while all of these things are kept at their respective branches, Watson dreams of one day having a single, more permanent collection.
"You'll have the opportunity for more and bigger things," she says. "When you start talking about the world of things, there's no end."
Other libraries throughout the country have musical instruments, tools, GoPros, sewing machines, and record players for loan.
The community feedback has been positive, with most borrowers excited to "try" something out before investing in it themselves. And there's always that element of surprise when someone first learns they can check out items beyond books.
Says Watson, "It adds a measure of delight to our visitors—giving them items they might not expect to see at a library."