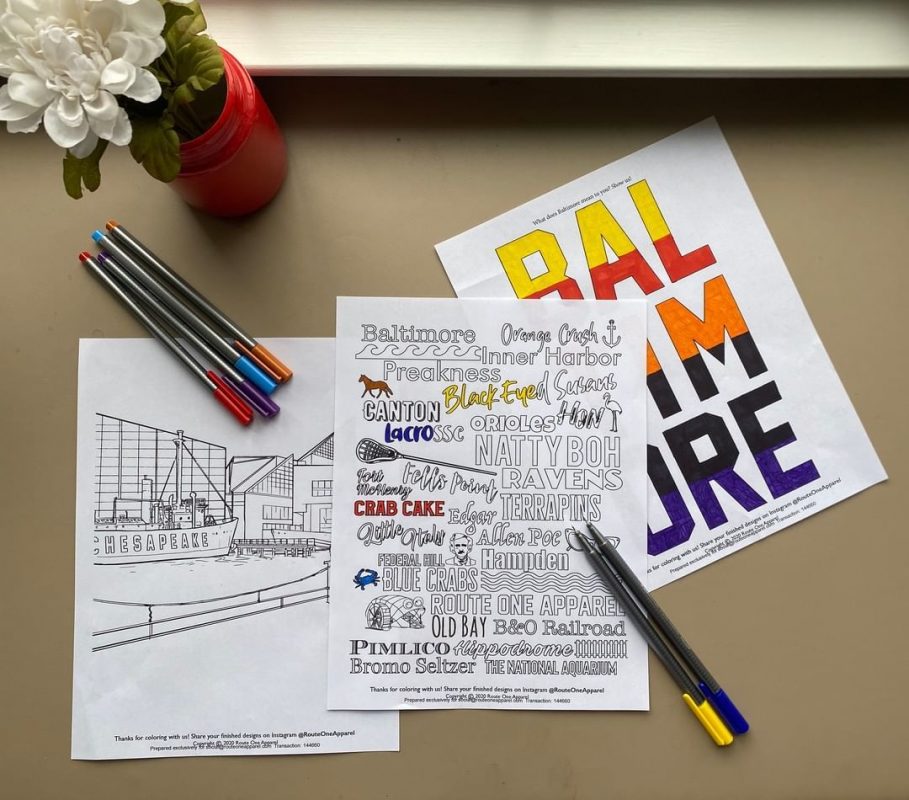 This week our Diamond Nature School of America—the name we gave our homeschool—grinded to a halt.
Not only has Governor Larry Hogan issued a stricter stay-at-home order (yes, we can still be outside on hikes, but more limited locations), but also we found a crazy looking engorged tick on our 9-year-old's head.
In a way, seeing our pediatrician (though it was initially in the parking lot) felt normal, but as we moved inside the office (since we were both healthy) it all felt so surreal. Empty waiting rooms, doctors in masks. She was able to remove the tick and we have started two weeks of antibiotics.
"Well this was my most interesting case today," she told me. I laughed. Imagine being told that in the middle of a pandemic. (And now add Lyme disease to my—long—list of worries.)
And while we aren't afraid of being outside and have added tick checks after all our hand washing, I was happy to compile this list of indoor activities from some beloved local institutions.
I'll just add that all these options, while well intentioned, can also feel overwhelming. I'm here to say you don't have to do everything. You can let your kids choose or write each program/video/activity down and choose one or two a day from a bowl. These should only bring joy.
The Maryland Zoo is hosting a new "Zoo To You" Instagram series with animal check-ins every weekday at 11 a.m. We especially love an occasional photo of chimp babies, Lola and Violet.
Center Stage's "Camp at Home" DIY learning series features eight weeks of interactive at-home storytelling with simple activities and a new unit released each week on Facebook.
The Maryland Science Center has created a "Let's Science Together" page that includes a massive catalogue of at-home experiments and star maps, along with some live-streaming at home activities (like Maker Monday) and the five-object challenge every Thursday.
The American Visionary Art Museum offers at-home art projects, downloadable coloring pages, educational materials for pre-K through middle school kids, and even a how-to guide on making their beloved sock monkeys at home.
Port Discovery's Instagram has great #PlayatHome projects for kids, from a simple slime recipe (plus info about animals who create their own slime naturally) to painting with slinky to creating sensory rice bins.
Baltimore County Public Library has a "Storyline" where kids can choose between six different stories each week, read aloud by the librarians. It can be accessed by simply calling 410-887-6116.
National Aquarium has at-home aquatic activities from word finds to coloring books to octopus mask-making, but our favorites are the tank cams of the blue blubber jellies, Pacific coral reef, and the Blacktip Reef exhibit. (Though we really miss Calypso the sea turtle.)
Kevin Sherry, a local kids book illustrator, is doing sing-along's and live readings of his books on Instagram and his YouTube channel, along with lots of drawings to download and color, and our favorite, "COVID Quarantine with Kinkos," a short comic about Sherry and his cat.
WTMD's Home School with Sam Gallant is spinning educational songs every day at 10 a.m. on 89.7 FM or online at wtmd.org. We also love the station's Young At Heart marathons hosted daily by Lisa Matthews, the lead singer of the Grammy-nominated kids rock band, Milkshake.
Irvine Nature Center has been posting tips for exploring nature at home, plus videos including songs, easy activities, and even some feeding time with their resident vulture, along with sharing their Nature Preschool's YouTube channel.
Other favorites include pirate story time from Urban Pirates, The Creative Alliance's Storytime with Drag Queens, and Route One Apparel's awesome Baltimore coloring book. It's a free download, but any donation will go straight to their employees.
Feel free to send any other great, local activities to: [email protected].