Tonee Lawson's Nonprofit Empowers Youth to Achieve Excellence in STEM
Operating out of various schools, The Be. Organization provides creative workshops, an enrichment curriculum, and youth conferences focused on life skills and STEM teachings.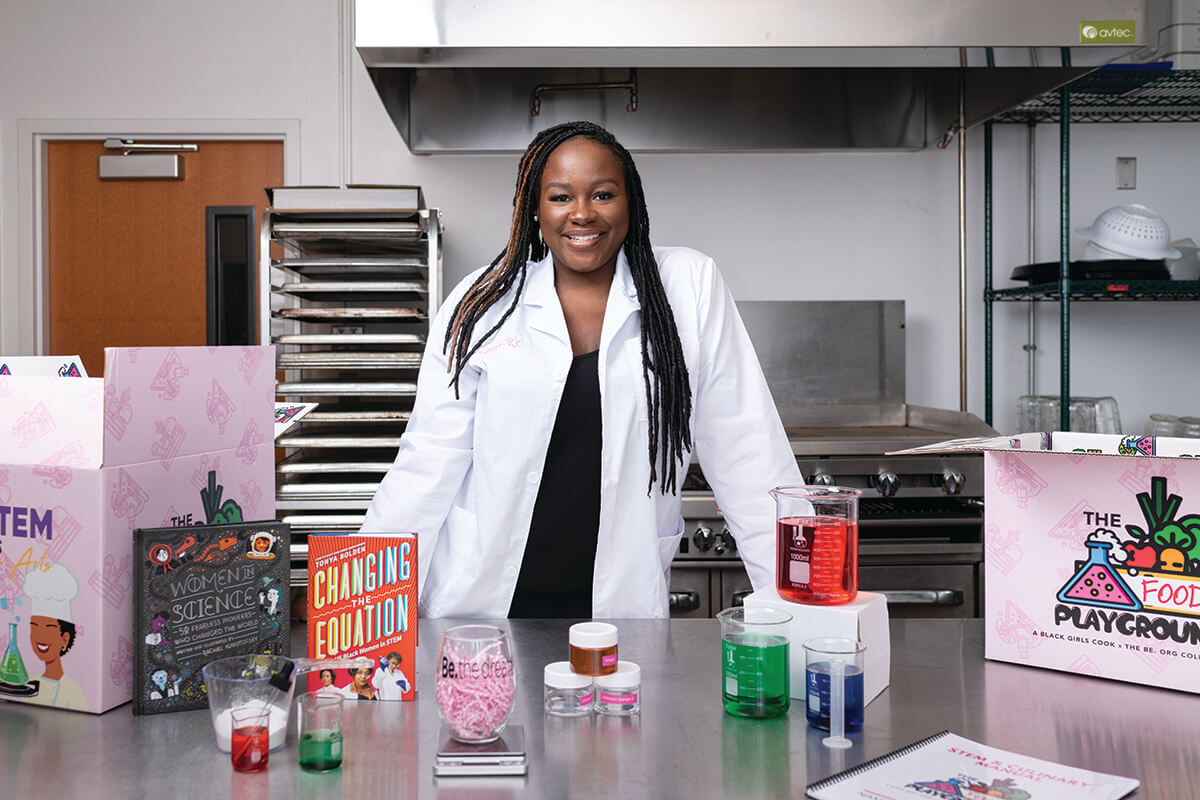 Tonee Lawson takes the phrase "knowledge is power" to heart. And she believes every kid deserves the same opportunity to be successful.
How to make that happen? In 2014, at age 27, she founded The Be. Organization to empower Baltimore's youth to live above their socially imposed limitations, and, later, to achieve excellence in science, technology, engineering, and math (STEM).
"The name The Be. is an open-ended statement that you have the opportunity to shape your future," Lawson says. "You can be amazing—you can be anything you want to be. We come in and give you the enrichment, push you over the hump to make sure you're not leaving any potential untapped."
The Prince George's County native never intended to enter the nonprofit world. It was a passion she first nurtured when she accompanied her grandmother on community service missions, then during her time at Towson University, when she served as program coordinator for her sorority's Emerging Young Leaders Initiative.
However, as a self-professed science nerd with multiple degrees in molecular biology, biochemistry, and biotechnology, she always imagined her career taking place in a lab. And it did, originally—yet she was missing that social connection. As executive director of The Be., being able to use her STEM experience in an educational capacity is the best of both worlds. Operating out of various schools—though the goal is to have their own building in the near future—Lawson and a team of three staff members provide creative workshops, an enrichment curriculum, and youth conferences focused on life skills and STEM teachings.
"The kids are so filled with love, creativity, and resiliency. I end up learning more from them than they learn from me," Lawson says. "They pour their heart into their work. They don't know how talented they are until they're challenged, until they have someone make real-world applications."
Lawson lives for the moments she sees those connections happen—"You can see it in their eyes, like, 'Oh, this is what my teacher was talking about.'"
The Food Playground is one initiative where these connections take place regularly. It takes science skills from school to create fun experiments in the kitchen, where the students make everything from ice cream to salad vinaigrettes. After participating in Be. programs, surveys show that student confidence and interest level in STEM careers "skyrocket." It warms Lawson's heart to hear from parents that The. Be programs have given their child a boost.
"There's a girl who came to us as a shy sixth-grader and is now such a strong leader. It's so exciting to see her blossom and open up, and to know we had a role to play in her growth," Lawson says. "I see this growth all the time, and it keeps me going."
By coupling social-emotional learning with STEM skills, Lawson hopes to give participants a leg up so that they're well-rounded, exposed to new experiences, and able to create a path of long-term success. But Lawson's ongoing commitment to bringing additional resources to her students has opened her eyes to the disparity that exists for Black-led organizations in the funding world.
"It's tough to fight a battle of equity and have people understand that yes, Black kids can code, they can understand STEM, they deserve the same resources," she says. "So many of our kids need laptops, they need Wi-Fi, those aren't staples in every house. We're not asking for handouts—just the same opportunity for them to be successful."