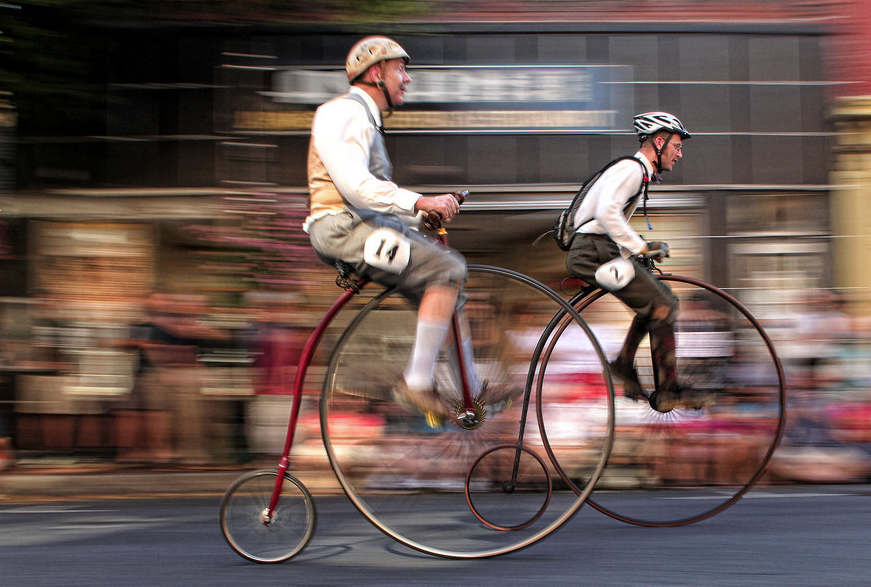 www.highwheelrace.com
We've had a few months to get into shape, got inspired by a memorable Tour de France, and now we're ready as cycling season kicks into gear. Right? Even if we haven't been riding as much as we'd like—the following events all offer fun, easy-distance routes as well more challenging climbs. Something here for everyone, the Greg LeMonds and recreational and newbie riders, too.
See ya on the road.
1. Frederick Clustered Spires High Wheel Race. Aug. 15—The only high wheel race of its kind in America, it's also one of the few in the world. Dressed in period clothing, sitting atop turn-of-the-century penny-farthings, riders race around downtown Frederick and draw huge crowds each year. Although this is purely a spectator event, the race is part of this weekend's Tour de Frederick, a series of recreational rides benefitting the Boys & Girls Club of Frederick, with supported routes through the rural county and its covered bridges.
2. Larry's Ride. Aug. 30—A fundraising event for Bike Maryland honoring Larry Bensky, who was struck and killed by a motorist in 2010, this is a beautiful—and challenging event—starting at Camp Milldale in Reisterstown with 22, 35, 50 and 75-mile options.
3. Civil War Century. Sept. 12—The popular Baltimore Bicycle Club ride launches from Thurmont and, with a limit of 1,600 participants, sells out—so register why there's time. With breathtaking scenery, famous historical sites—Crampton's Gap, South Mountain, Antietam and/or Gettysburg battlefields—low-traffic roads, this is a must for Maryland cyclists. Various ride options available for all levels, too.
4. Amish Country Bike Tour. Sept. 12—For those looking for something flatter than the Civil War Century, this 29th annual ride runs through Delaware's Amish farmlands. Routes from 25 to 115 miles, with multiple rest stops, including one at an Amish schoolhouse where Amish residents serve home-baked pies and cookies. Sponsored by the Kent County tourism office to benefit local nonprofits.
5. Tour de Chocolate Town. Sept. 13—Pedaling through the "sweetest place on earth" hardly needs selling. Routes offered include 17.5, 35, 65 and 100-mile distances, with the unique opportunity to ride through a large portion of Hersheypark and pass by the town of Hershey's landmarks. And, yes, registration includes a snack bag and a discounted admission coupon to the park.
6. Tour du Port. Sept. 27—Trek 13, 30, 35 or 50 miles around Baltimore City, launching from the Canton Waterfront Park. The 22nd annual ride, another Bike Maryland fundraiser, includes a new, 36-mile urban adventure route, featuring miles of single-track, mountain bike riding within the city limits. The post-ride celebration includes a BBQ lunch and craft beer.
7. Seagull Century. Oct 3—One of the biggest century rides on the East Coast, the 27th annual event leaves from, and returns to, Salisbury University, offering three route options. The most popular ride, obviously, is the Assateague trip—where you're likely to see a wild horse or two. It's always flat, but not always easy if the breeze kicks up.