Monster List of Baltimore Area's Best Halloween Events
From spooky kid parties to spirited adult soirées, don your Halloween best for these candied, costumed events.
From spooky kid parties to spirited adult soirées, don your Halloween best and get bewitched this month with a cauldron of candied, costumed events.
Deadly Dance Parties
THE HAUNTING OF POE: A BURLESQUE MASQUERADE
10/30: Don your ballroom masks for this sexy show about Edgar Allan Poe's life and literary works. Creative Alliance, 3134 Eastern Ave., 410-276-1651
HALLOWEEN FLASHBACK DANCE PARTY
10/31: Do the "Monster Mash" at this retro Halloween dance party, with '90s hip-hop artist Biz Markie, '90s tribute band Here's To the Night, and '80s cover band The New Romance. The Fillmore, 8656 Colesville Road, Silver Spring, 301-960-9999
HALLOWEEN '80S DANCE PARTY
10/31: If costumes and covers sound like the makings of a perfect party, sip $3 drinks and shake your bones to '80s classics from the likes of The Cure, Talking Heads, and The Smiths at this haunted bash. The Ottobar, 2549 N. Howard St., 410-662-0069
HALLOWEEN PARTY AT MICHAEL'S CAFE
10/31: Dance the night away to the '80s New Wave sounds of Synful Pleasure, enjoy Halloween-inspired eats and drinks, and rock a ghoulish get-up for a chance to win up to $400 in the costume contest at this Timonium bar. 2119 York Road, Timonium, 410-252-2022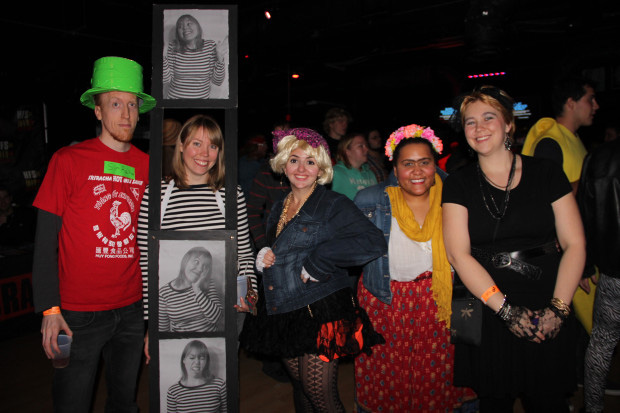 Boo-zy Bar Crawls

HALLOWEEN AT POWER PLANT LIVE
10/29-10/31: As always, this downtown nightlife destination is going all out for the haunted holiday with live music, costume contests, and plenty of drink deals. The festivities kick off with a glow-in-the-dark Halloween Rally on Oct. 29 featuring complementary glow sticks and live DJ entertainment, and on Oct. 31 the space will transform into a haunted carnival with every bar boasting a different theme. 34 Market Place
FEDERAL HILL-O-WEEN
10/31: Gather some friends and hit the bars in Federal Hill to sip boozy slushies at Stalking Horse, down drafts at Mother's, and enjoy $3 Miller Lites, $4 Redds Apple Ales, and $4 Blue Moon bottles at more than 10 other participating spots. Multiple locations including Mother's Grille, 1113 S. Charles St., 410-244-8686
SINNERS & SAINTS BLOCK PARTY
10/31: Canton favorites Claddagh Pub, El Bufalo Tequila Bar, Portside Tavern, and Jokers n' Thieves are getting in on the fun by hosting this creepy crawl. Show off your creative costume and enjoy food specials and discounted drinks all night long. Multiple locations including Claddagh Pub, 2918 O'Donnell St., 410-522-4220
BOATHOUSE MONSTER BASH
10/31: The Boathouse Canton is throwing this all-inclusive bash on Halloween night, highlighting a photo booth, candy stations, live DJ entertainment, 'horrors' d'oeuvres, and an open bar until midnight. Prizes up for grabs in the costume contest include a $100 Boathouse gift card, a free happy hour for you and 20 friends, and $500 cash. 2809 Boston St., 410-773-9795
HALLOWEEN BALL AT 14FORTY
10/31: Make your way to this multi-level lounge inside Horseshoe Casino to sip spirits and enjoy live music performed on its elevated stage. Lucky winners sporting the best costumes of the night will walk away with up $5,000 in free slot play. 1525 Russell St., 844-77-7463
Family Frights
ZOOBOOO!
10/23-25: Lions, and tigers, and bears—oh my! Spend a spooky weekend at the zoo with face painting, trick-or-treating, costume contests, and live entertainment. The Maryland Zoo in Baltimore, 1876 Mansion House Drive, 410-396-7102
AR-BOO-RETUM
10/23: Nothing says Halloween like the Cylburn Arboretum's 1860s mansion decked out in spooky splendor. Grab the kids and take a tour of the house, decorate trick-or-treat bags, learn about nocturnal creatures, and embark on carriage rides at this family-friendly event. And, if the little ones haven't experienced a full-blown sugar rush from all of the candy, IcedGems Baking will also be onsite to dish out its signature confections. Cylburn Arboretum Mansion and Formal Gardens, 4915 Greenspring Avenue, 410-367-2217
GREAT HALLOWEEN LANTERN PARADE
10/24: Bring the kids for an afternoon of hayrides, costume contests, and family fun, culminating in the Great Halloween Lantern Parade, now in its 16th year in Patterson Park. Pulaski Monument, Eastern and Linwood Aves, 410-276-1651
TRICK-OR-TREAT AT THE CAN COMPANY
10/24: The Canton Can Company is hosting its first-ever Halloween party this year, complete with pumpkin decorating, a kids' costume contest, and even a "Thriller" dance tutorial led by the White Marsh Ballet Academy. Stroll around the plaza, enjoy live music spun by DJ The Show, and visit the Can Company's restaurants for treats at the door and festive food and drink specials. 2400 Boston St., 443-577-4826
TRICK-OR-TREAT AT THE SQUARE
10/25: Now in its 4th year, this fun-filled Belvedere Square celebration features thrills such as complimentary caricatures, pumpkin decorating, and trick-or-treating at each of the merchants. The event's costume contest charges a $5 entry fee and all proceeds will benefit the Enoch Pratt Free Library. 529 E. Belvedere Ave.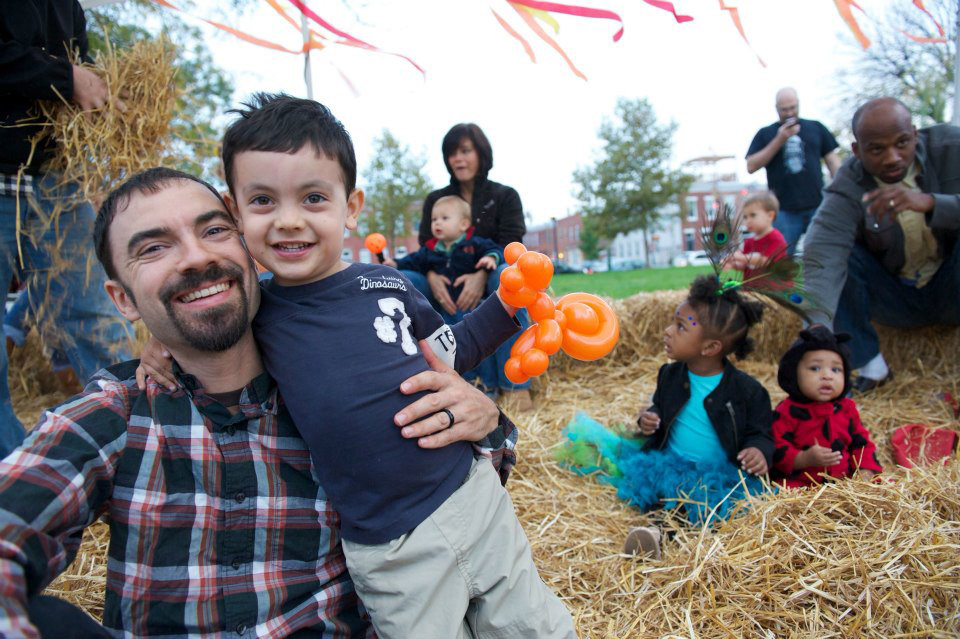 HALLOWEEN EVE CAMPFIRE & HIKE
10/30: Enjoy s'mores and stories around the campfire, followed by a hike in the woods. Benjamin Banneker Historical Park & Museum, 300 Oella Ave., Catonsville, 410-887-1081
FALLOWEEN
10/31: Dress up with your little ones and learn about the science behind popular Halloween traditions. Port Discovery, 35 Market Place, 410-727-8120.
HAUNTED HALLOWEEN SKATE
10/31: Mix up your Halloween routine this year and head to Patterson Park for a night of ice skating, prizes, and family fun. Mimi DiPietro Family Skating Center, 200 S. Linwood Ave., 410-396-9392
KIDSPEACE TRICK OR TROT
10/31: Join KidsPeace, the Orioles, and the Showalter family in a 5K run or 1-mile walk to benefit children in foster care. Oriole Park at Camden Yards, 333 W. Camden St., 410-685-9800
WIZARDS & WANDS
10/31: Take a trip to Hogwarts with the Baltimore Symphony Orchestra, performing a magical night of the Harry Potter film scores. Joseph Meyerhoff Symphony Hall, 1212 Cathedral St., 410-783-8000
TRICK AND TREATS
10/31: Grab your costume and gallivant through the woods in search of holiday treats. Oregon Ridge Nature Center, 13555 Beaver Dam Road, Cockeysville, 410-887-1815
Midnight Music
GLOWBALL
10/24: Keep the party going after the Great Halloween Lantern Parade at this annual concert hosted by the Creative Alliance. After the kids are in bed, grown-ups are invited to jam to the horn-heavy funk sounds of Joe Keyes and The Late Bloomer Band at the parade's official after-party. The Patterson, 3134 Eastern Ave., 410-276-1651
KIP MOORE
10/31: Hear country music star Kip Moore perform at WPOC's Jam-BOO-ree Halloween event. Rams Head Live, 20 Market Place, 410-244-1131
SAME AS IT EVER BOS: HALLOWEEN EXTRAVAGANZA
10/31: Spend the night getting down to the sounds of local soul sensation Bosley, as the band covers Talking Heads classics at The 8×10. 10 E. Cross St., 410-625-2000
HALLOWEEN AT THE SCIENCE CENTER
10/31: Once again, eat, drink, and be scary as the Science Center teams up with Flying Dog Brewery for their annual craft-beer-and-costume bash with food trucks, local brews, a costume contest, and live, local music from the likes of ELM, Cris Jacobs Band, and a Save your Soul dance party on the roof. 601 Light St., 410-685-5225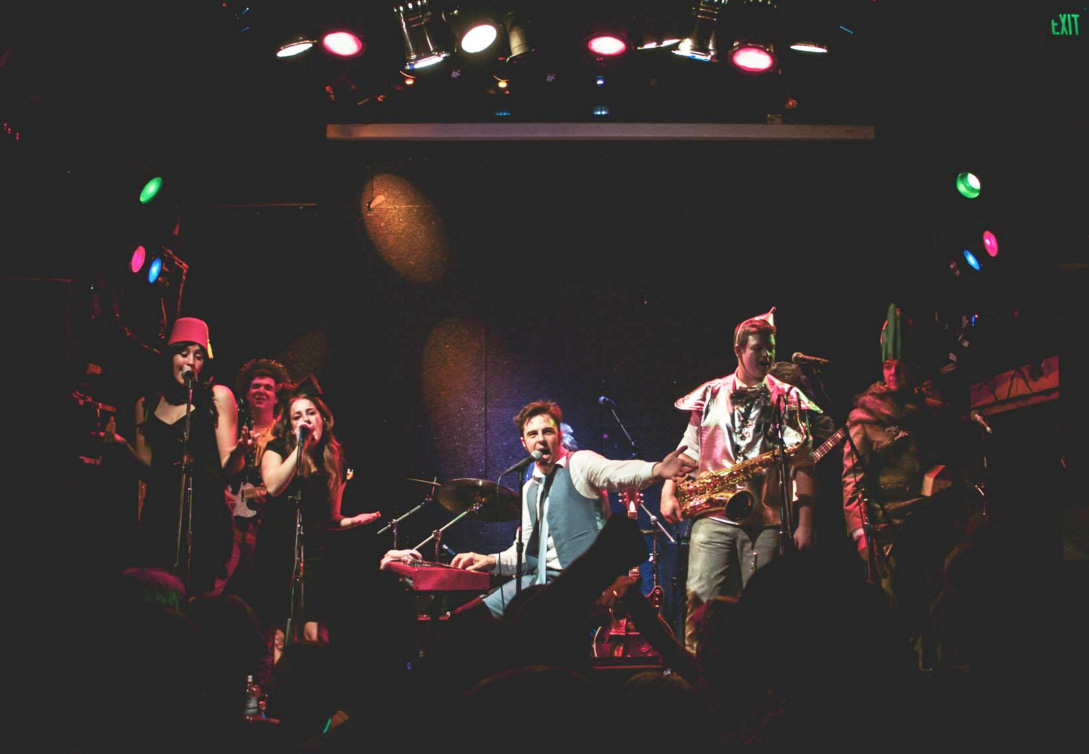 Late-Autumn Art
ZOMBIE PROM
10/16-11/8: Part high-school romance and part sci-fi thriller, this modern-day musical follows a zombie as he tries to win back his crush and take her to prom. Audrey Herman Spotlighters Theatre, 817 St. Paul St., 410-752-1225
HALLOWEEN HAVOC
10/17: Sip your spirits while dressed in your Halloween best at this lively art competition in Remington. The Ottobar, 2549 N. Howard St., 410-662-0069
MICA HAUNTED HOUSE: FEVER DREAM
10/22-10/24: Now in its eighth year, MICA's student-run haunted house is a must-try if you're looking for a thrill that's guaranteed to give you goosebumps. If you dare: Stroll around this season's twisted dreamscape-themed house adorned with fog machines, strobe lights, and other mysterious sights and sounds. 1601 W. Mt. Royal Ave
FLYING DOG SCARY MOVIE SERIES
10/28 & 31: Flying Dog Brewery presents classic horror flicks and craft beers with A Nightmare on Elm Street on Wednesday, followed by Invasion of the Body Snatchers on Halloween night. Weinberg Center for the Arts, 20 W. Patrick St., Frederick, 301-600-2828
AVAM'S FREE FALL HALLOWEEN
10/30: Spend your Mischief Night at the American Visionary Art Museum with lantern-making, food trucks, and an outdoor screening of The Goonies. 800 Key Highway, 410-244-1900
A TALE OF THREE COFFINS: LIVING AND DYING IN ST. MARY'S CITY
To 12/6: This eerie exhibit at the Maryland Historical Society displays three lead coffins that represent the only remains of Maryland's founding family, the Calverts. Learn about 17th-century life and check out the coffins up close before they're reburied in St. Mary's City in early December. 201 W. Monument St., 410-685-3750