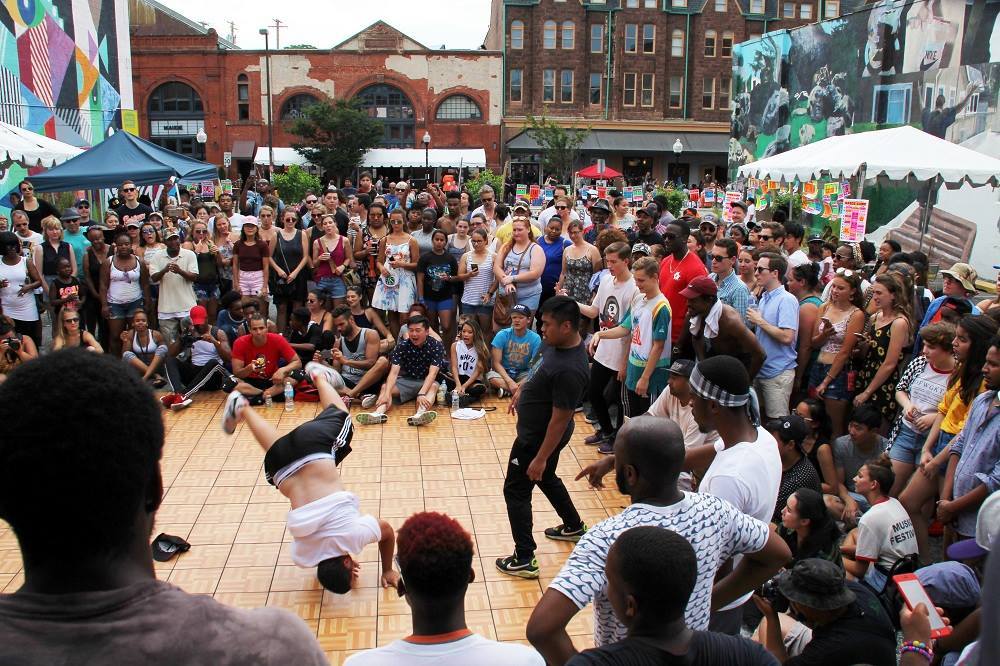 Courtesy of Artscape
Dubbed the largest free arts festival in the nation, Artscape has become a blazing hot summer ritual in Charm City, and this year, the weekend-long event is—quite literally—making a splash.
The theme for this year's fête, July 17-19, is water—a concept that organizers at the Baltimore Office of Promotion and the Arts (BOPA) hope will be entertaining, as well as educational, for spectators.
"We're really excited about the possibilities that the water theme brings," says BOPA's festivals director Kathy Hornig. "We brainstormed ideas about how to use the theme as a platform to educate people about sustainability, water conservation, and our unique geographic location."
In addition to highlighting crafts from more than 130 artisans, various theatre and dance showcases, and a fitting live music lineup with performances by the Baltimore Rock Opera Society and D-Man in the Waters, Artscape also has some new attractions to unveil this year.
For the first time ever, the festival will be offering a free water station for attendees who bring their own water bottle to the event's "Aqualounge," a giant water molecule presented by Morgan State University.
Also new this year, Artscape's mobile app that launched in 2013 has been redesigned to help festival-goers make the most out of the weekend with a customized schedule, reminder notifications, and an interactive map.
"Certainly we have plenty of folks who come and just hang out and people-watch, but we wanted to make it as easy as possible for the people who really have a short list of things that they want to see," Hornig says.
Other can't-miss highlights include a revamped lineup of local food and beverage vendors (think Zeke's Coffee, Dooby's, Jimmy's Famous Seafood, and Otterbein Bakery), appearances by local performance art troupe Fluid Movement and hands-on arts and crafts projects for kids. Additionally, the cast of The Wire will speak at the Lyric about the city's recent unrest and present artwork inspired by the community's reaction to the death of Freddie Gray.
Hornig says that she doesn't expect the unrest to have any impact on this year's attendance, and that no vendors or sponsors have cancelled. In fact, if anything, she expects attendance to increase this year because "people are looking forward to having positivity in the streets."
"It's going to be a chance for us to shine a light on all of the good things that are happening in the city," Hornig adds. "We recognize all of the problems and the challenges that are still there, but we also need opportunities to come together and celebrate to show the nation what's great about Baltimore."
And of course, as in previous years, live music remains at the forefront of the jam-packed event. This year's lineup includes headliners George Clinton and Parliament Funkadelic, The Reverend Payton's Big Damn Band, Michael Franti & Spearhead, and Trombone Shorty & Orleans Avenue.
Hornig says that this year's event has the potential to be the best it's ever been.
"There are always two priorities: One is that Artscape remains free and open to the public, and then next on that list is that everything is of the highest artistic quality," she says. "I like to pretend that the three-day festival could be a $75 ticket because that's the level of concert, art exhibition, and performance that we're giving our festival-goers."