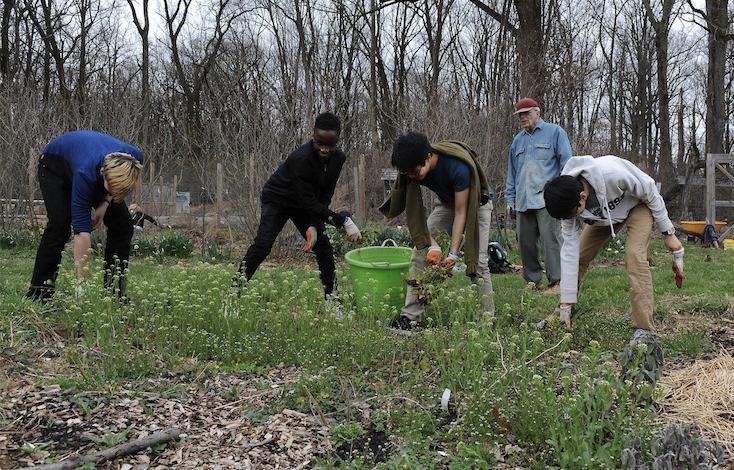 Courtesy of Oregon Ridge Nature Center
Whether you're planning to spend the day planting trees, cleaning playgrounds, yoga posing, nature journaling, or learning about proper plastic disposal, give back to the planet this Earth Day by participating in one of the many eco-friendly happenings all over Charm City this weekend.
4/19: Baltimore Ravens and M&T Bank Earth Day 2018
Partner with more than 100 Ravens and M&T Bank staff members to help build a new football field in the Johnston Square and Ambrose Kennedy Park community. Roll up your sleeves to clean streets and remove concrete and leftover materials from demolished houses as part of the exciting revitalization. Ambrose Kennedy Park, 921 E. Chase St., 9 a.m.-12 p.m., 410-701-4268
4/21: Earth Day Playground Cleanup
Volunteers ages 2 and up are invited to help clean and play at the playgrounds at Patterson Park, where tools and refreshments will be provided. Friends of Patterson Park, 27 S. Patterson Park Ave., 9:30-11 a.m., 410-276-3676
4/21: Celebrate Earth Day! A (Cool) Progeny Play Date
Kids of all ages are invited to join The Waldorf School of Baltimore for the ultimate Earth Day Eve celebration that will include seed planting, hula hooping, ferret petting, beekeeping, a drumming circle, farm education, snacks, and live reggae music. The Waldorf School of Baltimore, 4801 Tamarind Road, 10 a.m.-12 p.m, $5, 410-367-6808
4/21: Earth Day Service Day
Students are encouraged to come out for a day of collecting urban bird data (and getting volunteer hours in) at Patterson Park, which is known to house over 200 different bird species. They'll learn how to use binoculars, study breeds, and share their findings with the greater scientific community. Plus, there's free lunch. Patterson Park Audubon Center, 2901 E. Baltimore St., 9-11:30 a.m., 410-558-2473
4/22: Earth Day with Waverly Street
Help WLIF 101.9 give the 32nd Street Farmers Market Lot a little makeover this Earth Day. You'll be planting trees and flowers, weeding, mulching, and participating in a community clean-up walk, all the while enjoying live music, food, raffles, and other activities. Also, volunteers 21 and older will get a free beer courtesy of Peabody Heights Brewery. Waverly Main Street, 432 E. 32nd St., 10 a.m.-4 p.m., 410-889-8100
4/21: Professor Trash Wheel Blinded Me Wit Science-Launch Party
Speaking of Peabody Heights Brewery, the neighborhood bar is teaming up with Waterfront Partnership's Healthy Harbor Initiative to debut its second-ever Trash Wheel-themed craft beer, "Professor Trash Wheel Blinded Me Wit Science" (named after Thomas Dolby's  1982 hit song "She Blinded Me With Science"). The release will debut to the public during the Earth Day Launch Party, where guests will be able to enjoy specialty all-you-can-drink brews, food trucks, and '80s jams. Proceeds from each beer will be go towards Waterfront Partnership's Healthy Harbor Initiative. Peabody Heights Brewery, 401 East 30th St., 7-10 p.m., $30-35, 410-467-7837
4/21: Party for the Planet
Take a trip to the Maryland Zoo for an Earth Day-themed celebration among the animals that will include activities like penguin feeding, a chat about bear keeping, and a puppet show. The Maryland Zoo in Baltimore, 1 Safari Place, 10 a.m.-4 p.m., Free-$11, 410-396-7102
4/21: Nature Fest at Catoctin Creek Park
Get out of the city and head to this Frederick County wonder for an Earth Day filled with crafts, campfire activities, face painting, live animals, and a walk on the sensory trail. Catoctin Creek Park, 2929 Sumantown Road, 10 a.m.-2 p.m., Free, 301-600-2051
4/21: Real Food Farm
Best known for its mission combating food deserts in Baltimore, this local urban farm at Clifton Park is seeking volunteers to help with planting, weeding, and other projects on Earth Day Eve. Real Food Farm, 2801 St. Lo Dr., 9 a.m.-2 p.m., 443-531-8346
4/21-22: Earth Day Scavenger Hunt
Follow the clues on the map during an hour-long, self-guided hike around Oregon Ridge Park where you'll learn the best Earth-care practices to date. Plus, you'll receive a prize at the end. Oregon Ridge Nature Center, 13555 Beaver Dam Road, 10 a.m.-3 p.m., $2, 410-887-1815
4/22: Earth Day Family Yoga
Kids ages 5-10 are welcome to come to yoga class with mom or dad for a partner-pose session themed around Mother Earth and all of her creatures. All levels and abilities are welcome. Lift Yoga + Strength. 202 E. Madison St., 3-3:45 p.m., Free-$25, 443-873-3269
4/22: Earth Day Festival 2018
Pollinator tours, a seed ball station, a rain barrel workshop, and a children's nature library are just a few of the many happenings taking place at Herring Run Nursery this Earth Day. Also, expect to bring home a free tree. Herring Run Nursery, 6131 Hillen Road, 10 a.m.-3 p.m., 844-756-8688
4/22: Echotopia: Earth Day Every Day Pop-Up
To promote the green approach in everyday living, B. Willow will be hosting a pop-up at its Remington garden shop that features Echotopia's trash-free kitchen and bath cleaning product line. All supply items are eco-friendly, aroma therapeutic, and ethically sourced from organic gardens. B. Willow, 220 West 27th, 11 a.m.-3 p.m., 443-873-8414
4/22: Earth Day Fundraiser: Hangout and Potluck at Hidden Harvest
Join Hidden Harvest Farm for the ultimate "no work required" celebration where you can enjoy the rural grounds, food, socializing, and live acoustic performances by Free Bird Society, Middle Kid, and Leena Rhodes of Middle Lungs. Donations of $5-$20 will be collected—which will help with the farm's operating costs and give you access to the potluck. Hidden Harvest Farm, 1825 N. Calvert St., 2-6 p.m.
4/22: Earth Day with Dovecote Cafe
The neighborhood cafe in Reservoir Hill will be paying tribute to farmers, conservationists, and herbalists with a specialty event featuring local produce and honey, a live petting zoo, face painting, and educational seminars for home gardeners and house-plant enthusiasts. Dovecote Cafe, 2501 Madison Ave., 10 a.m.-5 p.m., Free, 443-961-8677
4/22: Nature Journaling
Grab your gear for yet another hike (this time, a slower one) that will challenge you to hone your observation and meditation skills as you walk and journal your way through the woods. Oregon Ridge Nature Center, 13555 Beaver Dam Road, 10 a.m.-1 p.m., $4-$6, 410-887-1815
4/22: Annapolis Earth Day Celebration
Take advantage of the free cyclist valet and pedal over to Chesapeake Bay Brewing Company to celebrate "End Plastic Pollution," an event where you'll learn about proper plastic disposal along with the benefits of bird and bat feeders. Plus, there will be food, vendors, activities, and informational sessions hosted by local environmental nonprofits. Chesapeake Bay Brewing Company, 114 West St., 2-6 p.m., $5, 410-268-0000
4/28: Mayor Catherine E. Pugh's Spring Cleanup
Grab your gardening gloves and join more than 235 communities for the city's 18th annual spring cleanup event, where locals are encouraged to sweep, rake, and plant with their neighbors to beautify Baltimore for springtime. Baltimore City Department of Public Works, 100 N. Holliday St., 9 a.m., Free, 410-396-3310
4/28: Earth Day Stream Clean-Up
Clean up litter from local trails and streams, and learn how to turn the found objects into crafts. Carrie Murray Nature Center, 1901 Ridgetop Rd. 11 a.m.-2 p.m. Free. 410-396-0808