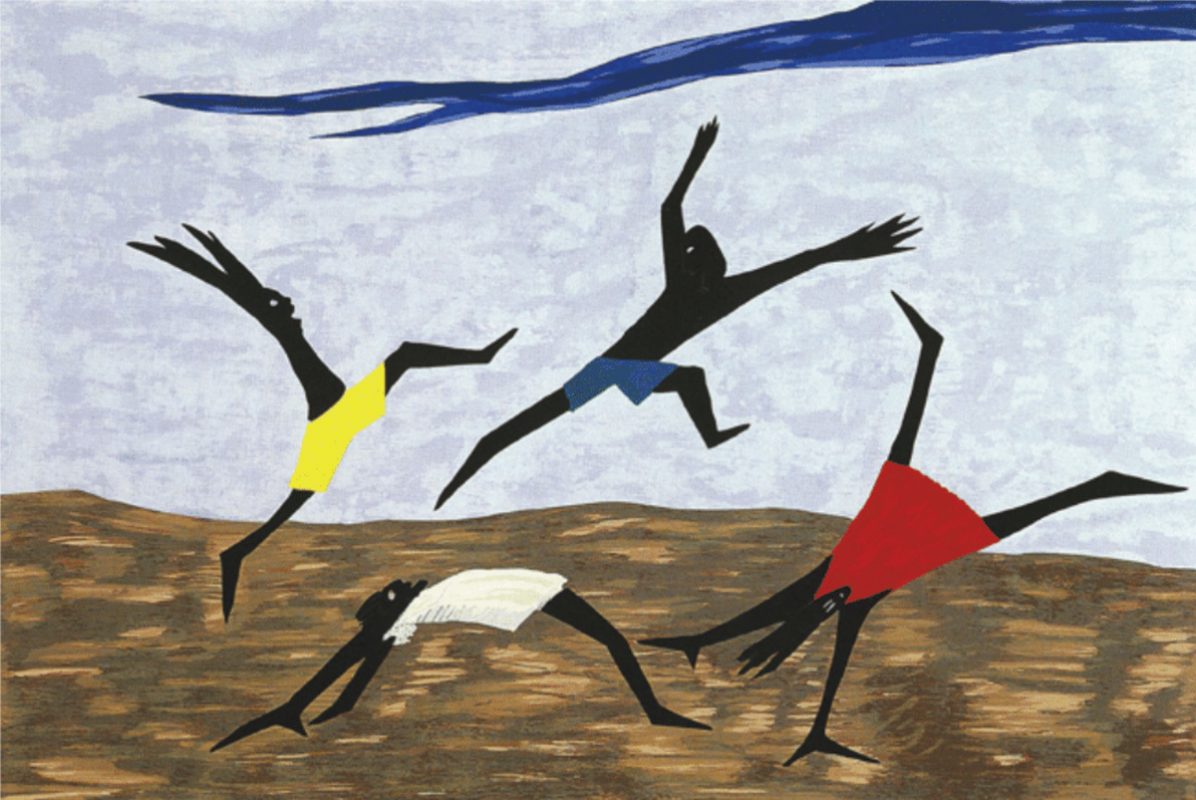 Romare Bearden
There aren't many people who can tell you what Juneteenth is or why it's a significant holiday to celebrate. June 19 is known as the black Independence Day that has been observed in African-American communities since 1886. The day is meant to commemorate the abolition of slavery in the U.S. and celebrate the advancements of the black community since emancipation.
"The people of Texas are informed that, in accordance with a proclamation from the Executive of the United States, all slaves are free," read the general orders from the Union Army's Maj. Gen. Gordon Grange on June 19, 1865. "This involves an absolute equality of personal rights and rights of property between former masters and slaves, and the connection heretofore existing between them becomes that between employer and hired labor."
The celebration's roots go back to Galveston, Texas, where it was first celebrated on June 19, 1865 after the slaves there found out two years after the Emancipation Proclamation was signed that they were freed. It has evolved over the years to families and communities honoring the day with parades, local bands, fellowship, and food. The menu usually consists of red-colored items—red velvet cake, red soda, watermelon, and spicy hot links—with classics like fried chicken and black-eyed peas making an appearance. The crimson color is symbol of ingenuity and resilience in bondage.
But we don't have to be in Texas to celebrate, so here are some events happening in the Baltimore area.
6/15: BFSA Juneteenth Celebration
The Johns Hopkins University Black Faculty and Staff Association (BFSA) is hosting an event that will feature speakers including Councilman Brandon Scott and Rev. Donte Hickman with performances by The Fresh Wind Choir of Southern Baptist Church, Keur Khaleyi African Dance Company, and storyteller Janice the Griot. There will also be activities for the whole family with face painting, magic shows, and games to commemorate the holiday. The Johns Hopkins University, Glass Pavilion, Levering Hall, 3400 N. Charles St.
6/16: Books & Breakfast – A Celebration of Juneteenth
The Oak Hill Center for Culture and Education is teaming up with the Baltimore Black Worker Center to commemorate the holiday by reflecting on the progress of African- American communities since the abolition of slavery. This free event will include breakfast and books, worker rights training, and an interactive timeline on the history of African-American work in the U.S. The Oak Hill Center for Culture and Education, 2239 Kirk Ave., 10 a.m.-12 p.m., Free
6/16: Annual Juneteenth Celebration
The Academy Art Museum in Talbot County is partnering with the Chesapeake Children's Book Festival this year for their annual Juneteenth celebration. Gather for a day of spoken word, dance performances, face painting, and crafts to celebrate the holiday and the year of Frederick Douglass. Academy of Art Museum, 106 South Street, Easton, 10 a.m.-3 p.m., Free.
6/16-6/17: Juneteenth Reservoir Hill Garden & Home Tour 2018
Celebrate with the Reservoir Hill community in their 24th annual Juneteenth affair. The neighborhood will come alive with music, historic games and storytelling, and carriage rides with the Arrabers. Participants will also be able to tour some of the historic homes and learn about the history of African Americans in the area. Dovecote Café, 2501 Madison Avenue, 12 p.m.–5 p.m., $15
6/19: Juneteenth Celebration at Port Discovery
It's never too early to teach children about history. Take the family down to Port Discovery to learn about African-American quilting and its importance in passing messages along during slavery. Kids will get the chance to make their own quilts and play games that will help them identify historical black figures. Port Discovery Children's Museum, 35 Market Place, 10 a.m.-5 p.m., $15.95
6/19: Juneteenth at Ida B's Table
Food is a big part of celebrating Juneteenth and what better place to dig in than Ida B's Table? The restaurant is hosting award-winning culinary author Toni Tipton Martin at their Juneteenth celebration. The evening will include song, fellowship, and, of course, a multi-course dinner of traditional Juneteenth dishes from chef Dave Thomas. Attendees will also receive a signed copy of Martins' cookbook, The Jemima Code. Ida B's Table, 235 Holliday Street, 7 p.m.-10 p.m., $125