The 15 Best Sights, Sounds, and Eats at the MD Renaissance Festival
From jousters and jesters to eats on a stick, we chronicle all of the highlights.
As you approach the gates to the Maryland Renaissance Festival, you'll notice an Elizabethan-style banner hung overhead that reads: 'Prepare thyself for merriment.' And—taking the event's abundance of 16th-century spectacles into account—we suggest you do as it says.
Now in its 39th season, the annual fair delivers plenty of medieval mirth for nine consecutive weekends this fall. Set in the 27-acre village of Revel Grove, attendees are invited to browse the work of more than 140 artisans, catch a glimpse of authentic musical and theatrical performances, and dig in to hearty eats fit for royalty.
From garlands and glassblowing to mimes and mandolins, the festival's chairman Jules Smith Sr. ensures that there's something for everyone to enjoy.
"It's so carefree. It's not really structured, so everyone is able to pick and choose what they want to do," says Smith, who estimates a total attendance of 35,000 for opening weekend. "You could come with a friend and both be there the same amount of time, but have two completely different experiences.''
Here are our picks for the must-try eats and drinks, can't-miss performances, and vibrant vendors to look out for at this year's fête, happening Saturdays and Sundays through October 25 in Crownsville.
---
FARE FIT FOR FEASTING:
---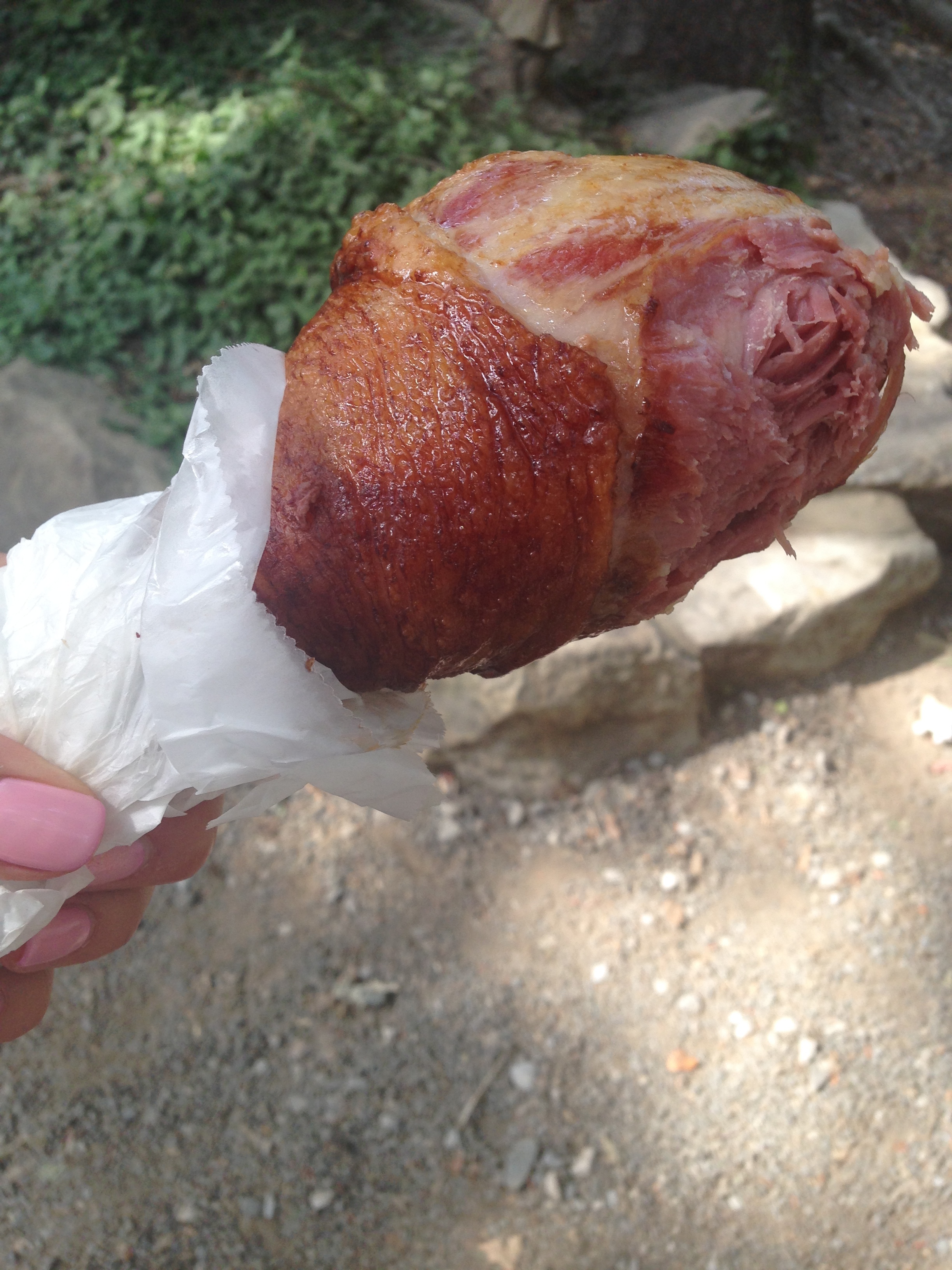 Turkey Legs: Arguably the most iconic of the fair's offerings, these meaty legs of smoked turkey weigh in at one pound each. "I've worked here for years and every day I have people tell me they come just to get a turkey leg," says Shane Martel, who serves up thousands per weekend. Legend has it that turkey legs were a favorite of King Henry VIII and his court. Where to find them : Conveniently, the map of Revel Grove has a special symbol designated for turkey leg purveyors. Grab one from a stall directly to the right of the Fortune Stage, or from the booth across from the King's Field.
---
Snake Bites and Bee Stings: Don't let the quirky names fool you. These beer-based concoctions are signature sips that might be hard to find once you leave the confines of the fair and head back into the 21st century. The refreshing Snake Bite combines 8 ounces of beer and 8 ounces of hard cider (think Sam Adams Oktoberfest mixed with Angry Orchard), while the bubbly Bee Sting fuses three parts hard cider and one part mead.
Where to find them : Fill your mug (yes, you can bring your own) at the Dragon's Lair next to the reptile exhibit, or to the right of the turkey leg booth on Kenwood Lane.
---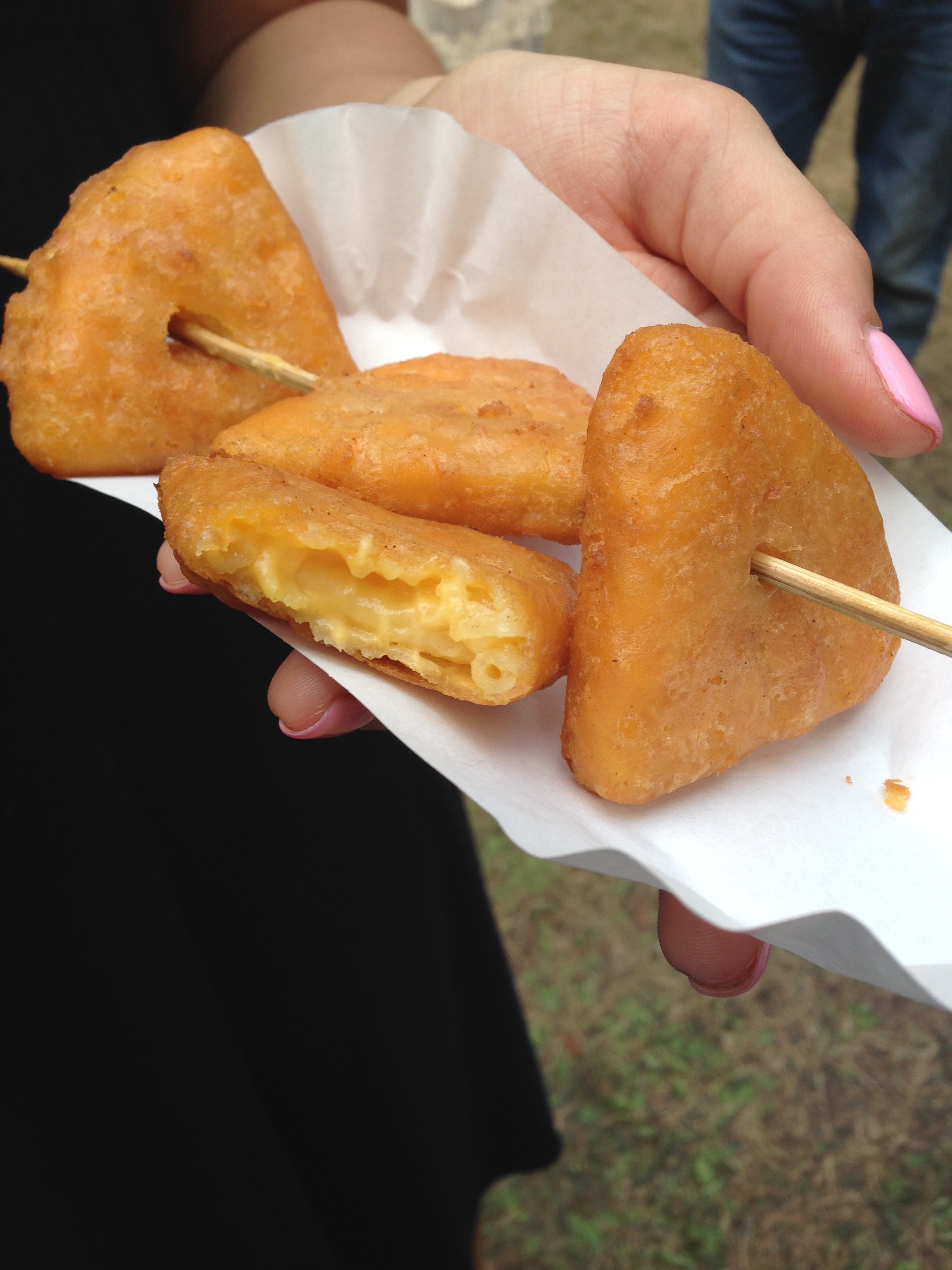 Steak (or anything else) on a Stake: Eats on a stick might seem like the mother of all renaissance festival clichés, but no one can argue that they make chowing down a heck of a lot easier. From steak and fried macaroni and cheese to s'mores and cheesecake, skewered snack options are plentiful.
Where to find it : Follow the Queen's Path after you enter the front gates and you'll soon reach the Valley Meade, which features tons of colorful food signage.
---
Hot Apple Dumplings: As fall swiftly approaches, sampling this festival favorite is a great way to welcome the nip in the air. The treat consists of warm apple cinnamon filling tucked into crispy fried dough and topped with hefty scoops of vanilla ice cream.
Where to find them : Be on the lookout for this sweet snack in the Valley Meade, directly next to the Croissant Sundae booth.
---
Funnel Cake Fries: Although they may seem irrelevant when it comes to 16th-century grub, you might be surprised to hear that funnel cakes have medieval roots in Anglo-Norman culture. The festival puts a unique spin on the traditional sweet circles by frying the batter in straw shapes and sprinkling each order with tons of powdered sugar.
Where to find them : Hang a right after you pass the Valley Meade and you'll find funnel cake fries (along with meat pies, corn on the cob, and cheese bread) in the White Stag Grove.
---
VIBRANT VENDORS:
---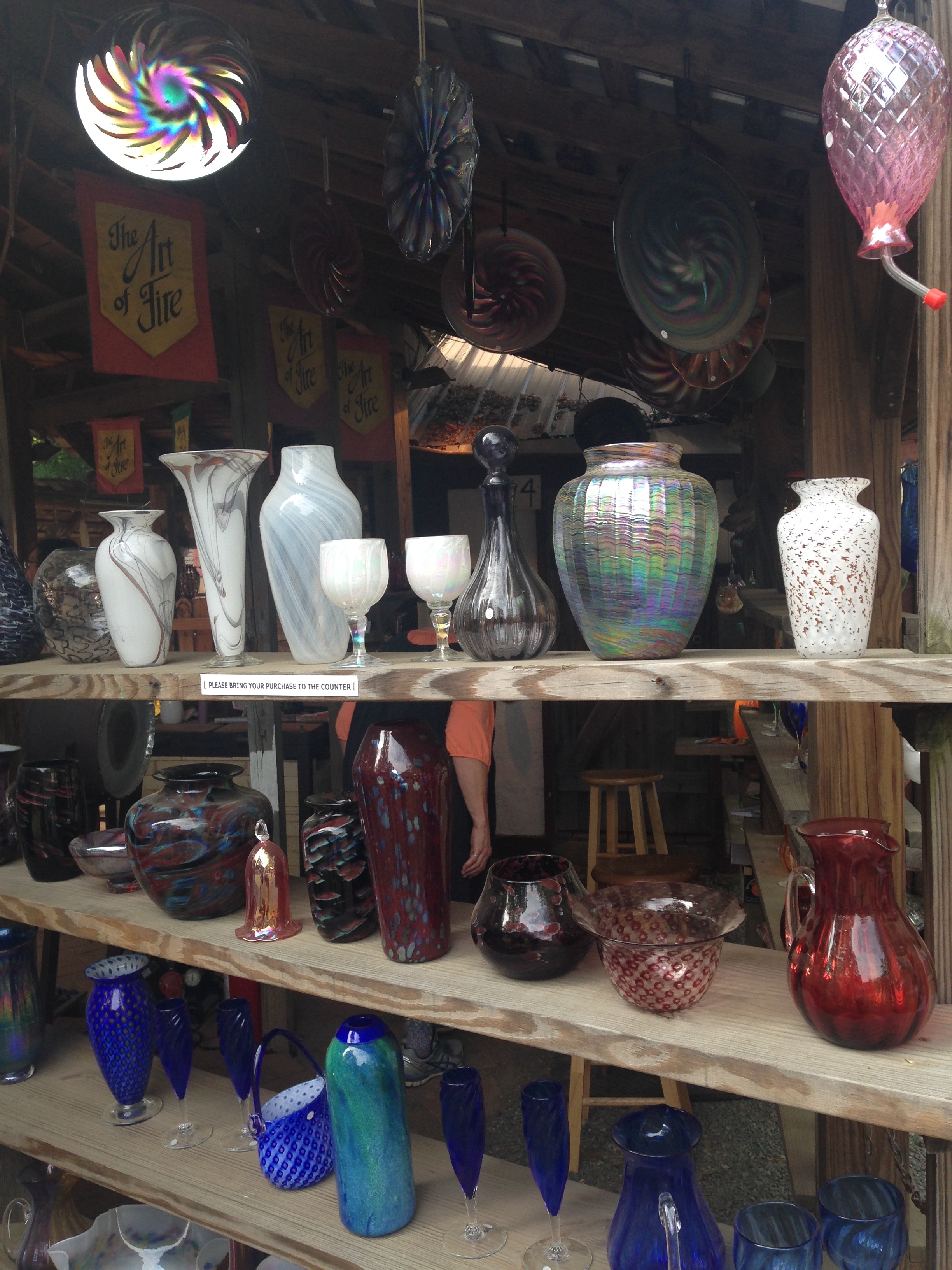 Art of Fire Glassblowing: Not only are guests invited to browse the colorful glass-blown creations for sale by Montgomery County's Art of Fire Contemporary Glass Studio, but its expert artisans also perform frequent demonstrations. "People don't see things being made by hand anymore," says Art of Fire co-owner Foster Holcombe, who estimates that the artists perform 28 demonstrations per weekend. "Glass is an ancient material that's been around for over 4,000 years, but we've all become so high-tech oriented that we don't stop to think about how common it is in our daily life." Grab a seat on the wooden benches surrounding the glassblowing tent and watch as the artists explain the process behind how their fragile wares, like ornaments, vases, and goblets, are crafted.
Where to find it : The can't-miss tent is located just off the entrance behind the customer service stand.
---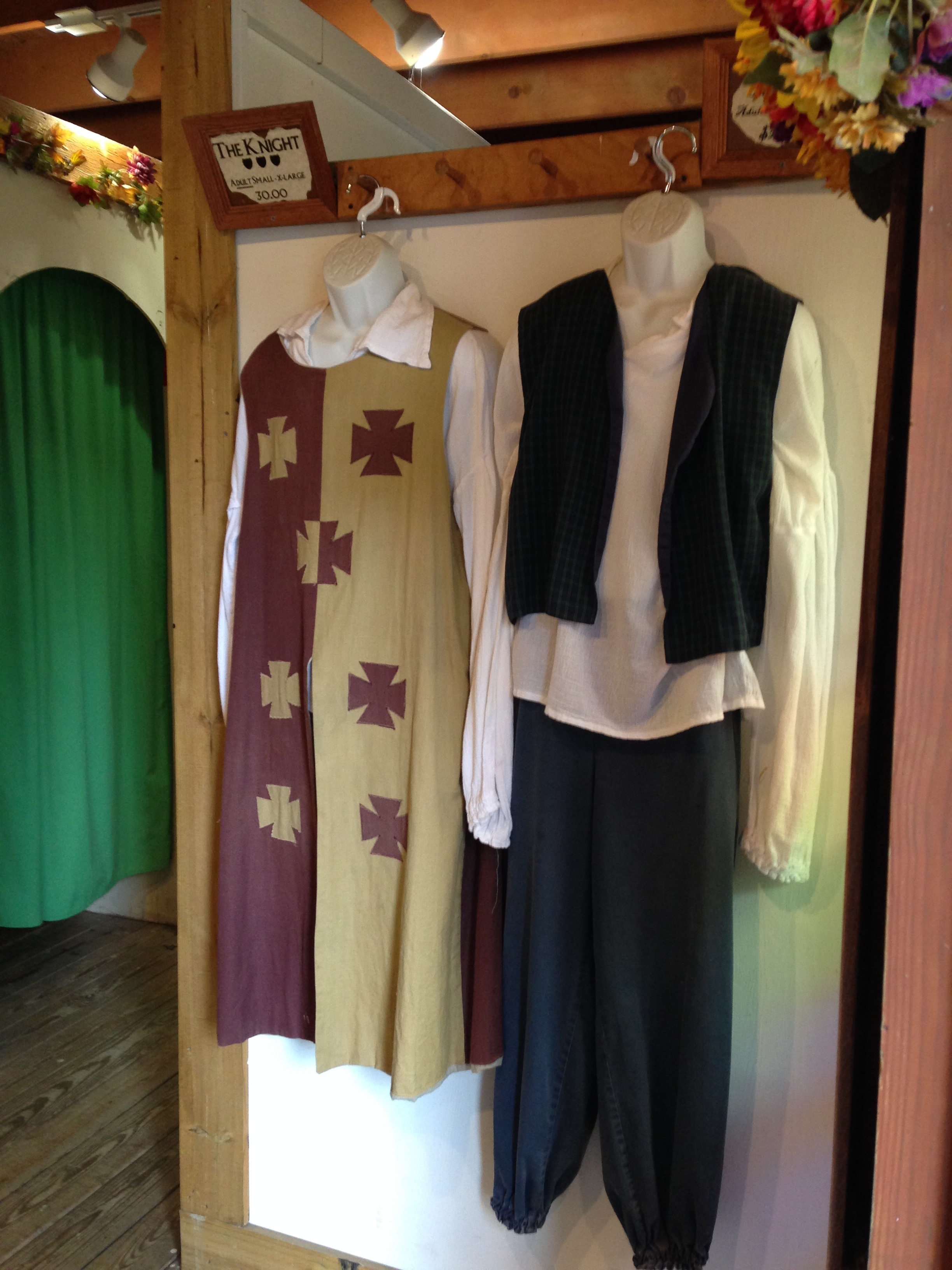 Costume Rental Booth: Whether you're interested in stepping into the shoes of a dainty fair maiden, joyful jester, loyal wench, or brave squire for the day, the costume shop has a variety of outfits. "Wearing a costume really breaks the wall between the actors and the spectators. It makes you feel like you're not just at a renaissance festival, but in the renaissance itself," says rental assistant Lexy Smith of Pasadena. Smith says that the costumes—available in adult and kids sizes—go fast, so be sure to swing by early in order to get your first pick.
Where to find it : As you enter the fair, the costume shop is the first booth on the left. (Look for the mannequins, dressed head-to-toe in tunics and flowing skirts.)
---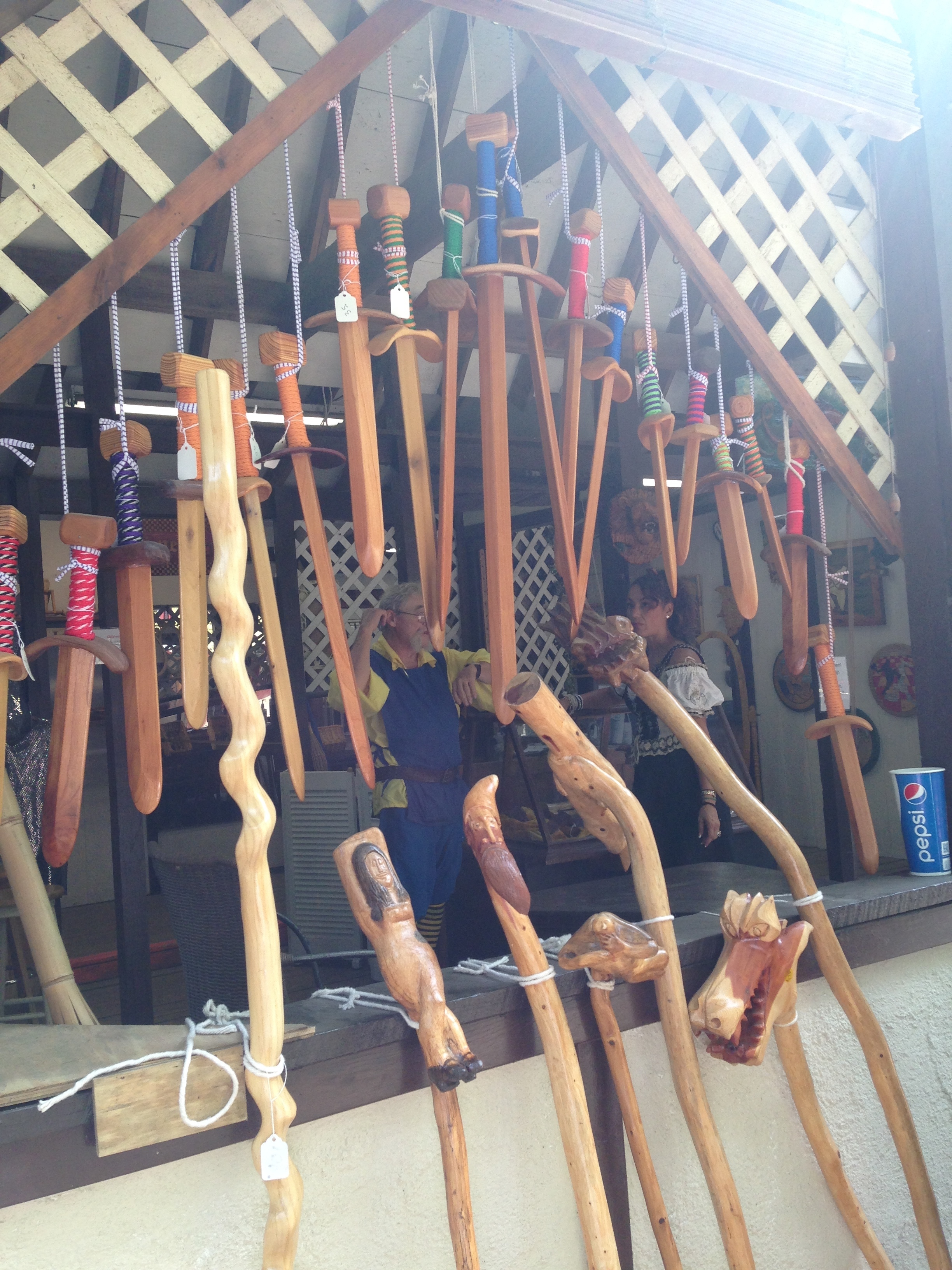 King of Swords: Master carpenter Michael Higgs devotes every summer to perfecting his hand-carved woodwork in preparation for festival season. From dragon-shaped walking staffs to a variety of refined pine swords, Higgs says that his sculpted souvenirs are a favorite among fair-goers of all ages. "I have kids that come in first thing in the morning before they go anywhere else just to see what's new," says Higgs, a veteran vendor who has sold his artwork since the festival's first year. "They like to have their pick of the litter."
Where to find it : This (fittingly) wooden booth is located in White Stag Grove across from White Hart Tavern.
---
Rapunzel's Hair Braiding: Long before fishtail braids were in style, 16th-century trendsetters were rocking a variety of tightly woven updos, which can be recreated at these hair-braiding stands. Whether you're trying to channel your inner queen—or just looking for a festive way to pull your hair back in the end-of-summer heat—the stylists at this longtime festival hotspot can execute intricately braided crowns or Rapunzel-inspired French braids embellished with baby roses.
Where to find it : With two stalls set up on opposite ends of Revel Grove, guests can choose to visit Rapunzel's in the King's Field across from the Market Stage or along the Queen's Path closer to the entrance.
---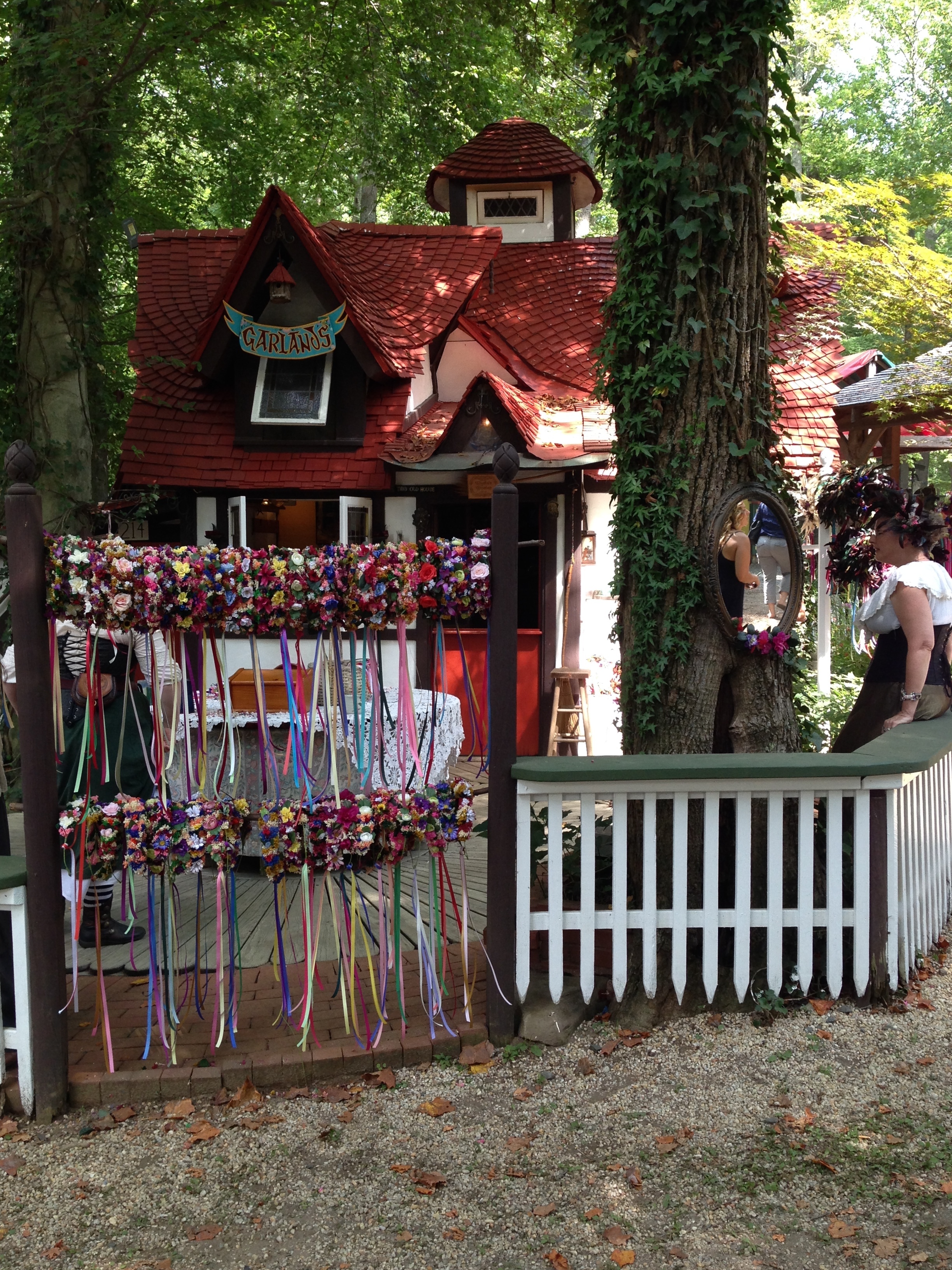 Rosie's Posies Flower Garlands: These handmade flower headpieces are a simple way to play the part. "They're definitely a staple," says Rosie's Posies employee and Baltimore native Tom Ware, sporting a signature crown. "We know people come here looking for them, so I repair and work on them every morning to make sure they look perfect before they go out on display." Available in every imaginable variety, from earthy baby's breath to red roses with ribbons, these wreaths are an ideal takeaway.
Where to find them : Rosie's Posies has several outposts all over Revel Grove, including two as you make your way up the Queen's Path near the Valley Meade.
---
PLAYFUL PERFORMANCES:
---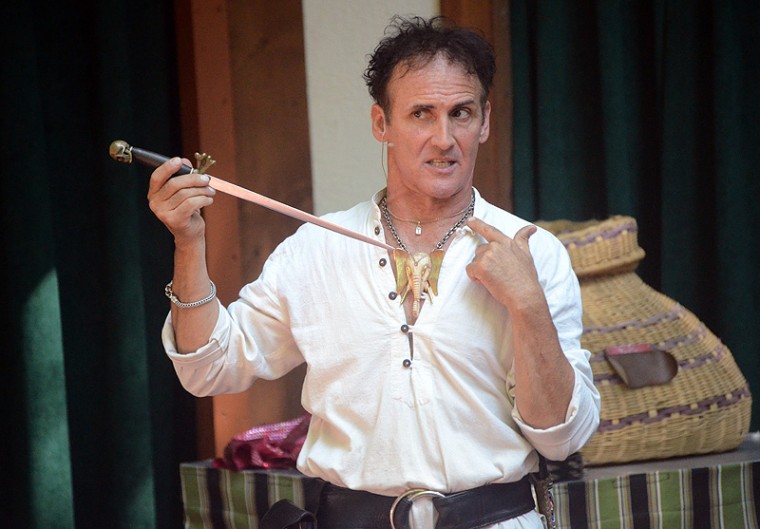 Johnny Fox: Year after year, festival-goers flock to the Royal Stage to see what this sword-swallowing marvel has in store. "We're huge fans of Johnny Fox," says Whitney Hurdle of Arlington VA, who returns every season. "He's both a magician and a comedian, so it always makes for a fun time." Although sword swallowing is his claim to fame, Fox has also been known to perform other gutsy feats like sawing a woman in half or swallowing burning cigarettes and balloons.
Where to find him : The Royal Stage across from the Wine Pavilion at 11 a.m., 1 p.m., 2:30 p.m., and 4:30 p.m. daily.
---
The Free Lancers: Although jousting is technically Maryland's state sport, it's not every day that we get to see knights on horses duke it out. Gather around the massive jousting arena to watch these combat professionals, donning their best suits of shining armor, go head-to-head. Also, look out for the King and Queen overlooking the excitement from their royal balcony.
Where to find them : The jousting arena sits on the King's Field next to the reptile exhibit, which boasts elephant and camel rides.
---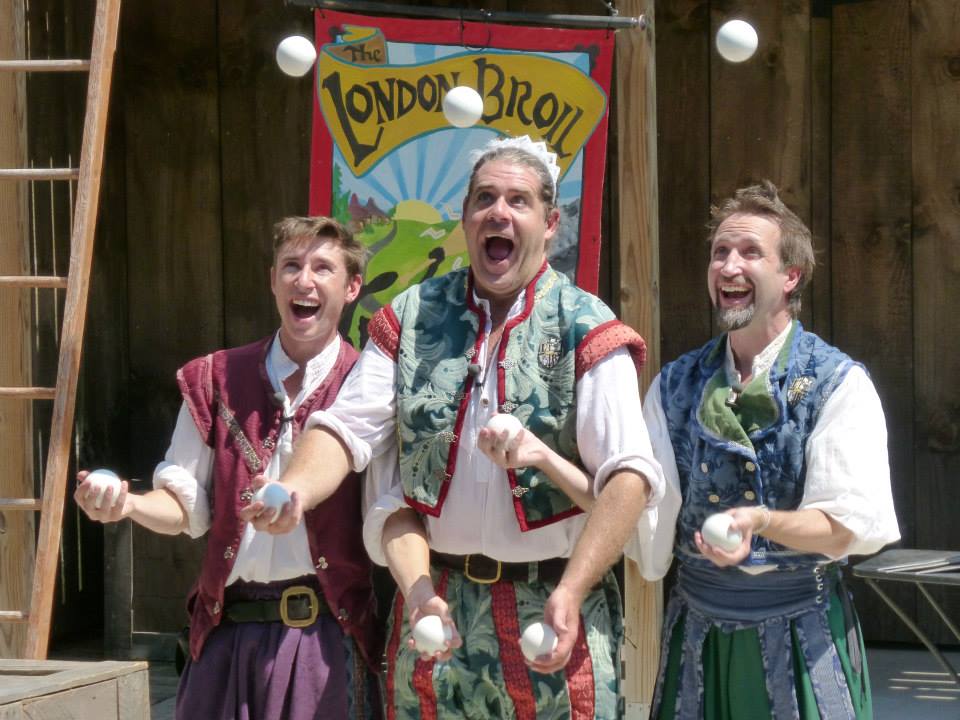 The London Broil Show: This trio of juggling jesters have been making their mark on the national renaissance festival circuit for years now, delivering exhilarating shows full of quick-wit and lively tricks. Highlights of the family-friendly production include the performers juggling while standing on balance boards and tossing around flaming pins.
Where to find it : The curtain rises on The London Broil Show daily at 12 p.m., 2 p.m., 3:30 p.m., and 5:30 p.m. through September 27 on the Royal Stage.
---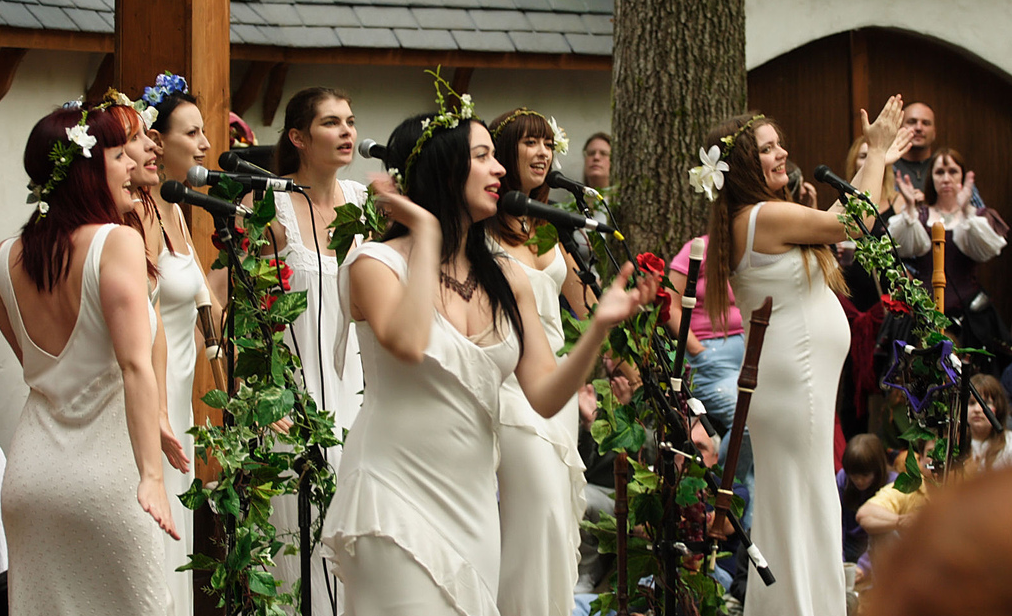 Mediaeval Baebes: Back by popular demand, the powerful pipes of this one-of-a-kind female a cappella ensemble are gracing the stage at the The Blackfriars Theatre September 26-27. The international female recording artists have been on the scene for nearly 20 years, and this month they're making the trip from London to Revel Grove to perform their chart-topping hits inspired by old-school romantic texts.
Where to find them : The Mediaeval Baebes will perform at 12:30, 2:30, and 4:30 p.m. daily at The Blackfriars Theatre next to the Dragon's Lair.
---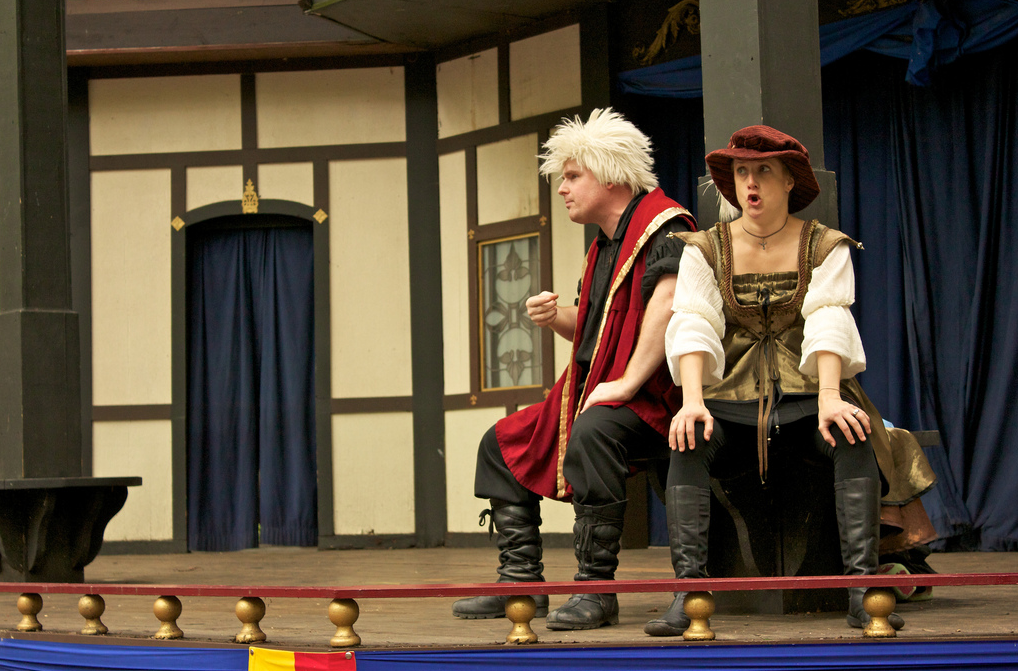 Shakespeare's Skum: A perpetual favorite among "RenFest" regulars, this theatrical troupe is known for its expedited parodies of The Bard's most famous works. Included in Shakespeare's Skum's lineup for the season is a comical rendition of Hamlet, a piece that outlines Macbeth in less than 20 minutes, and an interactive charades meets Jeopardy-style game show where audience members are asked to guess which play is being acted out.
Where to find it : Stroll over to Revel Grove's own Globe Theatre off of Stub Toe Lane to catch them in action every day at 2, 3, and 4 p.m.