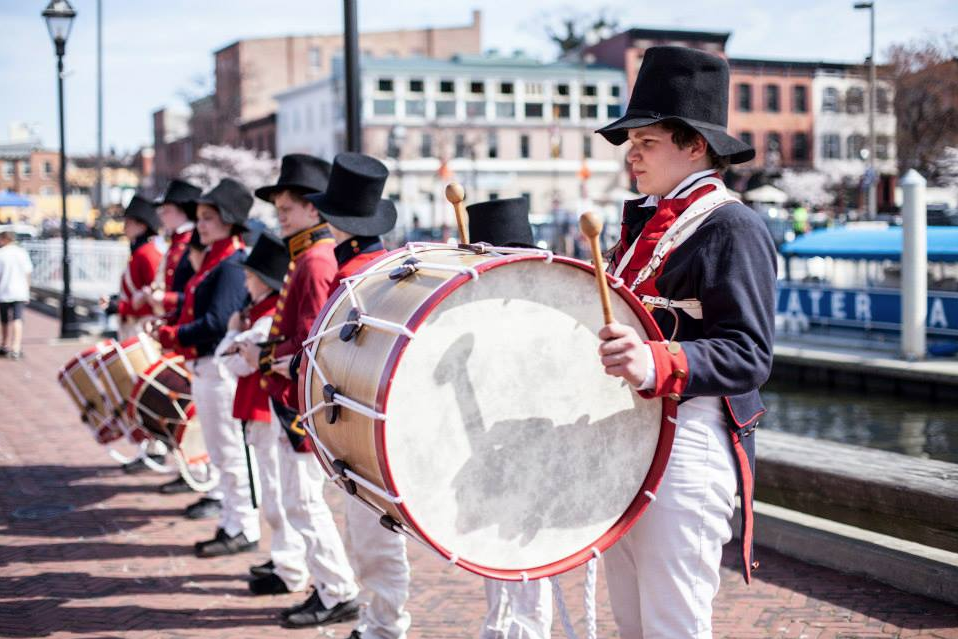 Photography by Jesse Goldman
Five things to eat, drink, see, hear, and do with your Charm City weekend.
EAT
Apr. 17: The Gathering
Baltimore Museum of Industry, 1415 Key Hwy. 5-10 p.m. $3.30 general admission, $18 all-you-can-drink. thegathering.com.
If you aren't fasting for
The Emporiyum this Friday, kick off a weekend of eats with the first Gathering of the season. As soon as you get off work, head to Locust Point where a slew of local food trucks will be posted up with grub, booze, and live music by Annapolis soul band, Sweet Leda. Expect Bistro Lunchbox salads, Greek on the Street gyros, those crazy Grr Chee grilled cheese creations, Kommie Pig smoked meat deliciousness, and much more. While you're there, don't miss the Charm City classic, Gypsy Queen Café, with their iconic crab cone, full of creamy crab meat over fries, or the new Cravin Potato Factory, with gourmet baked potatoes, including one topped with lump crab, asiago cheese, onions, peppers, and Old Bay. On a warm spring night, watch the sun set over the city skyline and get an epic nighttime view of Domino Sugar in all its neon glory.
DRINK
Apr. 18: WTMD's First Annual Brews & Bands
WTMD, 1 Olympic Pl., Towson. 1-5 p.m. $35. 410-704-8938. wtmd.org.
A perfect, springtime Saturday means hanging outside with good friends, a little live music, and a cold beer in hand. This weekend, WTMD will offer exactly that with its inaugural Brews & Bands fundraiser. It's a local affair, with lots of homegrown talent, including 14 Maryland brewers like Union Craft, The Brewer's Art, Heavy Seas, and Flying Dog, as well as neighborhood newbies like Monument City and Waverly Brewing. Once you've got a good beer buzz going, get a taste of two badass Baltimore bands. Stomp, hoot, and holler along with
Bobby E. Lee & the Sympathizers and get funky, NOLA-style, with Rufus Roundtree & Da B'more Brass Factory.
SEE
Apr. 18-19: Fells Point Privateer Festival
Fells Point, along Thames St. & Broadway Square. Sat. 10 a.m.-7 p.m., Sun. 10 a.m.-6 p.m. 410-675-8900. fellspointmainstreet.org.
Warm weather brings out the pirate in all of us, so grab your mateys and head starboard across the city to the 11th annual privateer festival in Fells Point. With a rich maritime history, the historic, waterfront neighborhood takes a step back in time to the days when seafaring schooners hung out in the Baltimore harbor, with reenactments, history lessons, arts and crafts, kid's activities, live music, and food. Of course, there will also be the requisite beer and rum, so don your eyepatches and bandanas and hop on the Pyrate Invasion Pub Crawl. We won't fault you for fully embracing the irony and ending up at Heavy Seas Ale House, located just a few blocks away.
HEAR
Apr. 18: Abdu Ali & Kahlon Dance Party
The Crown, 1910 N. Charles St. 9 p.m. $7. 410-625-4848. bmorekahlon.tumblr.com.
Abdu Ali's
underground dance parties in Charles Village are a force to be reckoned with. Since launching them a few years back, the Baltimore native and Bmore Club artist has channeled his bold creativity, unbridled energy, and DGAF attitude into an all-are-welcome get-down, where new and established artists alike are given an open platform for creative expression. Hot off a new tour, Ali is throwing his next Kahlon this Saturday, which will be the last local show for a while, as he's hitting the road and taking the party to D.C., Philly, and New York. He plans to return this fall with a full-on Kahlon festival, but this weekend, there's a great mix of musicians to check out in Charm City. Hear NYC's electro-hip-hop artist, Princess Nokia, Baltimore's trance-y hip-hop collective, Mild Sobriety, the local TSU dance crew, DJs Debonair Samir and Maracuyeah, and of course, Ali's own "priest-like" performance.
DO
Apr. 18: Sole of the City 10K
Charm City Run, McHenry Row, 1713 McHenry Row. 9 a.m. $75. soleofthecity10k.com.
After all the eating and drinking it looks like you'll be doing this weekend, you might as well burn some of it off, so hit the streets on Saturday morning with this 10-mile run around the city. Starting at Charm City Run's newest location in McHenry Row, jog through Federal Hill, along the Inner Harbor, up around Patterson Park, through Fells Point, and then back to Locust Point. It might sound a little daunting, but what an awesome way to embrace your city. And if that's not enough to get your heart rate up, there will be a post-race party at The Green Turtle in McHenry Row with live music, food, and beer. Proceeds support two charities, including a fund for a local Boston Marathon bombing victim.