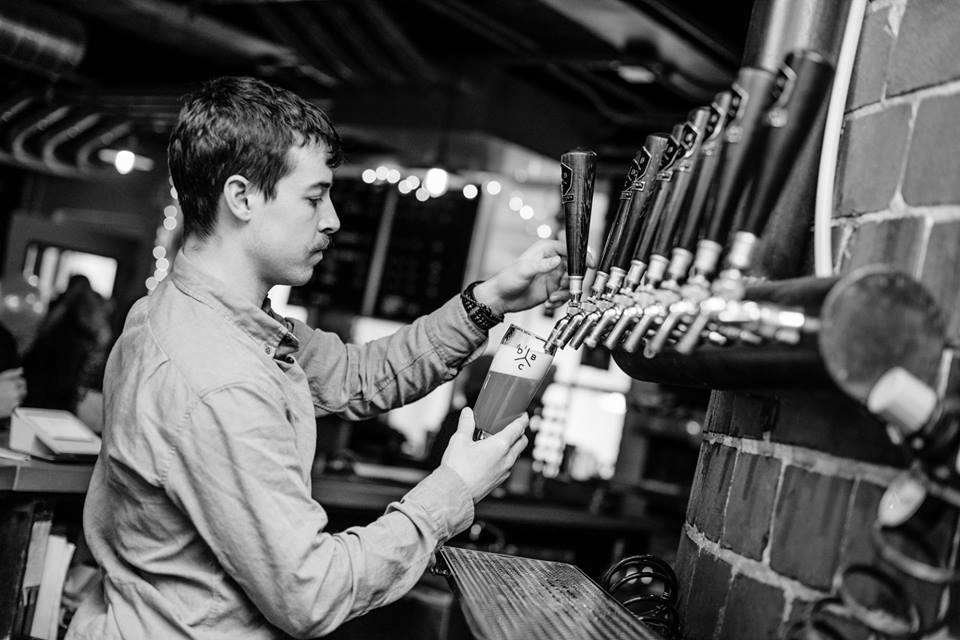 Facebook
 EAT
Mt. Vernon Marketplace, 520 Park Ave. 11 a.m.-11 p.m. Free. 443-796-7393.
This communal food hall is one of our favorite places to grab grub in Mt. Vernon, but with a wide range of tasty offerings, it can be hard to choose between options like sandwiches from Cultured and homemade soup from Prescription Chicken. Thankfully, their $5-vendor deal returns this Friday with one-day specials like chicken souvlaki with pita and tzatziki from Mr. Souvlaki, Nutella crepes from Crepes by Mina, shucked oysters from The Local Oyster, and black bean burgers from Big Bean Theory. Even Taps Fill Station, their zero-waste bar, is pouring out glasses of beer and wine for only a fiver each.
 DRINK
Monument City Brewing Company, 1 N. Haven St. 12-7 p.m. Free. 443-529-8131.
It's officially been a year since brothers Ken and Matt Praay opened the doors to their Highlandtown brewery, and they're celebrating its first birthday with local bands, food, and even anniversary T-shirts and glassware. On Saturday, swing by the taproom to raise a glass to the beer that started it all—the Maryland-inspired 51 Rye—and drink your way through the more than 20 beers on tap. Stick around to hear live music by local artists Nate McCormick, Bryan Ewald, and Americana darlings Haint Blue, and soak up the suds with snacks from local eateries Snake Hill, Cocina Luchadoras, and The Local Fry.
 SEE
The Baltimore Museum of Art, 10 Art Museum Dr. 1-5 p.m. Free. 443-573-1700.
Beginning this Sunday, The Baltimore Museum of Art will display the first exhibition dedicated to sculptures by the late Jack Whitten, a renowned contemporary artist who has become a major influencer of emerging African-American artists. Though he's largely known for his powerful paintings and mixed-media work, this collection uncovers 40 of his sculptures inspired by African, Minoan, and Cycladic art and carved from materials like wood, marble, copper, and bone. At this opening celebration, enjoy an afternoon of wood assemblages and marble-carving demos, musical performances by saxophonist Sarah Hughes and Sypros Koliavasalis and his trio, as well as discussions led by Odyssey curator Katy Siegel and associate curator of African Art Kevin Tervala.
 HEAR
WTMD, 1 Olympic Pl., Towson. 12-4 p.m. Free-$25. 410-704-8938.
We can hardly wait for the return of WTMD's First Thursdays concert series in two weeks, but until then, their annual Brews & Bands event will have enough homegrown talent and all-you-can-taste beers to keep us at bay. This Saturday, head to the Towson studio to hear Arty Hill and the Long Gone Daddys' twangy tunes along with the Hall Williams Band's uplifting roots-funk-jazz combo. Get a solid day-buzz on this sunny afternoon with unlimited tastings from 16 local brewers including Heavy Seas, The Brewers Art, and Peabody Heights, plus afternoon eats from Cunningham's and The Local Oyster. 
 DO
Diamondback Brewing Company, 1215 E. Fort Ave. 12-11 p.m. Free. 443-388-9626.
Since taking over the former factory on Fort Avenue two years ago, Diamondback Brewing Company has filled thousands of glasses and growlers with its best-selling Green Machine IPA. This Saturday, during the brewery's "greenest" event of the year, they'll release the Greener Machine, an imperial version of the original, and Cold Taxi, a zwickelbier inspired by old-world lagers, while relishing in some spring fest fun. Spend the day in Locust Point noshing on El Gringo's tacos and Smoke's BBQ, listening to live music by The High and Wides and Ampersand Stringband, and—if you're feeling brave—gulping down two tacos, one Choco Taco, and 16 ounces of Cold Taxi beer in an eating competition.