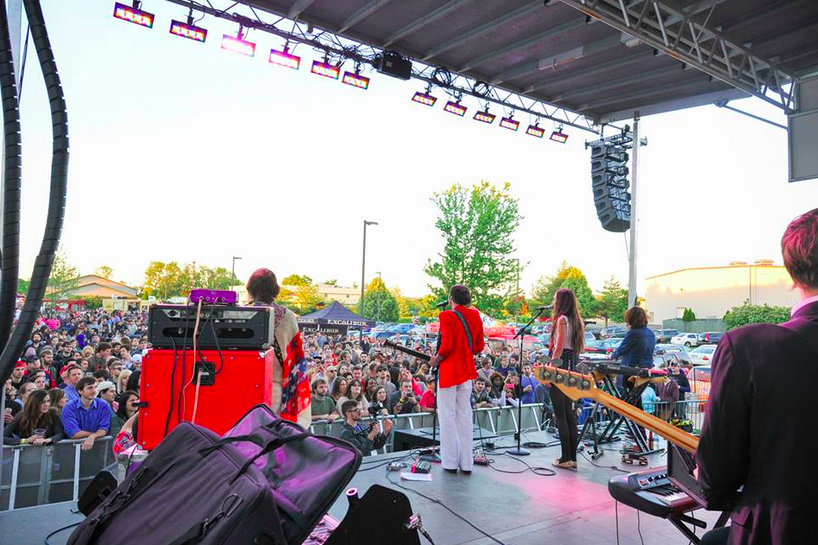 Courtesy of Flying Dog Brewery
Five things to eat, drink, see, hear, and do with your Charm City weekend.
EAT
August 22: Illuminate Love + Light for Melissa
Clipper Mill Pool, 2010 Clipper Park Rd. 7-10 p.m. $60-200. illuminateloveandlightformelissa.bpt.me.
This Saturday is going to be a beautiful night. The weather will be warm, the moon will shine bright, and flocks of friends and family will gather for a young woman in need of their love. Last year, Melissa Kirby, a wife, mother of two, and partner at Shine Creative, suffered a severe set of strokes, losing the ability to speak or move. She's slowing gaining strength and on Saturday some of the city's best restaurants are joining forces to raise money for her recovery, including Woodberry Kitchen, Cunningham's, Encantada, Tapas Teatro, The Charmery, The Local Oyster, Flying Dog Brewery, and Waterfront Kitchen. Dine on the local dishes, dig on tunes by DJ Impulse, and dabble in the silent auction, with all proceeds going towards Kirby's medical care. For those who can't make it, you can donate through their Crowdrise website and checks can be mailed to Matt Kirby, Trustee, 2010 Clipper Park Rd. Ste. 105, Baltimore, MD 21211.
DRINK
August 22: Flying Dog Summer Sessions with Of Montreal
Flying Dog Brewery, 4607 Wedgewood Blvd., Frederick. 5-10 p.m. $25. 301-694-7899. flyingdogbrewery.com.
Catch the local brewery's last outdoor concert of the summer season with weird and wonderful rock band Of Montreal. They're not actually Canadians—they're from Athens, GA—but their funky, dance-worthy, Sgt. Pepper-esque sound is a trip. On the front lawn, lean back with their groovy tunes and sip on a wacky whirlwind of beers, including casks like Gourd Standard Pumpkin IPA (it's almost that time of year again), Dogtoberfest Marzen, and Pale Ale with Sriracha, as well as drafts like Bloodline Blood Orange, Dead Rise Old Bay, and Numero Uno Summer Cerveza, and cans of IPA. Don't miss the opening bands, with fellow Peach State natives Mothers and local skateboard rockers Old Indian.
SEE
August 20-22: Mondo Festo
M&T Bank Stadium, 1101 Russell St. 7 p.m. $46-1,325. baltimoreravens.com.
Stroll down historic Howard Street and you might not realize that the Westside neighborhood was once home to packed vaudeville houses and glitzy marquees. Now designated as the Bromo Arts District, the neighborhood is breathing new life, thanks to a handful of movers, shakers, and spaces like EMP Collective, Current Gallery, and the Annex Theater. Among those champions is Le Mondo, a group whose goal is to create a hub for Baltimore's dynamic, vibrant art and performance community and to launch them onto the national and international stage. Celebrate some of their best during a three-night festival, with theater, performance, art installations, and music. On Thursday and Friday, see a 10-Minute Play Festival curated by Sarah Jacklin of Annex, with six original works about hunger and extinction, many written by fellow Howard Street thespians. Also on Friday, get down at the opening night dance party and delve into "Eminent Domain," a performance art event curated by EMP's Carly J. Bales featuring six artists. On Saturday night, Psychic Readings Company presents "The Maids," which spins the classic French drama with a touch of fake death and S&M. Afterwards, local artists explore the seemingly obvious but multitudinous question: "What is dance?"
HEAR
August 21: Gladys Knight & The O'Jays
Pier Six Pavilion, 731 Eastern Ave. 410-783-4189. 6 p.m. $37-85. piersixpavilion.com.
"Midnight Train to Georgia." That is all.
Okay, if that's not enough, Gladys is one of the greats. Over the last 50-odd years, the Motown maven has spanned popular culture from the doo-wop heyday of The Pips, through pop hits, soul standards, and R&B ballads, to Dancing with the Stars. They never quite piqued like the other golden groups—The Supremes, The Temptations—but her powerful pipes live on with "Neither One of Us," "Every Beat of My Heart," and one timeless cover of "I Heard It Through the Grapevine." Hear her break it down at Pier Six with The O'Jays. You might know them from a few little known songs: "Love Train," "Now That We Found Love," and "Backstabbers."
DO
August 22: Club Hippo's Last Dance Party
Club Hippo, 1 W. Eager
St. 10 p.m.-2 a.m. $15 tickets available at the door. cluphippo.com.
After 43 years, 40 pride festivals, two owners, and
countless spins on the dance floor, the iconic gay landmark that is the Club
Hippo is closingits doors this fall. While the official close date is still up in the air,
this Saturday you can say goodbye with one last trip down its stairs and dance
across that light-up tile floor. Don your finest, tip back some 'tinis, and
spend this warm summer Saturday night celebrating this cornerstone of the gay,
lesbian, and entire Baltimore community. There might be a line, but it'll be
well worth the wait. And don't worry, this isn't actually the last dance party—there will be more before
the lights go on and they make their last
last call. (Expected in October.)