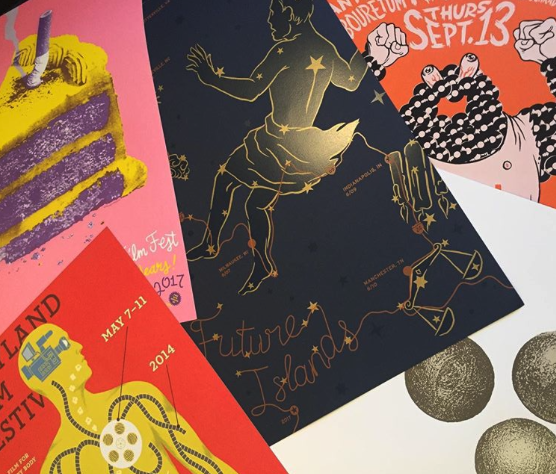 Post Typography
Five things to eat, drink, see, hear, and do with your Charm City weekend.
 EAT
Lake Roland, 1000 Lakeside Dr. 6-8 p.m. $3-5. 410-887-4156.
As the days get shorter and the nights get longer, we're reminded of how quickly we're approaching the next solstice and the official start of winter. Despite drop in temperature, celebrate this astronomical phenomenon with lessons about the night sky and folklore of holiday traditions. While you're huddled beneath thick blankets, you can warm up by the bonfire at Lake Roland, roast some marshmallows, and assemble your own s'mores. This campfire classic—toasted mallow and melted chocolate sandwiched between crunchy graham crackers—will keep you cozy all night.
 DRINK
Single Carrot Theatre, 2600 N. Howard St. 8-9:30 p.m. $10. 443-844-9253.
They say that laughter is the best medicine, and with 2017 going out in such a successfully stressful bang, we have to admit: We could really use a strong prescription. This Friday, Single Carrot is bringing us some relief with an evening of standup comedy with the added bonus of cocktails. Throw back some laughs with Baltimore's up-and-coming comedians, including Peter Muth, Bryan Preston, and headliner Chelsea Shorte, at the intimate local theater located in Remington. And if you need help loosening up, take advantage of a free drink—be it spiked apple cider, special cocktails, Natty Boh, or wine. 
 SEE
Post Typography, 2219 St. Paul St. 12-4 p.m. Free. 410-889-7469.
We don't know about you, but we gush over beautiful typography and clean designs, especially those of concert-poster principal Post Typography. If you feel the same way, stop by the press's Old Goucher studio this Saturday for its annual print and poster sale. Whether you're looking to complete your office aesthetic or hunting for a reasonably priced gift, you'll stumble upon a smorgasbord of artwork packed with personality, color, and fantastic fonts on everything from paper products to ephemera and apparel. They'll certainly have the classic Bill Murray Groundhog Day movie poster (an oversized image of Murray made from thousands of pixelated Bills). But keep your eyes out for some specials, including a special Future Islands touring poster that doubles as a giant constellation chart, signed posters from the Maryland Film Festival, and out-of-print Double Dagger vinyl. Items can't be reserved ahead of time, so make sure you're one of the first to get there. 
 HEAR
Ottobar, 2549 N. Howard St. 9 p.m. $10-12. 410-662-0069. 
Since 2002, this legendary quartet has captured local audiences with their intricate jams, profound and poetic lyrics, and distinctive brand of alternative rock. Even after a years-long hiatus, fans remained loyal and hoped for a comeback, which, luckily, they got. In March, the band unveiled Song of the Rose, an album comprised of eight tracks displaying their compelling sound. It led to star reviews and a jam-packed show at the Ottobar with listeners young and old. This Saturday, hear them live in celebration of 15 years of success, along with guests Television Hill and Stephen Strohmeier. While you're there, don't forget to pick up a limited-edition vinyl of their new record.
 DO
Space 2640, 2640 St. Paul St. 10 a.m.-5 p.m. 
Choosing the right gift for someone can be a difficult task, but with everything being mass-produced these days, the answer is kind of obvious. There's nothing better than giving or getting a one-of-a-kind gift, especially one that's made right here in Baltimore. On Saturday, check things off your holiday with a medley of handmade goods crafted by more than 50 local and regional artists. If you need suggestions, check out the repurposed china necklaces made by The Broken Plate, vinegar-infused wellness tonics by Red Root & Co., popsicle-shaped crayons by A Childhood Store, and waxed Army duck canvas bags by Stitch & Rivet. You can even test out your own DIY skills and make your own gift at the Artists and Craftsman Supply's craft demo.