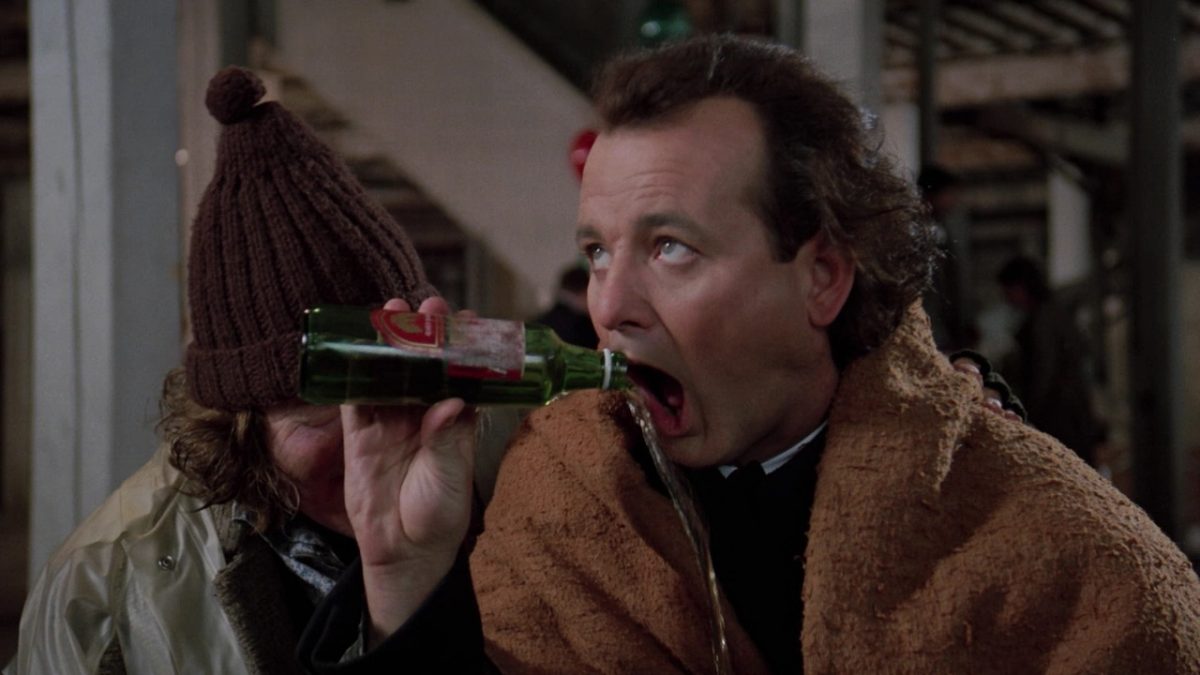 Photo via Scrooged.
Five things to eat, drink, see, hear, and do with your Charm City weekend.
EAT
Dec. 26: Boxing Day at Sláinte
Sláinte, 100 Thames St. 7 a.m.-12 p.m. $10. 410-563-6600. slaintepub.com
Whether you're Christian or Irish or not, and whether you work on Friday or not, swing through Fells Point for a boozy breakfast in honor of Boxing Day, St. Stephen, and service to others. Enjoy $10 bottomless mimosas, bloody marys, traditional Irish breakfast—though we recommend the Watermen's: fried eggs, fried oysters, and green onion sausage gravy over white toast—and watch English Premier League soccer matches, starting with Chelsea versus West Ham just after the crack of dawn. Just make sure you tip your bartender.
DRINK
Dec. 26: Flying Dog Brewery presents Scrooged
Weinberg Center for the Arts, 200 W. Patrick St., Frederick. 6:30 p.m. $5-7. flyingdogbrewery.com
Beer and Bill Murray—one of the greatest pairings in history, like peppermint and chocolate, or hot cider and whiskey. This Friday movie night in Frederick combines craft beer and the 1980s cult comedy classic about a grumpy TV exec and the three ghosts who haunt him on Christmas Eve. Start with a happy hour at 6:30, followed by the movie at 7:30 and an after-party at
Guido's Speakeasy.
SEE
Dec. 26: Harlem Globetrotters
Royal Farms Arena, 201 W. Baltimore St. 12 & 5 p.m. $17-118. 410-347-2020. baltimorearena.com
These guys are crazy talented and that's not just because I'm 5'1″ and therefore every basketball player can accomplish talented feats of athleticism I'll never be able to achieve—i.e. a slam dunk. No, these world-famous athletes are something else, as their reputation has proven ever since 1926, and this weekend, they perform their big-top brand of ball against one of their greatest rivals, the Washington Generals, for two post-Christmas shows of impressive entertainment and family fun.
HEAR
Dec. 26: A Very Jerry Christmas
The 8×10, 10 E. Cross St. 8 p.m. $13. 410-625-2000. the8x10.com
Join
Cris Jacobs and friends at this holiday celebration of the other jolly, big-bellied, white-bearded old man who spreads tidings of joy—Jerry Garcia. Throw away that Christmas sweater, throw on some tie-dye instead, and take a trip to Fed Hill for a groovy night of unabashed Deadhead dancing and feel-good tunes.
DO
Dec. 28: Baltimore Ravens vs. Cleveland Browns
M&T Bank Stadium, 1101 Russell St. 1 p.m. 410-261-7283. baltimoreravens.com
Sure, it hasn't been our best season, but the game ain't over yet. We may have had some bad PR problems, suffered some injuries, and gone 9-6. But look at Cleveland: it could always be worse. (
Cough, 7-8.) Which means, the odds are in our favor. Either way, though, the whole country knows that Baltimore doesn't go down easy. Like we kept telling everyone this fall, "We won't stop." So this Sunday, show up at the last game of the season, or the tailgate, or the your favorite bar. Crush some Bohs. Hawk out some "CAW!"s. Let your purple flag fly.