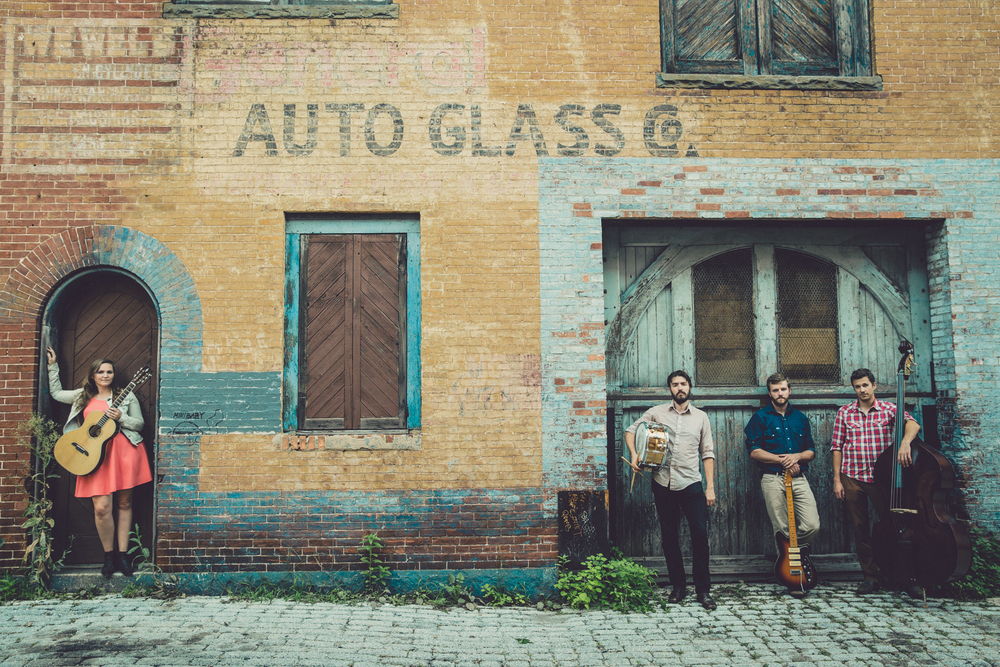 Letitia VanSant & the Bonafides.
Five things to eat, drink, see, hear, and do with your Charm City weekend.
EAT
Jokers N Thieves
3000 O'Donnell St. Wed.-Fri. 5 p.m.-close, Sat. & Sun. 12 p.m.-close. 410-675-4029. jokersnthievesbaltimore.com
About a month ago, we
raved about Smokehouse BBQ in Canton, but before we even had time to get our fill, The Smoking Swine packed up its food truck and rolled on out of The Square. So is the life of a food lover, but with Top Chef contestant Jesse Sandlin coming in hot to take their place, there's not a second for sadness. You might remember Sandlin from the Bravo series, Vino Rosina in Harbor East, or best of all, Oliver Speck's Eats & Drinks. At the latter, she flexed her Southern skills, hawking fried chicken, hangover brunch, pork cracklins, and a stellar whiskey selection, and here, she's doing much of the same. She's turning out new noshes as well as top dishes from her old digs, with bar snacks like brisket nachos and "hot pig dip," Low Country classics like chicken and waffles and shrimp and grits, an array of sandwiches, and another badass booze list. We hope this one sticks, but in case it doesn't, swing by for a bite this weekend and listen to some live music, starting at 10 p.m.
DRINK
Mar. 1: Baltimore Bartenders Guild "Rye's Up" Gala
B&O American Brasserie, 2 N. Charles St. 6-9 p.m. $65. 443-692-6172. bmorebarguild.com
Spring will be sprung in less than three weeks, and shortly thereafter, the seasonal tide will switch out your beloved dark booze for something summery and light. That means now's the time to get your whiskey in, and this Sunday, you can do so for a good cause at the Baltimore Bartenders' Guild 4th annual "Rye's Up Against Cystic Fibrosis" event. In homage to rye whiskey's deep roots in Maryland, the Southern spirit will be served up in a slew of solid Bulleit and Dickel-riddled cocktails made by the city's top mixologists, like B&O's Brendan Dorr, Rye's Doug Atwell, W.C. Harlan's Lane Harlan, The Fork & Wrench's Ian Clark, and Wit & Wisdom's Aaron Joseph. If rye isn't your pick of poison, there will be lots of other local booze on hand, too, including gin, wine, and beer by Union Craft Brewing, plus live jazz and snacks from local restaurants like Dooby's and Ten Ten.
SEE
Feb. 27-28: National Aquarium's New "Living Seashore" Exhibit
National Aquarium, 501 E. Pratt St. Fri. 10 a.m.-8 p.m., Sat.-Sun. 10 a.m.-5 p.m. $15 with admission-60. 410-576-3800. aqua.org
Living in the Land of Pleasant, we fancy ourselves experts on the banks of the Chesapeake, the shores of the Atlantic, but how much do we
really know about our waterfront strands? Not much, is what the aquarium's new exhibit, "Living Seashore," plans to teach us. When it opens in May, there will be more than 150 animals from 20 species that hail from Mid-Atlantic waters, with everything from sea urchins to stingrays to jellyfish, as well as two touchpools (the first at the aquarium since the '90s) and lots of hands-on experiences. It will be here before we know it, but this weekend, the aquarium is dropping some behind-the-scenes knowledge with 45-minute and 2 1/2-hour sneak-peak tours. Meet the current animal residents and watch as the museum transforms into a realistic habitat for its newest local marine life.
HEAR
Feb. 27: Letitia VanSant & the Bonafides Album Release Party
The Patterson at the Creative Alliance, 3134 Eastern Ave. 8 p.m. $12-18. 410-276-1651. creativealliance.org
After years of trucking their folksy, string sound around Baltimore, Letitia VanSant and her band mates, the Bonafides, are celebrating the release of their debut album,
Parts & Labor. As we've said, it's good, filled with pretty melodies, backcountry storytelling, and multi-part harmonies that combine Americana music with indie rock-and-roll, and you can tell they poured their hearts into it. This Friday, see them perform in Highlandtown, alongside Potluck Storytelling, and on April 25, catch them at Druid Hill Park for the Charm City Folk & Bluegrass Festival.
DO
Feb. 28: Idle Hour Fundraiser at Ottobar
Ottobar, 2549 N. Howard St. 8 p.m. $30, via missiontix. 410-662-0069. facebook.com
It's been kind of beautiful seeing the number of people who have come out of the woodwork in support of our beloved, distressed dive bar,
Idle Hour. It seems like the whole city has spent many a great late-night there, slinging one-too-many pickle backs, being swindled into shots of Chartreuse, and digging on the vinyl beneath the red, twinkling lights before scrambling home to sleep. After a successful first fundraiser at Little Havana, Ottobar is hosting a second this Saturday, with the help of Flying Dog Brewery and all proceeds directly benefiting Idle Hour. Hosted by WTMD's Sam Sessa, this music-filled night will feature surf rockers Sal Bando, alternative Americana blues brothers, The Silks, Motown mavens, Swift Smoke & the Sparks, DJs Rob Macy (of Save Your Soul dance parties) and Jack Moore (of El Suprimo Records in Fells Point) on the ones and twos, and a burlesque showcase to boot. Long live IH.